The bodega where Etan Patz was murdered
Crime Scene Location in Manhattan, New York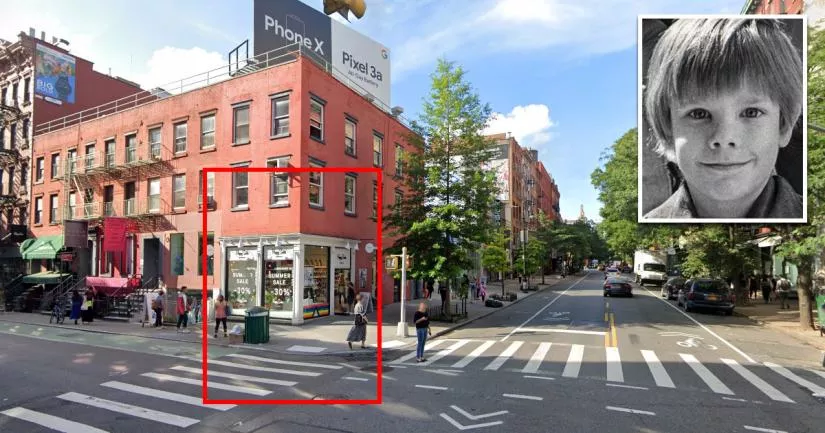 This is the location where Etan Patz was murdered.
It is situated at 448 West Broadway in Manhattan, New York.
At the time of the killing, the unit was home to a small bodega. These days, it is the address of a store called Happy Socks.
Patz's case received a great deal of media attention, as he disappeared during a time when the concept of "stranger danger" was beginning to pervade the nation's psyche. Notably, he was among the first missing children to appear on the side of milk cartons in the United States during the early 1980s.
On the morning of May 25th, 1979, the six-year-old left his apartment at 113 Prince Street and walked towards his bus stop, which was beside this corner.
That was the last time he was seen alive.
Later that day, when Patz didn't return home, his parents contacted his school and learned that he had never shown up. Fearing the worst, they immediately called the police.
When detectives arrived, they quickly determined that the young boy didn't get onto his school bus that morning. This led them to believe that something had happened to him in the immediate neighborhood.
That evening, dozens of police officers searched the area around Prince Street, West Broadway, and West Houston Street. Bloodhound dogs were also brought in to aid with the search.
Sadly, they were unable to find any trace of Patz.
In the weeks and months that followed, family members and neighbors canvassed New York City and hung up missing person posters. At one point, the boy's portrait was also displayed on a billboard in Times Square.
Although the case received widespread publicity, the police received very few leads. Consequently, the case eventually went cold.
As the decades drifted by, most people grew to believe that Patz's disappearance was one of those baffling mysteries that could only be solved by a moment of luck.
However, all of that changed shortly before the 33rd anniversary of his disappearance.
On May 24th, 2012, the New York Police Department announced that a 51-year-old man named Pedro Hernandez had confessed to murdering the boy and throwing his remains in the garbage.
At the time of the murder, Hernandez was an 18-year-old grocery store clerk who was working at the small bodega on the corner of West Broadway and Prince Street.
That morning, he reportedly lured Patz away from the bus stop by promising him a soda. Once the young boy was inside the grocery store, he brought him down into the basement, where he strangled him to death.
Following the murder, Hernandez put the six-year-old's body into a bag, walked a few blocks away, and then left it lying among a pile of garbage bags in an alley. Sadly, it is likely that these bags were picked up and transported to a local landfill later that day.
In February 2017, Hernandez was found guilty of kidnapping and murder. Two months later, he was sentenced to life in prison, with the possibility of parole after 25 years.

Further information is available in the "Photos" section below.
Etan Patz murder location
Below, you will find the address and the GPS coordinates for this location.
Address
448 West Broadway, Manhattan, New York, NY 10012, USA
Map
To view directions on how to get there, you can use the Google Maps shortcut below:
GPS coordinates
The latitude and longitude coordinates for the store are:
40.725911, -74.000968
Directions
It sits on the corner of West Broadway and Prince Street, close to the intersection between 6th Avenue and West Houston Street.
Details about the general area
The store is situated in the SoHo neighborhood of Manhattan, New York.
Private Property Warning
This is a private property. It is not a public place. Therefore, you should be respectful and not step foot on the property without permission.
Photos
Photos of the store and other related images.
---
The bodega where Etan Patz was murdered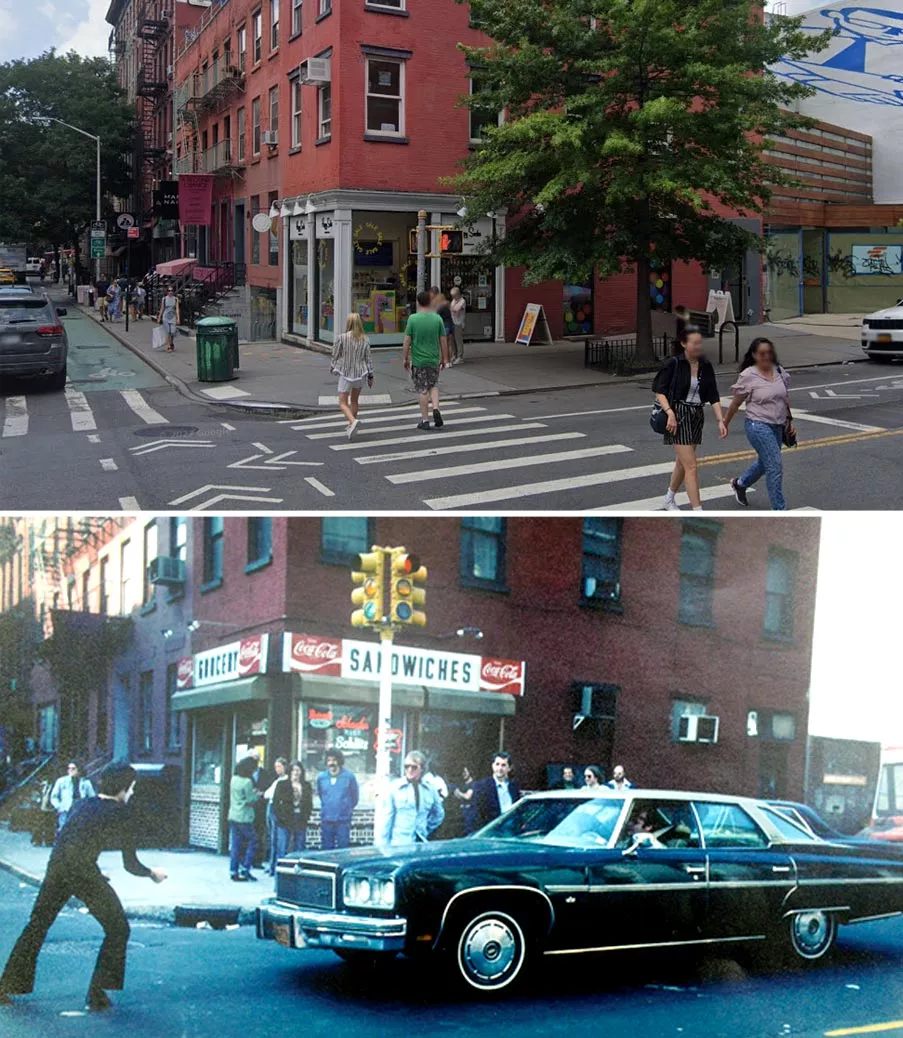 This is a "now and then" image of the bodega where Patz was murdered. The Google Street View image at the top was taken in July 2022.
At the time of the killing, Hernandez was working as a clerk at the store. In his confession, he said that he lured the young boy away from his bus stop by offering him a soda.
The bodega at 448 West Broadway was never searched during the initial investigation.
It eventually closed in the early 1980s. Afterwards, most of the interior was stripped and cleaned.
Hernandez's brother-in-law, Juan Santana, was the owner of the store.
Santana initially told investigators that Hernandez stopped working at the store on the day of Katz's disappearance and moved back to Camden, New Jersey. However, he backtracked on these statements after Hernandez recanted his confession.
Pedro Hernandez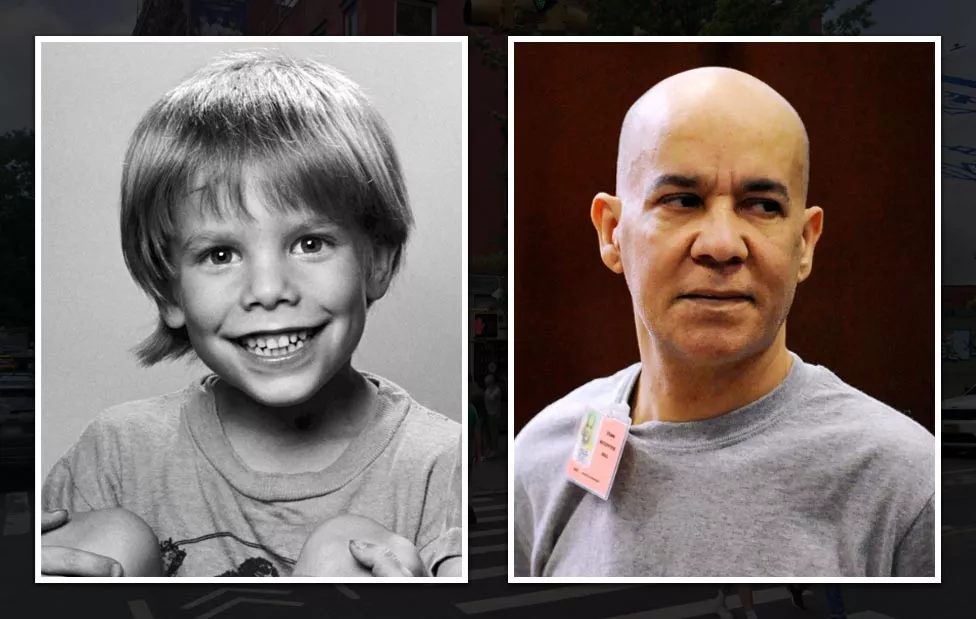 Pedro Hernandez has an IQ of 70, which means that he is close to having an intellectual disability.
At some point in 1979, the 18-year-old high school dropout moved from Camden, New Jersey, to work at his brother-in-law's store in Manhattan.
In the days following Etan Patz's murder, he moved back to Camden and began working at a dress factory.
Hernandez seemingly expressed a great deal of remorse about the killing. So much so that he confessed to multiple people on separate occasions that he had murdered a child.
These included his ex-wife, a large prayer group, a childhood friend, and a senior member at his church.
Although he repeatedly broke down in tears and admitted to killing someone, the details he gave were often sparse and conflicting. He also never mentioned a name.
Over the years, it became an open secret among his friends and family that he had confessed to murder.
On one occasion, Hernandez's wife found a photograph of Patz in a shoe box in their closet. However, at the time, she didn't know about the case. As a result, her first thought was that he may have secretly fathered another child.
When she quizzed him about the photo, he said that the boy had gone missing from a neighborhood where he had previously lived.
Notably, this didn't raise any suspicions, as the photo had been stored alongside other newspapers. Furthermore, she was under the impression that her husband had killed an older teenager who had "gotten fresh with him."
At some point, Hernandez's brother-in-law, Jose Lopez, saw a news story about Patz's disappearance and began to put two and two together. After deducing that Hernandez may have been involved, it weighed on his conscience until he eventually decided to contact the police.
448 West Broadway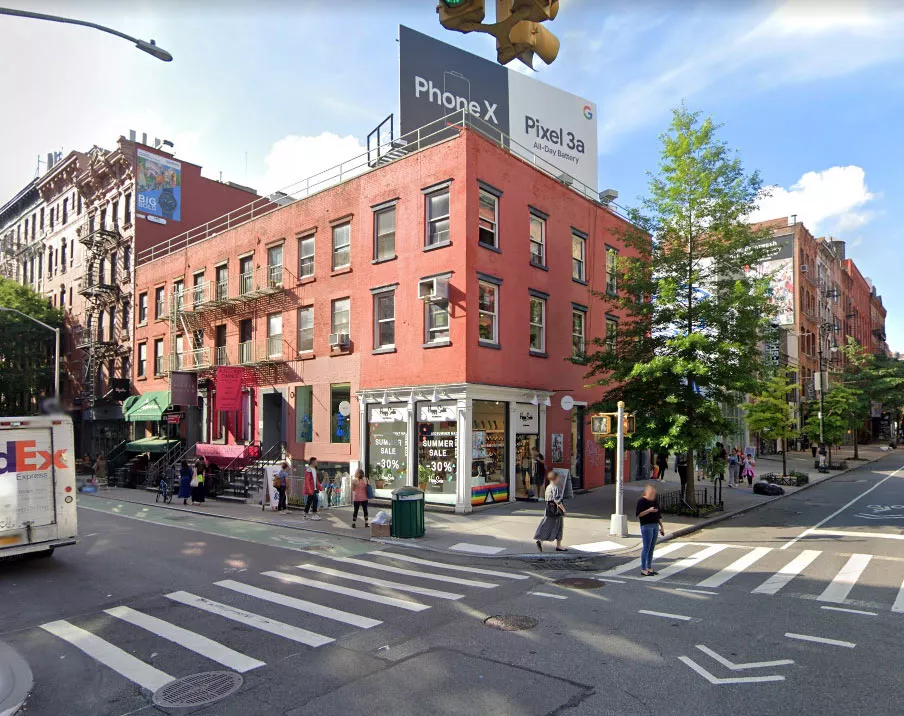 Following his arrest, Hernandez told detectives that he saw Patz standing on the sidewalk outside the bodega at 448 West Broadway.
After luring him into the store and down to the basement, he began choking him.
Hernandez claimed that he "couldn't let go" and that it felt as though "something had taken over him." During the interview, he also imitated the sound that the young boy made.
Hernandez said that Patz was unconscious but still breathing after the attack.
He told interviewers that he put the six-year-old in a plastic bag, which he then placed inside a box. After concealing the body, he carried the box a couple of blocks away before placing it in an alley, next to some garbage that was awaiting collection.
The following day, he returned to the alley and saw that the box was gone.
113 Prince Street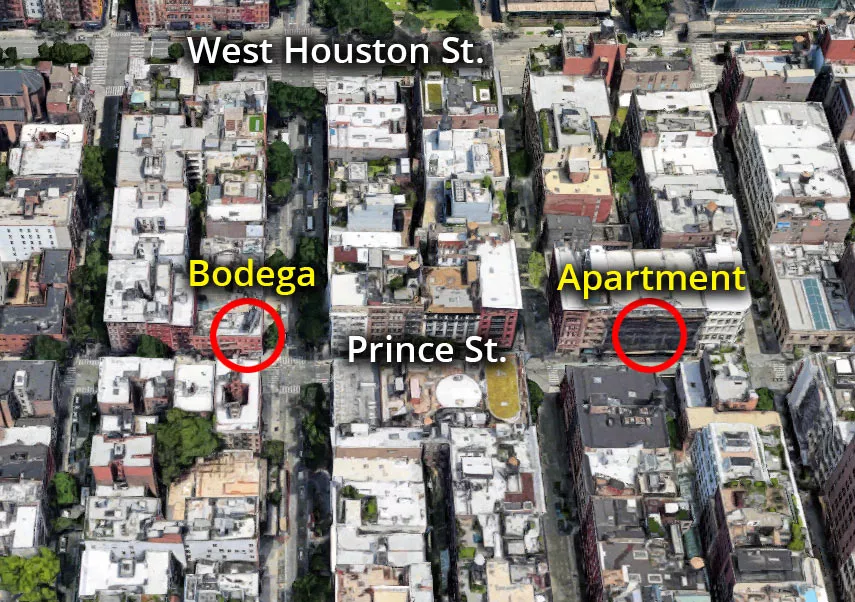 Patz's apartment was situated at 113 Prince Street, which was just two blocks away from the bodega.
His bus stop was right outside the store.
Coordinates: 40.725257, -73.999657
Map Viewer
There is more than one location associated with this entry. To view all of these places on the same map, you can use the following feature:
This location belongs to the following categories:
Crime Scenes
Closest Locations
Other locations that are relatively close to this address: Less than a mile away.
Filming Location in Manhattan, New York