James Dean's crash site.
Crash Site Location in Shandon, California, United States.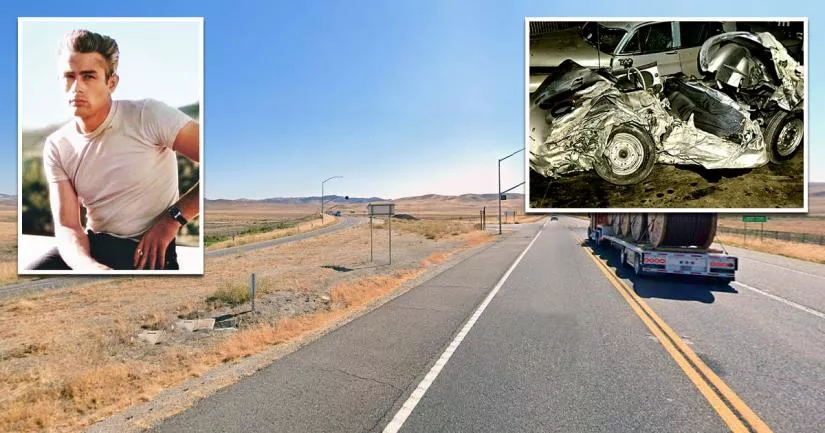 This is the location where James Dean died in a car accident.
The crash site is situated on California State Route 46, near Shandon, California.
On September 30th, 1955, the 24-year-old actor was fatally injured at this junction after his Porsche 550 Spyder collided with another vehicle.
Although Dean was transferred to a hospital in the nearby town of Paso Robles, he was pronounced dead on arrival. The actor had suffered multiple internal injuries and a broken neck.
That Friday afternoon, Dean was speeding west along Route 466. His intended destination was Paso Robles, where he was going to stop for dinner.
After that, Dean was supposed to drive to Salinas, California. The city was hosting a series of racing events that weekend, and he was planning on taking part in one of them.
However, as he was approaching this junction, a vehicle driving in the opposite direction attempted to turn left. When the other car crossed over into Dean's lane to make the turn, the "Rebel Without a Cause" star realized that he was in imminent danger.
Although the actor attempted to dodge the vehicle, the speed at which he was driving left him with little time to react. As a result, the two vehicles collided head-on, and Dean's Porsche Spyder was sent tumbling across the road until it finally landed beside a fence at the side of the interstate.
Where did James Dean crash?
Below, you will find the address and the GPS coordinates for this location.
GPS coordinates.
The latitude and longitude coordinates for the junction are:
35.734568, -120.284735
Map.
To view directions on how to get there, you can use the Google Maps shortcut below:
Address.
The full address for this location is:
James Dean Memorial Junction
California State Route 46
Shandon
California
CA 93461
United States
Directions.
The junction is about 80 miles southwest of Fresno, California. It is at the intersection of California State Route 46 and State Route 41. It is roughly one mile north of the Jack Ranch Cafe.
Photos.
Photos of the junction and other related images.
---
The crash.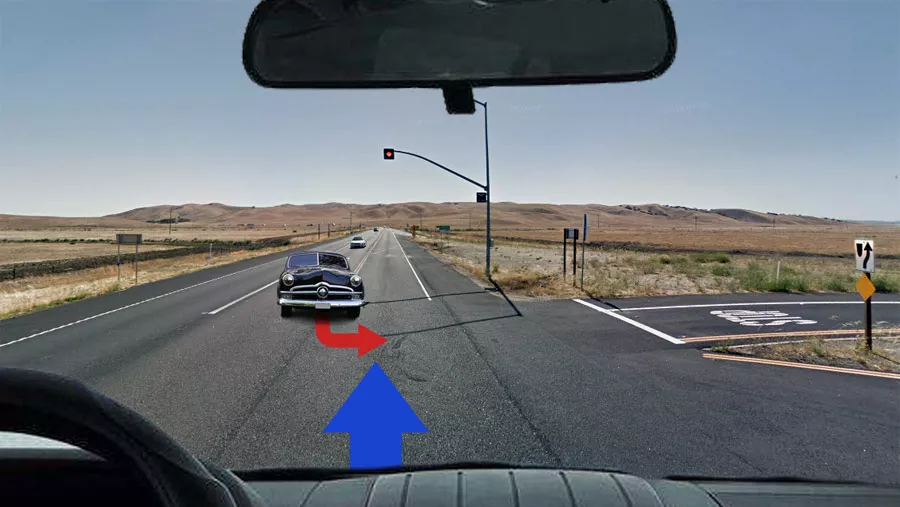 This "reconstruction image" illustrates what James Dean would have seen just before the crash.
At the time, he was driving towards this junction when an oncoming black 1950 Ford Tudor moved into his lane to turn left (in the direction of the red arrow).
According to police reports, Dean was driving at around 55 mph (88 km/h) at the time of the impact.
As a result, it is unlikely that he had enough time to react.
Aerial map of James Dean's crash site.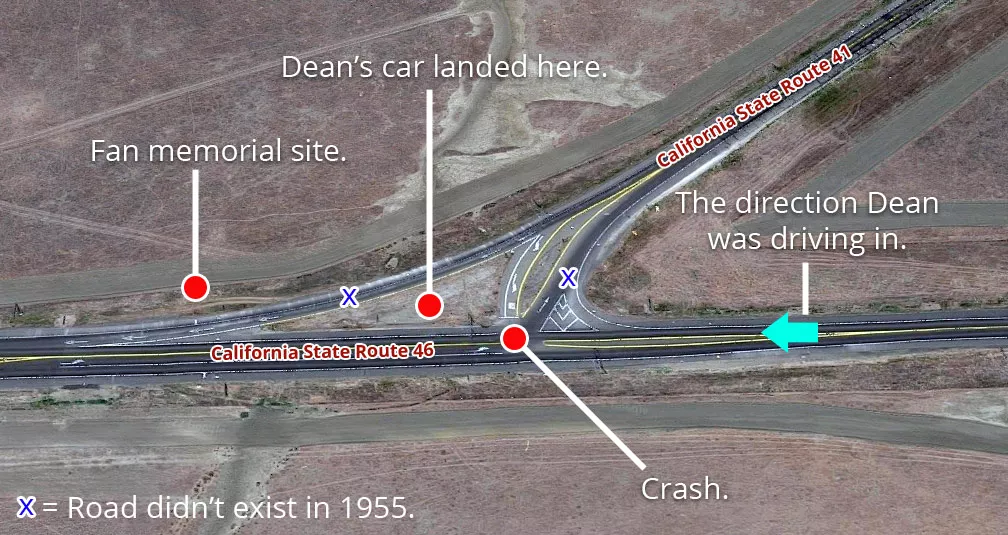 This is an aerial map of the site where James Dean crashed.
Over the years, this junction has seen a significant number of changes. For example, two of the roads at the intersection did not exist back in 1955.
Furthermore, the fan memorial site was pushed back at some point. This was most likely for safety reasons, as the actual crash site is on a piece of land that is enclosed between two state highways.
On that fateful afternoon in 1955, Dean was driving westbound along US Route 466. These days, US Route 466 no longer exists. In 1964, it was removed from the highway system and incorporated into California State Route 46.
The site where the car landed.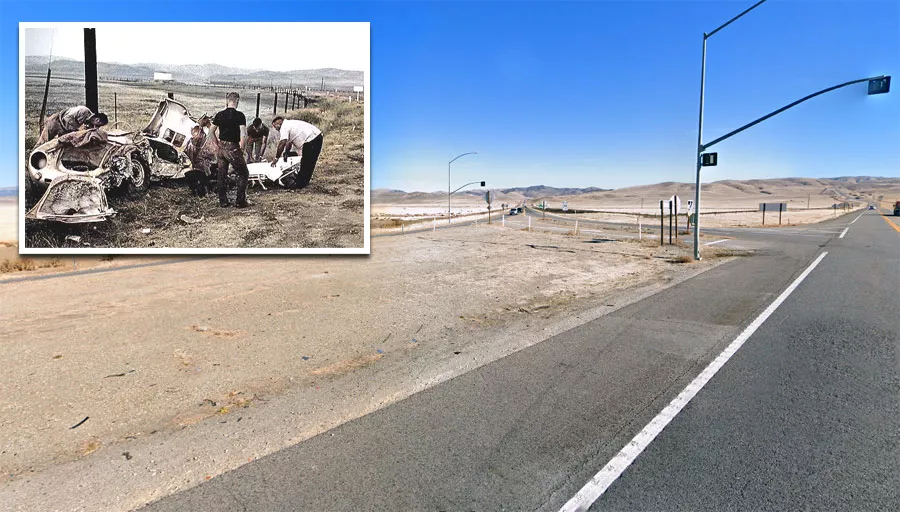 This is a Google Street View image of the general area where the actor's car landed. The original fence no longer exists.
The inset photograph in the top left-hand corner shows that the Porsche 550 Spyder was mangled beyond repair. According to witnesses, the car smashed into the ground multiple times as it "cartwheeled" across the highway.
Note that extreme caution should be taken if you are attempting to access this site. Previous visitors have reported that it can be difficult to reach, especially during heavy traffic.
This location belongs to the following categories:
Celebrities
Closest locations.
Other locations that are relatively close to this place. Roughly 94 miles away.
Place of Interest in Fresno, California, United States Roughly 95 miles away.
Crime Location in Bakersfield, California, United States Roughly 164 miles away.
Crash Site Location in Santa Clarita, California, United States Roughly 176 miles away.
Crime Location in Los Angeles, California, United States Roughly 185 miles away.
Crime Location in Encino, California, United States