Phil Hartman's house
Crime Scene Location in Encino, California, United States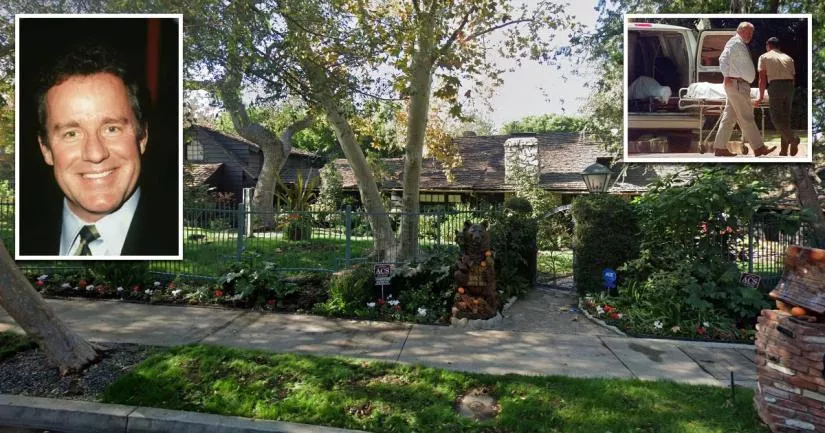 This is Phil Hartman's former house.
It is situated at 5065 Encino Avenue in Encino, California.
In May of 1998, the actor and comedian was murdered by his wife while he was sleeping inside the residence.
Hartman was a regular Saturday Night Live cast member who starred in movies such as Jingle All the Way (1996) and Toy Soldiers (1998). He also voiced the characters Troy McClure and Lionel Hutz in the animated series The Simpsons.
Hartman married his third wife, Brynn Omdahl, in 1987.
Omdahl was a former model from Minnesota who had high hopes of becoming an actress.
At first, their relationship seemed perfect, and the couple had two children.
However, as the years passed and her acting career failed to take off, she started abusing drugs and alcohol. She also became increasingly insecure about her age.
While her career was floundering, her husband was starting to secure major acting roles in Hollywood movies. As a result, she became jealous, abusive, and resentful towards him.
At one point, the abuse became so bad that Hartman considered retiring just so he could "keep the peace" and save his marriage.
However, despite their marital issues, they still seemed like the perfect couple in public.
Although Omdahl went to rehab and achieved sobriety for a time, she fell off the wagon at some point in 1997. She also started having an affair with a man named Ron Douglas.
As the months wore on, Omdahl continued to drink, take cocaine, and abuse antidepressants—a potent mix that caused her to erupt into violent outbursts.
Her behavior became so erratic that it eventually caused their housekeeper to quit.
On May 27th, 1998, Omdahl had dinner and drinks with a friend at a local restaurant. Afterwards, she drove to Ron Douglas' house, where she continued drinking.
According to toxicology reports, she also took cocaine and an antidepressant called Zoloft.
Shortly before 1 a.m., Omdahl returned home and had a heated argument with Hartman.
Following their spat, Hartman decided to go to bed.
In the early hours of the morning, Omdahl entered the bedroom with a revolver and crept up to her sleeping husband. She then raised her weapon and fired three times, killing him immediately.
Following the shooting, she drove back to Ron Douglas' house and confessed that she had murdered Hartman. Douglas initially refused to believe her until he saw that she had a revolver.
After taking the weapon from Omdahl and throwing it into the trunk of his car, he followed her back to Encino Avenue, where he discovered Hartman's body.
When Douglas called 911 to report the murder, Omdahl locked herself inside the bedroom. Unbeknownst to him, she had picked up another gun.
At that point, the mother of two put the gun to her mouth and committed suicide.
When the murder-suicide took place, the couple's two children, Sean (8) and Birgen (6), were asleep in the house.
Sadly, the two kids were orphaned—losing the two most important people in their lives in the space of a few hours. Following the tragic events of May 27th, 1998, Sean and Birgen were raised by their aunt in Minnesota.

Further information is available in the "Photos" section below.
Phil Hartman house location
Below, you will find the address and the GPS coordinates for this location.
GPS coordinates
The latitude and longitude coordinates for the house are:
34.163588, -118.514450
Map
To view directions on how to get there, you can use the Google Maps shortcut below:
Address
The full address for this location is:
5065 Encino Avenue
Encino
California
CA 91316
United States
Directions
The house sits on the corner of Encino Avenue and Embassy Drive. It lies to the south of Ventura Freeway.
Details about the general area
Encino is a neighborhood in the San Fernando Valley, which is situated in the northern part of Los Angeles.
Private Property Warning
This is a private property. It is not a public place. Therefore, you should be respectful and not step foot on the property without permission.
Photos
Photos of the house and other related images.
---
5065 Encino Avenue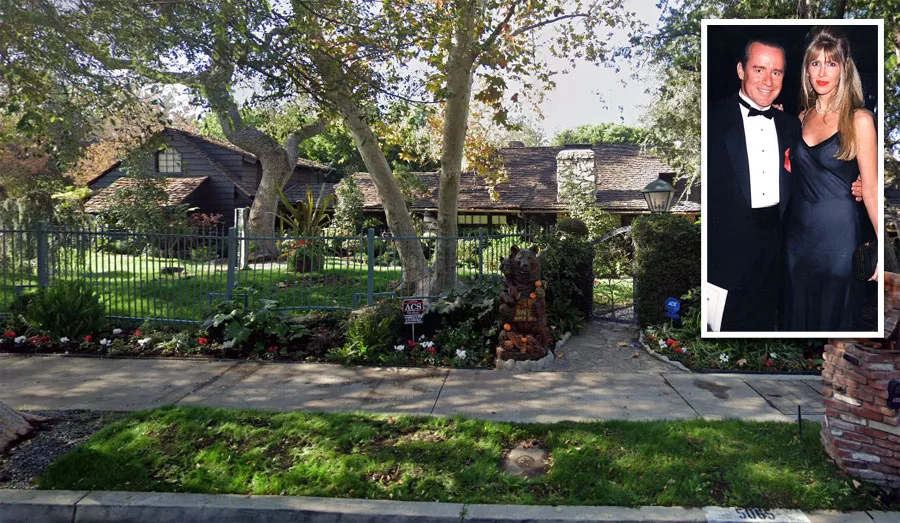 This Google Street View image of 5065 Encino Avenue was taken in December of 2021.
A wooden bear sculpture at the front of the property displays the house's address.
Phil Hartman and Brynn Omdahl are pictured on the right. According to those who knew them, they seemed like the perfect couple in public.
"Hi, I'm Troy McClure. You might remember me from..."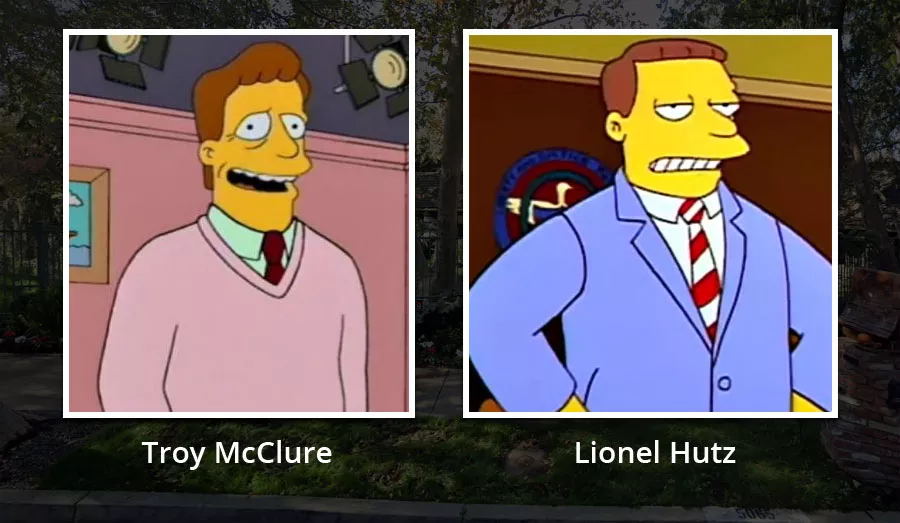 Hartman voiced the popular characters Troy McClure and Lionel Hutz in the animated sitcom The Simpsons.
Following his death, both characters were retired.
Crime scene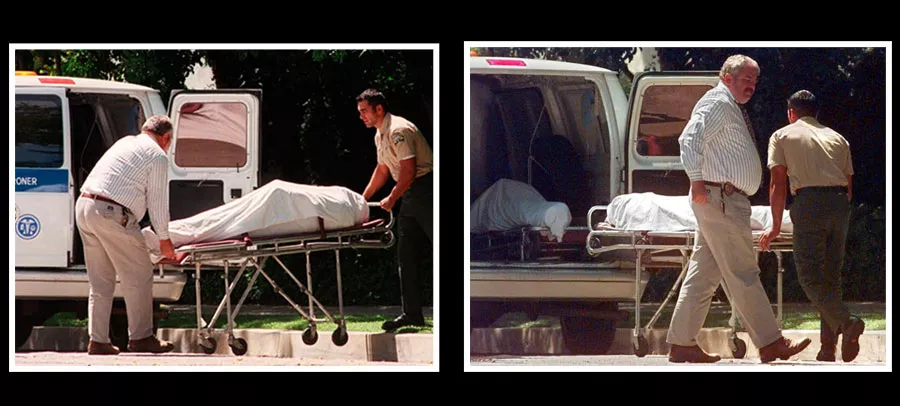 The police load the bodies of Hartman and Omdahl into the back of a coroner's van.
The police arrive at the house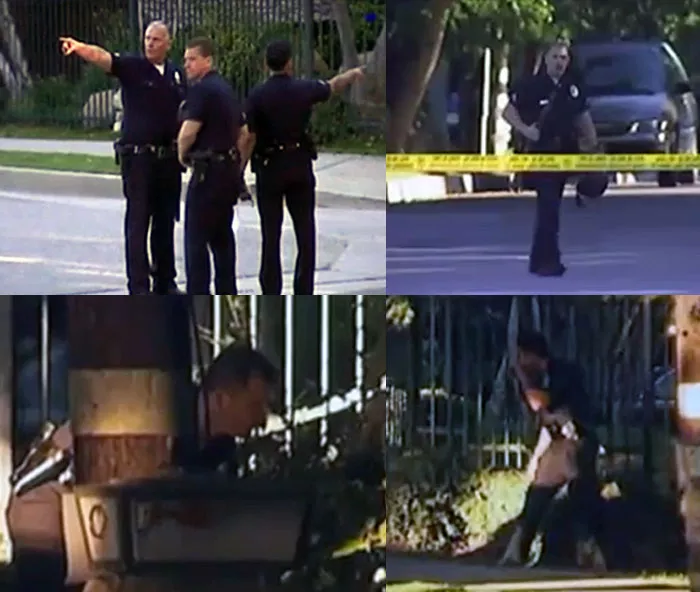 When the police first arrived at the scene, they believed that they were dealing with an active shooter.
However, once they got inside and reached the master bedroom door, they heard a gunshot. The suspect also failed to respond to any of their demands.
At that point, it started to become clear that the shooter had committed suicide.
When they entered the bedroom, they saw the bodies of Hartman and Omdahl lying together on the bed, which was saturated in blood. According to the police, it was "obvious" that they were not alive.
Hartman had a hole in his forehead. Omdahl lay beside him with a revolver in her hand.
Closest Locations
Other locations that are relatively close to this address: Roughly one mile away.
Place of Interest in Tarzana, California, United States Roughly 4 miles away.
Crime Location in Los Angeles, California, United States Roughly 4 miles away.
Filming Location in Reseda, California, United States Roughly 5 miles away.
Place of Interest in Sherman Oaks, California, United States Roughly 8 miles away.
Crime Location in Los Angeles, California, United States