Dolores Davis' house
Crime Scene Location in Wichita, Kansas, United States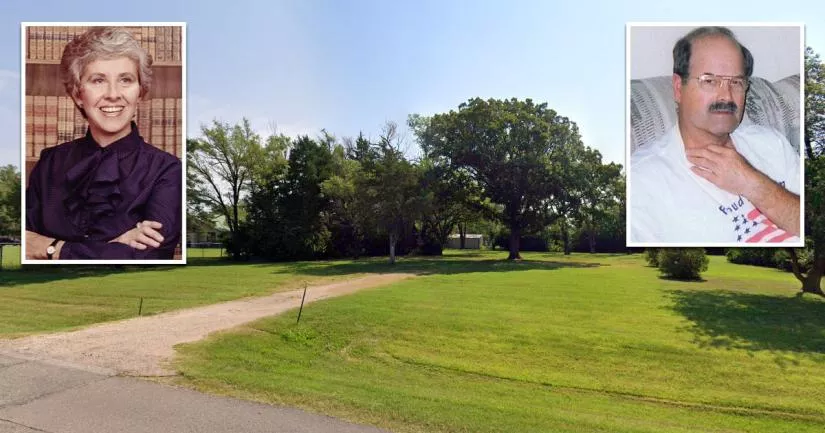 On January 19th, 1991, serial killer Dennis Rader murdered 62-year-old Dolores Earline Davis at this location in Park City, Wichita.
Nowadays, the house no longer exists. Judging by Google Street View images, it was demolished at some point between 2012 and 2019.
Rader was unable to find an easy way into Davis' house
According to Rader, he spent time casing Davis' home in the lead-up to the murder. However, he was unable to figure out a way to enter the property without alerting her.
On one occasion, he was forced to retreat after her cat started hissing at him.
After failing to find a way in, Rader eventually lost patience and deviated from his usual M.O. of using stealth. Instead of sneaking in, he decided to throw a cinder block through a plate glass window on the eastern side of the property.
When Davis heard the noise, she believed that a car had crashed into the side of her house.
Startled, she ran out of her bedroom, only to find Rader standing in her living room with a gun.
At that point, Rader claimed that he was on the run from the authorities. He also explained that he was going to handcuff her while he stole some food and the keys to her car.
The murder
While Davis was handcuffed, Rader spoke to her and managed to calm her down. He also walked around the kitchen and pretended to steal some food.
After convincing his victim that he was leaving, he removed the handcuffs and then re-tied her wrists using a piece of rope.
However, instead of leaving, he proceeded to strangle her to death with a pair of pantyhose.
"I handcuffed her and talked to her. I told her that I would like to get some food and the keys to her car. Kind of rest assured, talked with her a little bit, calmed her down a little bit. Then eventually I checked out where her car was, simulated getting some food, odds and ends in the house, kind of like I was leaving. Then I went back and removed her handcuffs and tied her up and then... eventually... strangled her."
The fact that Rader spent time calming his victim down is telling. By that point, she had already been handcuffed.
In other words, this is something that he didn't really need to do. He could have easily killed the 62-year-old as soon as she had been restrained.
Because Rader was a sadist, it is likely that he got a perverse kick out of soothing his victims and convincing them that they were going to survive. By doing this, he was able to play with their emotions and witness their shock and terror once he revealed his true intentions.
Inflicting this kind of psychological torture would have undoubtedly added to his sexual high.
Following the murder, BTK drove his victim's body out to a rural area and dumped it underneath a bridge.

Further information is available in the "Photos" section below.
Demolished
The house no longer exists. However, you can still visit the location.
Further Details
Judging by Google Street View images, the house was destroyed at some point after August of 2012.
Where did Dolores Davis live?
Below, you will find the address and the GPS coordinates for this location.
GPS coordinates
The latitude and longitude coordinates for the house are:
37.796883, -97.298896
Map
To view directions on how to get there, you can use the Google Maps shortcut below:
Address
The full address for this location is:
6226 North Hillside Street
Wichita
Kansas
KS 67219
United States
Directions
The lot is situated close to the intersection between North Hillside Street and East 61st Street North. It sits beside the Chisholm Creek Pet Resort.
Private Property Warning
This is a private property. It is not a public place. Therefore, you should be respectful and not step foot on the property without permission.
Photos
Photos of the house and other related images.
---
Dolores Davis' house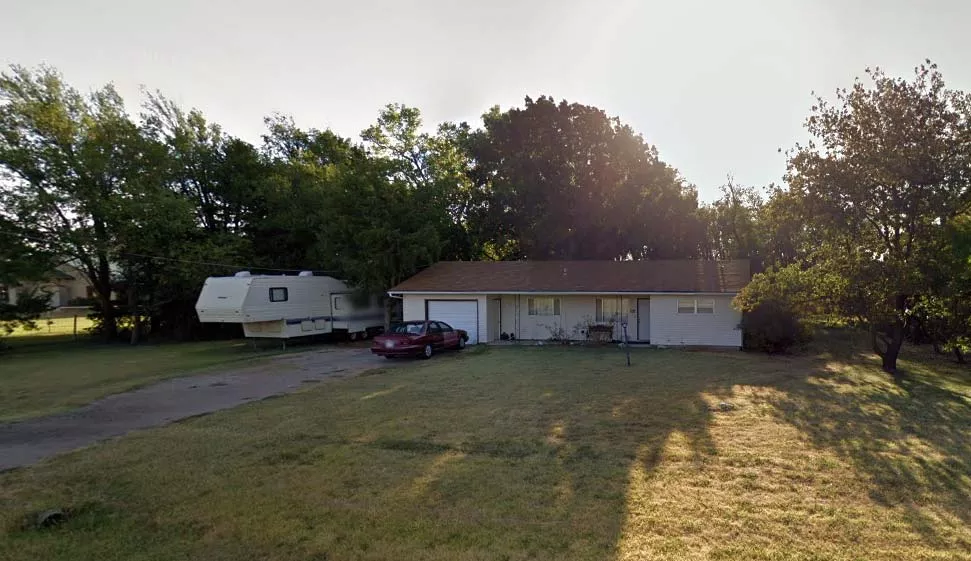 This Google Street View image of 6226 North Hillside Street was taken in August of 2012.
The house was built in 1961. Notably, this location is just 1.5 miles away from Rader's home on Independence Street.
He reportedly cut the phone lines outside before he threw a cinder block through a window on the eastern side of the house.
Dolores Davis was BTK's final victim. At the time of her murder, she had recently retired from her job as a corporate secretary for the Lario Oil & Gas Company in Wichita.
Following her killing, he went silent for more than a decade. Then, in March of 2004, he suddenly resumed contact with the media.
Project Dogside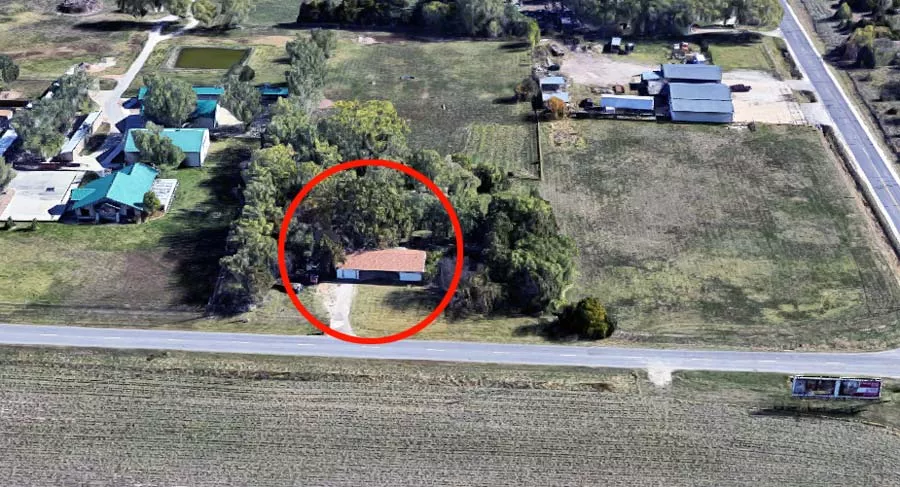 This is an aerial view of the property and the surrounding area.
During the stalking phase, BTK gave Davis the nickname "Project Dogside." He chose this nickname because her house was situated beside a dog kennel.
In the image above, you can see the "Chisholm Creek Pet Resort" on the left.
On one occasion, Rader attempted to enter the property without his victim realizing it. However, her cat spotted him and started hissing at him. Realizing that Davis might hear the commotion and investigate, he decided to retreat.
Hillside and 45th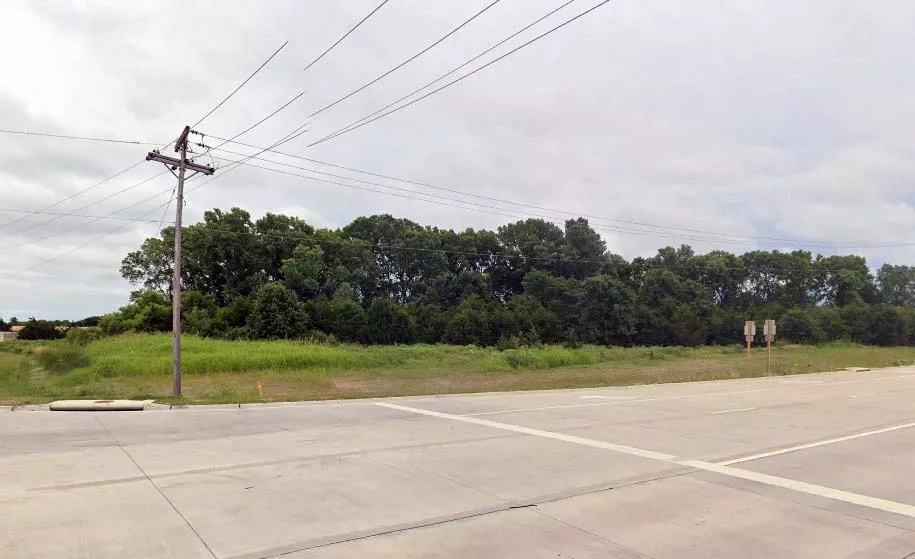 Following the murder, Dennis Rader put Davis in the trunk of her own vehicle and traveled two miles south. He then placed her body in some trees by the intersection of Hillside Street and 45th South North.
Judging by aerial images, it is likely that he chose the wooded area in the photograph above.
After hiding Davis' body among the trees, he drove her vehicle back to her house at 6226 N Hillside Street and then left the scene on foot.
Once he was back behind the wheel of his own car, he returned to this location to retrieve her body.
Coordinates: 37.766728, -97.299024
Jester Creek Bridge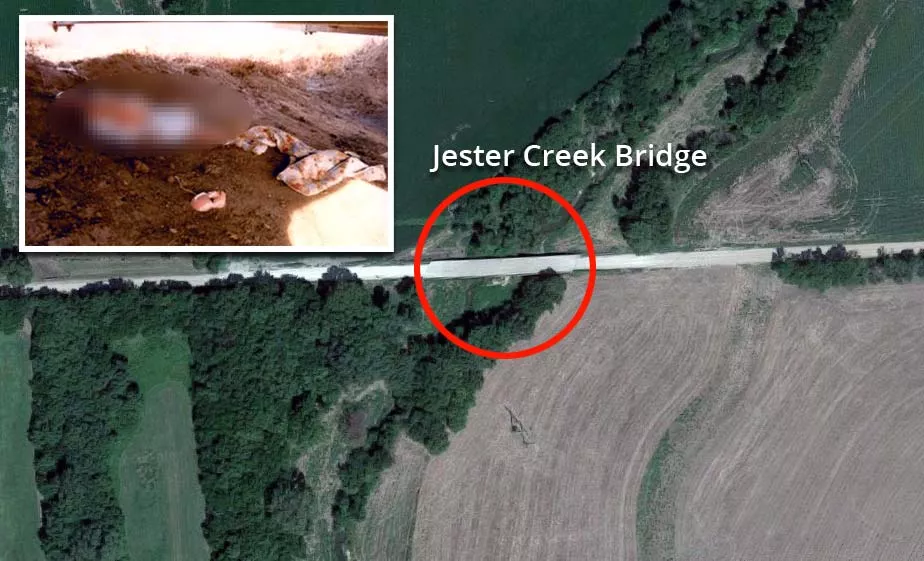 After retrieving Davis' body from Hillside and 45th, he traveled to Jester Creek Bridge, which is near the intersection between 117th North and Meridian.
Once there, he placed her remains underneath the bridge.
The following day, BTK returned to the site to put a mask on his victim and take photographs of her body.
The Polaroid (inset) was discovered among his secret stash following his arrest in February of 2005.
Discovery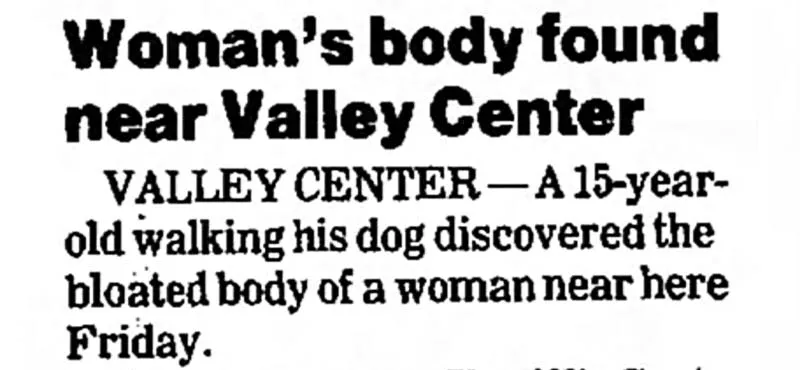 A 15-year-old boy discovered her body on February 1st, 1991. At the time, the teenager was out walking his dog.
Visualize
There is more than one location associated with this entry. To view all of these places on the same map, you can use the following feature:
Closest Locations
Other locations that are relatively close to this address: Roughly one mile away.
Place of Interest in Wichita, Kansas, United States Roughly one mile away.
Serial Killer House in Wichita, Kansas, United States Roughly one mile away.
Crime Location in Wichita, Kansas, United States Roughly 4 miles away.
Place of Interest in Wichita, Kansas, United States Roughly 4 miles away.
Serial Killer House in Wichita, Kansas, United States