The Golden State Killer's house
Serial Killer House in Citrus Heights, California, United States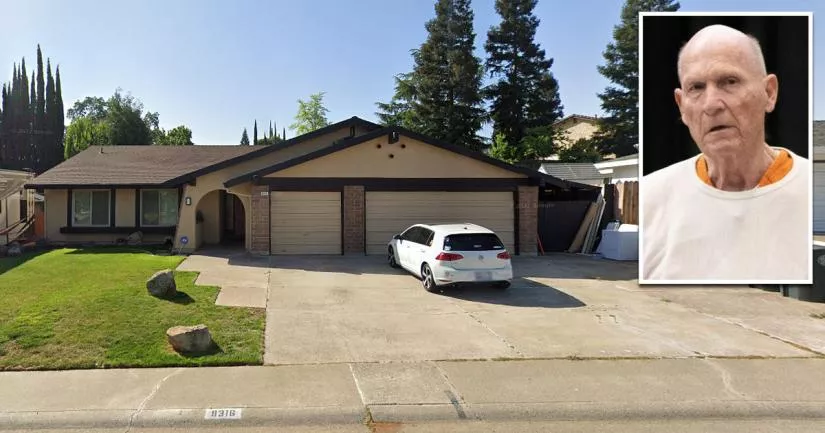 This is the former house of the Golden State Killer, Joseph James DeAngelo.
It is situated at 8316 Canyon Oak Drive in Citrus Heights, California.
DeAngelo is a serial killer who murdered at least 13 people between 1975 and 1986. The former police officer also committed dozens of rapes and more than 100 burglaries.
He remained unidentified until 2018, when the authorities finally honed in on him using investigative genetic genealogy. By that stage, he had been seemingly dormant for more than three decades.
Over the years, he has been known by multiple nicknames. However, it didn't become evident that they were the same person until DNA evidence connected some of his crime scenes.
DeAngelo started out as the Visalia Ransacker, a serial burglar and budding sexual predator who targeted homes in the San Joaquin Valley between 1974 and 1976. At the time of those crimes, he was working as a police officer in the burglary unit of the Exeter Police Department in Tulare County.
His break-ins escalated to rape in 1976, after he moved back to Sacramento and started working for the Auburn Police Department. From that point on, he became known as the East Area Rapist.
Between 1976 and 1979, the East Area Rapist committed at least 50 rapes in counties such as Sacramento, San Joaquin, Stanislaus, Yolo, Contra Costa, Santa Clara, and Alameda.
DeAngelo was fired from the Auburn Police Department in 1979 after he was arrested for shoplifting a hammer and a can of dog repellent—tools that would have undoubtedly helped him during his break-ins.
His third and final crime spree began that same year, when he relocated to Long Beach. After moving to Southern California, he changed his modus operandi yet again. Instead of allowing his victims to survive, he began bludgeoning them to death.
Between 1979 and 1986, he murdered at least ten people in six separate attacks. At the time, these crimes were attributed to an unknown offender called the Original Night Stalker.
DeAngelo's last known murder occurred in 1986, following a five-year hiatus. That year, he raped and murdered 18-year-old Janelle Lisa Cruz at her home in Irvine.
Following Cruz's murder, it seems as though he lost the motivation to continue his crimes. As a result, the Original Night Stalker murders eventually became a cold case.
In 2001, DNA tests proved that the East Area Rapist and the Original Night Stalker were the same individual. This led to people referring to the killer as EARONS, which is an acronym that combines the two nicknames.
In 2013, the offender was given a fourth nickname after true crime author Michelle McNamara began calling him the Golden State Killer.
As the decades progressed, it seemed as though the identity of EARONS was destined to remain a mystery.
However, everything changed at the end of 2017 when the authorities uploaded the killer's DNA to a genetic genealogy research website called GEDMatch. After identifying some of his distant relatives, they immediately got to work on building a large family tree.
Using this tree, investigators eventually narrowed in on 72-year-old Joseph James DeAngelo as a possible suspect. His identity was confirmed after they compared trace evidence from the Original Night Stalker case against DNA samples that were secretly taken from his car door handle and garbage can.
DeAngelo was arrested outside of this house on April 24th, 2018—more than 42 years after he committed his first known murder.
In June of 2020, he agreed to plead guilty to 13 murders to avoid the death penalty. Two months later, he was sentenced to life in prison without the possibility of parole.

Further information is available in the "Photos" section below.
Joseph James DeAngelo house address
Below, you will find the address and the GPS coordinates for this location.
GPS coordinates
The latitude and longitude coordinates for the house are:
38.714747, -121.253047
Map
To view directions on how to get there, you can use the Google Maps shortcut below:
Address
The full address for this location is:
8316 Canyon Oak Drive
Citrus Heights
California
CA 95610
United States
Directions
DeAngelo's former house is situated in a quiet residential neighborhood that is accessible via Old Auburn Road or Twin Oaks Avenue.
Details about the general area
Citrus Heights is a city that lies to the northeast of Sacramento.
Private Property Warning
This is a private property. It is not a public place. Therefore, you should be respectful and not step foot on the property without permission.
Photos
Photos of the house and other related images.
---
Golden State Killer house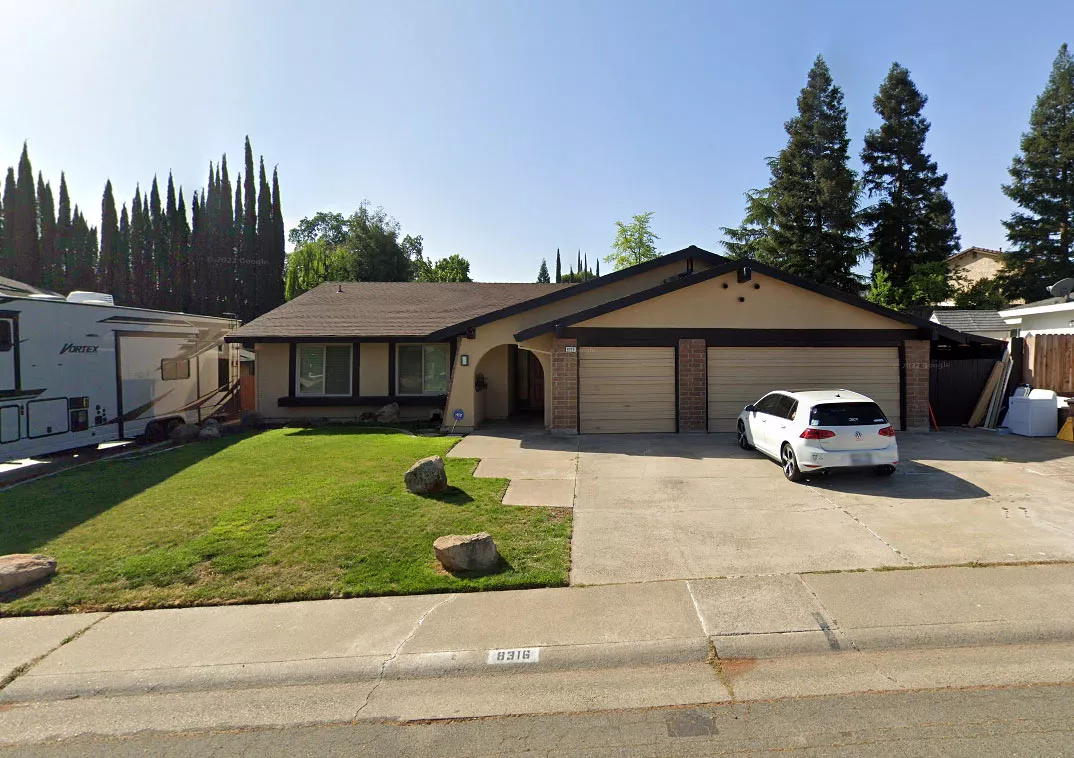 Image source: Google Maps
This Google Street View image of the Golden State Killer's house was captured in April of 2022—roughly four years after his arrest.
The house was built in 1979. It has three bedrooms and is 1,500 square feet in size.
Like many serial killers, DeAngelo hid in plain sight. He lived in this unremarkable suburban home for nearly four decades.
He and his wife, Sharon Marie Huddle, purchased the house on April 11th, 1980. However, it is unclear when they started residing here, as DeAngelo's 1981 murders took place in Southern California.
DeAngelo and his wife separated in 1991. At the time of his arrest, he was living at this address with his daughter and granddaughter.
The property was last sold for $320,000 in November of 2019. According to news reports, it was bought by a couple who were aware of its past and intended on living here.
8316 Canyon Oak Drive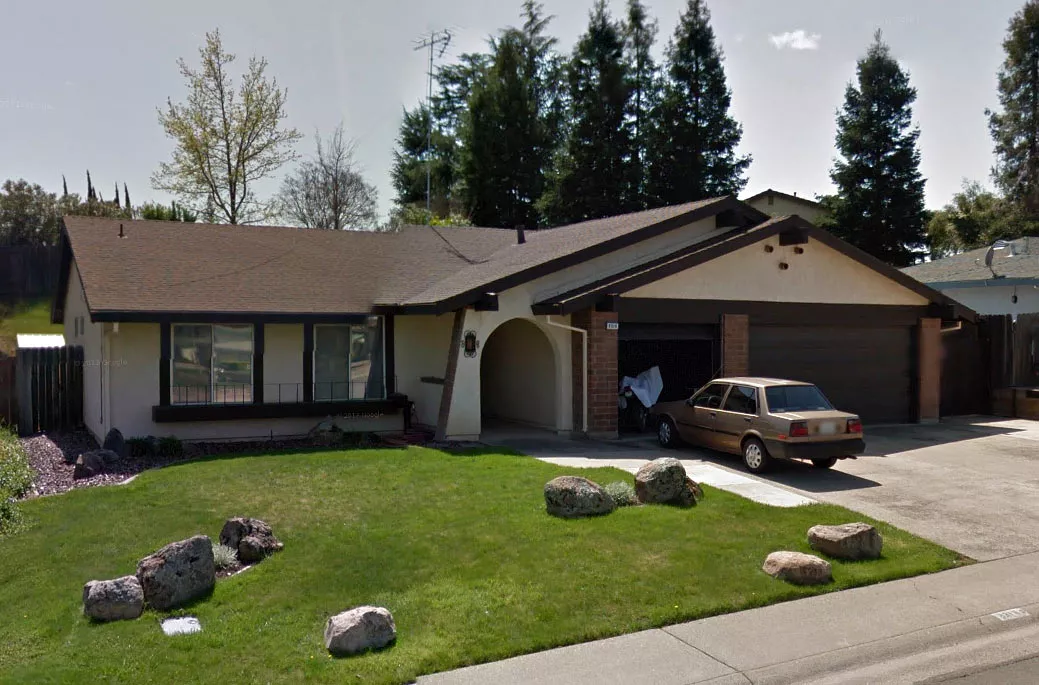 This Google Street View image of 8316 Canyon Oak Drive was taken in April of 2012—long before DeAngelo became a suspect.
The vehicle out front appears to be a gold-colored 1985 Toyota Corolla. You can also see his partially covered motorcycle in the garage.
Following his arrest, neighbors said that he used the "F word" a lot and was prone to having profanity-laced outbursts in the driveway.
Joseph James DeAngelo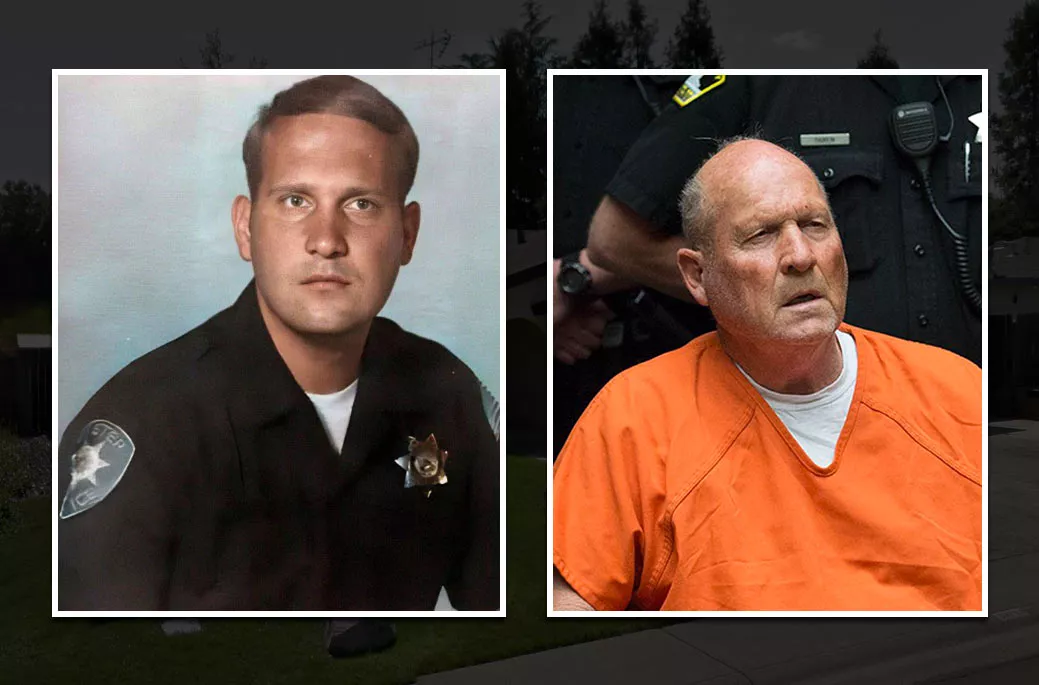 Joseph James DeAngelo was born in Bath, New York, but he grew up in Sacramento, California.
Over the years, he has been referred to as the Visalia Ransacker, the East Area Rapist, the Original Night Stalker, EARONS, and the Golden State Killer.
His modus operandi involved breaking into homes and holding his victims at gunpoint. He would then tie them up with shoelaces and blindfold them.
If a couple were involved, he would force the woman to tie up her partner. He would then separate them before raping the woman.
In many cases, he would remain inside his victims' homes for hours.
Following the crimes, he left the scene on foot.
It is believed that he purposely chose houses that were next to yards, parks, and creek beds. By doing so, he could avoid using the street and thereby reduce the likelihood of a witness noticing him.
DeAngelo was a married man who raised three children. His family was understandably shocked to learn that he had committed such horrific crimes.
Over the years, he used various excuses to spend time away from home. According to his former wife, he often claimed that he was pheasant hunting, working, or visiting his parents.
Murder victims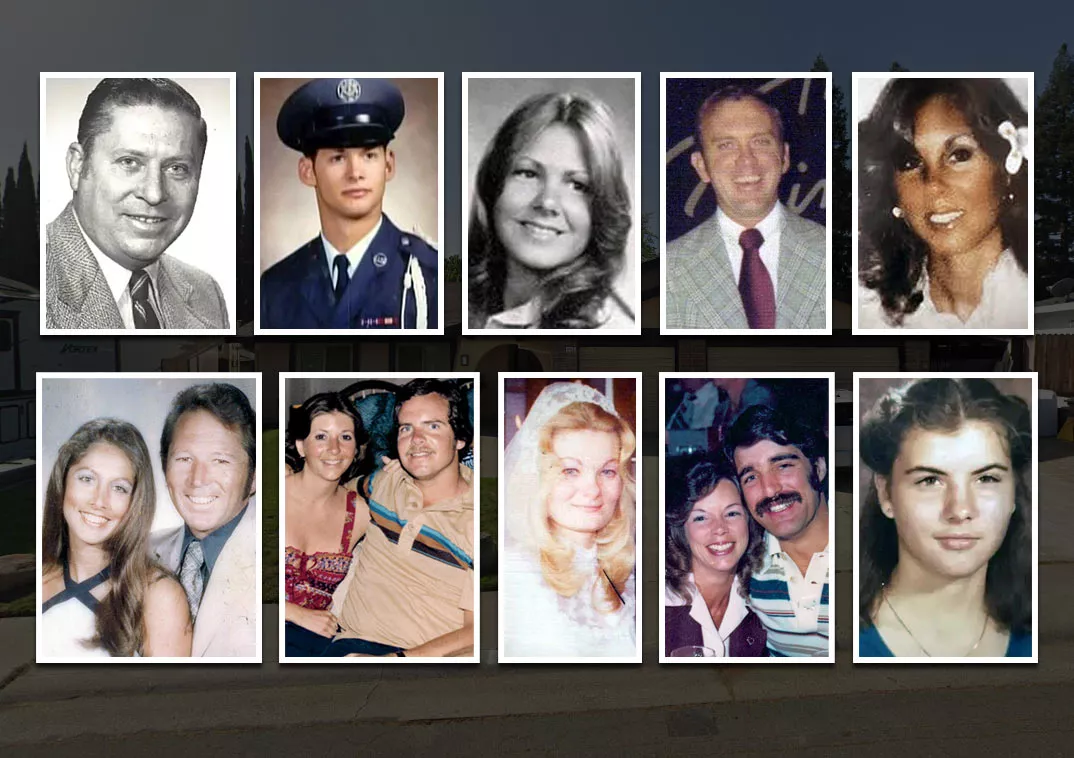 DeAngelo murdered at least 13 people between 1975 and 1986.
The victims were Claude Snelling, Brian Maggiore, Katie Maggiore, Robert Offerman, Debra Manning, Charlene Smith, Lyman Smith, Patrice Harrington, Keith Harrington, Manuela Witthuhn, Cheri Domingo, Gregory Sanchez, and Janelle Cruz.
Cruz was DeAngelo's last known murder victim. She was also his youngest.
2009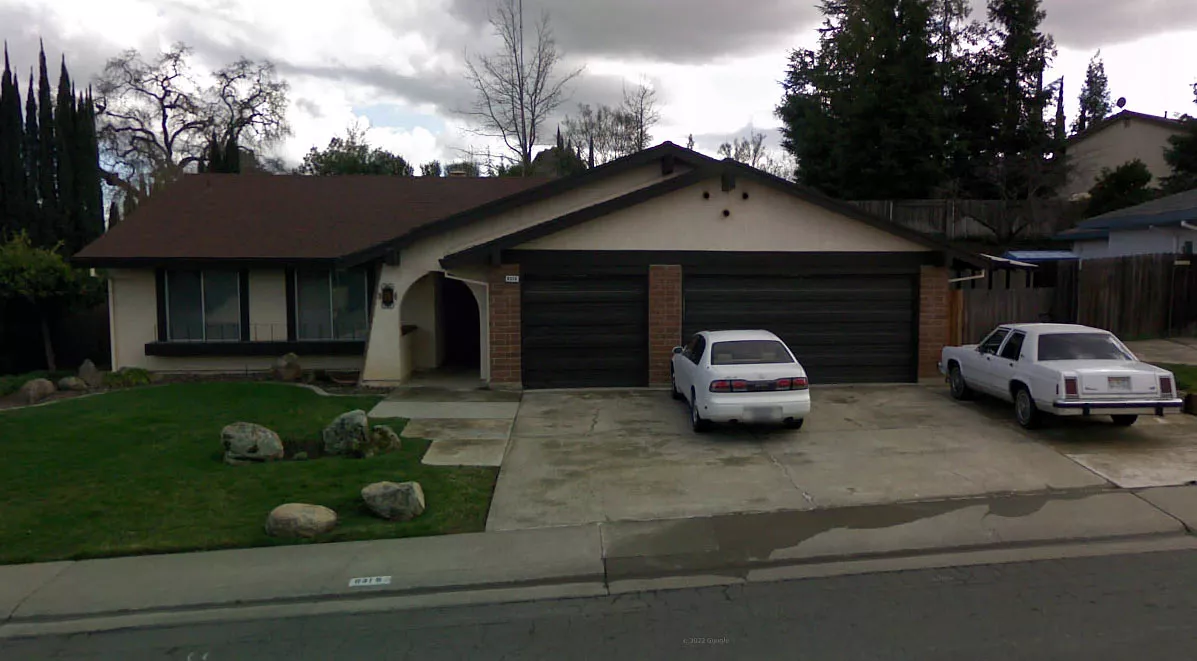 This Google Street View image was taken in February of 2009. The vehicle on the right is a Ford LTD Crown Victoria.
Google Street View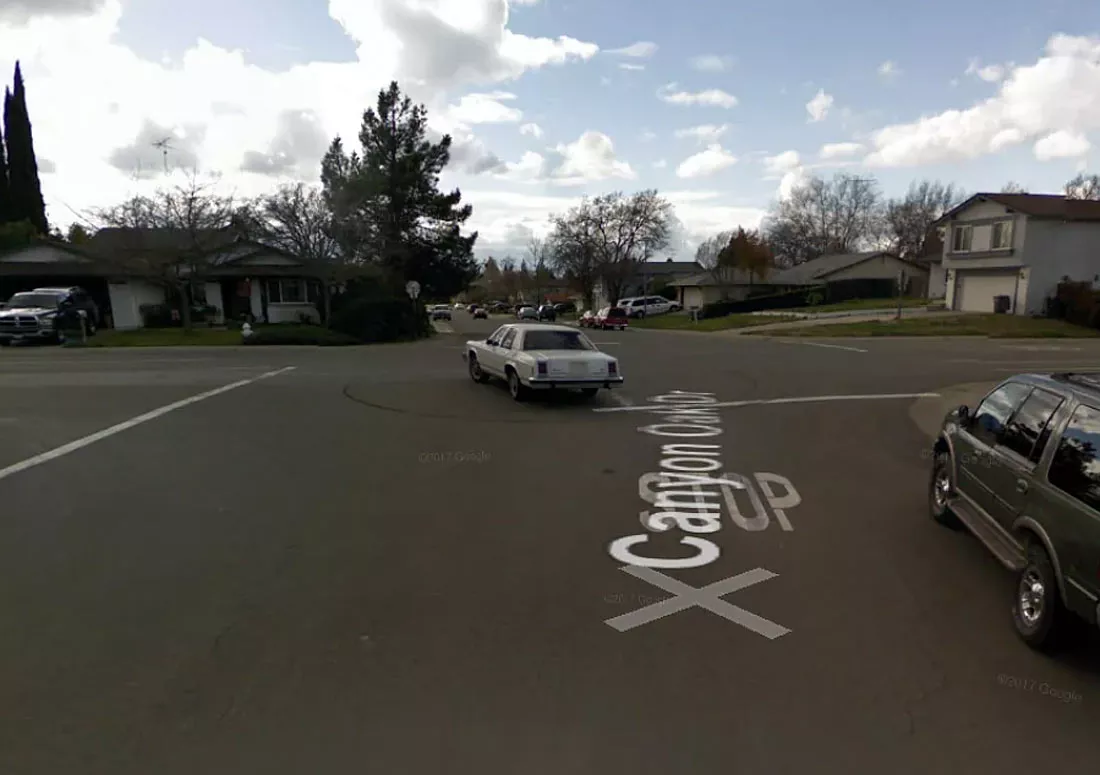 Interestingly, the Google Street View car captured DeAngelo's Ford turning south at the intersection between Twin Oaks Avenue and Canyon Oak Drive in February of 2009.
At the time, investigators were still nine years away from identifying him.
Closest Locations
Other locations that are relatively close to this address: Roughly 11 miles away.
Crime Location in Sacramento, California, United States Roughly 12 miles away.
Serial Killer House in Sacramento, California, United States Roughly 13 miles away.
Crime Location in Sacramento, California, United States Roughly 20 miles away.
Crime Location in Sacramento, California, United States Roughly 67 miles away.
Crime Location in Napa, California, United States