The location where Lynette Fromme tried to assassinate Gerald Ford
Crime Scene Location in Sacramento, California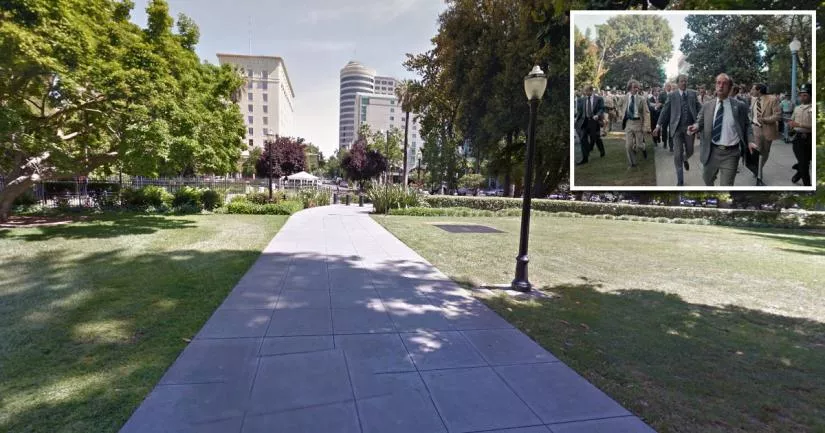 This is the location where Lynette "Squeaky" Fromme attempted to assassinate US President Gerald Ford.
It is situated near the northern entrance to California State Capitol Park in Sacramento, California.
Fromme was a member of the notorious Manson Family. On September 5th, 1975, she attempted to fire a Colt M1911 .45 pistol at Ford while he was en route to the main entrance of the state capitol building.
Shortly after 10 a.m., Ford left his hotel at 1121 L Street and entered the park.
That morning, crowds of people had gathered along this pathway to catch a glimpse of the president.
Standing among them was 26-year-old "Squeaky Fromme", who had a pistol concealed in a leg holster.
Ford shook hands with a number of people and continued walking southward until he reached this section of the path. At that point, he noticed a hand holding a gun sticking out of the crowd.
Fortunately, the assassination attempt was a failure, as Fromme was seemingly unaware that she needed to put a round in the chamber before firing.
When the pistol failed to go off, a nearby secret service agent named Larry Buendorf heard the metallic "click" and immediately wrestled her to the ground.
As Fromme was being arrested, she expressed surprise at the fact that the gun had misfired:
"It didn't go off. Can you believe that? It didn't go off."
Following the failed attempt on his life, Ford continued towards the state capitol building, where he spoke with California Governor Jerry Brown.
The two men did not speak about the incident until after they had finished their scheduled meeting.
On November 19th, 1975, Fromme was found guilty of trying to assassinate Ford. One month later, she was sentenced to life in prison.
She was released in August 2009 after spending nearly 37 years behind bars.

Further information is available in the "Photos" section below.
Ford Sacramento assassination attempt location
Below, you will find the address and the GPS coordinates for this location.
Address
1300 L Street, Sacramento, California, CA 95814, USA
Map
To view directions on how to get there, you can use the Google Maps shortcut below:
GPS coordinates
The latitude and longitude coordinates for the park are:
38.576979, -121.491934
Directions
The failed attempt occurred roughly 150 feet south of the northern entrance, near the intersection of L Street and 12th Street.
Details about the general area
The park is situated in the downtown district of Sacramento.
Photos
Photos of the park and other related images.
---
Assassination attempt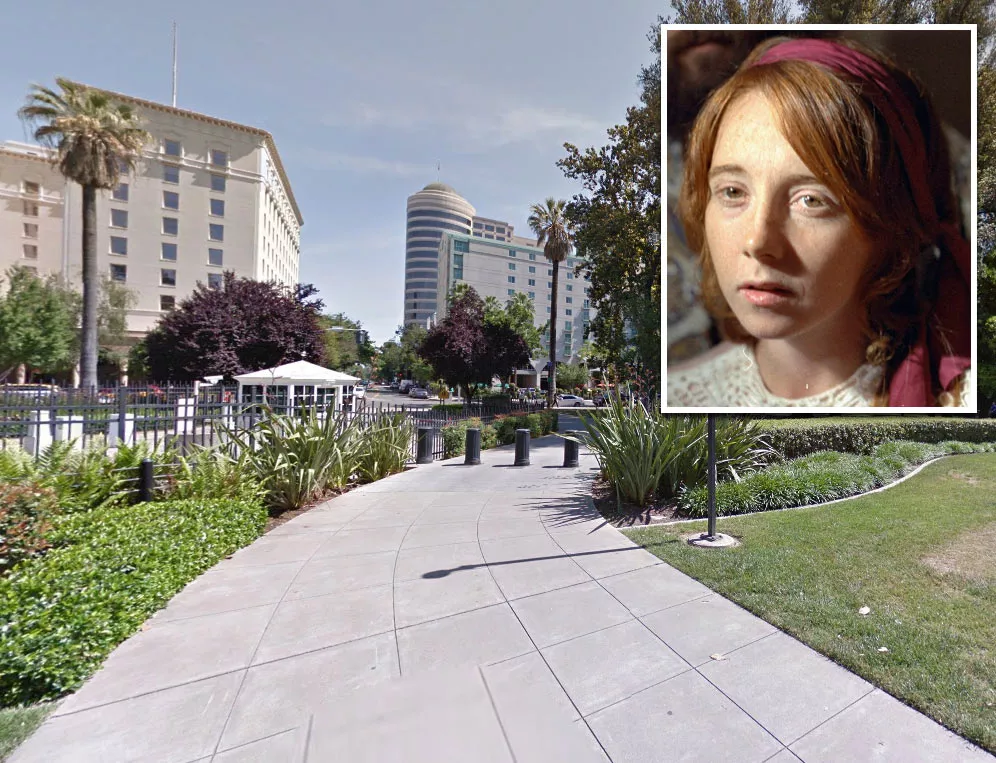 The assassination attempt on Ford's life took place at this bend in the pathway, near the present-day barriers off L Street in downtown Sacramento.
That morning, Squeaky Fromme (pictured right) wore a red, free-flowing robe so that she could easily access the pistol in her leg holster.
The 26-year-old had procured the weapon from her "sugar daddy", Harold Boro. In the lead-up to the shooting, Fromme told Boro that she feared for her life because the Manson Family had "a lot of enemies."
California State Capitol Park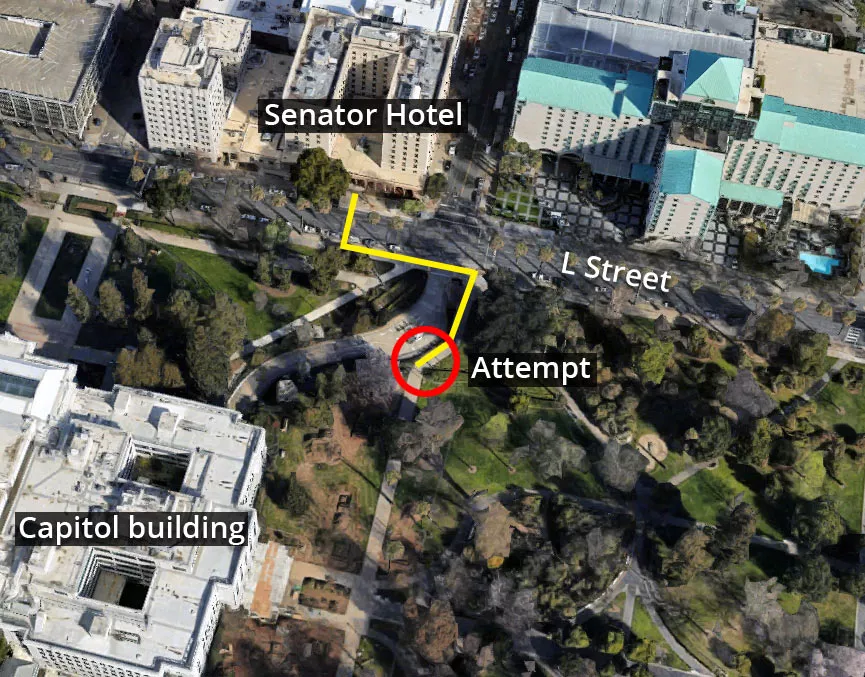 Image source: Google Maps
This map of California State Capitol Park highlights the key locations.
Ford left the Senator Hotel shortly after 10 a.m. and began walking southward through the park. His destination that morning was the state capitol building, where he was scheduled to meet with California Governor Jerry Brown.
Lynette "Squeaky" Fromme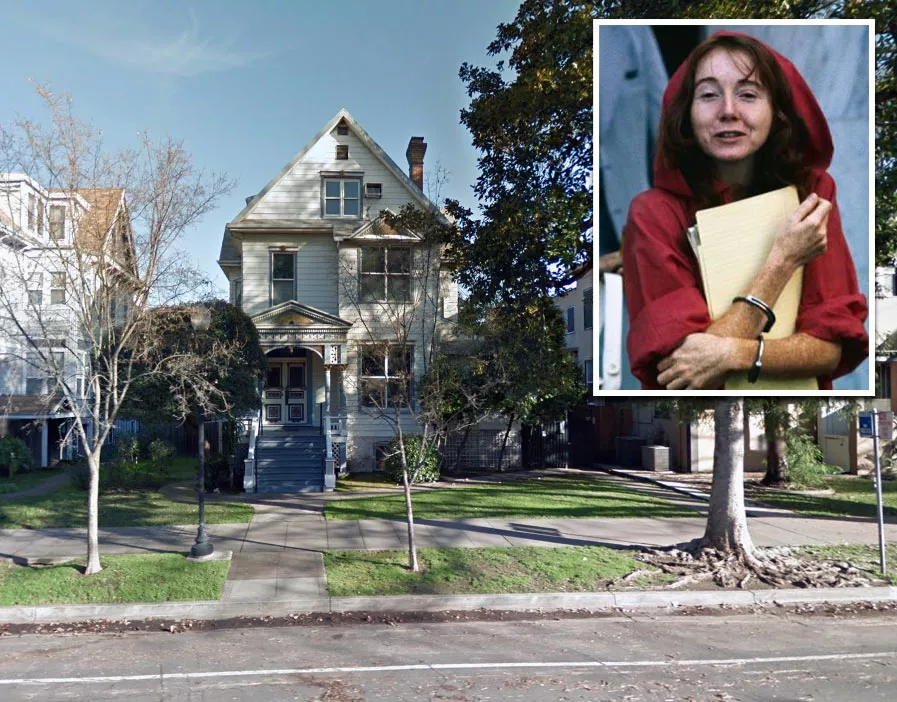 At the time of her arrest, "Squeaky Fromme" was living in an apartment at 1725 P Street in Sacramento.
This address is just a few blocks southeast of where she attempted to shoot President Ford.
Fromme lived in the attic apartment with another Manson Family cult member named Sandra Good.
The pair had decided to live in Sacramento after their leader, Charles Manson, was transferred to Folsom State Prison.
Coordinates: 38.571085, -121.485811
Map Viewer
There is more than one location associated with this entry. To view all of these places on the same map, you can use the following feature:
Closest Locations
Other locations that are relatively close to this address: Less than a mile away.
Crime Location in Sacramento, California Roughly 8 miles away.
Murder House in Sacramento, California Roughly 8 miles away.
Crime Location in Sacramento, California Roughly 20 miles away.
Serial Killer House in Citrus Heights, California