John List's house
Crime Scene Location in Westfield, New Jersey, United States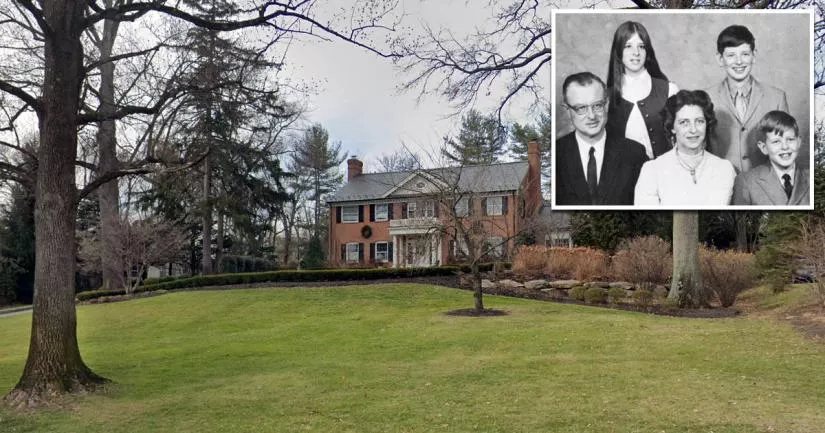 This is the former location of John List's house.
It is situated at 431 Hillside Avenue in Westfield, New Jersey.
The original property, which was called Breeze Knoll, was destroyed by a fire on August 30th, 1972. The house that exists today was built two years later.
This address became the scene of a notorious mass murder on November 9th, 1971, when List systematically gunned down his wife, mother, and three children.
To buy himself some time before the bodies were discovered, he cancelled all of his newspaper and milk deliveries. He also contacted his children's schools and informed them that they were going to visit their sick grandmother in North Carolina for a few weeks.
Because the List family usually kept to themselves, a total of 29 days passed before a neighbor finally realized that something wasn't right and contacted the police.
Unfortunately, by that stage, List was long gone, as he had traveled across the country to Denver, Colorado, and assumed the name Bob Clark.
When the police entered the house on Hillside Avenue, they found the five bodies and a confession note, which List had addressed to his pastor.
The investigation into his whereabouts was stymied from the start, as he had destroyed most photographs of himself. Although the police discovered his vehicle parked at JFK Airport in New York, there was no record of him getting on any flight.
Following the intense manhunt, the investigation eventually hit a brick wall, and the case went cold for nearly two decades. During this period, "Bob Clark" remarried and moved from Denver to Richmond, Virginia.
Then, in May of 1989, the television series "America's Most Wanted" aired a segment on the murders that included an age-progressed clay bust of List. Shortly afterwards, one of his former neighbors contacted the authorities and claimed that "Bob" looked very similar to the wanted fugitive.
List was arrested at his workplace and eventually extradited back to New Jersey. Although he initially claimed that it was a case of mistaken identity, he finally confessed after his fingerprints proved to be a match with those found in his military records.
During his trial, he claimed that he had murdered his family to spare them the shame of his worsening financial difficulties. In his mind, "sending them to heaven" was a better option than forcing them to live a "humiliating" life on welfare.
In 1990, List was convicted of the murders and sentenced to five terms of life imprisonment.
On March 21st, 2008, he died of complications from pneumonia at the age of 82.

Further information is available in the "Photos" section below.
Demolished
The house no longer exists. However, you can still visit the location.
Further Details
The original property was burned to the ground by an unknown arsonist in August of 1972.
John List house address
Below, you will find the address and the GPS coordinates for this location.
GPS coordinates
The latitude and longitude coordinates for the house are:
40.664600, -74.358146
Map
To view directions on how to get there, you can use the Google Maps shortcut below:
Address
The full address for this location is:
431 Hillside Avenue
Westfield
New Jersey
NJ 07090
United States
Directions
The house is situated about 635 yards (580 meters) west of the intersection between Hillside Avenue and New Providence Road. It lies to the south of US Highway 22.
Details about the general area
Westfield is a town in Union County, New Jersey.
Private Property Warning
This is a private property. It is not a public place. Therefore, you should be respectful and not step foot on the property without permission.
Photos
Photos of the house and other related images.
---
List family house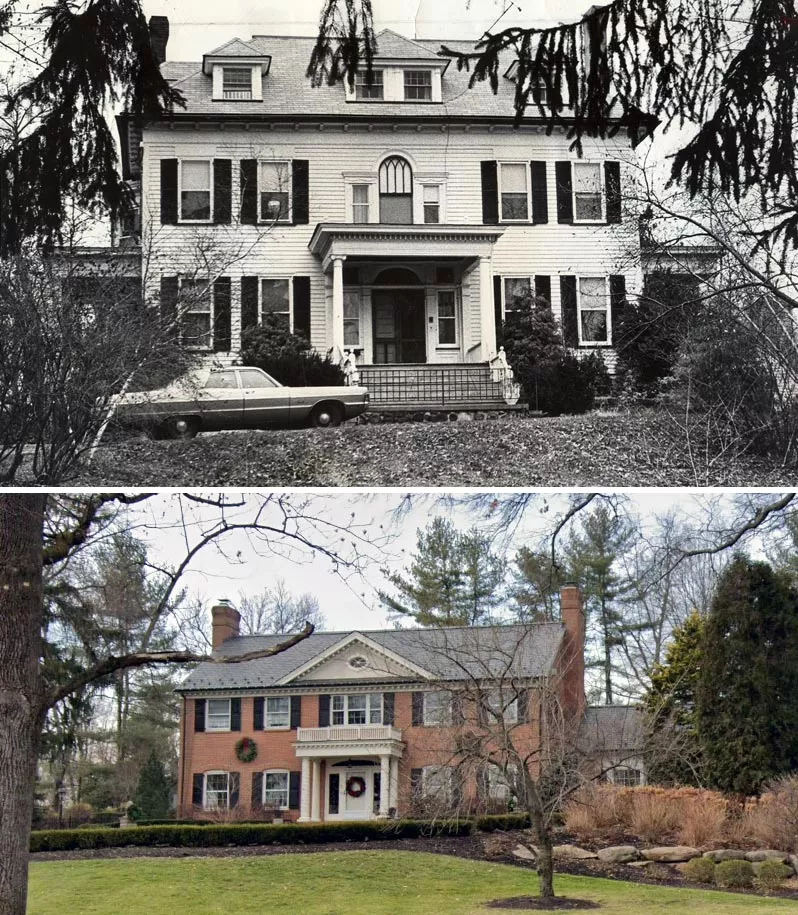 This is a "then and now" photograph of 431 Hillside Avenue.
The Google Street View image at the bottom was captured in December of 2021.
The List family's house no longer exists, as it was damaged by a fire in 1972. The current property was constructed in 1974.
Judging by old aerial photographs, they both sat on the exact same section of the lot.
The List family moved to this location in 1965 after John became the vice president and comptroller of a bank in Jersey City. Before that, they had been living in Rochester, New York.
Their Victorian mansion had 18 rooms and an elegant ballroom with a stained-glass skylight.
Unfortunately, things took a turn for the worse at the beginning of 1971, when List's bank was forced to close. Instead of telling his family that he had been laid off, he continued to get dressed in his work clothes and leave each morning. He would then attend job interviews and kill time by reading newspapers.
In the months that followed, his savings dwindled, and he began stealing money from his mother's bank account to pay off the mortgage.
431 Hillside Avenue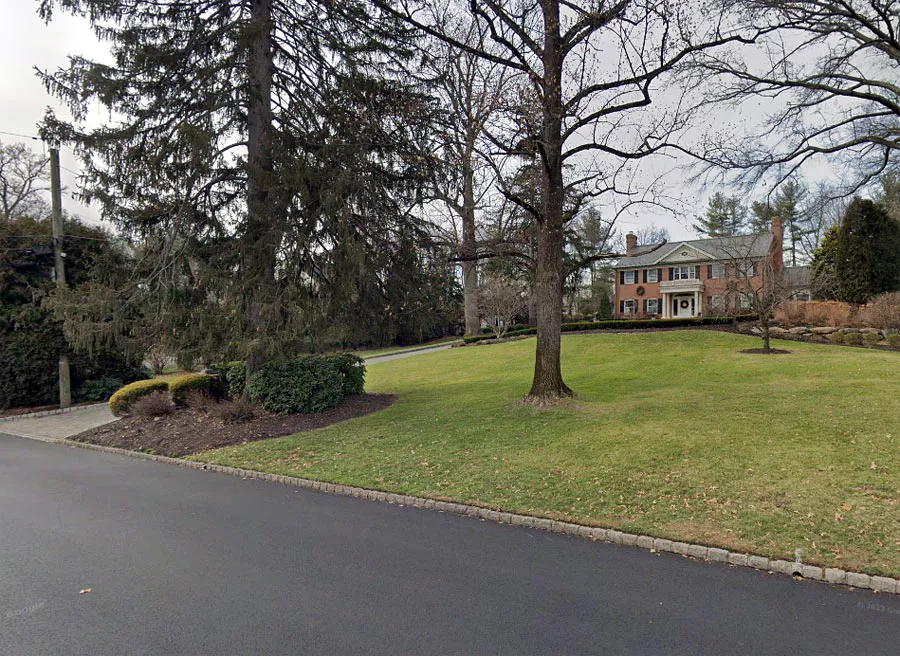 Image source: Google Maps
This is a wider Google Street View image of the property.
Breeze Knoll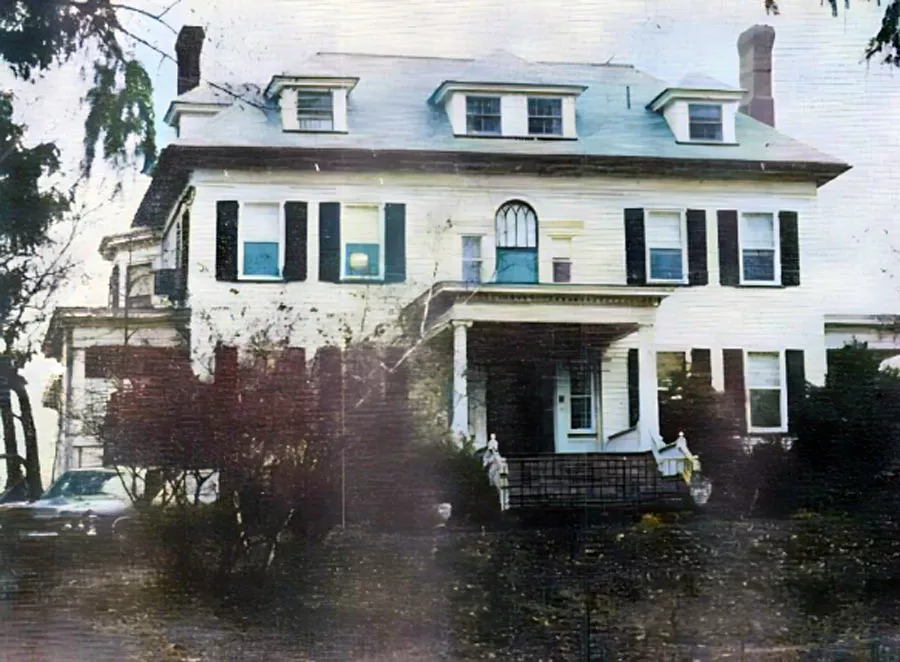 We enhanced this photograph of the "Breeze Knoll" mansion using various AI tools.
Following the murders, it was repossessed by the bank and put up for sale.
It was eventually boarded up after children kept trespassing on the property to hunt for souvenirs.
The mansion was burned to the ground by an unknown arsonist before a suitable buyer could be found.
Murders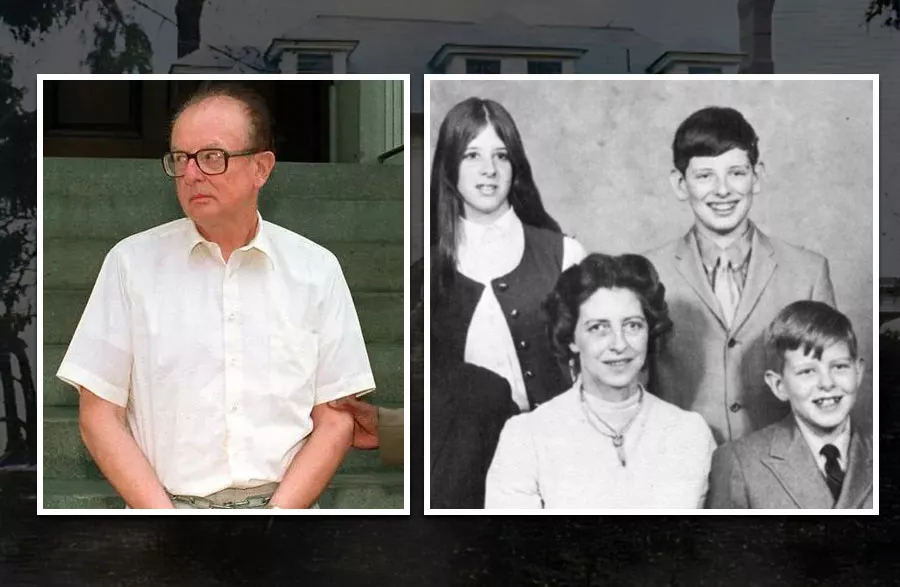 List decided to murder his family after he became increasingly unable to pay his bills.
He shot his wife, Helen, and his 84-year-old mother, Alma, while his children were at school.
When his son, Frederick (13), and his daughter, Patricia (16), arrived home later that day, he shot them both in the back of the head.
After eating some lunch, List drove to Westfield High School, where he watched his eldest son, John (15), play in a soccer game.
Following the game, he drove John home and then shot him multiple times.
List claimed that he didn't kill himself because he was a strict Lutheran who believed that suicide was a sin. In his twisted logic, he believed that murdering his family would "send them to heaven" and free them from the "humiliation" of foreclosure and living on welfare.
Following the murders, he traveled by train to Denver, Colorado, where he rented a trailer under the name Robert P. Clark. He later managed to find work as a night cook at a nearby Holiday Inn hotel.
Bust
List married his new wife, Delores Miller Clark, in 1985.
In February of 1987, his neighbor, Wanda Flannery, read an article about the murders in a tabloid magazine.
When she saw a photograph of the killer, she immediately realized that he looked like a younger version of her neighbor, "Bob".
That wasn't the only similarity that she noticed. After pouring over some of the finer details in the article, she noted that they were both religious Lutheran men who taught Sunday school and wore a coat and tie. Like List, Bob also had a scar on his right ear.
Her suspicions were strengthened even further by the fact that Bob seemed to be much older than he claimed to be.
Although she inconspicuously approached Bob's wife, Delores, and handed her the article, nothing ever came of it. At the time, Delores didn't think much of the similarities. Consequently, she tossed the magazine into a trash can.
Not long after, the Clarks moved to Richmond, Virginia, to get a fresh start in life.
On May 21st, 1989, the television series "America's Most Wanted" aired a segment on the quintuple homicide, which featured an age-progressed clay bust of List.
Interestingly, when Wanda Flannery watched the episode, she didn't think that the bust looked much like her former neighbor. Despite this, she still decided that it was time to contact the authorities.
Flannery's tip was eventually forwarded to the FBI's Richmond office, which sent two agents to Bob's address.
After learning that he wasn't home, they drove to his workplace. List's face reportedly broke into red blotches when he was confronted by the agents.
Although he stubbornly insisted that he was Bob Clark, the FBI arrested him and then matched his fingerprints against his old military records.
Closest Locations
Other locations that are relatively close to this address: Roughly 5 miles away.
Crime Location in Clark, New Jersey, United States Roughly 11 miles away.
Filming Location in Elizabeth, New Jersey, United States Roughly 15 miles away.
Filming Location in West Orange, New Jersey, United States Roughly 15 miles away.
Filming Location in Kearny, New Jersey, United States Roughly 16 miles away.
Filming Location in Newark, New Jersey, United States