Ed Gein's house
Serial Killer House in Plainfield, Wisconsin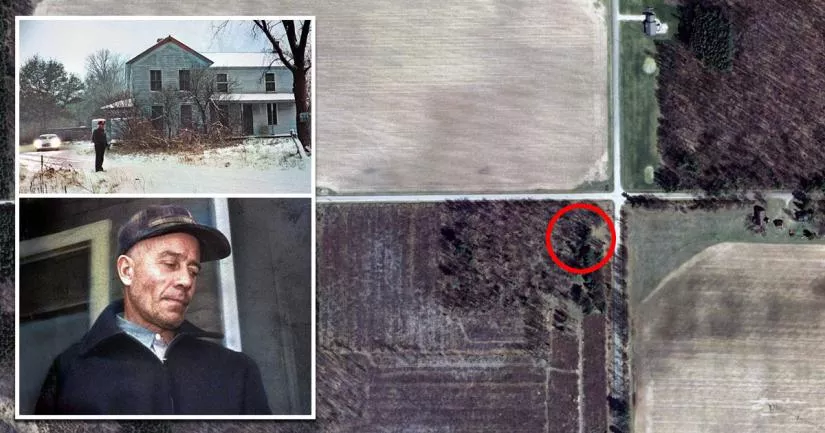 This is the site where Ed Gein's house once stood.
It is located on the corner of 2nd Avenue and Archer Avenue in Plainfield, Wisconsin.
The exact coordinates are available in the "Address" section below.
Gein was a suspected serial killer and grave robber whose grotesque crimes have cemented him as one of the most notorious criminals in American history.
His rural farmhouse was destroyed by a fire in the early hours of March 20th, 1958. At the time, it was just ten days away from being auctioned off to the highest bidder.
Although the cause of the fire has never been officially determined, it has been widely speculated that the property may have been targeted by an outraged local or a relative of one of Gein's victims.
Due to the bizarre and depraved nature of his crimes, there were also worries among the Plainfield community that the house might become some kind of macabre tourist attraction.
Notably, the local authorities showed little interest in investigating the suspected arson attack.
Gein was a handyman who lived at this farmhouse with his ultra-religious mother, Augusta.
Augusta was a domineering woman who purposely isolated her son from the outside world. By all accounts, she forbade him from living a normal life.
Over the years, Gein reportedly developed an unhealthy attachment to his mother.
When she passed away in 1945 at the age of 67, he was devastated. Not only was he now alone, but he had also lost the most central figure in his life.
Following his mother's death, he attempted to preserve her memory by boarding up all of the rooms that she had regularly used. Meanwhile, the rest of the house gradually sank into squalor.
Gein's shocking crimes came to light in November 1957, after he became the prime suspect in the disappearance of a hardware store owner named Bernice Worden.
When the police searched the handyman's farm, they discovered Worden's dismembered remains hanging upside down in a shed.
After entering his house, they found a skull belonging to a woman named Mary Hogan, who had mysteriously vanished three years prior. They also came across a "face mask" that Gein had created out of Hogan's skin.
From that point on, it only got worse.
Gein was a prolific grave robber who had spent the last ten years digging up local cemeteries at night. In most cases, he usually targeted fresh graves that belonged to young and middle-aged women.
Following the loss of his mother, he attempted to recreate her using human body parts.
During a search of the house, the police discovered skulls, bones, household items that were made out of skin, female sex organs, noses, lips, skin masks, and Worden's heart in a bag beside his stove.
Gein had placed skulls on his bedposts and created a lampshade from human facial skin. He had also used some of the skin to create covers for his chairs.
The scene was so repulsive that some of the responding officers had to rush outside to vomit.
After being diagnosed with schizophrenia, Gein was sent to the Central State Hospital for the Criminally Insane. Roughly ten years later, it was determined that he was finally able to take part in his own trial.
Acting on the testimony of doctors, a judge eventually found him not guilty by reason of insanity and committed him to a mental health hospital.
Gein spent the rest of his life locked away until he finally died of lung cancer in July 1984.

Further information is available in the "Photos" section below.
Demolished
The house no longer exists. However, you can still visit the location.
Further Details
The house was destroyed in a suspected arsonist attack on March 20th, 1958.
Ed Gein house location
Below, you will find the address and the GPS coordinates for this location.
Address
N5691 2nd Avenue, Plainfield, Wisconsin, WI 54966, USA
Map
To view directions on how to get there, you can use the Google Maps shortcut below:
GPS coordinates
The latitude and longitude coordinates for the house are:
44.184680, -89.583340
Directions
Gein's house was situated in a rural area that is roughly 6 miles southwest of Plainfield, Wisconsin.
The quickest way to reach the site is to drive along Wisconsin Highway 73 and then take the southern turn-off for 3rd Avenue. After turning onto 3rd Avenue, continue south for about two miles until you finally reach the intersection with Archer Avenue. At that point, take a right and simply head west until you come to the next crossroads.
Details about the general area
Plainfield is a village in Waushara County, which is located in central Wisconsin.
Private Property Warning
This is a private property. It is not a public place. Therefore, you should be respectful and not step foot on the property without permission.
Photos
Photos of the house and other related images.
---
Gein's house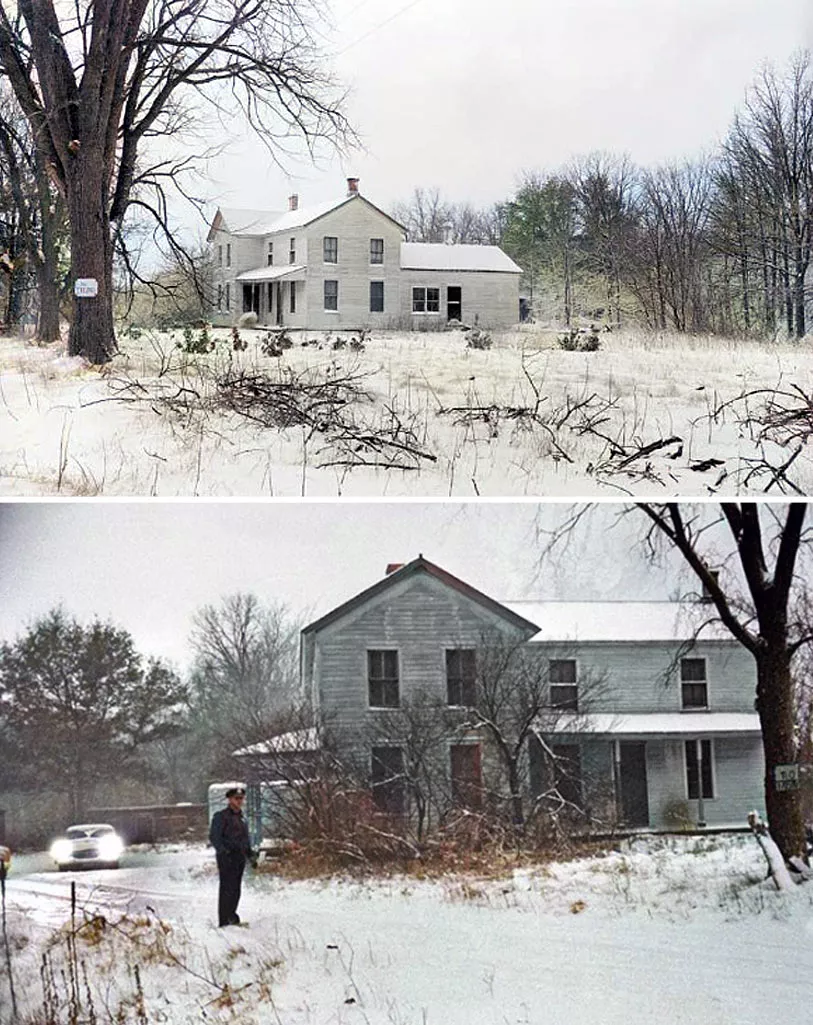 These are colorized photographs of Ed Gein's house, which sat on a 195-acre property.
Although the exterior appeared neat, the inside was cluttered and filthy, as the 51-year-old handyman was a hoarder.
After learning that his home had been burned to the ground, he casually remarked, "Just as well."
The cause of the fire was never determined. Notably, the local fire chief was the son of Gein's final victim, Bernice Worden, who had been brutally strung up in his shed.
The community of Plainfield was strongly opposed to the auction of the site, as they believed that it was commercializing his crimes.
Bedroom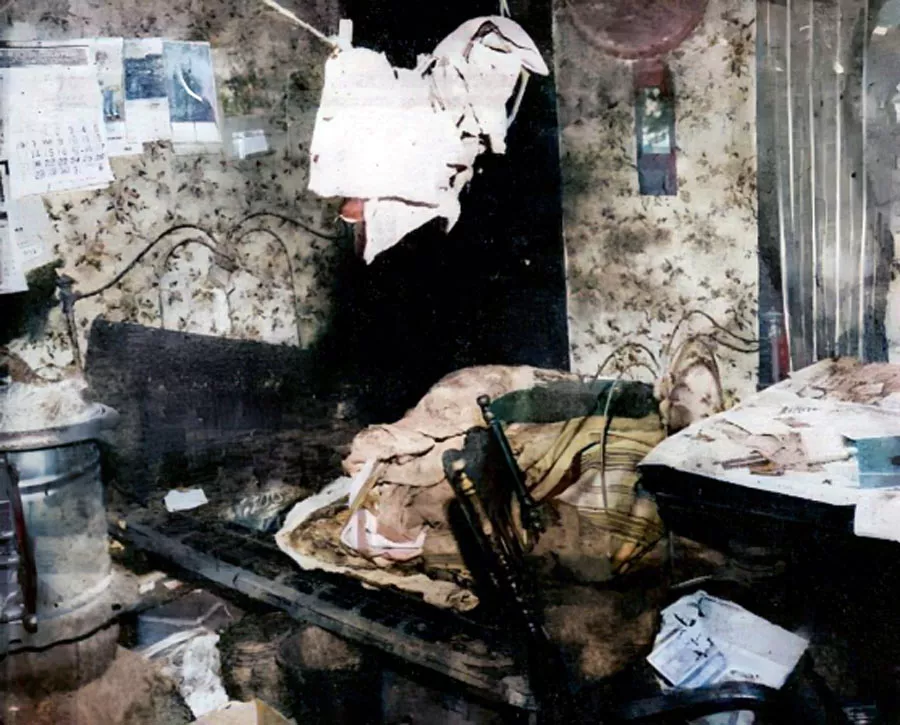 Gein slept in a grimy, broken bed that had a clothes line hanging over it. His bedroom wall was lined with outdated calendars.
During a search of the property, the police discovered books on embalming, crime magazines, and old newspapers from the early 1940s.
All of the human remains were removed and taken to the state crime lab, where they were photographed and destroyed.
Coroner Russell Darby, who took part in the search, said that it was the most revolting thing he had ever seen.
Gein's crimes were particularly shocking to members of the local community. Although he was something of an oddity around town, most people saw him as a quiet, helpful, and kind man who didn't drink, smoke, or swear. In the past, he had even babysat for some of his neighbors.
His nighttime trips to local cemeteries reportedly started in 1947, which was roughly two years after his mother had passed away. One night, while he was visiting his mother's grave at the Plainfield Cemetery, he noticed that a nearby plot had been recently filled in with fresh soil. At that point, he decided to dig up the grave, steal the corpse, and bring it back to his house, where he later removed parts of it.
Augusta Wilhelmine Gein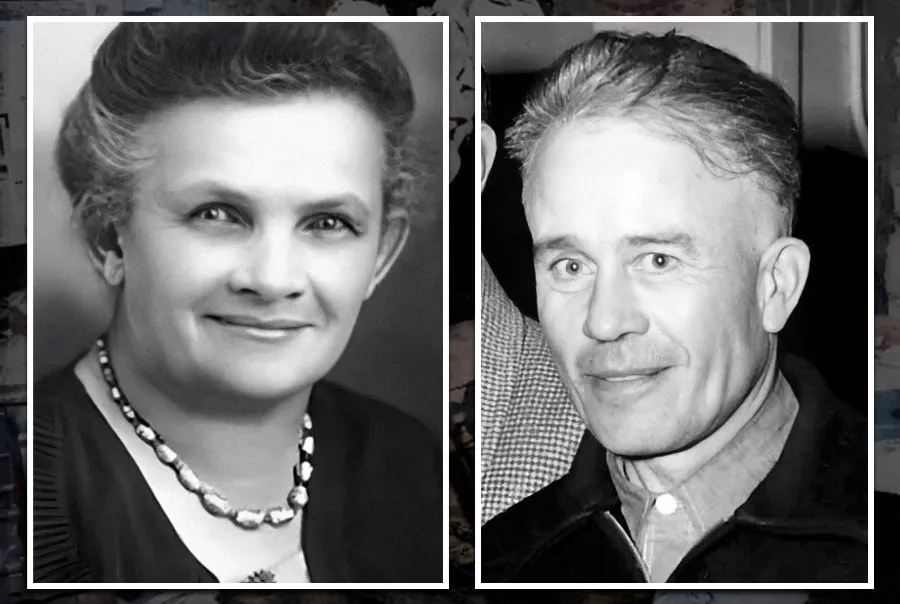 Ed's mother, Augusta Wilhelmine Gein, was a deeply religious individual who isolated him from the outside world.
She reportedly forbade him from dating, as she perceived other women to be the devil.
Ed worshipped his domineering mother. When she suffered a stroke in the mid-1940s, he refused assistance from a nurse and opted to take care of her himself.
Following her death in December 1945, he became overwhelmed by loneliness and sadness.
2nd Avenue and Archer Avenue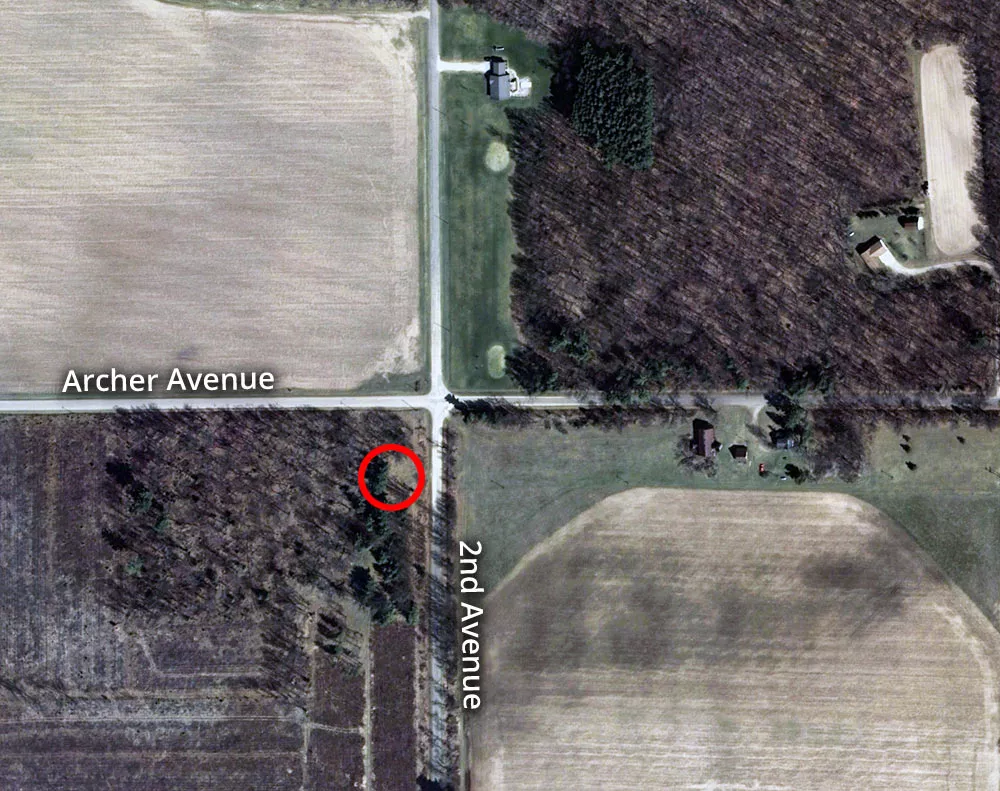 Gein's farm was situated on the southwest corner of 2nd Avenue and Archer Avenue.
These days, nothing exists at the address except a roadside gate, trees, and an overgrown field.
Notably, the Google Street View car has yet to visit this location.
N5691 2nd Avenue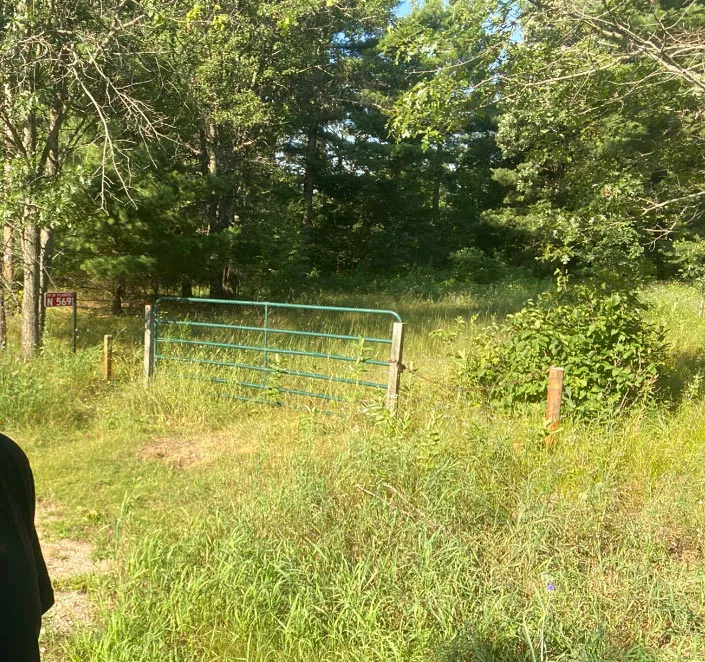 Image source: @TRdirtdog on Twitter
This photograph of the front gate was taken by Twitter user Tanner Root (TRdirtdog).
N5691 2nd Avenue is now an empty plot of land.
The property website Zillow indicates that it was last sold for $92,000 in 2008.
Ed Gein's grave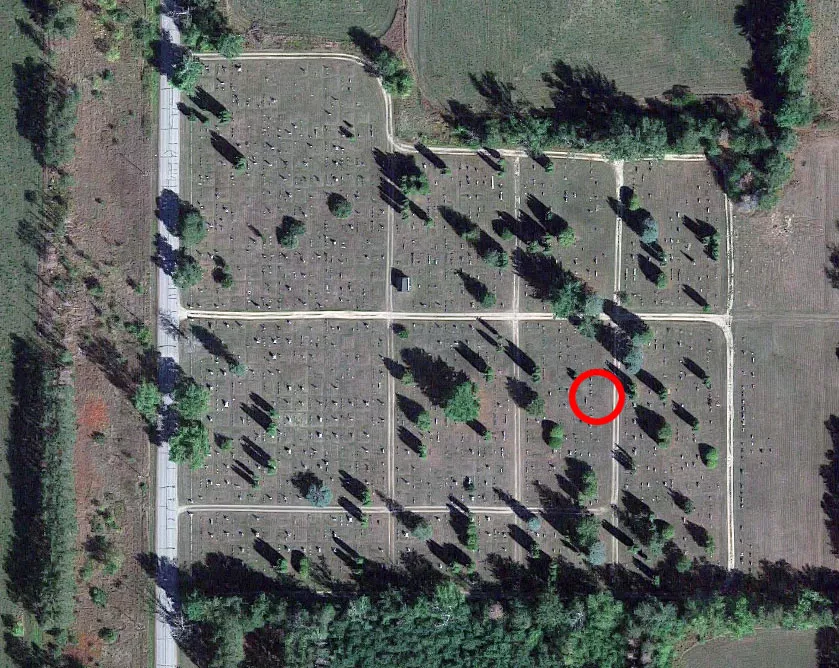 Gein is buried at Plainfield Cemetery, alongside his mother, father, and brother. The exact coordinates of the grave are listed below.
Originally, his grave was marked by a small rectangular headstone. However, it was slowly vandalized over the years by souvenir hunters who kept chipping off pieces of stone from it.
In June 2000, it vanished altogether. Although the headstone was eventually recovered the following year, it was never returned to the cemetery.
Currently, it is being held in storage at the Wautoma museum. The museum has no plans to put it on display due to the controversy surrounding his crimes.
Gein is buried near the headstone of Eleanor Adams, whose grave he dug up and emptied in 1951 (six years before his arrest).
Adams' grave remains empty to this day.
Coordinates: 44.216668, -89.520335
Empty property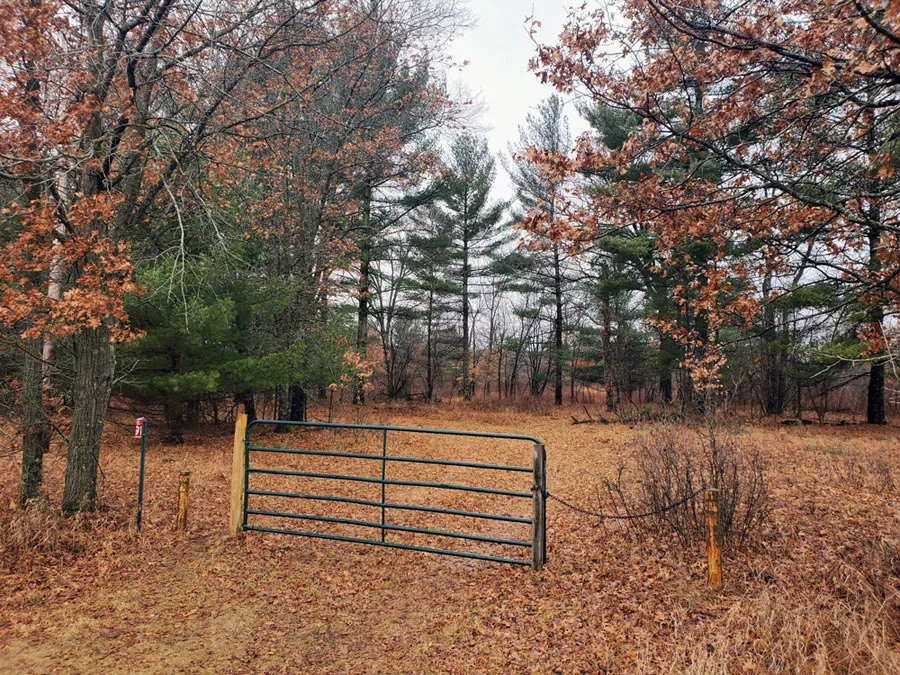 Image source: @GoBlue108 on Twitter
This photograph of the empty property was taken by Twitter user Juan Blue (GoBlue108).
Map Viewer
There is more than one location associated with this entry. To view all of these places on the same map, you can use the following feature:
Closest Locations
Other locations that are relatively close to this address: Roughly 142 miles away.
Serial Killer House in Milwaukee, Wisconsin Roughly 142 miles away.
Crime Location in Milwaukee, Wisconsin Roughly 143 miles away.
Serial Killer House in West Allis, Wisconsin