Jeffrey Dahmer's apartment
Serial Killer House in Milwaukee, Wisconsin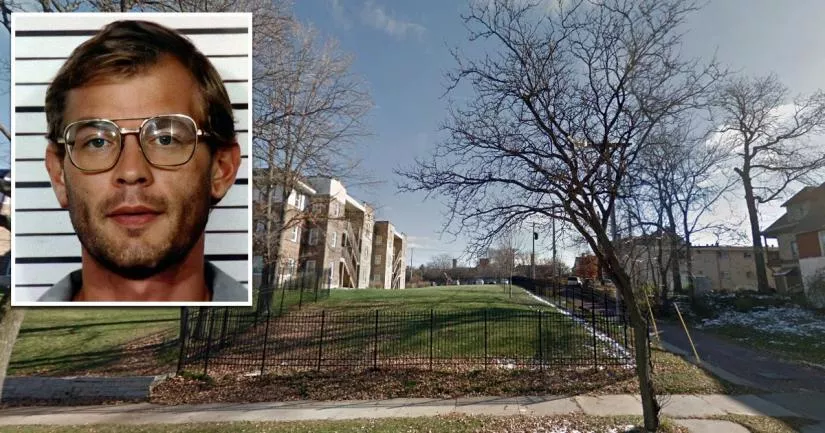 This is the location where Jeffrey Dahmer's apartment building once stood.
It is situated at 924 North 25th Street in Milwaukee, Wisconsin.
The building was demolished in 1992, after Dahmer was sentenced to life imprisonment for murdering 16 men.
Between May 1990 and July 1991, the serial killer brutally murdered twelve of his victims at the Oxford Apartments.
Dahmer lured some of the men back to his apartment by offering them money to pose for photo shoots.
Once they were inside, he would usually drug them with sleeping pills and then strangle them to death. In three of the cases, he injected boiling water or hydrochloric acid into their skulls while they were still alive.
Following the murders, Dahmer dismembered his victims' bodies in his bathtub and stored their organs in his fridge. He also cleaned their skulls with bleach so that he could keep them for a "shrine".
His habit of keeping his victims' remains eventually led to neighbors complaining about the foul odors that were coming from his apartment. However, when confronted, Dahmer came up with various excuses to explain the horrible stench. For example, on one occasion, he claimed that several of his pet fish had died.
Dahmer's killings finally came to an end on July 22nd, 1991, after one of his intended victims managed to escape the building and flag down two Milwaukee police officers named Robert Rauth and Rolf Mueller.
When the patrolmen arrived at the apartment, one of them noticed that an open drawer in the bedroom contained several Polaroid photographs of human body parts.
This discovery led to Dahmer's arrest and a thorough search of the premises. During their search, crime scene investigators found dozens of human remains. These included four severed heads, seven skulls, two skeletons, four torsos, a bag of human organs, and a pair of severed hands.
During questioning, Dahmer quickly confessed to his crimes and admitted that he had regularly engaged in cannibalism by eating his victims' organs. He also claimed that he was planning on building a shrine with the skulls and two skeletons.
Although he pleaded "guilty but insane," a jury rejected his insanity plea and declared him sane. On February 17th, 1992, Jeffrey Dahmer was given multiple life sentences. Two and a half years later, he was beaten to death by an inmate at the Columbia Correctional Institution in Wisconsin.

Further information is available in the "Photos" section below.
Demolished
The apartment building no longer exists. However, you can still visit the location.
Further Details
The Oxford Apartments were torn down on November 16th, 1992. Originally, there were plans to turn the lot into a memorial or a playground. However, these plans never materialized.
Jeffrey Dahmer apartment address
Below, you will find the address and the GPS coordinates for this location.
Address
924 N 25th Street, Milwaukee, Wisconsin, WI 53233, USA
Map
To view directions on how to get there, you can use the Google Maps shortcut below:
GPS coordinates
The latitude and longitude coordinates for the apartment building are:
43.042272, -87.944846
Directions
The lot is situated in the Avenues West neighborhood of Milwaukee. It is about 0.2 miles north of the intersection between West Wisconsin Avenue and North 25th Street. It sits beside the Cantona Court Apartments.
Photos
Photos of the apartment building and other related images.
---
Dahmer's apartment building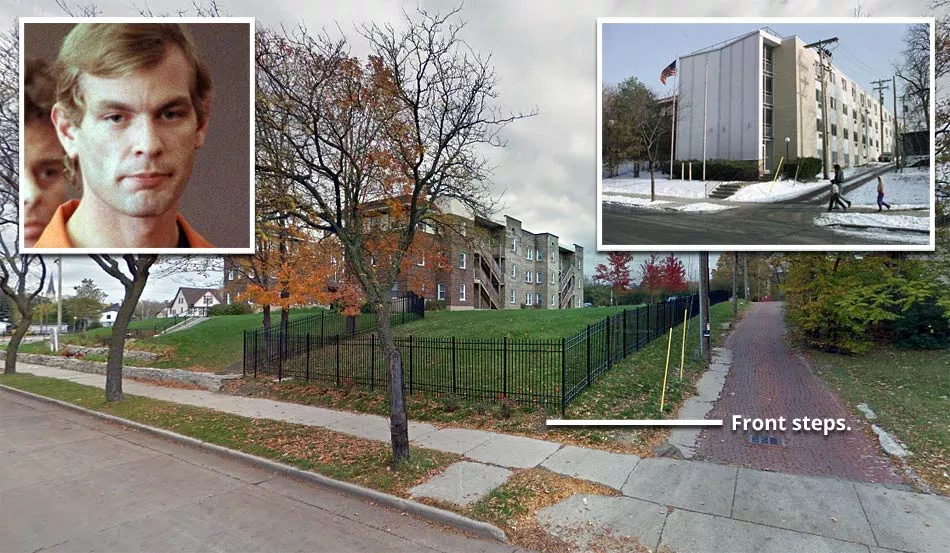 This is a Google Street View image of the empty lot where Jeffrey Dahmer's apartment building was situated. It was taken in October 2015.
In the inset photograph on the right, you can see where the steps met the public sidewalk.
The Oxford Apartments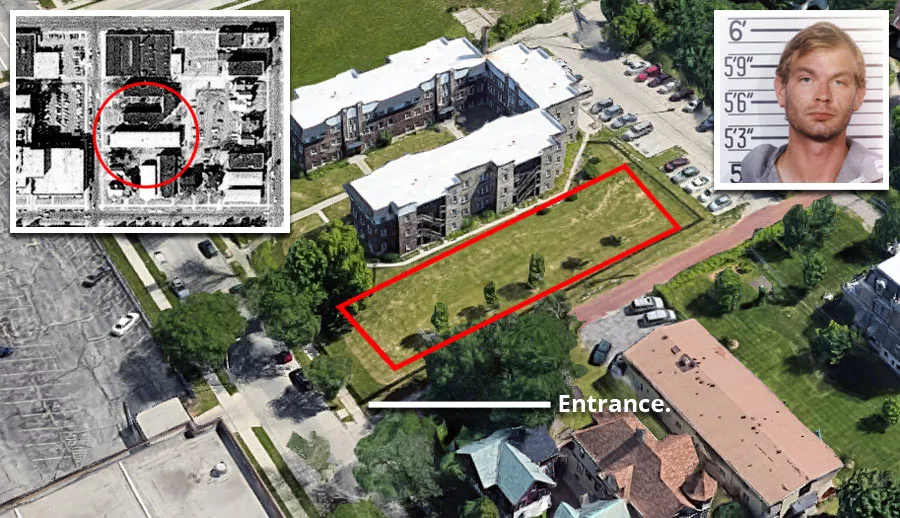 This aerial image illustrates where the Oxford Apartments building once stood. As you can see, it was a long, rectangular building that stretched westward, covering the entire lot.
It had 49 rental units. Dahmer lived in Apartment 213 on the second floor. He started living here on May 14th, 1990, after he moved out of his grandmother's house in West Allis.
By the time he relocated to this section of Avenues West, the 29-year-old had already claimed the lives of five men.
The move to North 25th Street did not impede Dahmer's murder spree. Within six days of moving into the building, he started killing again. On May 20th, 1990, he lured a sex worker named Raymond Smith back to his apartment after meeting him at a local bar. Once they were inside, he laced Smith's drink with sleeping medication and then strangled him to death on the living room floor.
The photograph in the top left-hand corner was taken during an aerial survey of Milwaukee in March 1976.
Demolished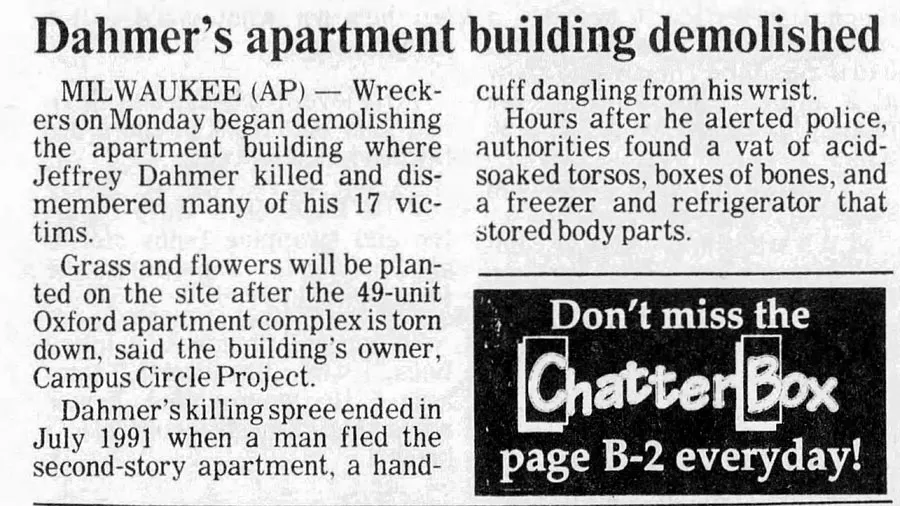 Wrecking crews demolished the building on November 16th, 1992. At the time, the property was owned by an urban renewal project called Campus Circle, which was sponsored by Marquette University. The organization consisted of community workers and local business owners.
The Campus Circle Project decided to tear the building down because they considered it to be "a symbol of anger, pain, violence, and death."
924 North 25th Street victims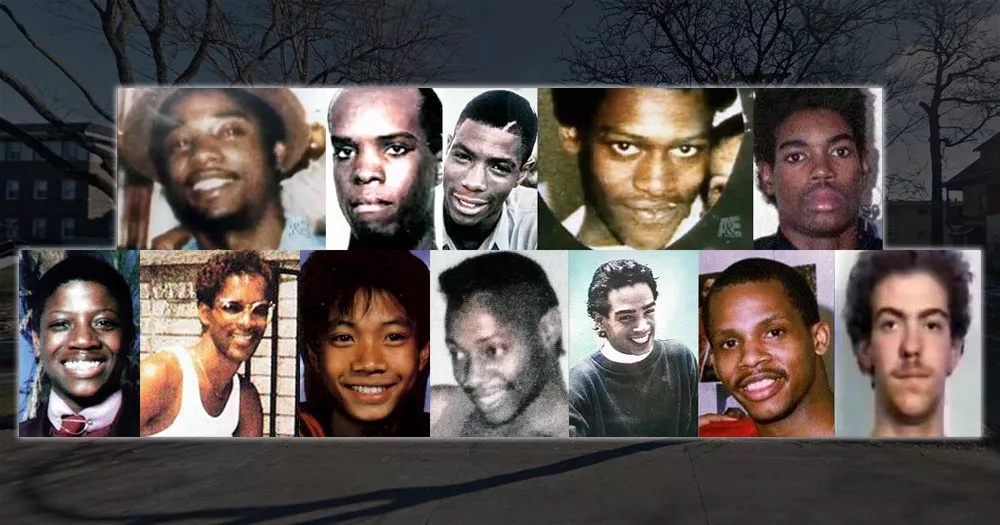 Twelve of Dahmer's victims were murdered at 924 North 25th Street. As you can see, his victim type was predominantly men of color. One of his victims was a 14-year-old Asian boy called Konerak Sinthasomphone.
The victims are pictured from left to right, top to bottom. We have ordered them according to the date that they were murdered.
- Raymond Lamont Smith (32).
- Edward Warren Smith (27).
- Ernest Marquez Miller (22).
- David Courtney Thomas (22).
- Curtis Durrell Straughter (17).
- Errol Lindsey (19).
- Tony Anthony Hughes (31).
- Konerak Sinthasomphone (14).
- Matt Cleveland Turner (20).
- Jeremiah Benjamin Weinberger (23).
- Oliver Joseph Lacy (24).
- Joseph Arthur Bradehoft (25).
Layout and photographs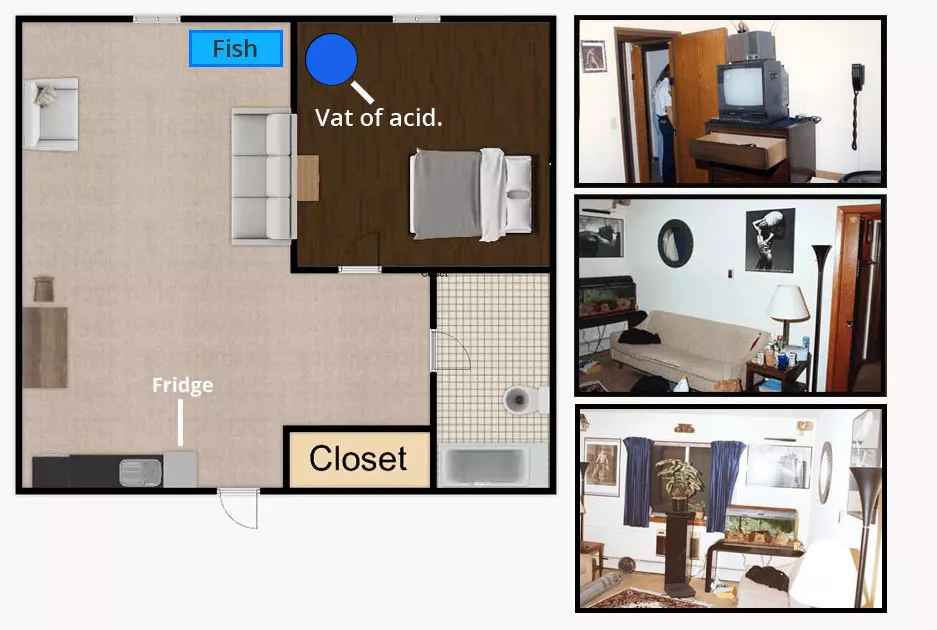 The floor plan illustrates the layout of the apartment. On the right, we've added photographs of Dahmer's bedroom and living room.
The vat of acid that he dissolved his victims' remains in was situated in the northwest corner of his room.
Closest Locations
Other locations that are relatively close to this address: Less than a mile away.
Serial Killer House in Milwaukee, Wisconsin Less than a mile away.
Crime Location in Milwaukee, Wisconsin Roughly one mile away.
Place of Interest in Milwaukee, Wisconsin Roughly 2 miles away.
Place of Interest in Milwaukee, Wisconsin Roughly 2 miles away.
Crime Location in Milwaukee, Wisconsin