Bernice Worden's hardware store
Crime Scene Location in Plainfield, Wisconsin, United States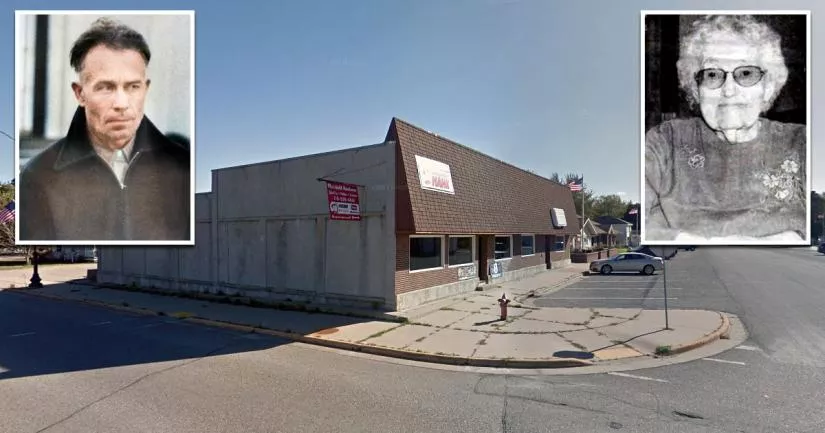 This is the location of Bernice Worden's hardware store.
It is situated at 110 South Main Street in Plainfield, Wisconsin.
In 1957, it became the scene of an infamous murder after a grave robber named Ed Gein shot and killed the owner, Bernice Worden.
Later, her dismembered body was found hanging upside down in a shed on his rural property.
Worden was a 58-year-old widow who ran this hardware store with the help of her son, Frank. However, on the day in question, she was working by herself.
Murder
November 16th, 1957, was a bitterly cold Saturday in Wisconsin. It also marked the beginning of the new deer hunting season.
That day, Frank, like many of the other residents, ventured off into the snow-filled woods with his rifle, eager to claim his first big buck.
After spending the afternoon hunting, he returned to Plainfield at around 5 p.m. and stopped by the family business to check on his mother. However, when he went inside, he saw that the store was empty, the lights were still on, and the cash register was open.
Even more troubling was a large, partially wiped blood stain that ran along the floor towards the garage area where the store's truck was normally parked.
Gein becomes a suspect
After checking the receipts, Frank could see that the last item his mother sold was a gallon of antifreeze.
This immediately led him to suspect Ed Gein, a local, affable oddball who had been a regular customer over the years. The previous evening, the handyman had visited the store to register his interest in purchasing some antifreeze. Gein was also aware that Worden would be by herself that day, as Frank had mentioned his plans to go hunting.
When Frank told investigators about the receipt, they quickly located Gein at a nearby grocery store and arrested him.
Discovery of Worden's body
On that cold, wintry night, two police officers arrived at Gein's empty property and began to search the grounds with their flashlights.
As they were trudging through the snow in complete darkness, they spotted a small shed that was attached to the unlit farmhouse.
Knowing that the shed contained a door to the residence, they decided to see if it was unlocked. After stepping inside the shed, one of the officers directed his flashlight at a large, shadowy object that was dangling from the rafters.
To his horror, he soon realized that it wasn't an animal carcass. It was actually the body of Bernice Worden.
Gein had dismembered Worden, gutted her, and then dangled her remains upside down in his shed.
Following the discovery, investigators entered the house and were shocked to find human skulls, bones, organs, and skin, among other inconceivable horrors that the lonely grave robber had collected over the years.
The officers found Worden's head inside a burlap sack. Her heart was wrapped in a plastic bag that had been left sitting beside Gein's stove.
Shooting
Following his arrest, Gein claimed that he was checking out a rifle in the hardware store when it suddenly discharged and killed Worden. He also insisted that he was in a daze after the shooting and that he didn't remember much of what he did.
The autopsy report stated that Worden was shot in the back of the head, dragged across the floor of the hardware store, and loaded into the company truck.
Gein then drove out to a wooded area before traveling back to Plainfield on foot. After walking back into town and retrieving his own car, he returned to the truck, picked up Worden, and drove back to his farmhouse.
Once there, he proceeded to eviscerate and mutilate the widow's body.
He then hung the remains from the rafters of his shed using a wooden crossbar.
Bernice Worden's store address
Below, you will find the address and the GPS coordinates for this location.
GPS coordinates
The latitude and longitude coordinates for the store are:
44.213623, -89.492227
Map
To view directions on how to get there, you can use the Google Maps shortcut below:
Address
The full address for this location is:
110 South Main Street
Plainfield
Wisconsin
WI 54966
United States
Directions
The store is situated at the corner of North Street and South Main Street.
Private Property Warning
This is a private property. It is not a public place. Therefore, you should be respectful and not step foot on the property without permission.
Photos
Photos of the store and other related images.
---
Worden's hardware store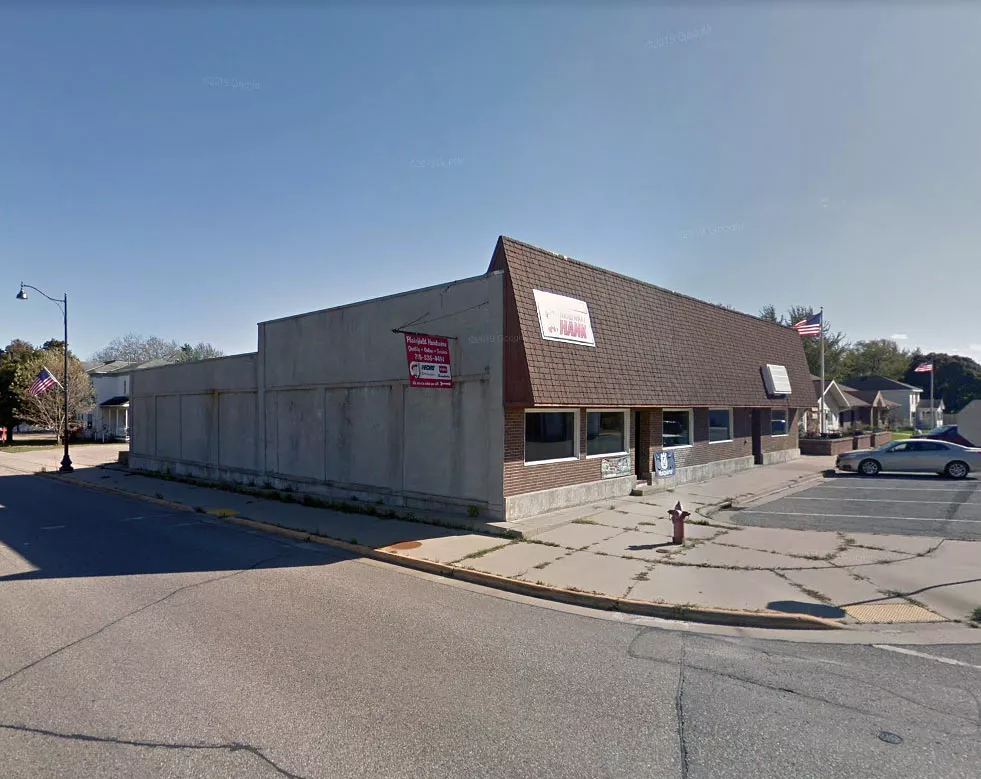 This Google Street View image of 110 South Main Street was captured in October of 2018.
In the past, this was the location of Worden's hardware store.
On the night of November 16th, 1957, police cars lined up outside this address while curious residents gathered in the cold to find out what had happened to the well-known widow.
When the police located Gein at a nearby grocery store, he agreed to sit in the back of their patrol car and answer some questions.
During the conversation, one of the officers accused him of contradicting parts of his own story. In response, Gein blurted out that he had been framed.
After being asked to elaborate on what he meant by this, the local handyman let it slip that Worden was dead.
At the time, the police were still searching for Worden. However, Gein didn't know this. He presumed that he was being questioned because they must have found her remains in his shed.
When the officers reacted in shock to the revelation that the widow was dead, Gein quickly realized that her body hadn't been discovered yet. At that point, he began to spin a tale about how he had "heard" that she was dead.
However, when the officers asked him who had said such a thing, he was unable to provide them with any names.
110 South Main Street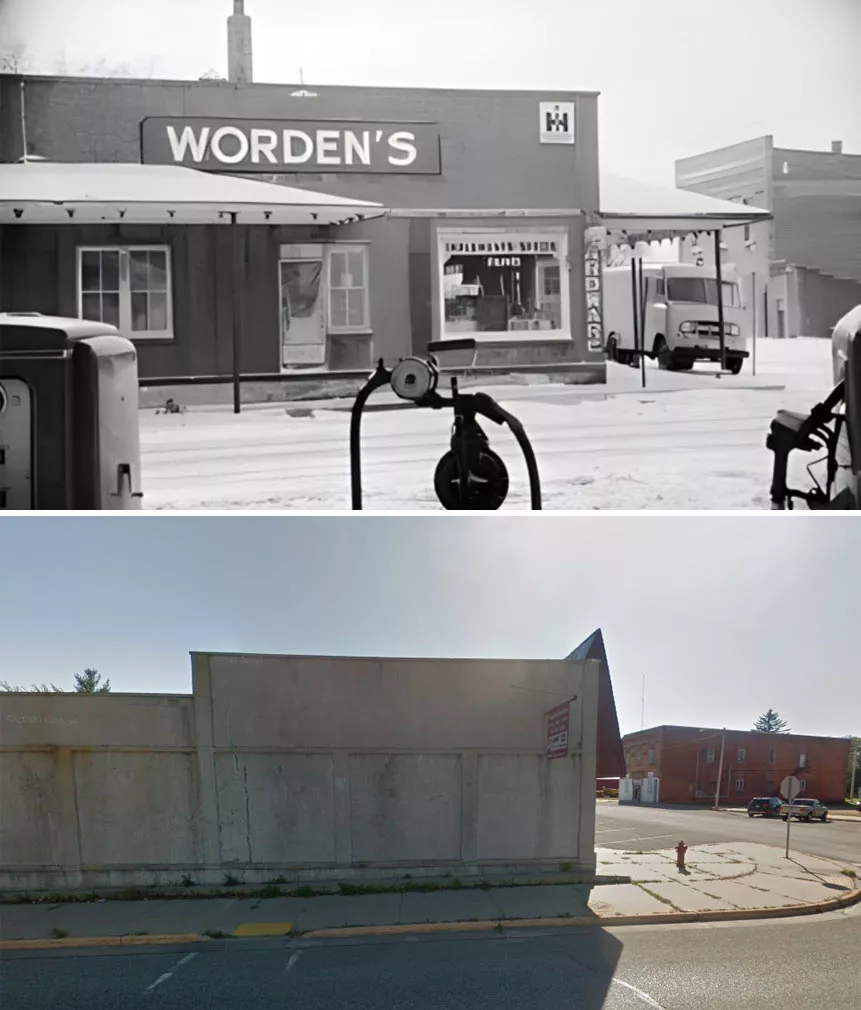 This is a "then and now" image of the store. As you can see, it has changed significantly since Worden's murder.
In 1957, there was an entrance on the northern side of the building.
According to Gein, Worden was shot in the back of the head while she was standing at the front window and staring out into the street.
Plainfield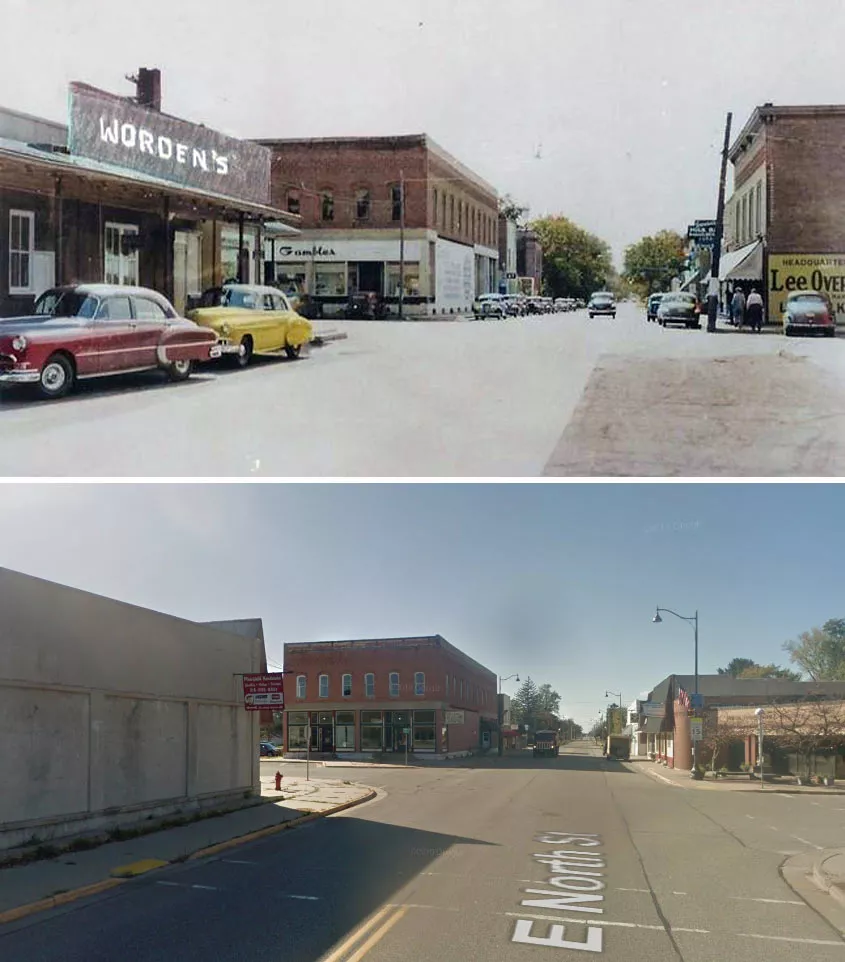 This comparison image is facing westward, towards the intersection of North Street and South Main Street in Plainfield.
Closest Locations
Other locations that are relatively close to this place. Roughly 6 miles away.
Serial Killer House in Plainfield, Wisconsin, United States Roughly 140 miles away.
Serial Killer House in Milwaukee, Wisconsin, United States Roughly 140 miles away.
Serial Killer House in Milwaukee, Wisconsin, United States Roughly 140 miles away.
Crime Location in Milwaukee, Wisconsin, United States Roughly 141 miles away.
Serial Killer House in West Allis, Wisconsin, United States