The bridge where David Berkowitz stabbed his first victim
Crime Scene Location in The Bronx, New York, United States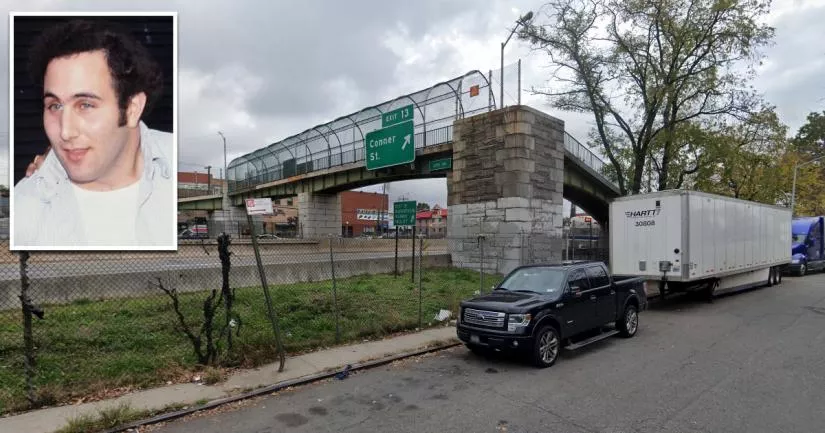 This is the location where serial killer David Berkowitz stabbed his first victim.
The attack took place on this pedestrian bridge in the Bronx, New York.
The footbridge in question connects Baychester Avenue in Co-op City with the service road on the northern side of the New England Thruway.
On the evening of December 24th, 1975, Berkowitz traveled to Co-op City with a hunting knife, eager to kill his first victim.
During interviews, he claimed that he attacked two separate women.
The first woman that he allegedly stabbed has never been identified, as there were no reports of such an incident taking place. According to Berkowitz, she appeared to be Hispanic.
The second victim was 15-year-old Michelle Forman, whom he attacked on this bridge.
As Forman was walking over the New England Thruway, Berkowitz ran at her from behind and stabbed her six times—three times in the head and three times in the torso.
However, the stabbing didn't go according to plan, as Forman's heavy winter clothing provided a layer of protection against the knife. This came as a huge shock to Berkowitz. Instead of silently falling to the ground like people did in the movies, his target turned around and started screaming at him.
Consequently, he panicked and ran away.
Following the ambush, Forman reportedly ran after her assailant and saw him fleeing in the direction of a nearby parking lot.
Although she did not see his face, she did notice that he was a heavyset man who ran with a sluggish gait.
Despite suffering a collapsed lung, the young girl managed to survive the attack and was discharged from the hospital one week later.
Notably, this was the first and last time that Berkowitz used a knife.
He later confessed that the attack had been a failure:
"I never heard anyone scream like that. I just kept stabbing and nothing would happen. I just ran off."
Berkowitz admitted that the attack on the unidentified Hispanic woman had also ended similarly, as the knife struggled to cut her heavy winter coat.
After realizing that using a knife wasn't as easy as he had envisioned, he decided to purchase a .44 caliber Bulldog revolver instead.
Roughly seven months later, "the Son of Sam" began a series of eight shootings that claimed the lives of six people and terrorized New York City.
Where did Berkowitz attack his first victim?
Below, you will find the address and the GPS coordinates for this location.
GPS coordinates
The latitude and longitude coordinates for the bridge are:
40.881738, -73.830058
Map
To view directions on how to get there, you can use the Google Maps shortcut below:
Address
The full address for this location is:
Baychester Avenue
The Bronx
New York
NY 10475
United States
Directions
The footbridge is in the northwest section of Co-op City. The eastern entrance is about 270 yards (250 meters) north of the intersection between Co-Op City Boulevard and Baychester Avenue.
Details about the general area
Co-op City is a cooperative housing development in the northeastern section of the Bronx.
Photos
Photos of the bridge and other related images.
---
The bridge where Michelle Forman was stabbed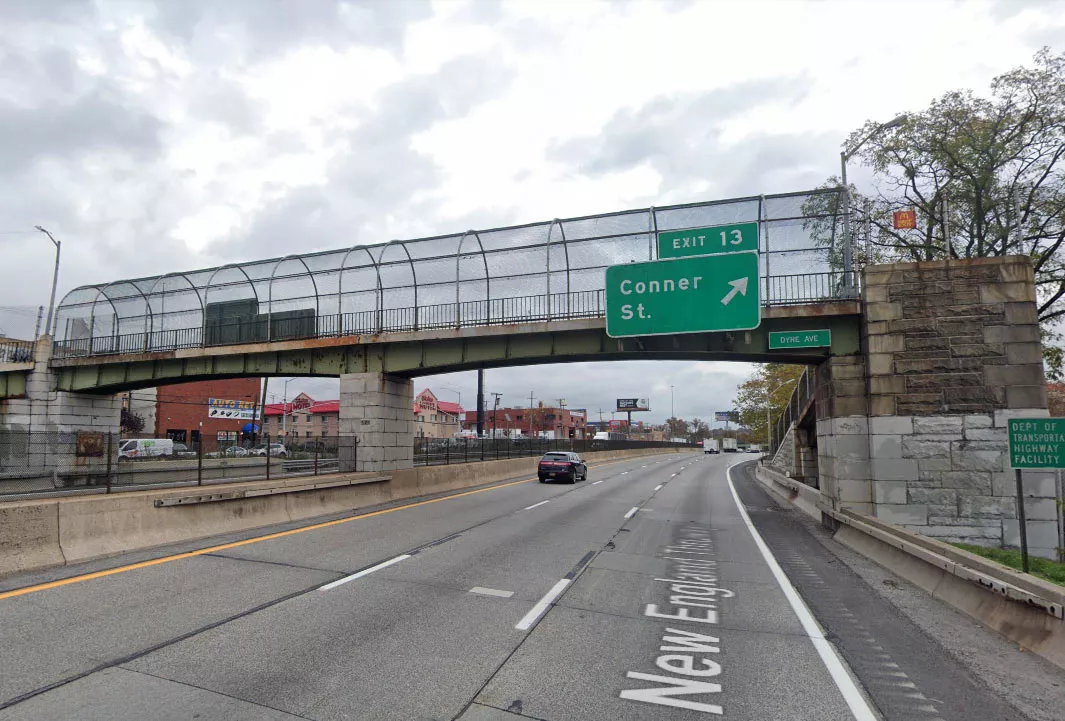 This Google Street View image of the footbridge in Co-op City was captured in November of 2019.
The bridge connects Baychester Avenue with the Eastchester.
Berkowitz attacked his first known victim, Michelle Forman, at this location on Christmas Eve in 1975.
Following the incident, Forman made her way to her parents' apartment building, where she collapsed. Not long after, a neighbor found the 15-year-old laying in a pool of her own blood.
Fortunately, she made a full recovery.
Baychester Avenue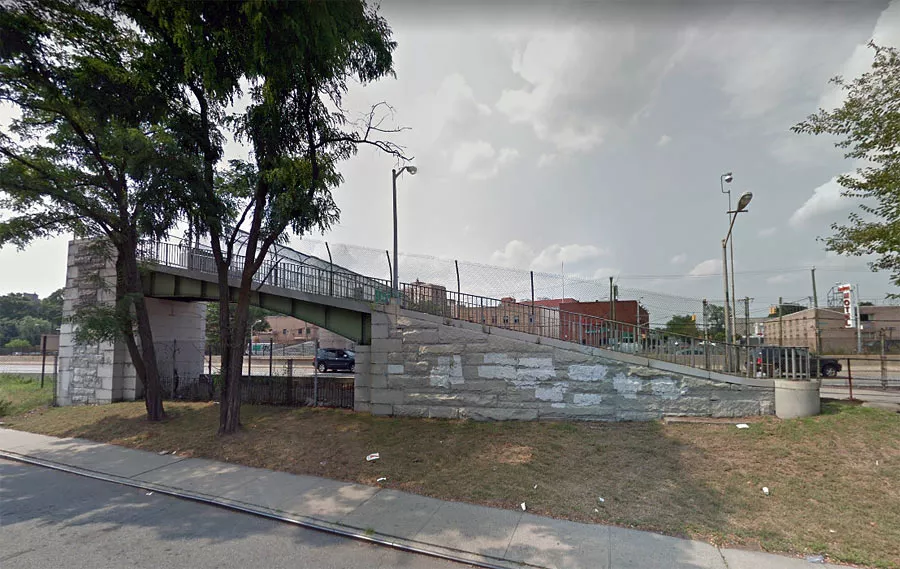 The Google Street View image above shows the entrance on Baychester Avenue.
According to Berkowitz, he initially targeted an unidentified Hispanic woman who had exited a grocery store on Co-Op City Boulevard. However, when the knife tore into her coat, she turned around and started screaming at him.
When that attack didn't go as planned, he fled northbound until he reached the chain-link fence on Baychester Avenue.
While he was panting and trying to catch his breath, he spotted Forman walking towards the footbridge. At that point, he readied his knife and proceeded to follow the 15-year-old.
Notably, the Forman stabbing and the murder of Donna Lauria both occurred in the Bronx, which is where Berkowitz grew up.
In other words, he started off by operating in an area that he was somewhat familiar with. It wasn't until later that he branched out into the boroughs of Queens and Brooklyn.
This supports the popular theory that a serial killer's first attack will always be far more revealing than his later crimes. Not only is he more likely to make more mistakes, but he will also feel somewhat pressured into operating close to home.
In this case, Berkowitz chose to stab someone less than half a mile from the apartment building where he had previously lived with his adoptive father. It was also a sloppy, unsuccessful attack that could have easily led to his arrest.
Closest Locations
Other locations that are relatively close to this place. Less than a mile away.
Serial Killer House in The Bronx, New York, United States Roughly 3 miles away.
Crime Location in The Bronx, New York, United States Roughly 3 miles away.
Crime Location in The Bronx, New York, United States Roughly 4 miles away.
Place of Interest in The Bronx, New York, United States Roughly 6 miles away.
Serial Killer House in The Bronx, New York, United States