David Berkowitz's apartment
Serial Killer House in Yonkers, New York, United States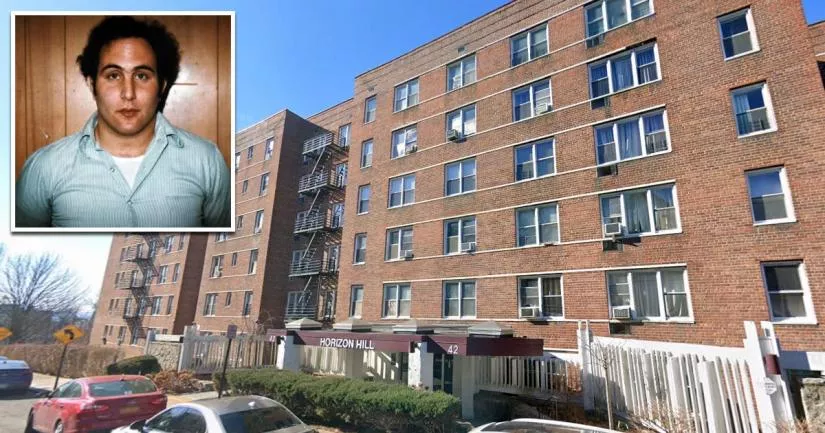 This is the apartment building where David Berkowitz lived.
It is situated at 42 Pine Street in the west of Yonkers, close to the Hudson River.
Berkowitz lived on the top floor, in apartment number 7E.
At the time of the murders, this rental building was called Pine Hill Towers.
The original address was 35 Pine Street. However, the owners changed the name and address of the building shortly after Berkowitz's arrest.
As you can imagine, they weren't too pleased to be associated with the notorious "Son of Sam"—the boastful serial killer who had terrorized New York City with his Bulldog revolver.
Between 1976 and 1977, Berkowitz killed six people in eight separate shootings.
His first victim was 19-year-old Donna Lauria, whom he shot to death in the Bronx on July 29th, 1976.
Following Lauria's murder, he continued to target young couples, often focusing his efforts on lovers' lanes. During his crime spree, he carried out shootings in the Bronx, Queens, Long Island, and Brooklyn.
In prison interviews, Berkowitz admitted that he used to drive around New York City for hours looking for suitable victims. If he couldn't find any, he would give up and try again the following day.
Originally, the media nicknamed him the ".44 Caliber Killer" due to the type of weapon that he was using. However, he quickly became known as the "Son of Sam" after he identified himself as such in a letter that he left at one of his crime scenes.
The murders, his taunting letters, and the creepy nickname that he gave himself created a media frenzy that lasted long after his arrest. It also led to one of the largest manhunts in New York's history.
His luck finally ran out after his yellow 1970 Ford Galaxie received a parking ticket close to the location where he shot Stacy Moskowitz and Robert Violante.
Upon realizing that the driver might have been the "Son of Sam", investigators trawled through records of vehicles that had been ticketed in the area until they eventually honed in on a 24-year-old Yonkers resident called David Berkowitz.
When the police arrived at Berkowitz's apartment building on Pine Street, they looked inside his car and saw a weapon in the back seat. During a search of the Ford, they found unsent letters from the killer and maps of the crime scenes.
Certain that they had finally found their man, they proceeded to wait outside until their suspect exited the building and got into his vehicle.
At that point, they moved in and arrested him.
When one of the officers asked Berkowitz who he was, he reportedly smiled and said, "You know."
Following his arrest, Berkowitz claimed that he had been taking orders from a demonically possessed dog that was owned by his neighbor, Sam Carr, who lived across the street.
However, he later admitted that he had made this story up. In reality, there was no demon dog. Instead, these attacks were his way of lashing out against a world that he felt had rejected him.
On May 8th, 1978, he pleaded guilty to all of the murders. One month later, he received six consecutive 25-year-to-life sentences.
He remains in prison to this day.
Where did David Berkowitz live?
Below, you will find the address and the GPS coordinates for this location.
GPS coordinates
The latitude and longitude coordinates for the apartment building are:
40.946378, -73.894775
Map
To view directions on how to get there, you can use the Google Maps shortcut below:
Address
The full address for this location is:
42 Pine Street
Yonkers
New York
NY 10701
United States
Directions
It lies on the western side of North Broadway in Yonkers. The building is about 250 feet south of the corner of Pine Street and Glenwood Avenue.
Details about the general area
Yonkers is an inner-suburb that lies to the north of New York City.
Private Property Warning
This is a private property. It is not a public place. Therefore, you should be respectful and not step foot on the property without permission.
Additional Information
Please do not attempt to go inside. This is a private apartment building for residents only. The owners are not welcoming to true crime fans. Furthermore, each floor has multiple surveillance cameras that are actively monitored.
Photos
Photos of the apartment building and other related images.
---
42 Pine Street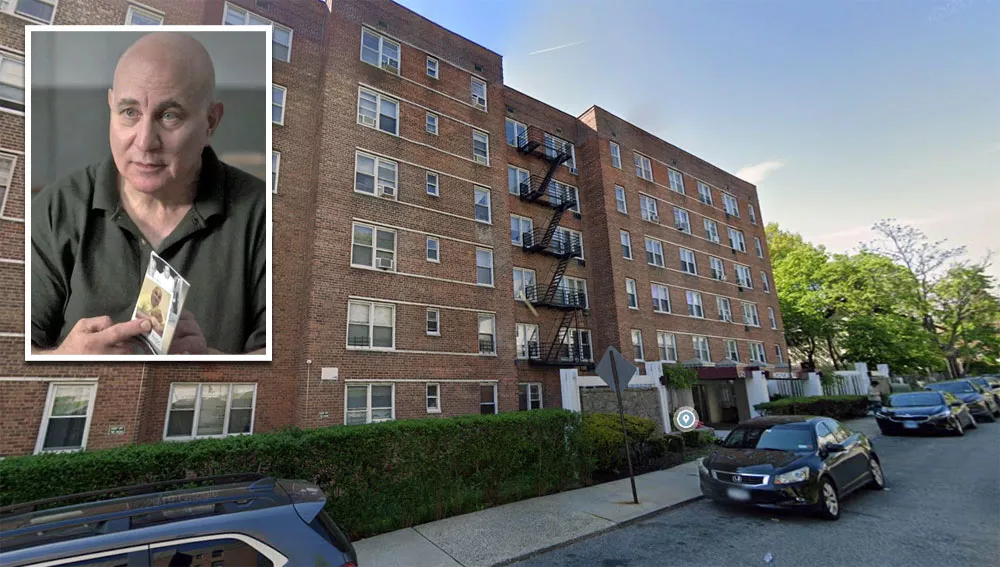 The Horizon Hill apartment building is situated at 42 Pine Street in Yonkers.
When Berkowitz lived here, it was called "Pine Hill Towers".
The address was changed from 35 Pine Street to 42 Pine Street in an attempt to sweep its infamous past under the rug. Notably, the current owners do not embrace its history and have refused to respond to questions from the media.
On the left, you can see a recent photograph of David Berkowitz, who is now a Born Again Christian. Over the years, he has been repeatedly denied parole.
He will be 70 years old in 2023.
Inside the apartment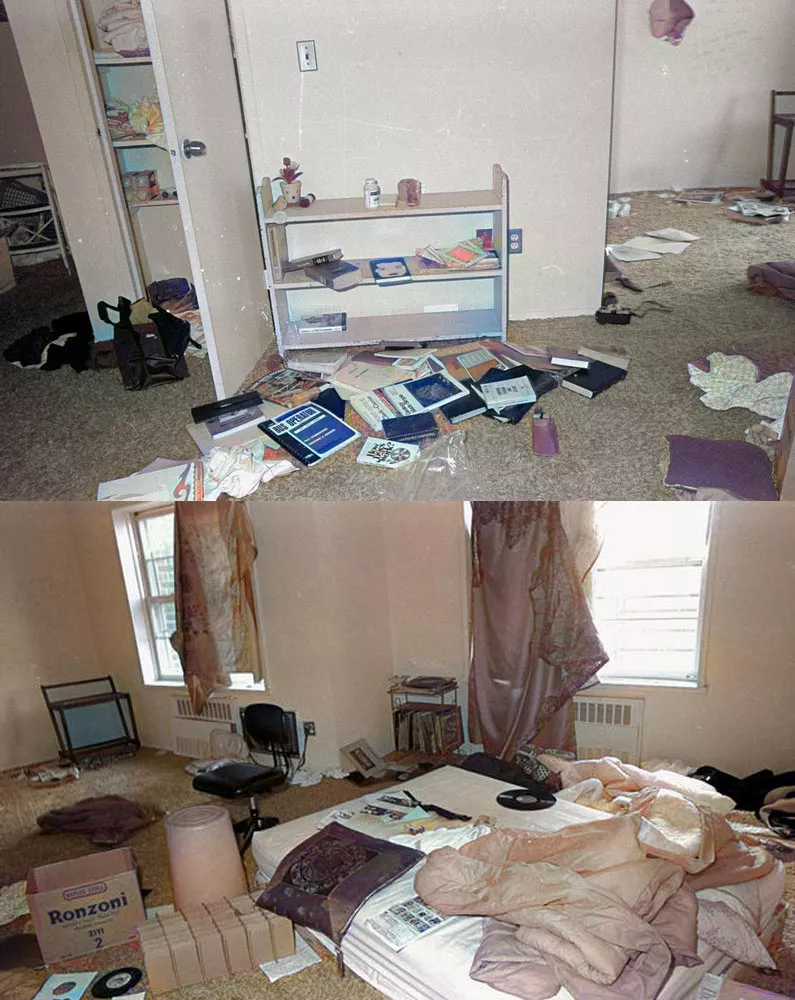 These are colorized photographs of the inside of David Berkowitz's apartment.
As you can see, the place was extremely messy, with books and pieces of clothing strewn across the floor.
In the top right-hand corner, you can see that there is a hole in the wall.
On the wall beside it, he had written the following message:
"Hi. My name is Mr. Williams and I live in this hole. I have several children who I'm turning into killers. Wait until they grow up. My neighbors I have no respect for and I treat them like sh*t. Sincerely, Williams."
Before he "graduated" to murder, Berkowitz was a serial arsonist.
During a search of the apartment, the police found a detailed diary containing a list of every fire he had set since the mid-1970s.
Arrest location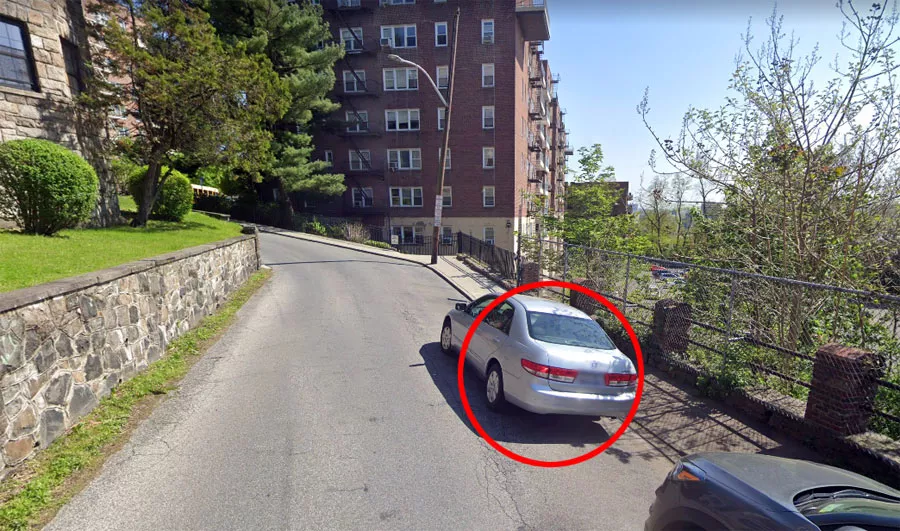 On the night of his arrest, Berkowitz's car was parked in this area. This is the exact location where he was finally apprehended.
It is situated about 200 feet south of the main entrance to the apartment building.
Coordinates: 40.945293, -73.894651
Apartment 7E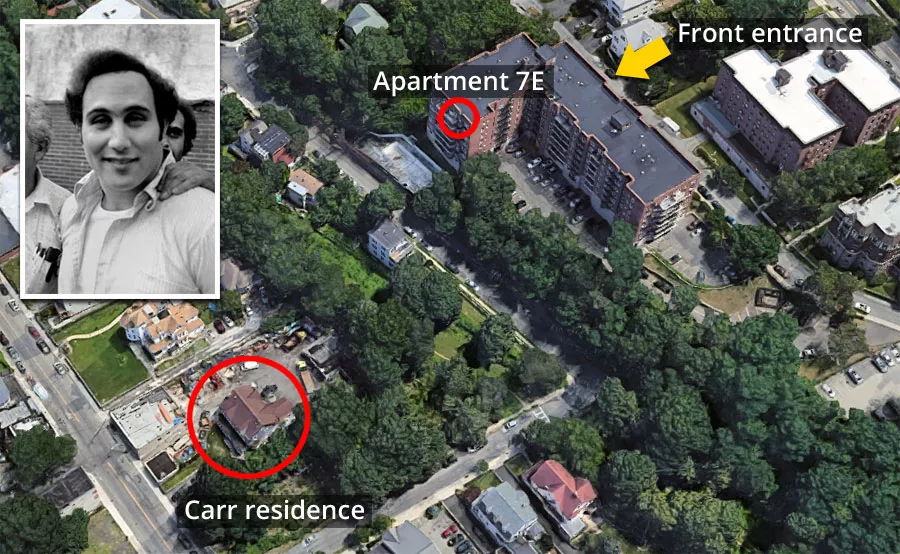 Apartment 7E is at the back of the building (on the western side).
The one-bedroom studio, which overlooks the Hudson River, is situated at the end of a hallway on the top floor.
Berkowitz initially claimed that he was receiving orders from a demon that was inside of his neighbor's dog.
The neighbor in question was Sam Carr, who owned a black Labrador retriever.
As you can see in the aerial image above, he had a clear line of sight into Carr's yard.
Sam Carr's house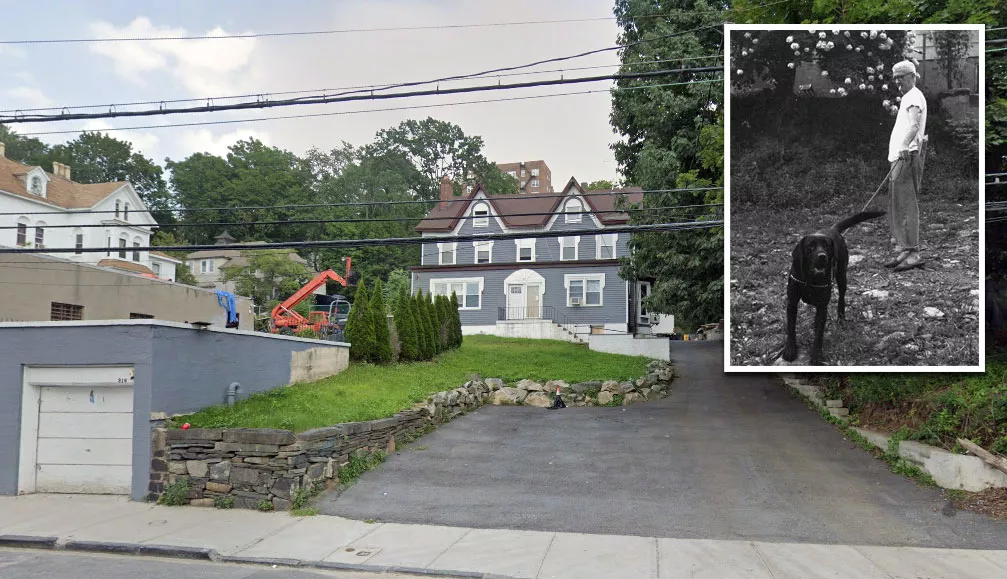 Sam Carr's former house is situated at 316 Warburton Avenue, which is on the western side of "Pine Hill Towers" (apartment 7E is visible in the background, just above the house).
Carr had a black Labrador retriever called "Harvey", which Berkowitz reportedly hated because it kept barking.
On one occasion, he shot the dog and wounded it.
It seems as though Carr served as the inspiration for Berkowitz's self-given nickname, the "Son of Sam".
Following his arrest, he claimed that the demon inside Harvey had ordered him to kill. However, he later admitted that this story was nonsense.
Coordinates: 40.946537, -73.896379
Closest Locations
Other locations that are relatively close to this place. Roughly 7 miles away.
Crime Location in The Bronx, New York, United States Roughly 7 miles away.
Serial Killer House in The Bronx, New York, United States Roughly 9 miles away.
Crime Location in The Bronx, New York, United States Roughly 9 miles away.
Crime Location in The Bronx, New York, United States Roughly 9 miles away.
Filming Location in The Bronx, New York, United States