Feech La Manna's house from The Sopranos
Filming Location in Lodi, New Jersey, United States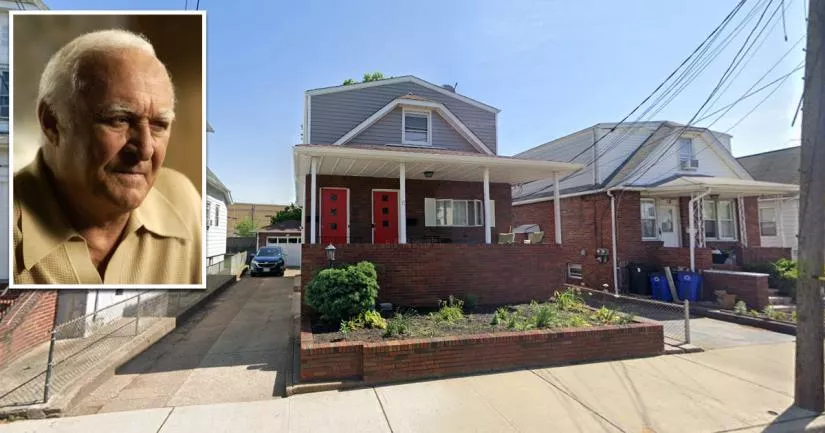 This is the filming location of Feech La Manna's house from The Sopranos.
It is situated at 15 Sidney Street in Lodi, New Jersey.
Feech was a high-ranking capo in the DiMeo crime family. In the 1980s, he was sentenced to 20 years in prison after he was found guilty of racketeering, fraud, and promoting gambling.
After being released on parole at the start of Season 5, he immediately attempts to "get back in the game."
Due to his seniority, he struggles to accept the fact that Tony Soprano is now the boss of the family.
When Tony finally realizes that Feech will never respect his authority, he decides to "nip it in the bud" before it becomes another Richie Aprile situation.
However, instead of ordering his death, Tony devises a plan to get the senior mobster sent back to prison.
In the episode "All Happy Families", Christopher Moltisanti and Benny Fazio manage to trick Feech into keeping a truck load of stolen televisions in his garage.
Not long after, a parole officer arrives at his house for an unscheduled inspection and demands to see the inside of his garage.
At that point, the officer discovers the stolen merchandise, and Feech is sent back to prison to serve out the remainder of his sentence.
Feech La Manna's house location
Below, you will find the address and the GPS coordinates for this location.
GPS coordinates
The latitude and longitude coordinates for the house are:
40.882885, -74.082605
Map
To view directions on how to get there, you can use the Google Maps shortcut below:
Address
The full address for this location is:
15 Sidney Street
Lodi
New Jersey
NJ 07644
United States
Directions
It is roughly 60 yards east of the intersection between Main Street and Sidney Street.
Private Property Warning
This is a private property. It is not a public place. Therefore, you should be respectful and not step foot on the property without permission.
Closest Locations
Other locations that are relatively close to this address: Less than a mile away.
Serial Killer House in Lodi, New Jersey, United States Roughly one mile away.
Filming Location in Lodi, New Jersey, United States Roughly 6 miles away.
Filming Location in Paterson, New Jersey, United States Roughly 7 miles away.
Filming Location in Clifton, New Jersey, United States Roughly 8 miles away.
Filming Location in Bloomfield, New Jersey, United States