Christopher Moltisanti's house
Filming Location in Fairfield, New Jersey, United States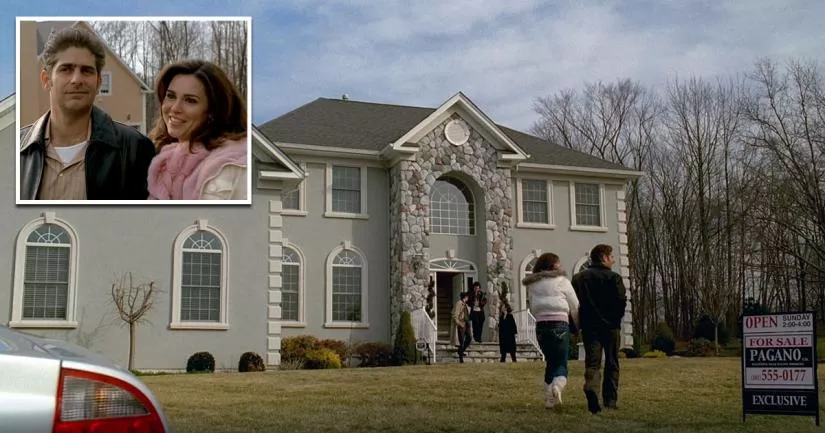 This is the house where Christopher Moltisanti lived in the sixth season of The Sopranos.
It is situated at 3 Baldwin Court in Fairview, New Jersey.
Moltisanti and his newlywed wife, Kelli, purchased the property in Episode 9 of Season 6.
At the start of the episode, Kelli reveals that she is pregnant.
Chrissy is so happy with this news that he immediately decides to marry her and buy a family home.
By that point in the series, his former longtime girlfriend, Adriana La Cerva, had been dead for nearly two years.
Later on in the season, a dispute between Moltisanti and Paulie Gualtieri quickly spirals out of control.
Before they manage to settle things and come to an agreement, Paulie causes thousands of dollars' worth of damage to the front yard by repeatedly driving his car through the lawn and flower beds.

Further information is available in the "Photos" section below.
Christopher Moltisanti house location
Below, you will find the address and the GPS coordinates for this location.
GPS coordinates
The latitude and longitude coordinates for the house are:
40.862225, -74.272624
Map
To view directions on how to get there, you can use the Google Maps shortcut below:
Address
The full address for this location is:
3 Baldwin Court
Fairfield
New Jersey
NJ 07004
United States
Directions
The house is situated in the southeast of Fairview, close to North Caldwell. It sits in a small cul-de-sac off Rosemere Court.
Private Property Warning
This is a private property. It is not a public place. Therefore, you should be respectful and not step foot on the property without permission.
Photos
Photos of the house and other related images.
---
3 Baldwin Court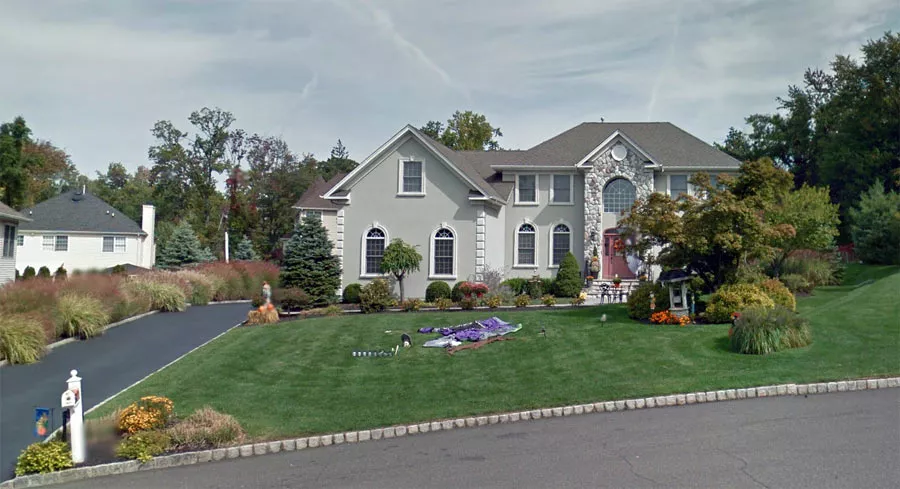 This is a Google Street View image of 3 Baldwin Court in Fairfield, New Jersey. It was taken in October of 2013, more than six years after the series finale aired on television.
The house was built in 2003. It is estimated to be worth more than $1 million.
Christopher and Kelli
Episode 9, Season 6 - The Ride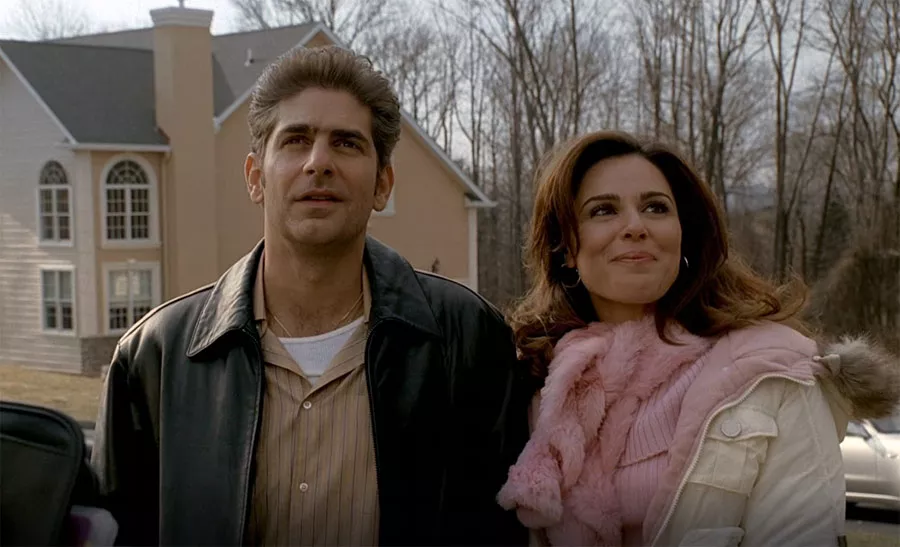 The couple fall in love with the house almost immediately.
After meeting the real estate agent, Christopher says, "This is what I'm talking about. Stately Wayne Manor."
"He's what we call an impulse buyer."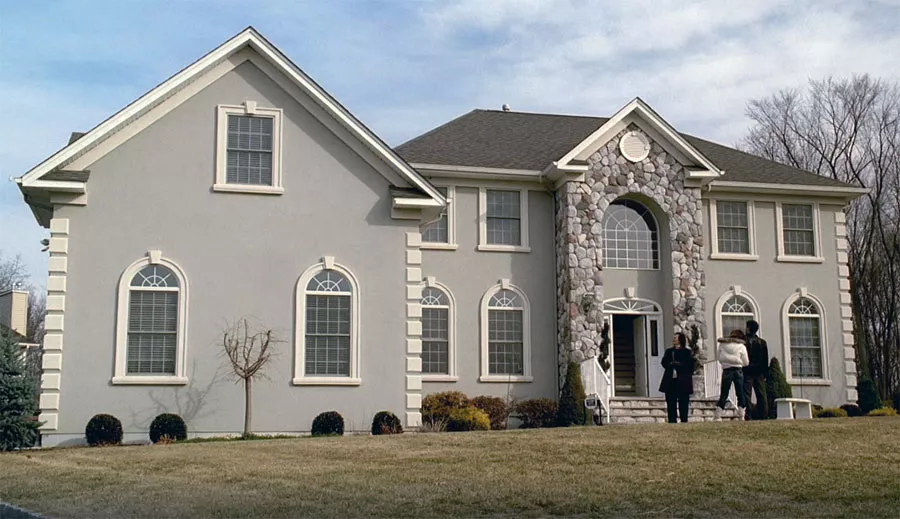 The estate agent tells Christopher and Kelli that the house has "four bedrooms, marble baths, and Kohler fixtures." It also has "Sub-Zero in the stainless steel kitchen."
Before she can continue any further, Christopher interrupts her by saying, "We'll take it."
At this point, they haven't even seen the inside.
BBQ
Episode 17, Season 6 - Walk Like a Man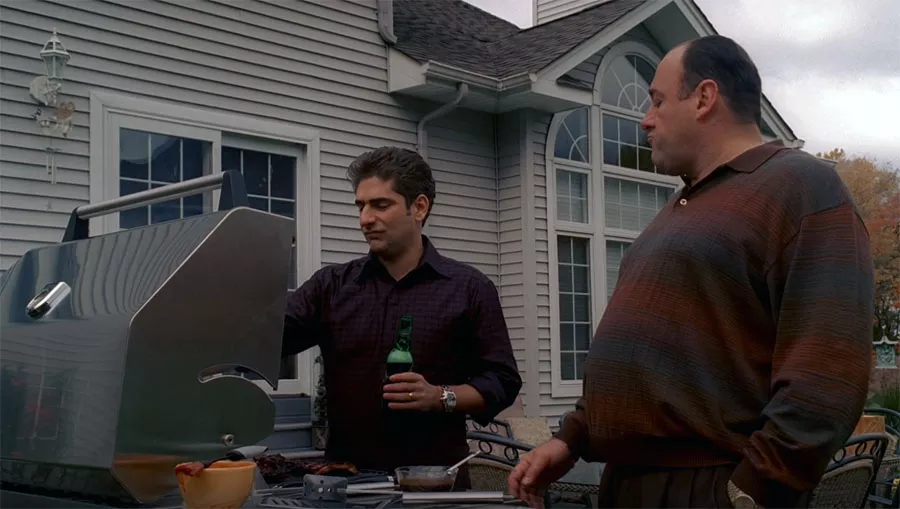 In the episode "Walk Like a Man", the couple is hosting their first BBQ at the house.
During this scene, Tony Soprano questions Christopher about why he never sees him anymore. In response, Chrissy explains that he is purposely staying away from the Bada Bing and Satriale's in order to maintain his sobriety.
However, Tony refuses to accept this excuse. In his opinion, Christopher needs to "grow some balls".
Tony also expresses his doubts about the theory that alcoholism is a disease.
Paulie destroys Christopher's lawn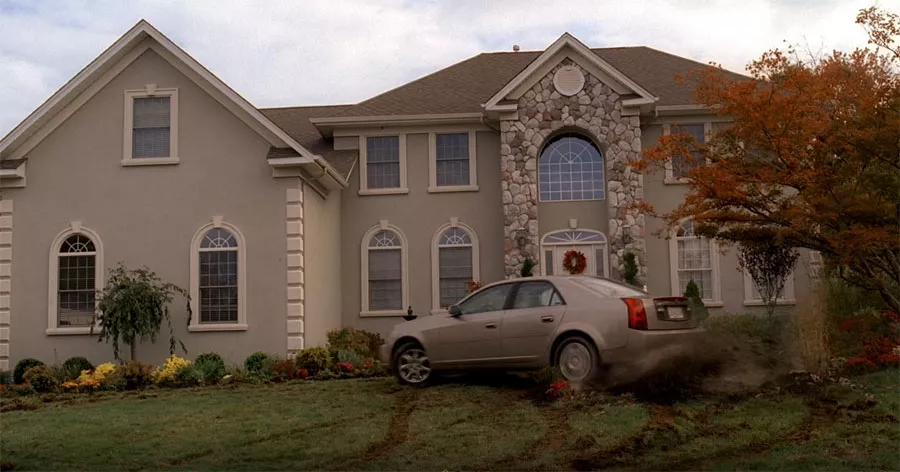 In Season 6, Paulie Gualtieri orders his cousin "Little Paulie" to break into a hardware store that is owned by Moltisanti's father-in-law.
After Chrissy finds out about this, he demands compensation from Paulie and complains about the break-in to Tony. However, his words fall on deaf ears.
When Little Paulie steals from the hardware store again, Moltisanti decides to take matters into his own hands. After tracking down Little Paulie, he throws him out of a window and hospitalizes him.
The assault on his cousin enrages Gualtieri so much that he decides to drive his Cadillac through Christopher's front yard. During the scene, he repeatedly drives back and forth across the lawn, destroying lawn ornaments, flower beds, and bushes.
Aerial image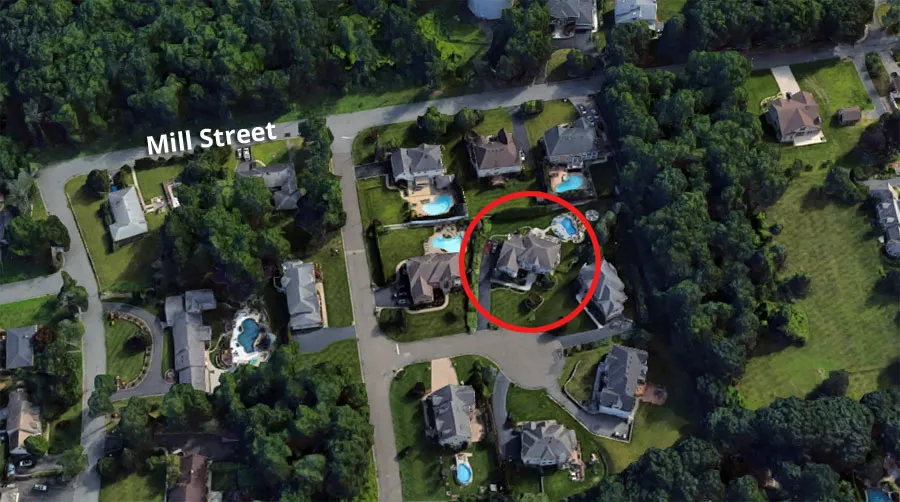 This is an aerial image of Baldwin Court, which sits off another cul-de-sac called Rosemere Court. We have circled the house in red.
Closest Locations
Other locations that are relatively close to this address: Roughly one mile away.
Filming Location in Caldwell, New Jersey, United States Roughly one mile away.
Filming Location in Caldwell, New Jersey, United States Roughly 3 miles away.
Filming Location in Fairfield, New Jersey, United States Roughly 3 miles away.
Filming Location in Verona, New Jersey, United States Roughly 4 miles away.
Filming Location in West Orange, New Jersey, United States