The location where Kima was shot in The Wire
Filming Location
1549 N Warwick Avenue, Baltimore, MD 21216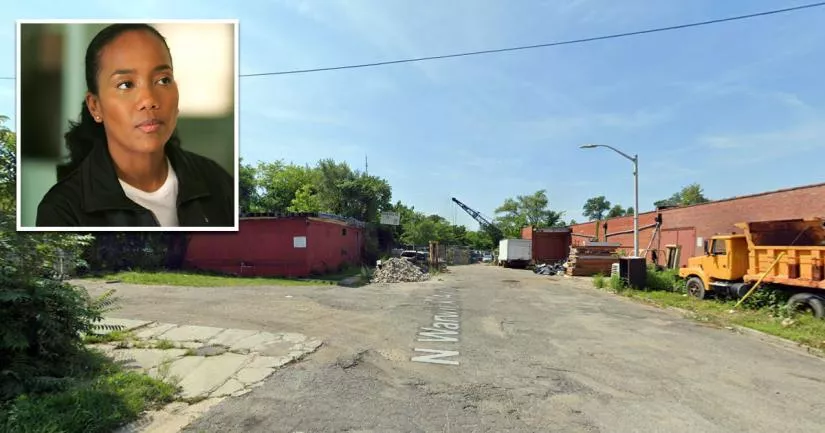 This is the location where detective Shakima "Kima" Greggs was shot in The Wire.
It is situated off Baker Street in the Coppin Heights neighborhood of Baltimore.
The shooting occurs in Episode 10 of Season 1, when Kima is sent undercover as Orlando's girlfriend during a buy-and-bust operation.
During the scene, Barksdale soldier Savino Bratton drives the pair to the end of this street on North Warwick Avenue. After saying, "I'll be right back", he gets out of the vehicle and walks away.
Moments later, Wee Bey and Little Man emerge from the shadows and open fire on Orlando.
During the ambush, Little Man is so surprised by Kima's presence that he mindlessly shoots her as well.
When Avon Barksdale's second-in-command, Stringer Bell, finds out that Little Man shot an undercover police officer, he immediately orders Wee Bey to kill him.
From his perspective, Little Man is "weak" and might "bug out" if he learns that the "shorty in the back" was a detective.
Kima Greggs shooting location
Below, you will find the address and the GPS coordinates for this location.
Address
1549 N Warwick Avenue, Baltimore, Maryland, MD 21216, USA
Map
To view directions on how to get there, you can use the Google Maps shortcut below:
GPS coordinates
The latitude and longitude coordinates for the street are:
39.305722, -76.656957
Closest Locations
Other locations that are relatively close to this address: Roughly 2 miles away.
Filming Location in Baltimore, Maryland Roughly 2 miles away.
Filming Location in Baltimore, Maryland