Monk's apartment from The Wire
Filming Location in Baltimore, Maryland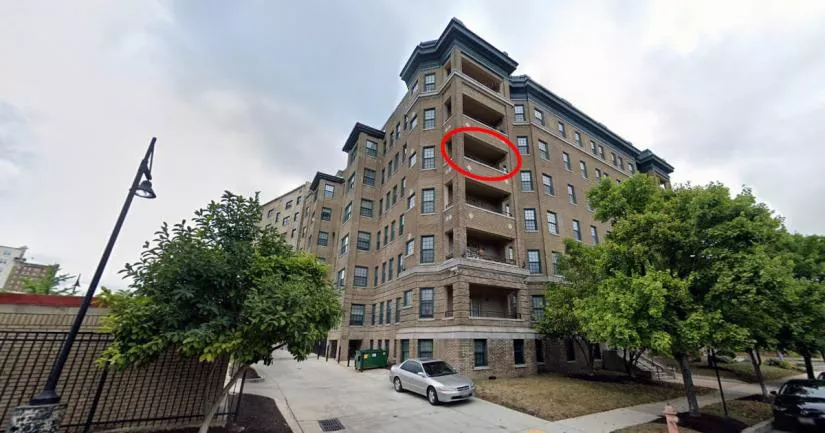 This is Monk Metcalf's apartment from The Wire.
It is located at 901 Druid Park Lake Drive in Baltimore, Maryland.
In the episode "React Quotes" (S05E05), Omar Little and Donnie decide to avenge Butchie's death by targeting Monk, a lieutenant in the Stanfield organization.
The pair stakes out Monk's apartment building until his associates leave and the lights go out.
Once everything seems quiet, they decide to make their move.
However, unbeknownst to them, the gang is anticipating their attack. Stanfield's enforcers, Chris Partlow, Snoop Pearson, and Michael Lee, are all waiting inside to ambush them.
Omar and Donnie come under heavy fire as soon as they break down the front door.
Donnie is shot in the head, and Omar is forced to find cover behind a couch. After trading gunfire with his attackers, Omar eventually runs out of bullets.
Realizing that he has no other options, he runs towards the balcony and jumps four stories to the ground below.
Miraculously, he manages to survive the fall and escape—much to the bewilderment of his assailants.
Monk's apartment address
Below, you will find the address and the GPS coordinates for this location.
Address
901 Druid Park Lake Drive, Baltimore, Maryland, MD 21217, USA
Map
To view directions on how to get there, you can use the Google Maps shortcut below:
GPS coordinates
The latitude and longitude coordinates for the apartment are:
39.316460, -76.636320
Closest Locations
Other locations that are relatively close to this address: Roughly one mile away.
Filming Location in Baltimore, Maryland Roughly one mile away.
Filming Location in Baltimore, Maryland Roughly one mile away.
Filming Location in Baltimore, Maryland