Dean Corll's apartment on Yorktown Street.
Serial Killer House in Houston, Texas, United States.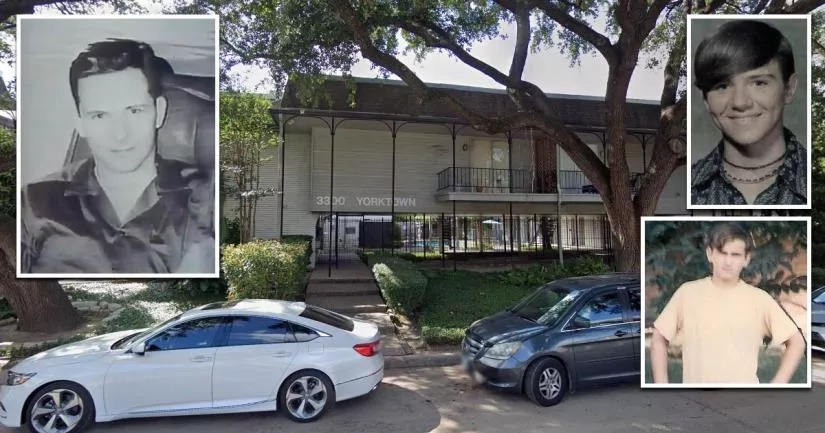 Serial killer Dean Corll lived at this apartment complex on Yorktown Street in 1970.
At least two of his victims were murdered at this location.
On December 13th, 1970, James E. Glass and Danny M. Yates were lured back to 3300 Yorktown Street by Corll's teenage accomplice, David Brooks.
Brooks knew both Glass and Yates. When he approached them, they were attending an evangelical rally in the Heights area of Houston.
Shortly after the two 14-year-olds arrived at this apartment complex, Dean Corll strangled them to death with a cord.
Following the murders, he buried their bodies underneath a rented boat shed on Silver Bell Street.
This is a sub-entry.
This location has been marked as a "sub-entry". As a result, it might lack certain details. For more information about this subject, please check out the following location:
Where is the apartment?
Below, you will find the address and the GPS coordinates for this location.
GPS coordinates.
The latitude and longitude coordinates for the apartment are:
29.731150, -95.471417
Map.
To view directions on how to get there, you can use the Google Maps shortcut below:
Address.
The full address for this location is:
3300 Yorktown Street
Houston
Texas
TX 77056
United States
Directions.
The apartment building sits on the southern side of Richmond Avenue in the Larchmont neighborhood of Houston.
Private property warning.
This is a private property. It is not a public place. Therefore, you should be respectful and not step foot on the property without permission.
Closest locations.
Other locations that are relatively close to this place. Roughly 6 miles away.
Serial Killer House in Houston, Texas, United States Roughly 8 miles away.
Crime Location in Houston, Texas, United States Roughly 19 miles away.
Serial Killer House in Pasadena, Texas, United States Roughly 36 miles away.
Crime Location in League City, Texas, United States