The motel where Sam Cooke was killed.
Place of Interest in Los Angeles, California, United States.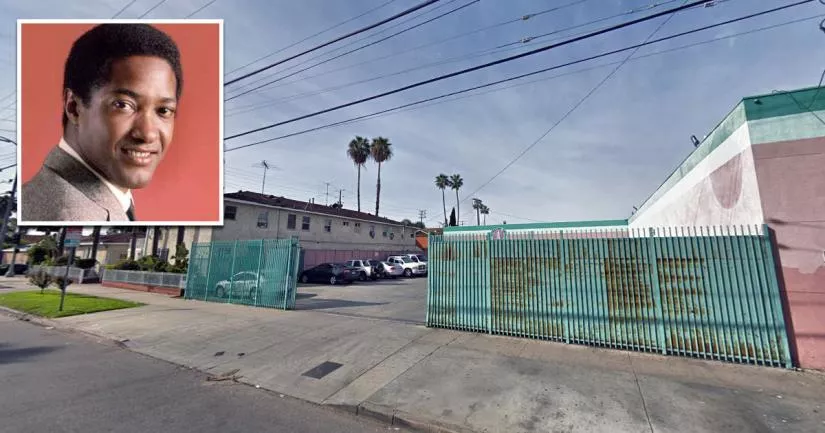 This is the location where soul singer Sam Cooke was shot dead in 1964.
It is situated at 9137 South Figueroa Street in Los Angeles, California.
At the time of the shooting, this lot was home to Motel Hacienda. Nowadays, it serves as a parking lot for an adjoining Numero Uno Market grocery store.
On December 11th, 1964, the 33-year-old singer was shot in the chest by the motel's manager, Bertha Franklin, after he allegedly forced his way into her office and started grappling with her.
According to Franklin, Cooke was half-naked and angrily demanding to know the whereabouts of another woman. It is believed that Cooke was talking about a woman called Elisa Boyer, who had accompanied him to the motel in the early hours of the morning.
Following a physical confrontation with the singer, Bertha Franklin grabbed a pistol and opened fire. One of the bullets struck him in the chest and pierced his heart.
After realizing that he had been hit, Cooke was reportedly shocked and confused. He then attempted to charge at Franklin. However, he collapsed to the floor and died after she struck him on top of the head with a broom.
Following an investigation into the incident, the shooting was ultimately ruled as a justifiable homicide. Despite this, there are still a number of questions hanging over the case.
Where did Sam Cooke die?
Below, you will find the address and the GPS coordinates for this location.
GPS coordinates.
The latitude and longitude coordinates for the motel are:
33.953296, -118.282860
Map.
To view directions on how to get there, you can use the Google Maps shortcut below:
Address.
The full address for this location is:
Hacienda Motel
9137 South Figueroa Street
Los Angeles
California
CA 90044
United States
Directions.
The lot is about 50 yards north of the intersection between South Figueroa Street and West 92nd Street. It is situated close to Interstate 110 in the Vermont Vista neighborhood of South Los Angeles.
Photos.
Photos of the motel and other related images.
---
9137 South Figueroa Street.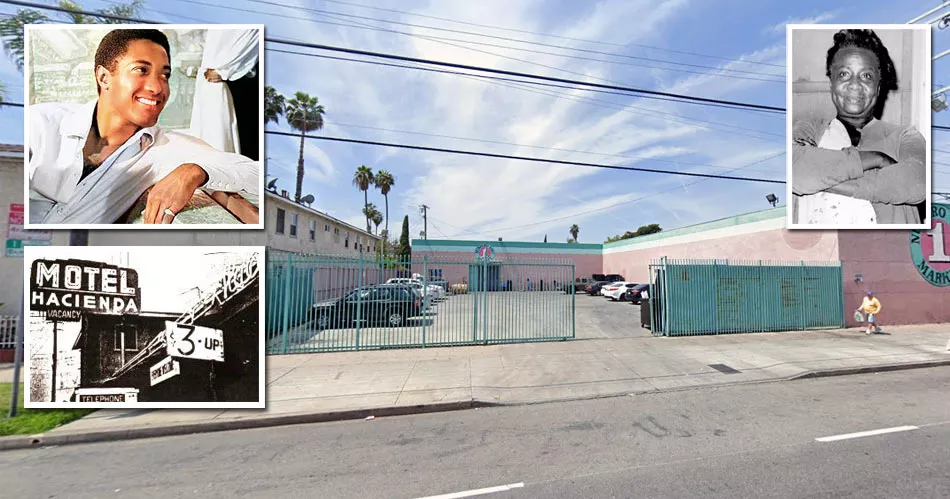 This is a Google Street View image of 9137 South Figueroa Street in the Vermont Vista neighborhood of Los Angeles. In 1964, this lot was the location of Motel Hacienda.
Motel manager Bertha Franklin is pictured on the right. Franklin claims that she opened fire on the singer after he forced his way into her office and became physical.
1964.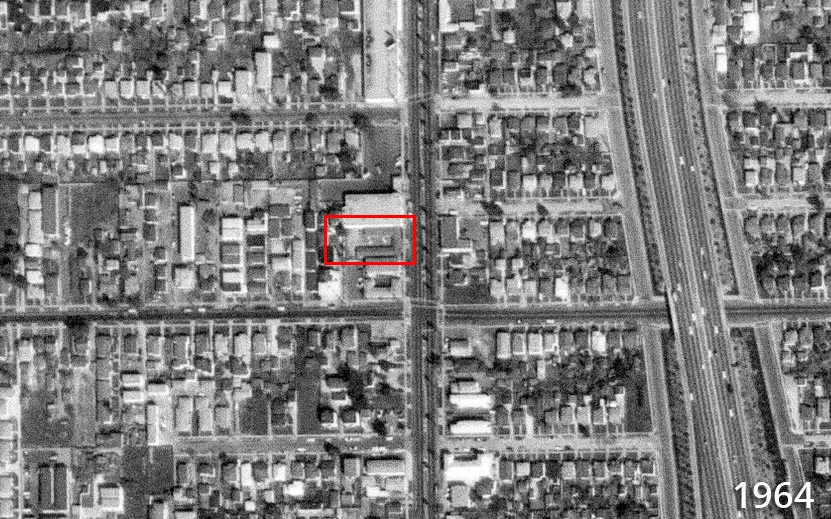 This aerial image of the location was taken in 1964. We have highlighted the motel in red.
Photograph courtesy of USGS.
Elisa Boyer.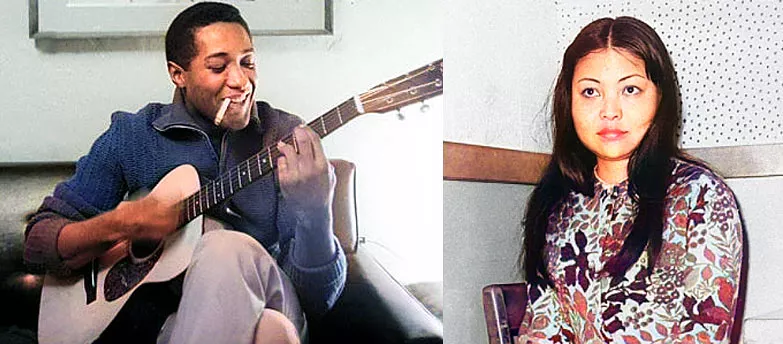 On the night of the shooting, Sam Cooke met 22-year-old Elisa Boyer at Martoni's Restaurant in Hollywood. That evening, several witnesses spotted the pair drinking and getting close to one another.
According to Boyer, she asked the singer to drive her home that night. However, he ignored her request and decided to stop at the Hacienda Motel instead.
Boyer claimed that Cooke forced her onto the bed and took off her clothes. Fearing that she was going to be raped, the young woman grabbed her belongings and ran from the room as soon as the singer went to use the bathroom.
Before making her escape, Boyer also grabbed some of Cooke's clothes. However, she claimed that she did this by mistake during the heat of the moment.
That night, the singer was reportedly carrying $5,000 in cash - a sum that is equivalent to roughly $45,000 today. Following the shooting, the police were unable to find any trace of this money.
This has led to speculation that Elisa Boyer concocted the rape story and that she grabbed Cooke's clothes because she wanted to steal the $5,000 that he had been flaunting at Martoni's Restaurant.
Upon realizing that his clothes and money were missing, the drunken singer may have panicked and lost his cool. This might explain the bizarre events leading up to the shooting.
Although this theory is plausible, there is no real evidence to back it up.
According to the police, Boyer's purse contained a small amount of money. This means that she would have had to stash the $5,000 somewhere else before the authorities arrived.
Cooke's friends and family have claimed that Elisa Boyer and the motel manager were in cahoots with one another and that the 22-year-old lured the singer back to this location so that she could rob him.
Martoni's Restaurant.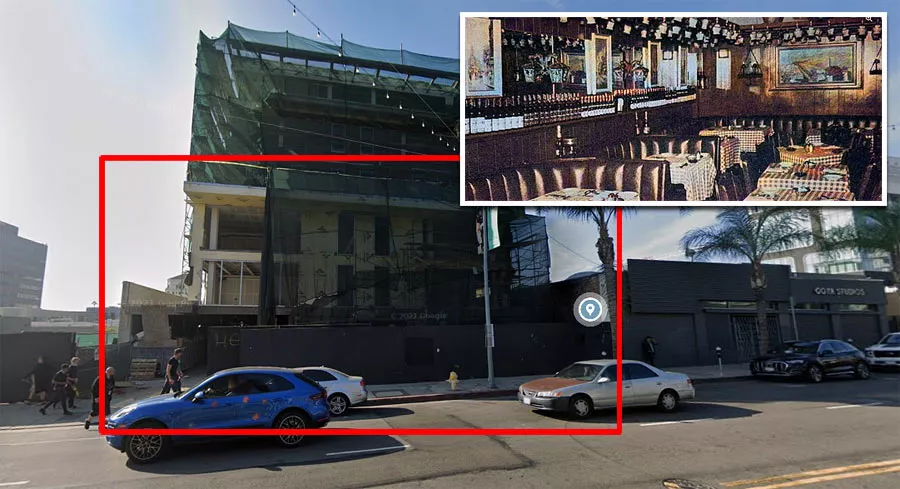 Martoni's Restaurant was situated at 1523 North Cahuenga Boulevard in Hollywood. This was the location where Sam Cooke had his last meal. It is also the place where he met Elisa Boyer.
During the 1960s and 1970s, Martoni's was a popular spot for celebrities, record producers and Hollywood executives.
Martoni's was about 15 miles north of the motel where where Cooke was shot. That night, it would have taken Cooke and Boyer 20-30 minutes to drive down Interstate 110.
Coordinates: 34.098826, -118.329738
Closest locations.
Other locations that are relatively close to this place. Roughly 2 miles away.
Serial Killer House in Los Angeles, California, United States Roughly 3 miles away.
Filming Location in Los Angeles, California, United States Roughly 4 miles away.
Crime Location in Los Angeles, California, United States Roughly 4 miles away.
Crime Location in Los Angeles, California, United States Roughly 6 miles away.
Crime Location in Los Angeles, California, United States