The corner where Raymond Washington was killed
Crime Scene Location in Los Angeles, California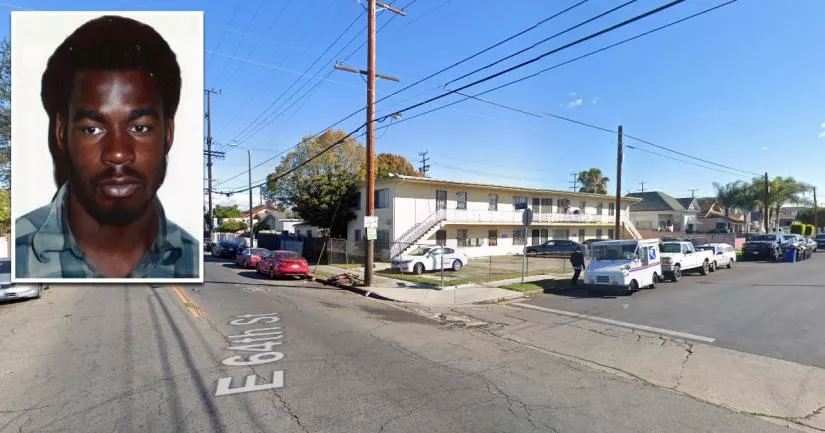 This is the location where Crips founder Raymond Washington was killed.
It is situated at the corner of San Pedro Street and East 64th Street in Los Angeles, California.
Washington grew up in South Central Los Angeles, where he quickly gained a reputation for being a formidable street fighter.
A number of locals described him as a Robin Hood-type character who defended them from outsiders. Others claimed that he was a muscular bully who only protected his neighbors so that he could pick on them himself.
During his teenage years, he was a member of a gang called The Avenues. However, he left after one of the leaders physically reprimanded him for bullying and robbing people.
In 1969, Washington created a street gang called the Crips. Although it originally started out as a small outfit of teenage troublemakers, it did not take him long to grow it into something much bigger.
His strategy during this "expansion period" was pretty simple.
He would approach rival gang leaders, challenge them to a fight, and then beat them. Once the toughest guy was on his back, the rest of the members usually fell in line.
Notably, this strategy only worked because guns weren't as prevalent at the time. Furthermore, bringing a weapon to a fist fight was seen as a cowardly move.
In 1971, a friend introduced Washington to Stanley "Tookie" Williams, a vicious street fighter from the West Side.
The pair liked each other and shared a mutual interest in fitness. They also respected each other's fighting abilities. As a result, they decided to join forces.
After agreeing to this alliance, "Tookie" began operating under the "Crips" banner.
Washington controlled South Central's East Side. Meanwhile, "Tookie" oversaw the West Side.
During the early 1970s, the Crips continued to expand across Los Angeles by absorbing smaller gangs. One newspaper report from the time likened the organization to an octopus that was quickly spreading its limbs over the city.
However, things started to fall apart in 1974, after Washington was sentenced to five years in prison for second-degree robbery.
When he was released on parole two years later, he was shocked to discover that everything had changed.
Guns had largely replaced fists, the Crips had fractured into warring factions, and his "organization" was now feuding with another gang called the Bloods.
Furthermore, his West Side ally, "Tookie" Williams, was a shell of his former self, as he had been wounded in a shooting and was now addicted to PCP.
Although Washington hoped to clean up the mess and bring some structure back to the Crips, he soon realized that he no longer had the power to do so.
Due to the expanding drug trade, gangsters were now using handguns and shotguns to protect their profits and settle disputes. Consequently, his ability to win street fights no longer gave him the same influence that it once did.
Disillusioned by the disarray and wanton violence, he began distancing himself from the Crips.
On the night of August 9th, 1979, he was hanging around outside 6326 South San Pedro Street when a car with a group of men inside pulled up on this corner and called his name.
Judging by his behavior, Washington knew the occupants.
Following a short conversation, one of the passengers pulled out a sawn-off shotgun and blasted him in the stomach.
The 25-year-old succumbed to his wounds roughly one hour later.
Although rumors claimed that the shooting was carried out by local Crips members, this has never been proven.
Washington's murder remains unsolved to this day.

Further information is available in the "Photos" section below.
Raymond Washington murder location
Below, you will find the address and the GPS coordinates for this location.
Address
San Pedro Street, Los Angeles, California, CA 90003, USA
Map
To view directions on how to get there, you can use the Google Maps shortcut below:
GPS coordinates
The latitude and longitude coordinates for the corner are:
33.981576, -118.269500
Directions
It is situated on the northeast corner of San Pedro Street and East 64th Street in South Los Angeles.
Photos
Photos of the corner and other related images.
---
Murder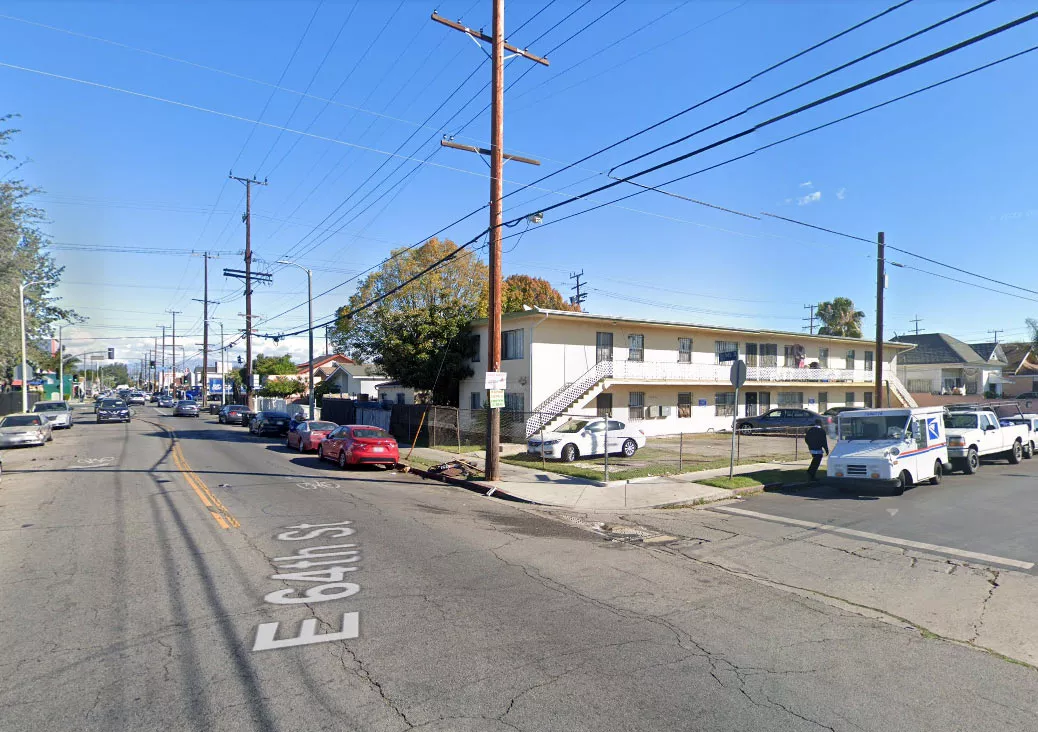 Image source: Google Maps
At around 10 p.m. on August 9th, 1979, Raymond Washington was hanging around 6326 South San Pedro Street when a group of men pulled up outside the building and called his name.
Although he told an acquaintance that he knew some of the men, he was still somewhat cautious about approaching them, as he had a rule against walking up to vehicles that he didn't recognize.
After carefully stepping forward and asking the occupants to identify themselves, he received an answer that put him at ease.
At that point, he smiled and began chatting with the men.
During their brief conversation, the passenger-side occupant pulled out a sawn-off shotgun and shot Washington in the stomach.
Following the shooting, the Crips founder was rushed to Morningside Hospital.
While he was en route, he reportedly claimed that he knew who the shooter was and that he was going to "deal with them" once he was healed.
However, Washington never got the chance to exact revenge, as he died from his wounds just 80 minutes later.
6326 South San Pedro Street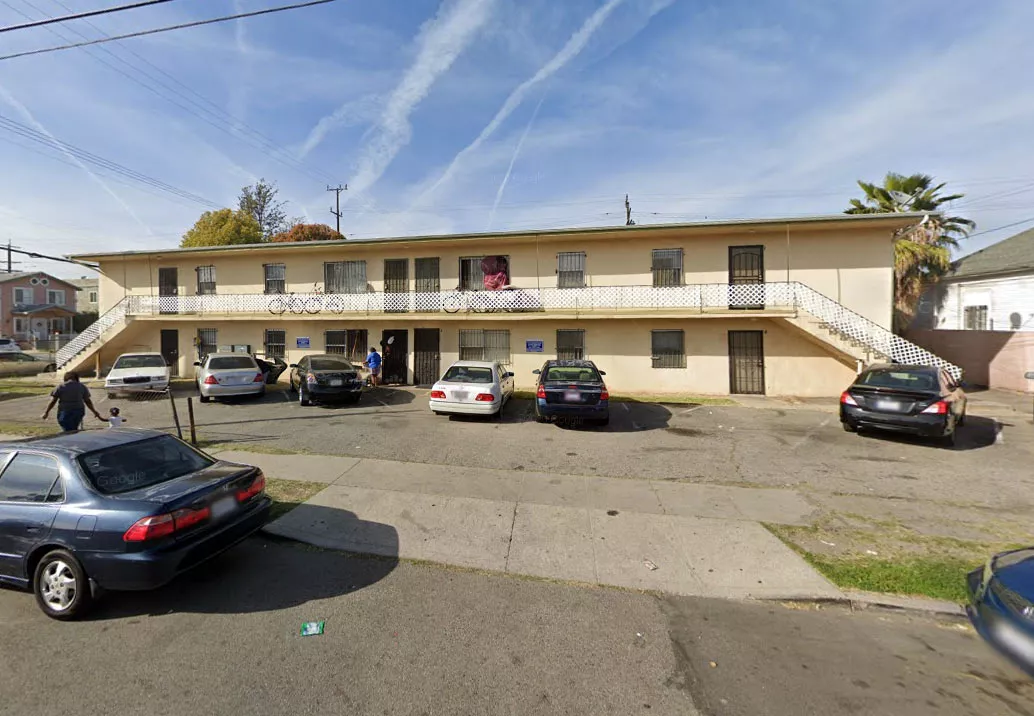 At the time of his death, Washington was staying with friends in apartment #8 at 6326 South San Pedro Street.
Raymond Washington and Stanley "Tookie" Williams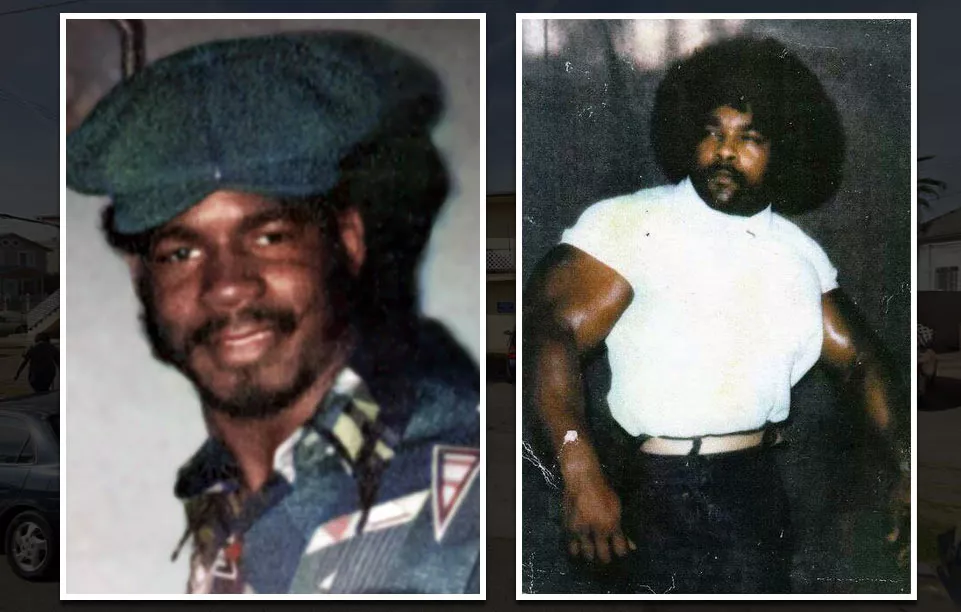 In 1971, Raymond Washington (pictured left) reportedly took a liking to a West Side street fighter named Stanley "Tookie" Williams (pictured right).
The pair bonded over their shared interest in weightlifting.
Although Tookie agreed to run the West Side of the Crips, there are doubts about whether he was actually a co-founder or not.
Some sources state that Washington approached him and offered to join forces. Others say that Washington simply picked "Tookie" to run things for him on the West Side.
One source said that Tookie's motivation for lifting weights was rooted in his fear that he would have to fight Washington one day. Tookie reportedly said that he needed to be bigger and more powerful because Washington was a better fighter.
Washington felt somewhat lost when he returned to South Central Los Angeles following his two-year stint in prison. While he was inside, everything about the Crips had changed—even the dress style and dances.
Although he was only in his early twenties, he began to feel old and out of touch. Furthermore, the rising popularity of weapons had significantly eroded his influence.
He had hoped to mold the Crips into an organized gang that was structured like the Black Panthers. However, it was now an unsalvageable mess.
Consequently, he began to drift away from the gang.
Following his death, the Crips continued to fragment into loosely connected gangs called "sets", many of which still fight among each other to this day.
Closest Locations
Other locations that are relatively close to this address: Roughly 3 miles away.
Death Location in Los Angeles, California Roughly 3 miles away.
Filming Location in Los Angeles, California Roughly 4 miles away.
Crime Location in Los Angeles, California Roughly 4 miles away.
Death Location in Los Angeles, California