Ted Bundy's grandparents' house
Serial Killer House in Philadelphia, Pennsylvania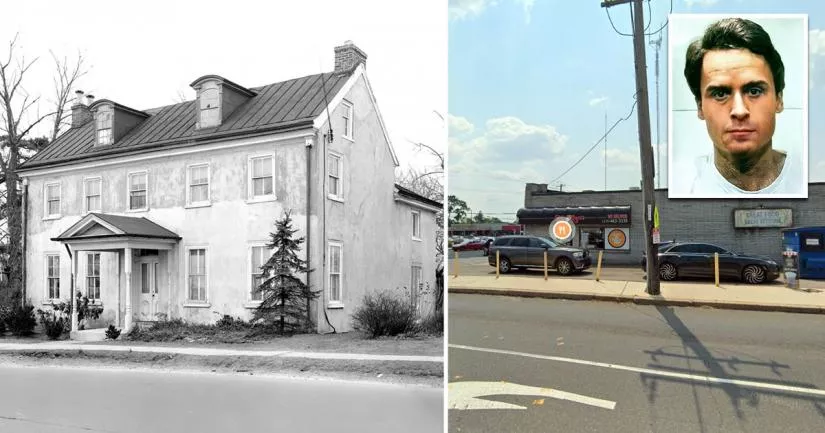 This is the location where Ted Bundy's grandparents' Colonial-style house once stood.
It is situated in the Roxborough neighborhood of Philadelphia.
At the time, the address was 7202 Ridge Avenue. These days, the lot is home to a small strip mall.
Bundy lived here with his mother, aunt, and maternal grandparents, Samuel and Eleanor Cowell, until he was three years old.
The identity of Bundy's biological father is unknown. His mother, Louise Cowell, gave birth to him outside of wedlock on November 24th, 1946. Family members have said that Bundy's father was a Navy veteran who refused to have any involvement in his son's life.
During the 1940s and 1950s, there was a huge social stigma attached to being an unwed mother. As a result, his grandparents decided to raise him as their own child.
In 1950, his mother, Louise, opted to leave Philadelphia and move to her uncle's house in Tacoma, Washington. However, before relocating to the west coast, she changed Ted's surname from Cowell to Nelson to hide the fact that he was an illegitimate child.
In 1951, Louise met a hospital cook named Johnny Bundy at a Methodist church in Tacoma.
Later that year, the couple were married, and Johnny adopted Ted as his own son. It was at that stage that four-year-old Ted Nelson became officially known as Ted Bundy.

Further information is available in the "Photos" section below.
Demolished
The house no longer exists. However, you can still visit the location.
Further Details
The house was torn down at some point during the late 1960s. The strip mall that is present today was built in 1970.
Where did Ted Bundy's grandparents live?
Below, you will find the address and the GPS coordinates for this location.
Address
499 Domino Lane, Philadelphia, Pennsylvania, PA 19128, USA
Map
To view directions on how to get there, you can use the Google Maps shortcut below:
GPS coordinates
The latitude and longitude coordinates for the house are:
40.045338, -75.232438
Directions
The lot is situated on the corner of Ridge Avenue and Domino Lane in Roxborough, Philadelphia. The strip plaza is currently home to Tony Roni's Pizza and Rita's Italian Ice & Frozen Custard. It is opposite the Ivyridge shopping mall. The original address of the house was 7202 Ridge Avenue.
Photos
Photos of the house and other related images.
---
Old photograph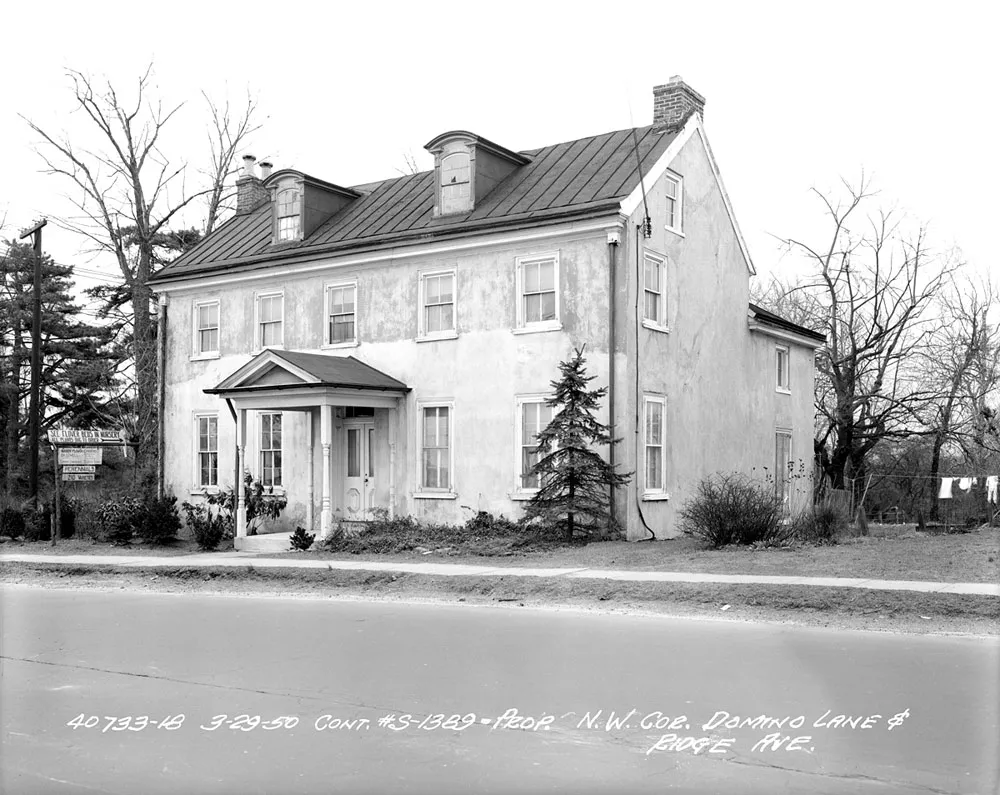 This is an old photograph of Ted Bundy's grandfather's house in Roxborough.
It was taken on March 29th, 1950. At the time, Bundy was still living here. He would have been nearly three and a half years old.
On the right, you can see his pajamas hanging from a clothesline.
Bundy lived in this Colonial-style house until his mother decided to move to Tacoma in search of a fresh start in life.
Photo courtesy of PhillyHistory.org, a project of the Philadelphia Department of Records.
7202 Ridge Avenue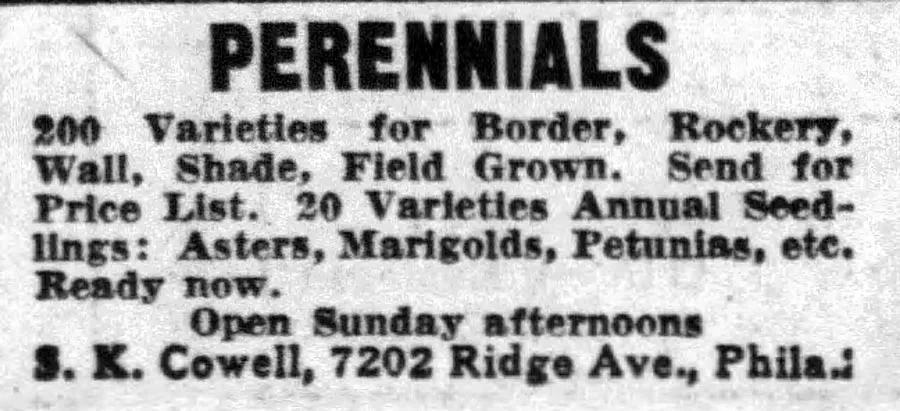 Bundy's grandfather, Samuel Cowell, was a gardener who regularly advertised his flower nursery in the local newspaper.
The advertisement above was published in the Philadelphia Inquirer on June 25th, 1950. The address is listed as 7202 Ridge Ave., Philadelphia.
Bundy's grandparents' home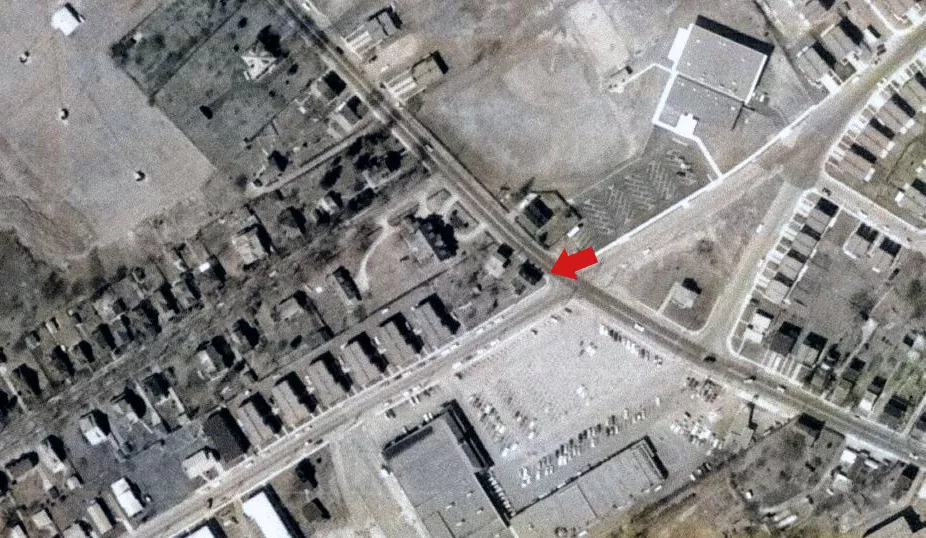 The house is visible in this aerial image from 1965. As you can see, it sat on the corner of Ridge Avenue and Domino Lane in Roxborough. The strip plaza that is present today was built five years later, in 1970.
The large shopping mall to the south did not exist while Bundy was living here.
1948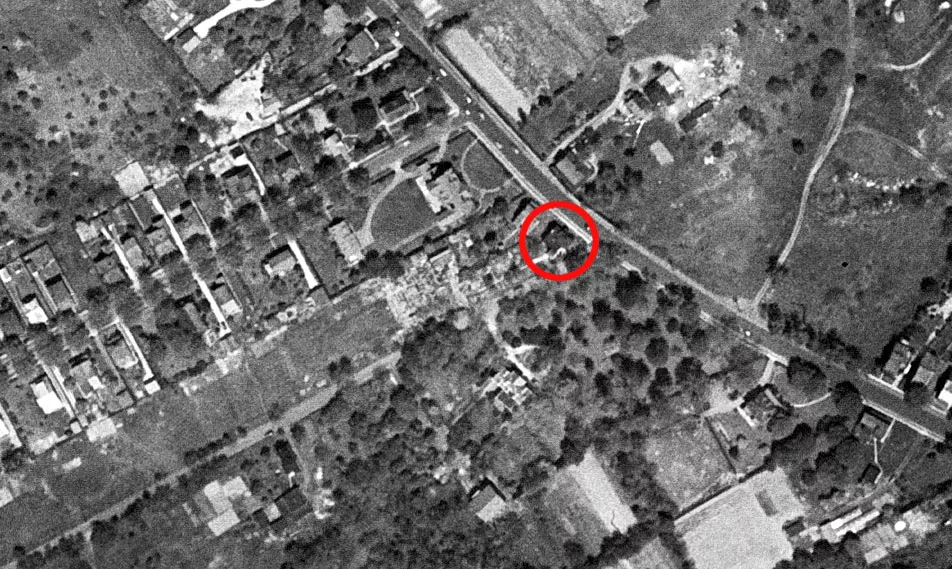 This aerial photograph was taken on May 2nd, 1948, when Bundy was an 18-month-old toddler.
During the 1940s and 1950s, this was a rural, middle-class neighborhood in the northwest part of Philadelphia.
Bundy as a child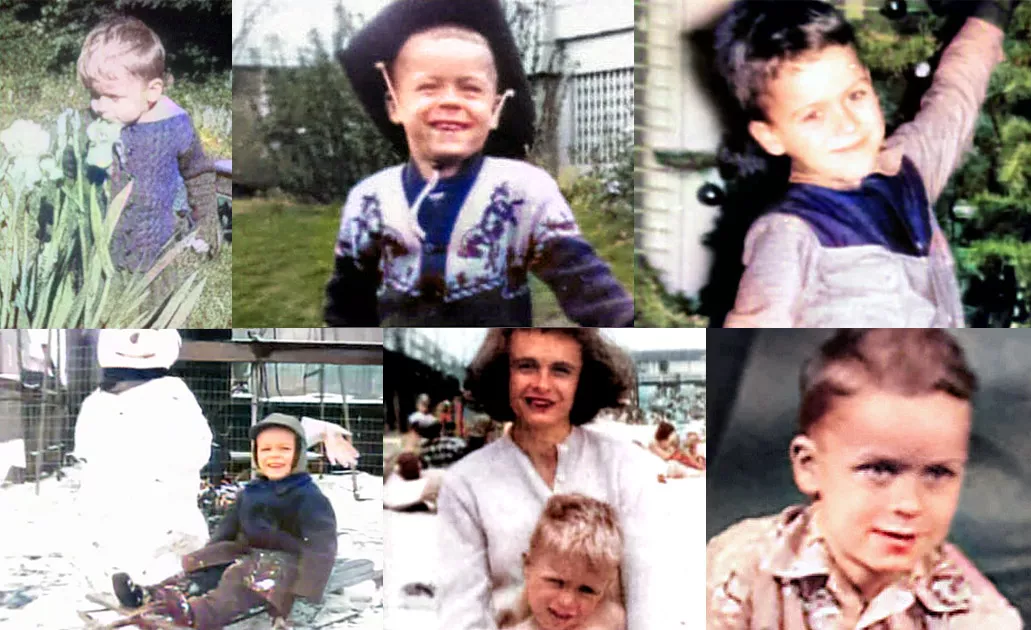 These are colorized photographs of Bundy when he was a young child.
For the first few years of his life, "Ted Cowell" lived at his grandparents' house on the north side of Philadelphia. During this time, he was led to believe that his grandparents were his parents and that his mother, Eleanor, was his sister.
One famous story about this period of Bundy's childhood claims that the three-year-old placed knives around his aunt while she was sleeping.
However, the accuracy of this story has been disputed. Judging by a 1989 letter that was published on the "Hi, I'm Ted" Facebook page, it may have been exaggerated.
In the letter, Bundy's aunt, Julia Cowell, recalled that he was in a "rambunctious mood" on that particular day and that he had taken various items out of a kitchen drawer and placed them on the bed.
However, the toddler didn't just select knives. He also grabbed other harmless utensils, such as spoons and an egg beater.
If this is true, then it means that Bundy didn't menacingly surround his aunt with a set of knives.
Samuel Cowell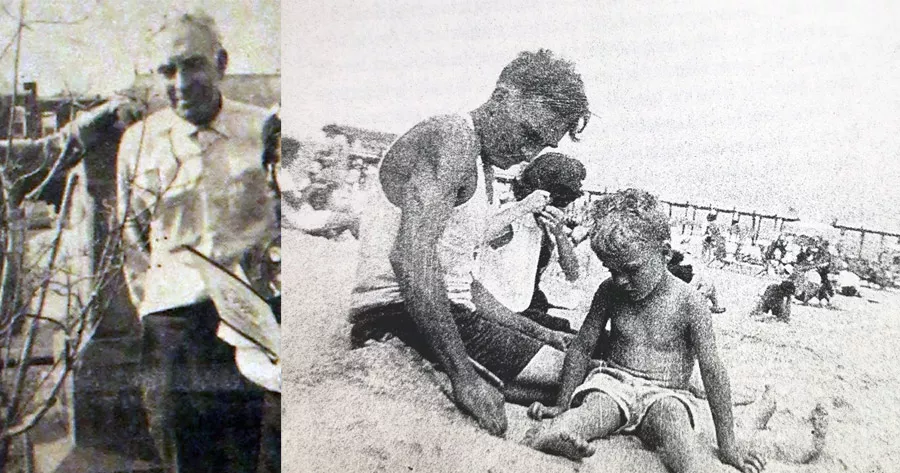 Samuel Knecht Cowell was Bundy's grandfather. He married Eleanor Longstreet in 1923.
The couple had three daughters: Louise (Bundy's mother), Julia, and Audrey.
Cowell worked as a landscaper and gardener.
There have been conflicting reports about Cowell. Psychiatrist Dorothy Lewis said that he was an abusive alcoholic who was cruel to animals and spoke to "invisible" entities.
However, a number of people who knew him claimed that he was a kind, supportive, and helpful gentleman who loved his family.
Roxborough Gardens Club

Bundy's grandfather was a member of the Roxborough Gardens Club. This newspaper clipping is from an article that was published in February 1949.
4617 Pulaski Avenue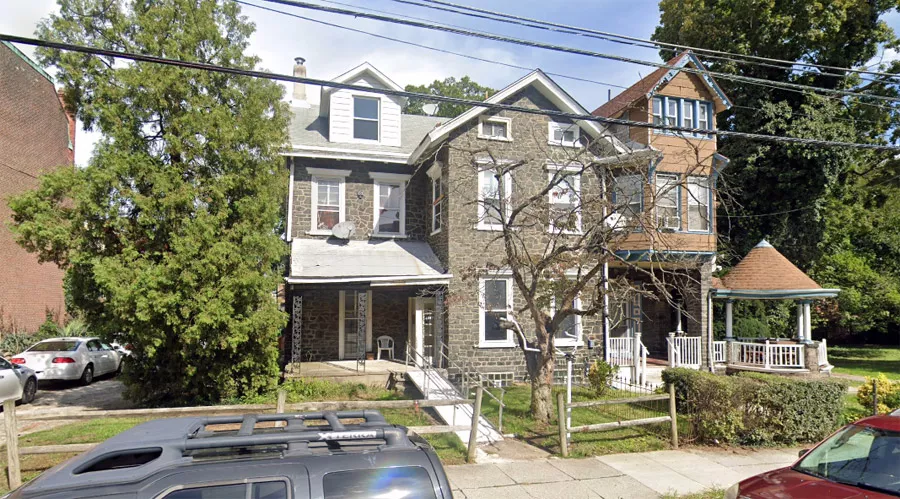 Bundy's grandparents moved to 4617 Pulaski Avenue in Philadelphia after they sold their house in Roxborough.
It is likely that he visited this house on a number of occasions while he was staying at his aunt's house in Lafayette Hill in 1969.
His grandmother, Eleanor Cowell, passed away in April 1971 at the age of 76. Eleanor was a diabetic who suffered a stroke in the mid-1950s. She also underwent electroconvulsive therapy (ECT) for depression. Because she had agoraphobia, she seldom left her house, especially during the final years of her life.
In December 1983, his grandfather Samuel passed away at the age of 85. By that stage, Bundy was on death row.
Coordinates: 40.022151, -75.165723
Ridge Avenue and Domino Lane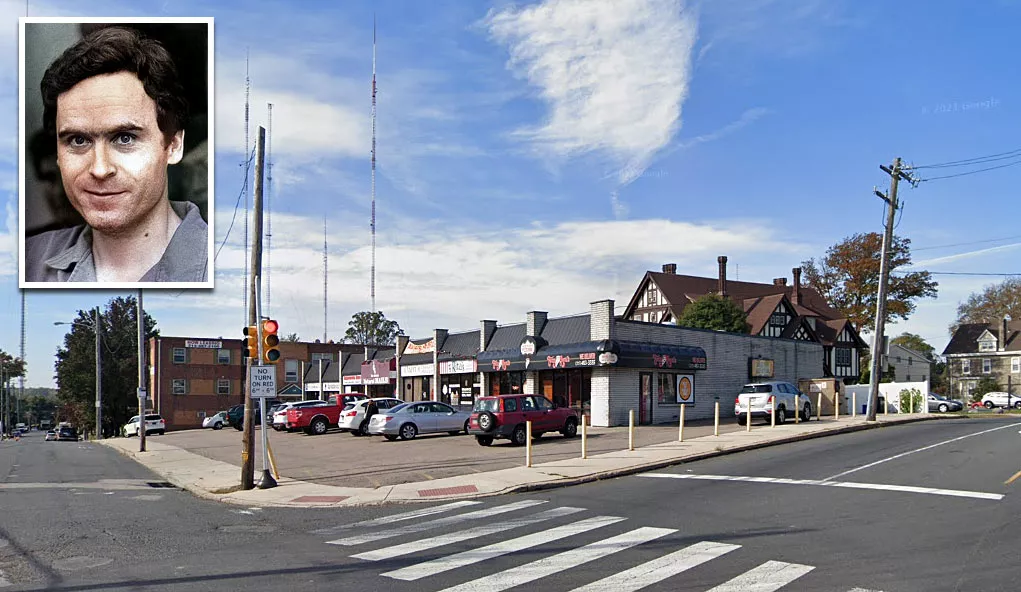 This Google Street View image of Ridge Avenue and Domino Lane was taken in October 2018.
Back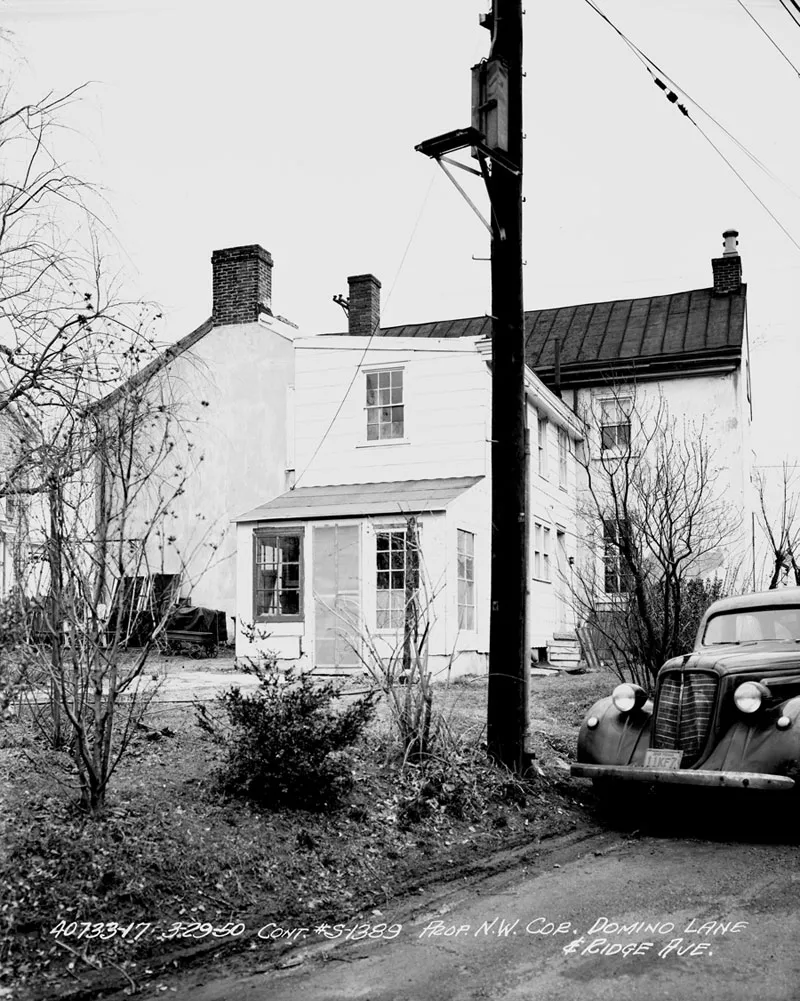 Image source: PhillyHistory.org
This is a photograph of the back of 7202 Ridge Avenue, as seen from Domino Lane. It was taken on March 29th, 1950.
Ted Bundy in the 1950 census

The United States Census of 1950 was held on April 1st, 1950. The data was released to the public 72 years later, on April 1st, 2022.
This census record shows that five members of the Cowell family were living in the house. Interestingly, it also shows that Bundy was listed as Samuel and Eleanor's son.
Aerial image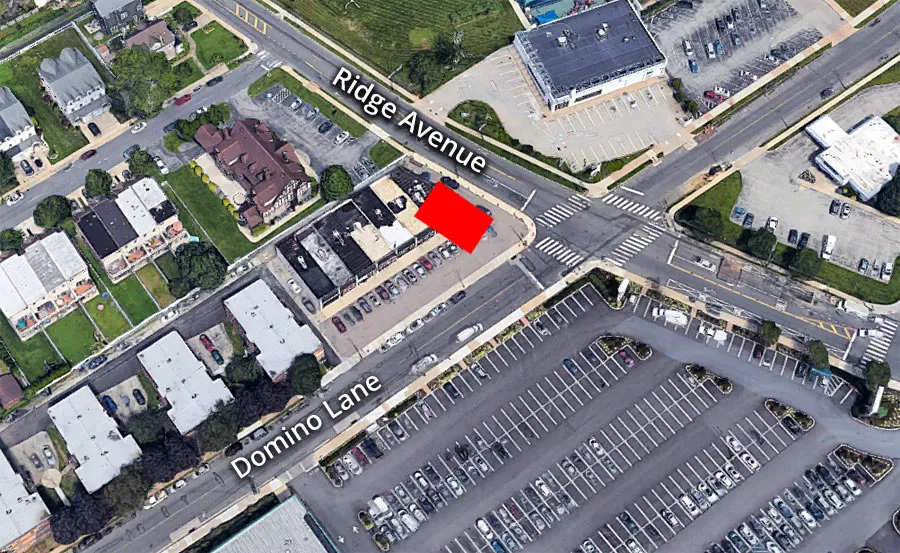 This aerial image highlights the location where the house once stood.
Overlay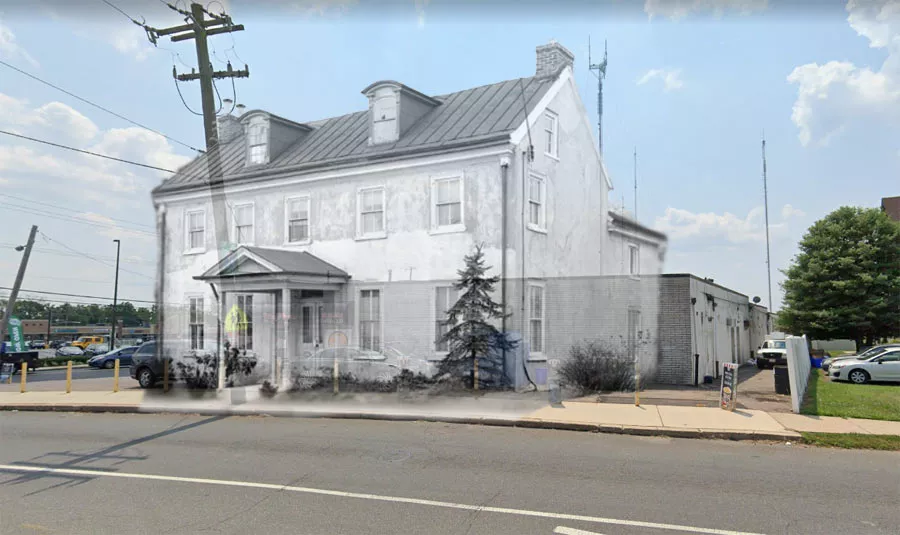 Above, we've layered the old photograph on top of the most recent Street View image. Note that its position is approximate.
Map Viewer
There is more than one location associated with this entry. To view all of these places on the same map, you can use the following feature:
Closest Locations
Other locations that are relatively close to this address: Roughly 4 miles away.
Serial Killer House in Lafayette Hill, Pennsylvania Roughly 11 miles away.
Crime Location in Philadelphia, Pennsylvania Roughly 26 miles away.
Crash Site Location in West Chester, Pennsylvania Roughly 31 miles away.
Arrest Location in Pottstown, Pennsylvania Roughly 52 miles away.
Crime Location in Bridgeton, New Jersey