The location where Joseph Augustus Zarelli's body was found
Crime Scene Location in Philadelphia, Pennsylvania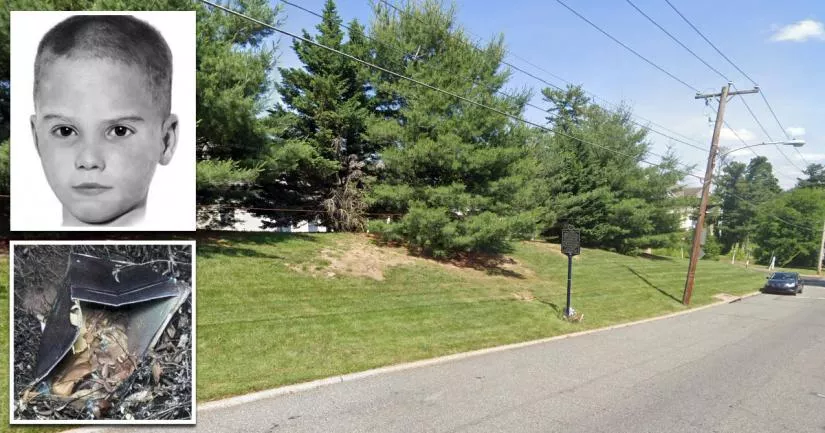 This is the location where Joseph Augustus Zarelli's body was found.
The memorial site is located across the street from 722 Susquehanna Road in Philadelphia, Pennsylvania.
Zarelli was known as the "Boy in the Box" up until his identification in 2022.
On February 25th, 1957, the four-year-old's body was found inside a cardboard box that had been dumped in the woods off Susquehanna Road.
An autopsy revealed that the boy was extremely malnourished, weighing only 30 lbs (14 kg). There were also signs that he had been physically abused.
The police believe that the cause of death was blunt force trauma to the head, as there was evidence of bleeding inside the skull.
Although hundreds of thousands of fliers bearing his image were distributed across Philadelphia, nobody came forward to say that they knew him.
Consequently, it became a cold case.
For 65 years, the identity of the "Boy in the Box" remained a mystery, as did the circumstances surrounding his death. As the decades slowly drifted by, dozens of theories and potential suspects were put forward by authors, amateur detectives, and even psychics.
However, none of them led anywhere.
In 2019, the authorities exhumed the body so that they could obtain a fresh DNA sample. Then, using the new profile, they began the painstaking process of tracking down family members.
On November 30th, 2022, the Philadelphia Police Department announced that they had finally uncovered the boy's identity.
Eight days later, he was publicly identified as Joseph Augustus Zarelli—a four-year-old who had lived near 61st and Market Street.
His parents were Mary Elizabeth "Betsy" Abel and Augustus J. "Gus" Zarelli.
The young boy's identity was confirmed after Gus' niece submitted her DNA. This sample was then matched against Mary's relatives, who had previously uploaded their DNA to a genealogical website.
Notably, Joseph was never reported missing. Furthermore, his mother and father have both passed away.

Further information is available in the "Photos" section below.
Joseph Augustus Zarelli crime scene location
Below, you will find the address and the GPS coordinates for this location.
Address
Susquehanna Road, Philadelphia, Pennsylvania, PA 19111, USA
Map
To view directions on how to get there, you can use the Google Maps shortcut below:
GPS coordinates
The latitude and longitude coordinates for the site are:
40.082377, -75.071972
Directions
Joseph's body was found in Fox Chase, which is a neighborhood in the northeast of Philadelphia.
According to a police sketch, the "Boy in the Box" was discovered on the southern side of Susquehanna Road, roughly 0.3 miles west of Veree Road.
Photos
Photos of the site and other related images.
---
Susquehanna Road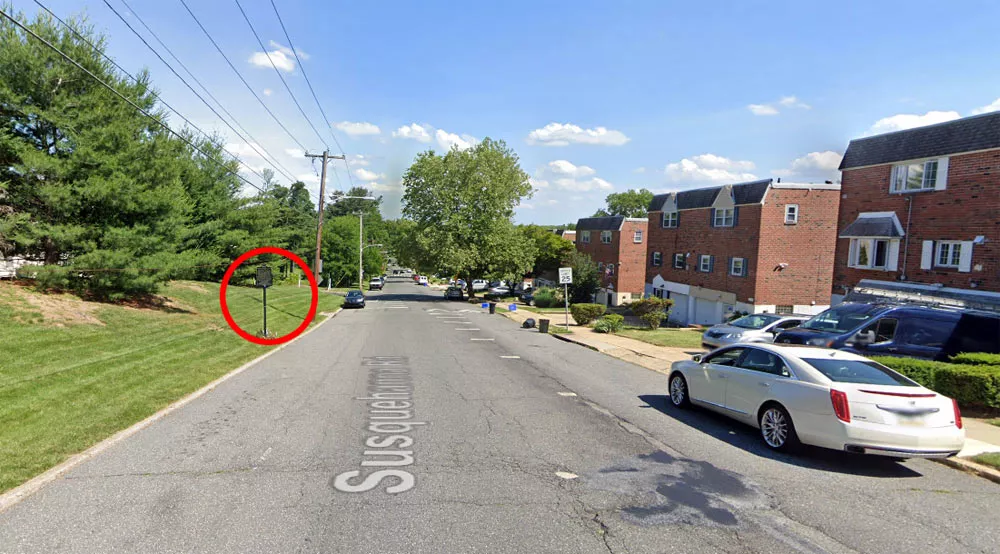 This Google Street View image of Susquehanna Road was taken in June 2022.
The historical marker (circled in red) was erected in November 2017. It was placed there by an Eagle Scout named Nicholas Kerschbaum, who wanted to raise awareness about the case.
Note that the box containing Zarelli's body was actually found in a wooded area on the opposite side of the road. However, the woods in question were replaced by houses in 1967.
Map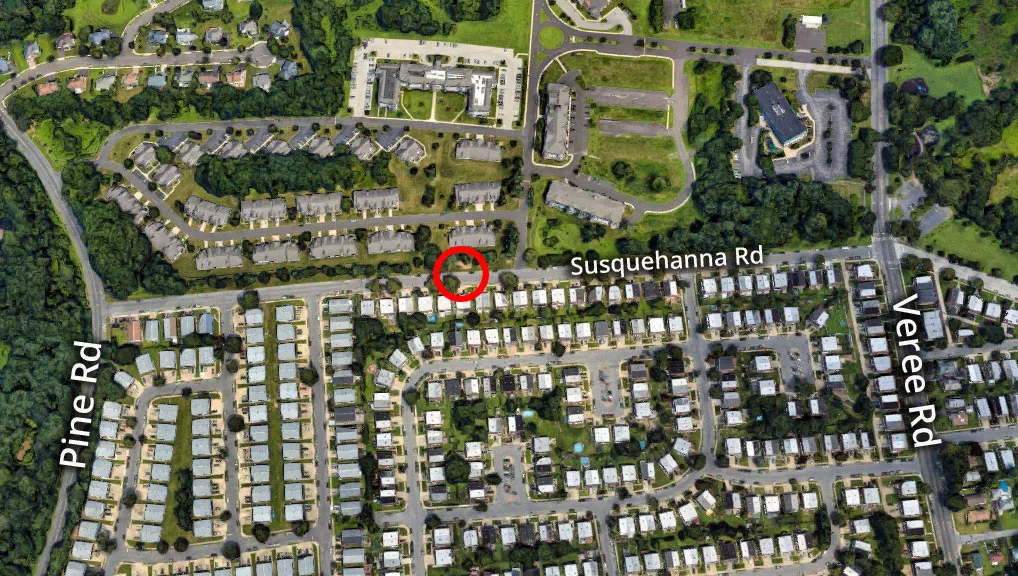 The historical marker is roughly halfway between Veree Road and Pine Road.
21 South 61st Street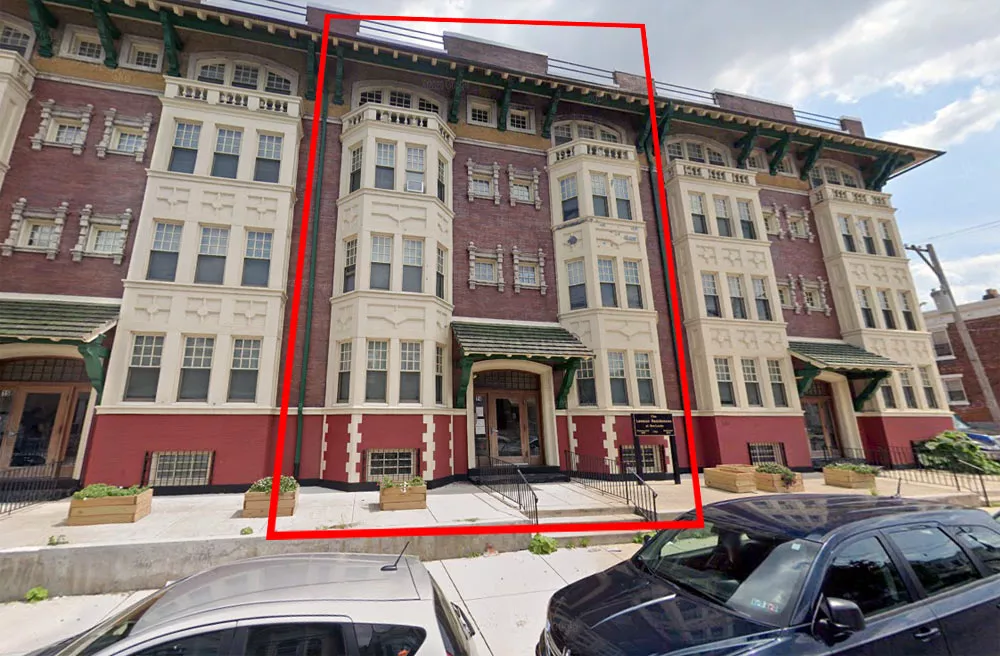 Historical phone directory records indicate that Mary Elizabeth "Betsy" Abel was living at 21 South 61st Street in West Philadelphia (the building is known as the Lawson residences).
This apartment building is less than 200 feet south of the corner of 61st Street and Market Street.
It is roughly 15 miles southwest of the site where Zarelli's body was found.
Coordinates: 39.961618, -75.242685
Map Viewer
There is more than one location associated with this entry. To view all of these places on the same map, you can use the following feature:
Closest Locations
Other locations that are relatively close to this address: Roughly 11 miles away.
Serial Killer House in Philadelphia, Pennsylvania Roughly 12 miles away.
Serial Killer House in Lafayette Hill, Pennsylvania Roughly 37 miles away.
Crash Site Location in West Chester, Pennsylvania Roughly 40 miles away.
Arrest Location in Pottstown, Pennsylvania Roughly 57 miles away.
Crime Location in Bridgeton, New Jersey