Vicki Lynn Wegerle's house.
Crime Scene Location in Wichita, Kansas, United States.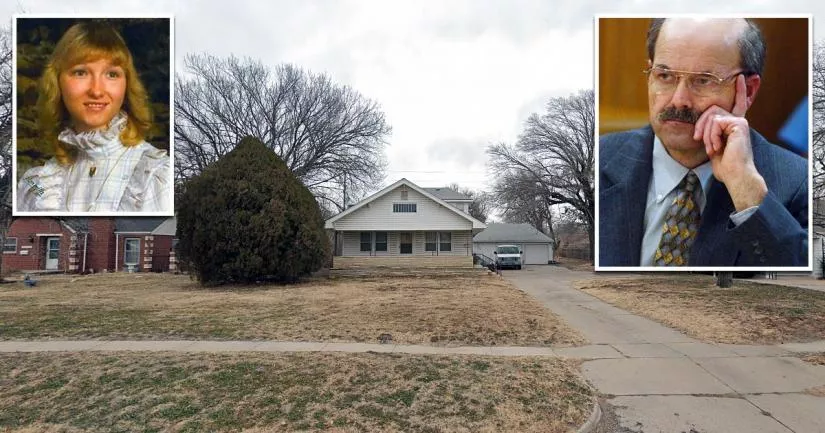 On September 16th, 1986, the BTK killer, Dennis Rader, strangled 28-year-old Vicki Wegerle to death at this house in Wichita.
In the weeks leading up to Vicki Wegerle's murder, Rader selected the young wife and mother as one of his "projects."
For three weeks, he stalked her and figured out her family's routine.
In his mind, Wegerle was known as "Project Piano". He chose this nickname after he heard the sound of a piano emanating from the house while he was staking it out.
Telephone repairman.
That day, BTK knocked on Vicki's door and pretended to be a telephone repairman. According to his confession in court, he was wearing a Southwestern Bell hard hat at the time.
After she allowed him inside to check the phone lines, Rader walked over to her telephone and pretended to examine it using a fake instrument.
However, as soon as Vicki looked away, he pulled out a pistol and pointed it at her. At that stage, he ushered the frightened young woman into a bedroom and told her that he was going to tie her up.
The murder of Vicki Lynn Wegerle.
Although BTK tied Vicki Wegerle's hands together, she somehow managed to break free from her restraints and put up a fight.
During the struggle, Rader eventually overpowered his victim before strangling her to death with a nylon stocking.
He took photographs of her.
In the aftermath of the crime, BTK rearranged his victim's clothes and took a number of photographs of her body. However, he did not stick around for long.
Because all of the windows and doors were open, the fight between Rader and Wegerle had agitated the dogs at the back of the house. According to Rader, the dogs were barking and causing a commotion.
Furthermore, Vicki had claimed that her husband was coming home.
Sensing that he didn't have a lot of time, Rader quickly cleaned up his tools, took a few "trophies," and then left the scene in Wegerle's car.
Where did Vicki Wegerle live?
Below, you will find the address and the GPS coordinates for this location.
GPS Coordinates.
The GPS coordinates for the house are as follows.
Latitude: 37.709084
Longitude: -97.369739
Map.
Open 37.709084, -97.369739 in Google Maps to view directions on how to get there.
Address.
The full address for this location is:
2404 W 13th St N
Wichita
Kansas
KS 67203
United States
Directions.
The house is situated in a neighborhood called Indian Hills Riverbend. It sits on the northern side of the intersection between W 13th Street North and Arrowhead Street.
Private property warning.
This is a private property. It is not a public place. Therefore, you should be respectful and not step foot on the property without permission.
Trivia.
The house has four bedrooms and it is 1,239 sqft in size.
It was built in 1920.
Vicki's family sold the property in 1989.
BTK parked Vicki's car a couple of blocks away from the house.
Photos.
Photos of the house and other related images.
---
Vicki Wegerle's house.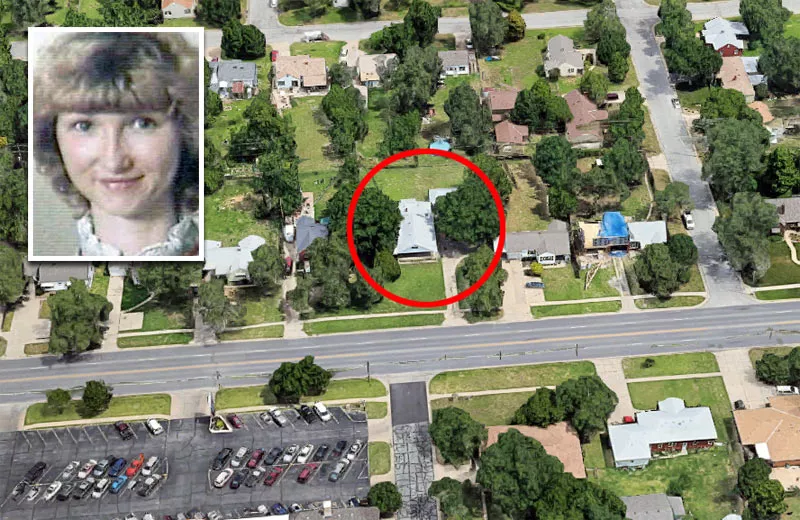 This is an aerial image of Vicki Wegerle's former house at 2404 W 13th Street North.
When Vicki's husband, Bill, was driving home for lunch, he spotted his wife's car heading in the opposite direction. He could also see that a stranger was behind the wheel.
Once he entered the house, he discovered his wife's dead body in the bedroom.
Because the crime wasn't initially attributed to BTK, many people (including police officers) suspected that Bill Wegerle had murdered his own wife. These suspicions were heightened after he failed two lie detector tests.
Bill remained a suspect until Rader suddenly reestablished contact with the press in 2004.
In March of 2004, following a decade-long silence, BTK sent Vicki's driving licence and photographs of her dead body to the Wichita Eagle newspaper.
Google Street View.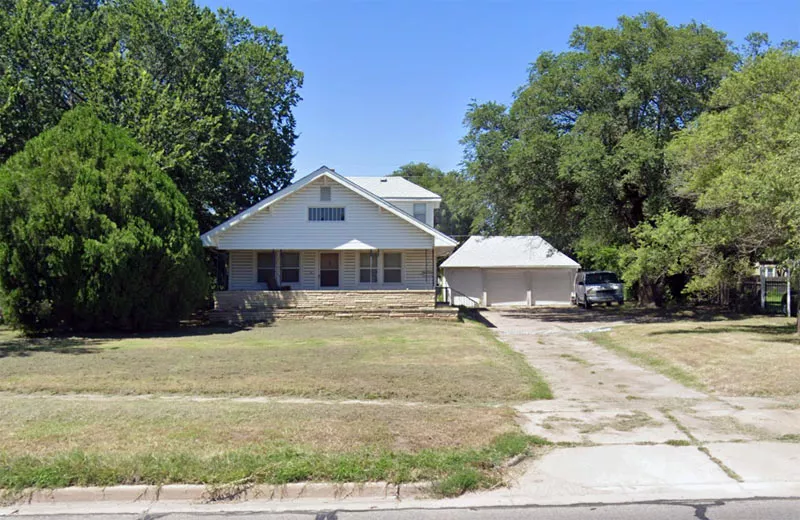 A Google Street View image of the house from July of 2019.
The area where BTK parked Vicki Wegerle's car.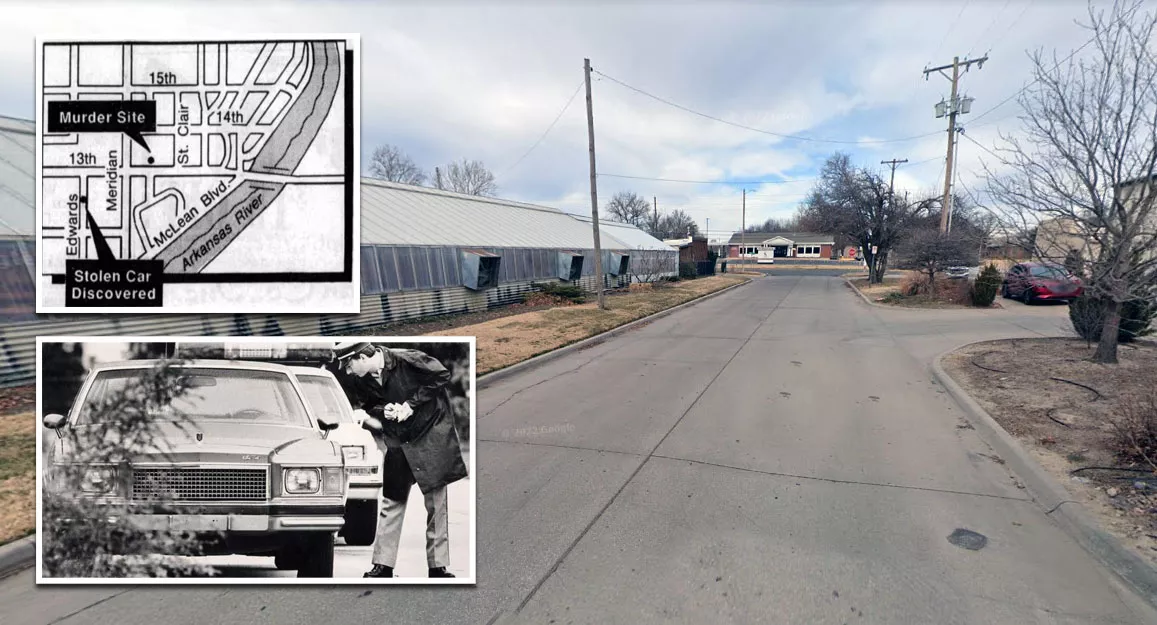 Following the murder, Rader drove Vicki Wegerle's gold Monte Carlo car to this location near Johnson's Garden Center - at the top of North Edwards.
The area in question is just a short one-minute drive away from the Wegerle residence.
Coordinates: 37.707970, -97.373688
Witness.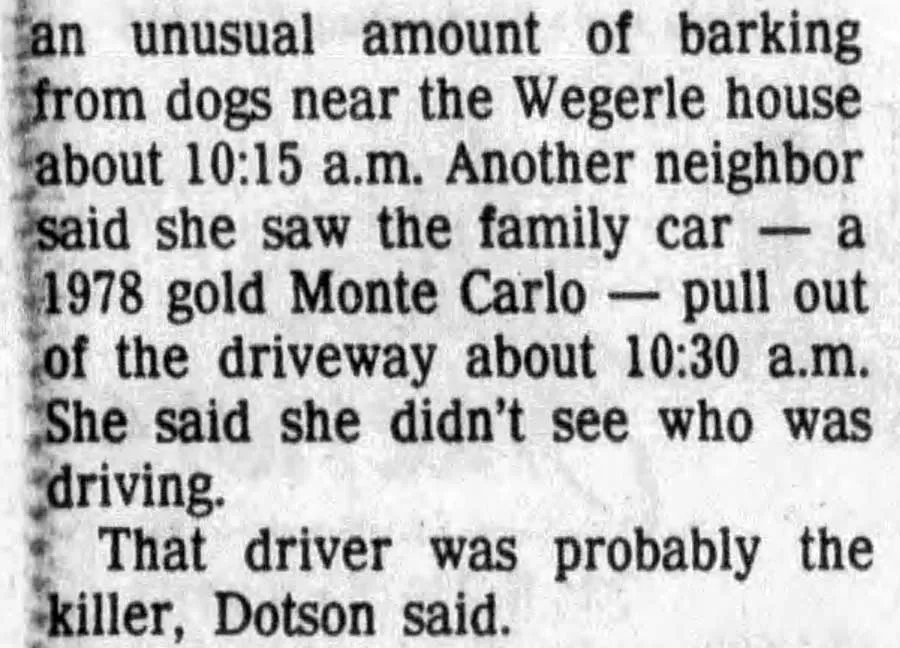 One neighbor said that the dogs started barking at roughly 10.15 a.m. Fifteen minutes later, another witness saw the family's 1978 gold Monte Carlo pulling out of the driveway.
Aerial image.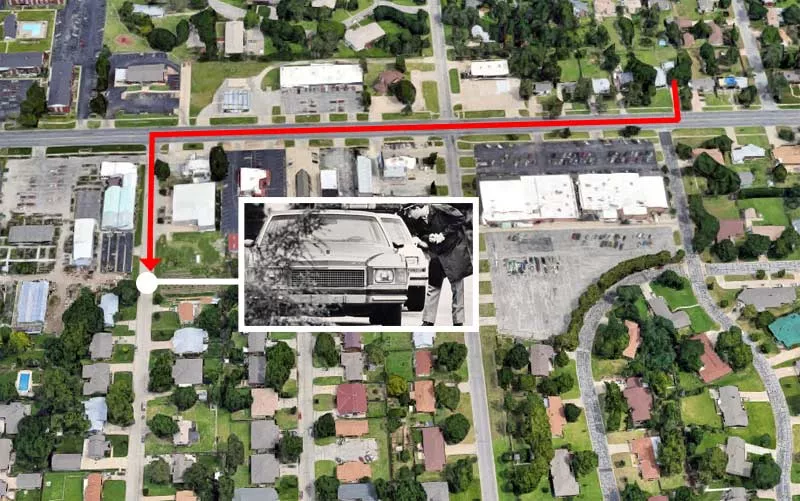 This aerial map shows the short distance that Rader drove after he stole Wegerle's car.
Judging by his M.O. in other cases, it is likely that his own vehicle was parked within walking distance of Edwards Street.
Because Vicki's husband, Bill, saw the family car driving in the opposite direction, it meant that he was just seconds away from arriving home. Had Rader stayed at the scene any longer, it is likely that a confrontation would have ensued.
Closest locations.
Other locations that are relatively close to this place. Roughly 3 miles away.
Place of Interest in Wichita, Kansas, United States Roughly 4 miles away.
Crime Location in Wichita, Kansas, United States Roughly 4 miles away.
Crime Location in Wichita, Kansas, United States Roughly 6 miles away.
Place of Interest in Wichita, Kansas, United States Roughly 6 miles away.
Crime Location in Wichita, Kansas, United States