The location where BTK called 911
Place of Interest in Wichita, Kansas, United States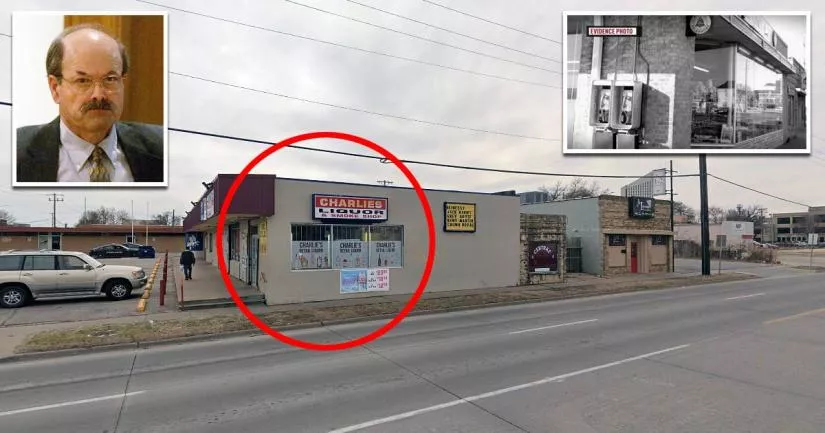 This is the location where the BTK Killer, Dennis Rader, anonymously reported one of his own crimes.
Following Nancy Fox's murder, Rader was so eager for the authorities to discover her body that he reported the crime from a public payphone.
The payphone in question was situated close to the intersection between Central Avenue and St. Francis Street.
Rader knew this area because it was relatively close to a cafe that his work crew often visited.
Feeling "excited" and in need of attention, he called 911 and stated the following:
"You will find a homicide at 843 South Pershing. Nancy Fox."
During the short call, Rader masked his voice by covering the phone with a handkerchief. However, the authorities were able to trace the call back to this location because he left the phone dangling instead of hanging it up.
Following his arrest, BTK admitted that this was a risky act on his part.
He also recalled how nervous he felt whenever he heard the recording being played on the local news stations.
At the time, he was driving his company's work truck, which was noticed by a witness.
According to the witness, the man who made the call was roughly 6-foot-tall, wearing an industrial-type uniform, and driving a truck that had writing on the side of it.
Unfortunately, she wasn't close enough to read the writing on the side of Rader's truck. Had she been closer, it probably would have led the police straight to his doorstep.
Nowadays, the payphone in question no longer exists. The building it was originally attached to has been demolished and replaced.
The red circle in the image above indicates the general area where it was located.
Sub-entry
This location has been marked as a sub-entry. As a result, it might lack certain details. For more information about this subject, please check out the following location:
Where was the payphone?
Below, you will find the address and the GPS coordinates for this location.
GPS coordinates
The latitude and longitude coordinates for the payphone are:
37.693379, -97.332058
Map
To view directions on how to get there, you can use the Google Maps shortcut below:
Address
The full address for this location is:
527 East Central Avenue
Wichita
Kansas
KS 67202
United States
Visualize
There is more than one location associated with this entry. To view all of these places on the same map, you can use the following feature:
Closest Locations
Other locations that are relatively close to this address: Roughly 2 miles away.
Crime Location in Wichita, Kansas, United States Roughly 3 miles away.
Crime Location in Wichita, Kansas, United States Roughly 3 miles away.
Crime Location in Wichita, Kansas, United States Roughly 3 miles away.
Place of Interest in Wichita, Kansas, United States Roughly 4 miles away.
Crime Location in Wichita, Kansas, United States