Nancy Jo Fox's house
Murder House in Wichita, Kansas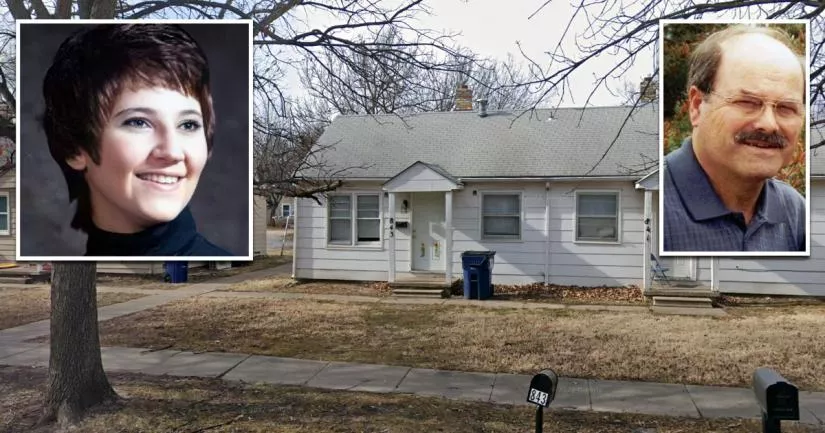 This is the house where BTK murdered Nancy Jo Fox.
It is situated at 843 South Pershing Street in Wichita, Kansas.
Dennis Rader began stalking Fox in 1977. After spending weeks figuring out her routine, he finally decided to make his move.
On the night of December 8th, 1977, he parked his car a couple of blocks away from Fox's house on South Pershing Street before proceeding to the residence on foot.
Although the lights were off and Rader knew that Fox wasn't supposed to be home yet, he decided to err on the side of caution by knocking on the front door.
Once he was satisfied that there was no one inside, he walked around to the back of the property and cut the phone lines.
Then, after breaking a window and gaining entry to the house, he sat in the kitchen and waited for the young secretary to return.
Rader confronts Nancy Jo Fox
When Fox arrived home, she was immediately confronted by Rader, who told her that he had sexual problems and that he was going to tie her up and have sex with her.
Although the 25-year-old was upset and verbally hostile toward him, she eventually calmed down and complied with his demands.
BTK never revealed his true intentions to his victims until it was too late for them to fight back. In most cases, it seems as though his victims were under the impression that they would survive the encounter if they played ball.
At one point during their conversation, Fox told Rader that she wanted to "get it over and done with." She also informed him that she was going to call the police afterwards.
The fact that she was willing to make such a threat suggests that she was thoroughly convinced that he was going to let her go.
Murder
Shortly before the murder took place, Rader allowed Fox to use the bathroom. He also asked her to undress while she was in there.
When she returned, he placed handcuffs on her wrists, put her face down on the bed, and then tied her feet together.
Once she was completely restrained, the "real" BTK emerged.
At that point, he took out a belt and began strangling her from behind.
Because Rader was a sadist who got a kick out of torturing his victims, he repeatedly tightened and loosened the belt so that he could prolong the act. While he was doing this, he taunted the young woman by telling her that his name was BTK and that he was a "bad guy".
Following the murder, Rader cleaned up the crime scene and took some of Fox's clothes as trophies. He also removed the handcuffs and re-tied her wrists using pantyhose.
Notably, he was so eager for her body to be found that he anonymously called 911 from a public payphone and reported the crime himself.

Further information is available in the "Photos" section below.
Nancy Jo Fox murder location
Below, you will find the address and the GPS coordinates for this location.
Address
843 South Pershing Street, Wichita, Kansas, KS 67218, USA
Map
To view directions on how to get there, you can use the Google Maps shortcut below:
GPS coordinates
The latitude and longitude coordinates for the house are:
37.672553, -97.282999
Directions
The house is situated in a neighborhood called Hilltop. It is close to the intersection between South Pershing Street and East Lincoln Street.
Private Property Warning
This is a private property. It is not a public place. Therefore, you should be respectful and not step foot on the property without permission.
Photos
Photos of the house and other related images.
---
Nancy Jo Fox's house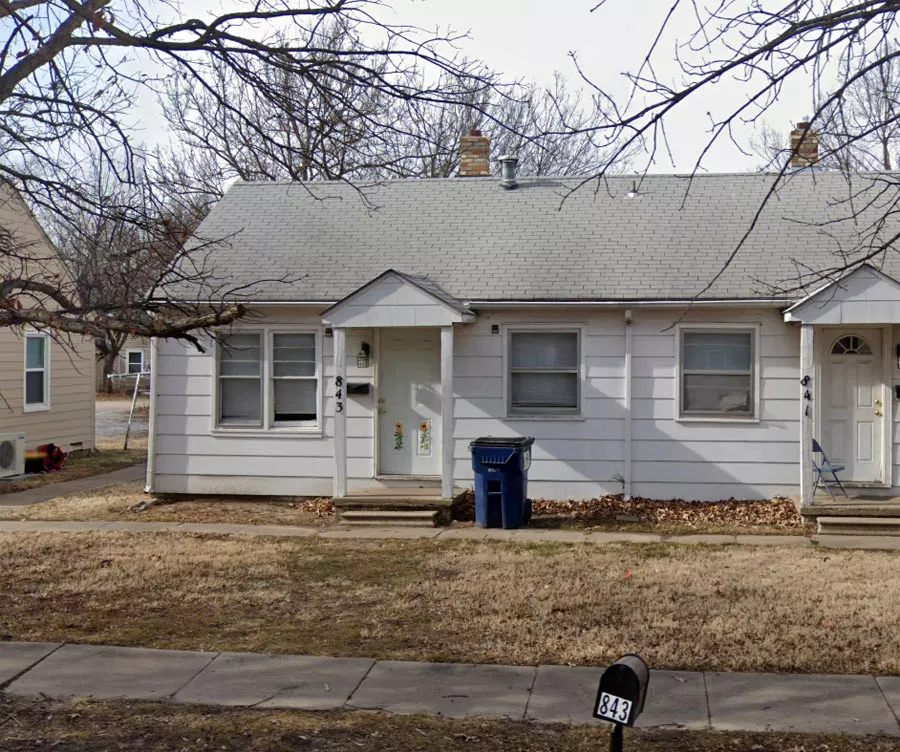 This Google Street View image of the Fox's former house was taken in January 2022.
On the night of the murder, the adjoining duplex on the right (841) was vacant.
After stalking the 25-year-old, he learned that she wouldn't be home on a Tuesday or Thursday evening, as those were the two days that she worked late at Helzberg's Jewelers.
Rader always parked his vehicle a couple of blocks away from the crime scene because it lowered the risk of a witness seeing his license plate.
Following the murder, BTK drank a six-pack of beer and masturbated.
843 South Pershing Street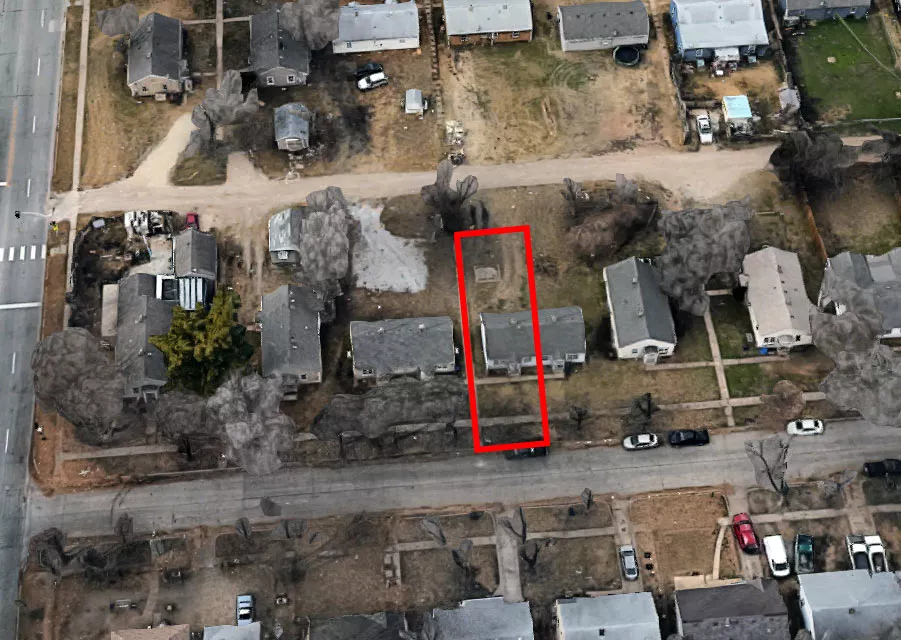 843 South Pershing Street is a duplex, which means that it has two separate living units.
Fox had been living in the unit on the left for about two years. The apartment on the right was vacant at the time of the murder.
Back window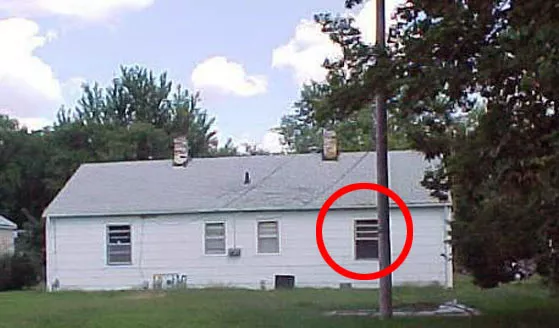 This is an old photograph of the back of the house. After cutting the phone lines, Rader entered through the window that is circled in red.
BTK's 911 call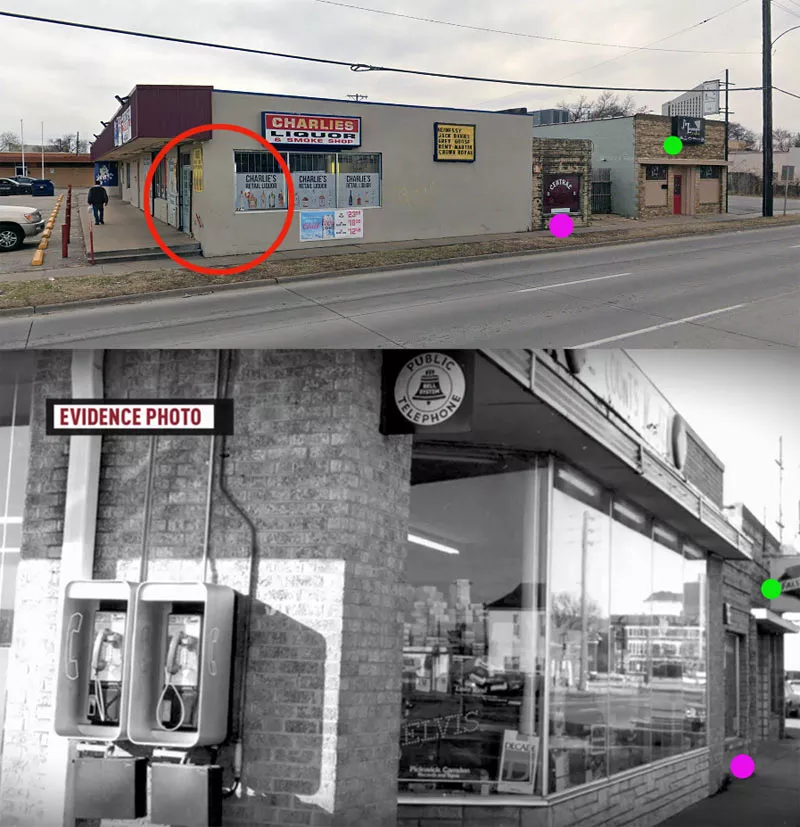 The day after Fox's murder, BTK anonymously reported the crime from a public payphone beside Central Avenue and St. Francis Street.
Rader knew the area because it was close to a cafe that his work crew often visited.
Feeling excited and in need of attention, he decided to call 911 and report that a murder had occurred at 843 South Pershing Street:
"You will find a homicide at 843 South Pershing. Nancy Fox."
During the short call, Rader covered the phone with a handkerchief in an attempt to mask his voice. However, the authorities were able to trace the location of the call because he left the phone dangling.
Following his arrest, BTK admitted that this was a risky act on his part. He also recalled how he felt extremely nervous whenever he heard the recording being played on local news stations.
At the time, he was using his company's work truck. This was noticed by a witness, who reported that they saw a 6-foot-tall white male using the payphone. The witness said that the man in question was wearing an industrial-type uniform and driving a truck with writing on the side of it.
Had this witness been close enough to read the writing on the side of Rader's truck, it would have led the police straight to him.
Nowadays, the payphone in question no longer exists, as the building that it was originally attached to has been demolished and replaced. In the image above, we have marked certain points with color-coded dots so that the two photos are easier to compare. The red circle indicates the general area where the phone was located.
Newspaper article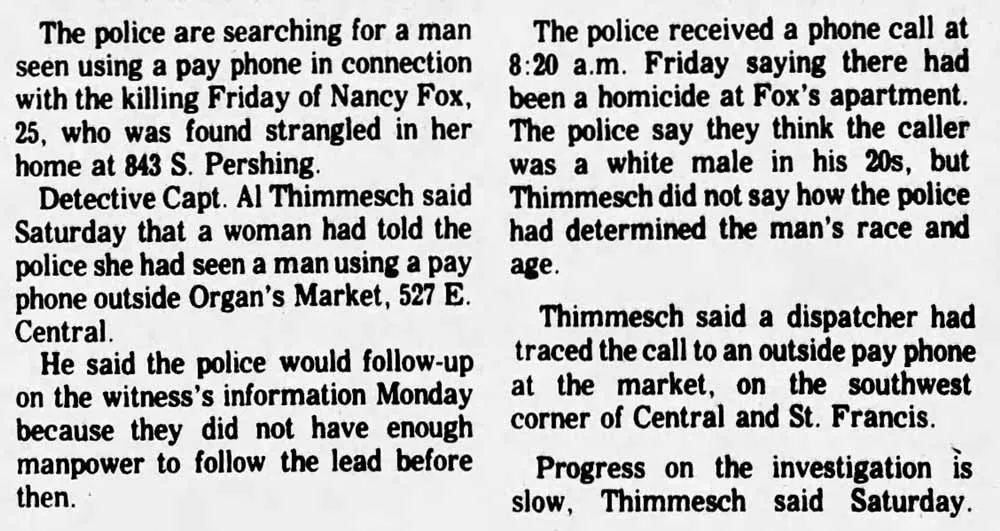 The article above appeared in the Wichita Eagle newspaper on December 11th, 1977.
BTK made the call at 8:20 a.m. outside of Organ's Market at 527 East Central.
A woman saw him while he was using the payphone. However, due to a lack of manpower, she was not interviewed until three days later.
While speaking to reporters, Detective Captain Al Thimmesch said that he saw no link between the murders of Fox and Shirley Vian.
Map Viewer
There is more than one location associated with this entry. To view all of these places on the same map, you can use the following feature:
Closest Locations
Other locations that are relatively close to this address: Roughly one mile away.
Place of Interest in Wichita, Kansas Roughly 2 miles away.
Murder House in Wichita, Kansas Roughly 4 miles away.
Place of Interest in Wichita, Kansas