The location where Bonnie and Clyde were shot dead in an ambush
Death Location in Gibsland, Louisiana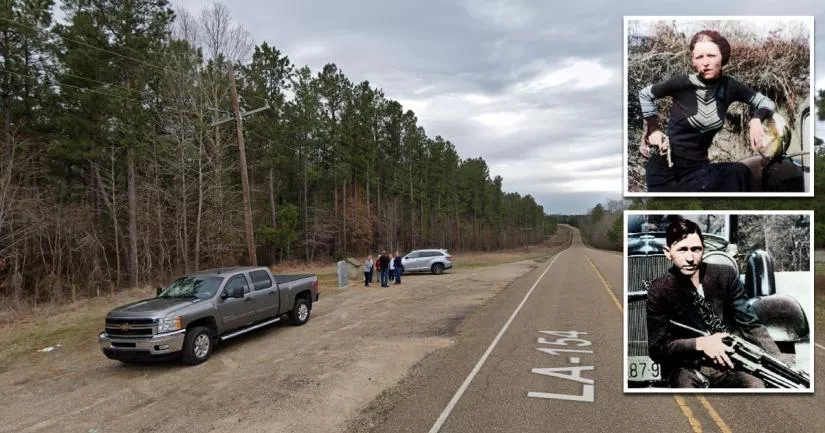 This is the location where Bonnie and Clyde were shot dead in an ambush.
It is located on Par Road 300 in Gibsland, Louisiana. The exact coordinates are available in the "Address" section below.
Bonnie Elizabeth Parker and Clyde Chestnut Barrow were armed robbers who targeted stores, funeral homes, and banks between 1932 and 1934. They are also believed to have murdered at least 13 people, most of whom were police officers.
The couple were part of the Barrow Gang, a notorious band of outlaws that carried out a string of violent crimes across several states.
The fact that Bonnie and Clyde were "lovers in crime" captivated the public and garnered significant media attention.
Working-class people, in particular, felt sympathetic to the couple, as the United States was in the midst of the Great Depression. In their eyes, they were folk heroes who targeted the same financial institutions that had caused the Wall Street Crash of 1929.
However, public perception of Bonnie and Clyde turned negative in April 1934 after the Barrow Gang shot and killed a widowed constable named William "Cal" Campbell in Commerce, Oklahoma.
By that point, they were already the subject of a nationwide manhunt, as they had previously broken their associates out of the Eastham prison farm in Texas just four months prior. This incident caused great embarrassment for the authorities, who soon hired former Texas Ranger Captain Frank Hamer to hunt the gang down.
Hamer spent months following the couple and looking for patterns in their movements.
In May 1934, the lawman received information that they were going to meet at a rendezvous point near this rural highway in Bienville Parish. The vital tip reportedly came from Ivy Methvin, who was the father of Barrow Gang member Henry Methvin.
Methvin had agreed to cooperate with the local sheriff's office to spare his son from the death penalty.
On May 22nd, 1934, Hamer and five other officers set up an ambush at this location on Louisiana State Highway 154. To catch the gang's attention and slow them down, they parked Ivy Methvin's truck on the side of the road.
Following a night of hiding in the trees, the officers grew weary and began making plans to call off the operation. However, at approximately 9.15 a.m., they heard the sound of a vehicle speeding in the distance.
After taking a quick look, they spotted a 1934 Ford Deluxe V-8, which was known to be Clyde's preferred make and model.
The officers' decoy proved to be a success, as Clyde recognized Ivy Methvin's truck and started to slow down.
Moments later, Hamer and his team opened fire with their automatic rifles. However, they wasted most of their rifle ammunition before the car was close enough. As a result, they had to switch to their shotguns.
When their shotguns emptied, the officers took out their pistols and continued firing.
Bonnie and Clyde were both shot more than a dozen times and killed almost instantly. By the time the last gun was lowered, their vehicle had more than 100 bullet holes.
The couple's dramatic deaths at the hands of law enforcement cemented their legacy in American culture. So much so that they are often referenced whenever a man and a woman commit crimes together.
To this day, they continue to influence films, music, theater, and literature.

Further information is available in the "Photos" section below.
Bonnie and Clyde death location
Below, you will find the address and the GPS coordinates for this location.
Address
Par Road 300, Gibsland, Louisiana, LA 71028, USA
Map
To view directions on how to get there, you can use the Google Maps shortcut below:
GPS coordinates
The latitude and longitude coordinates for the ambush site are:
32.441176, -93.092591
Directions
The site is situated roughly 8 miles south of Gibsland. It is just north of the intersection between Louisiana State Highway 154 and Louisiana State Highway 516.
Details about the general area
Gibsland is a town in Bienville Parish, which is in the north of Lousiana. It lies about 30 miles east of Shreveport.
Photos
Photos of the ambush site and other related images.
---
Ambush location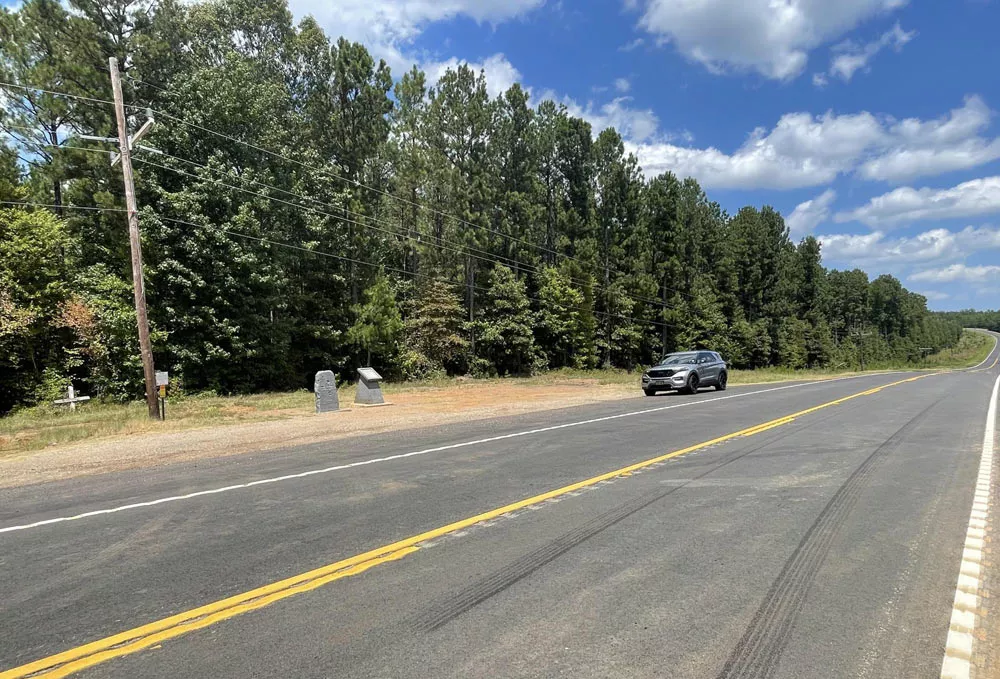 The photograph above was taken by Jeremy Drexler.
Google Street View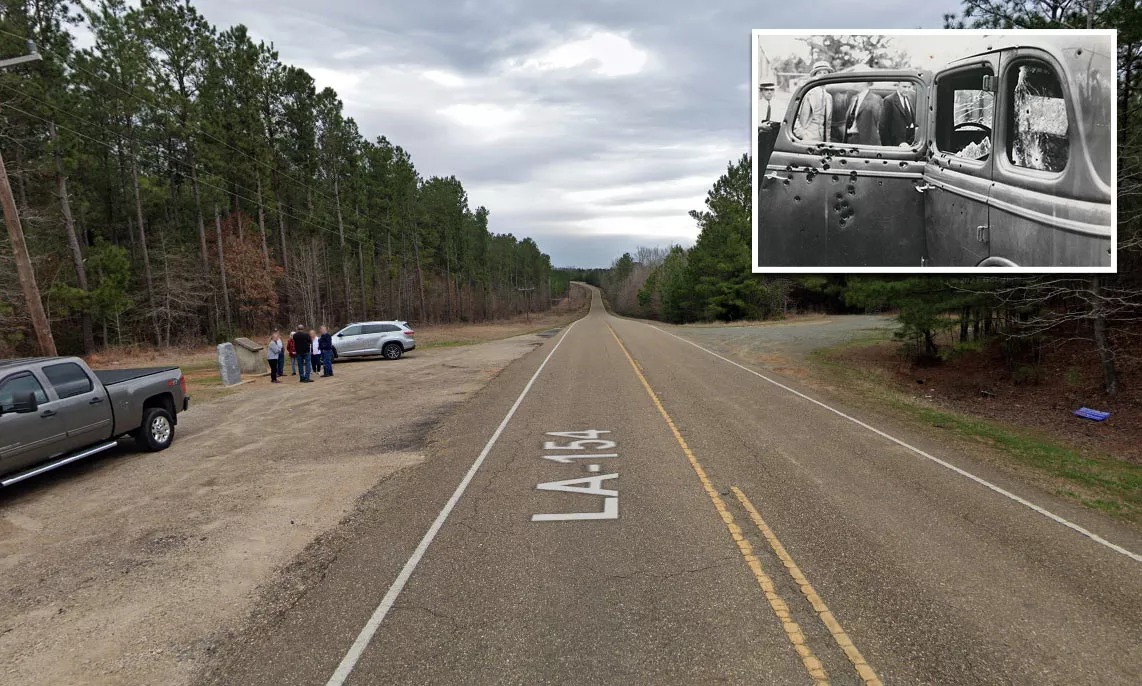 Image source: Google Maps
This Google Street View image of the ambush site was taken in March 2021.
The door of Bonnie and Clyde's car is visible in the top right-hand corner. As you can see, their Ford V-8 was riddled with bullets.
Monument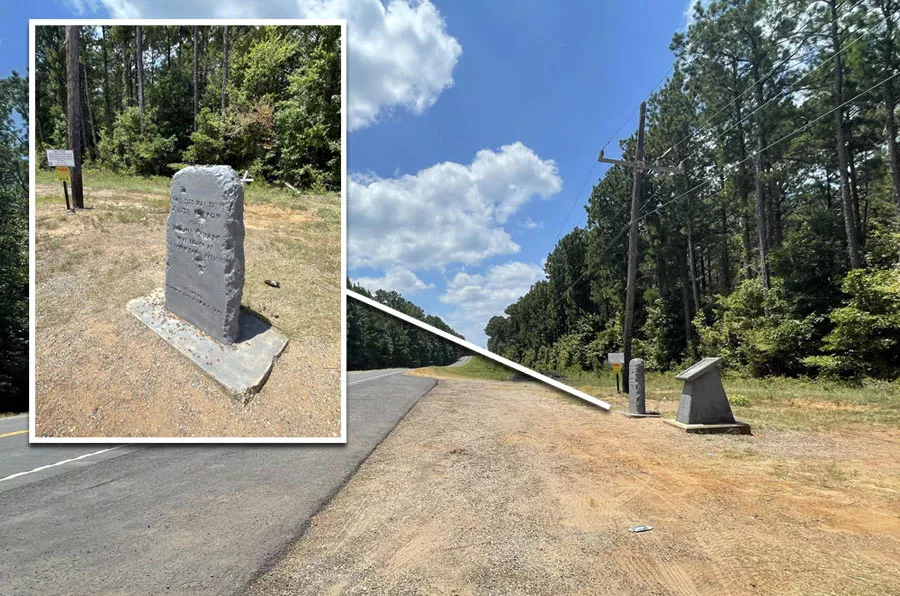 Image source: Jeremy Drexler
Two monuments exist at the ambush site. The one on the left has been shot multiple times and heavily graffitied by couples.
It reads:
"This site. May 23, 1934. Clyde Barrow and Bonnie Parker were killed by law enforcement officers."
The marker on the right pays tribute to the officers who carried out the ambush.
Bienville Parish has also erected a warning sign to deter vandals:
"These monuments were placed here to mark a Bienville Parish time in history. Please do not deface these monuments by marking them or chipping away at them. Just enjoy their meaning. They are under video surveillance."
Car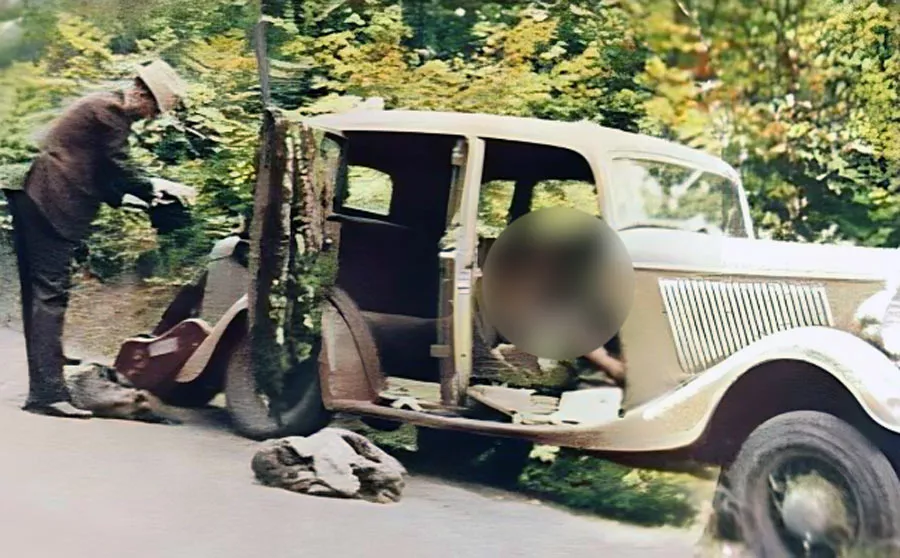 We upscaled and colorized this photograph of Bonnie and Clyde's car using various AI tools.
Their Ford V-8 B-400 veered into a ditch after Clyde was shot in the head.
Afterwards, officers discovered more than a dozen guns and thousands of rounds of ammunition inside the car.
Louisiana State Highway 154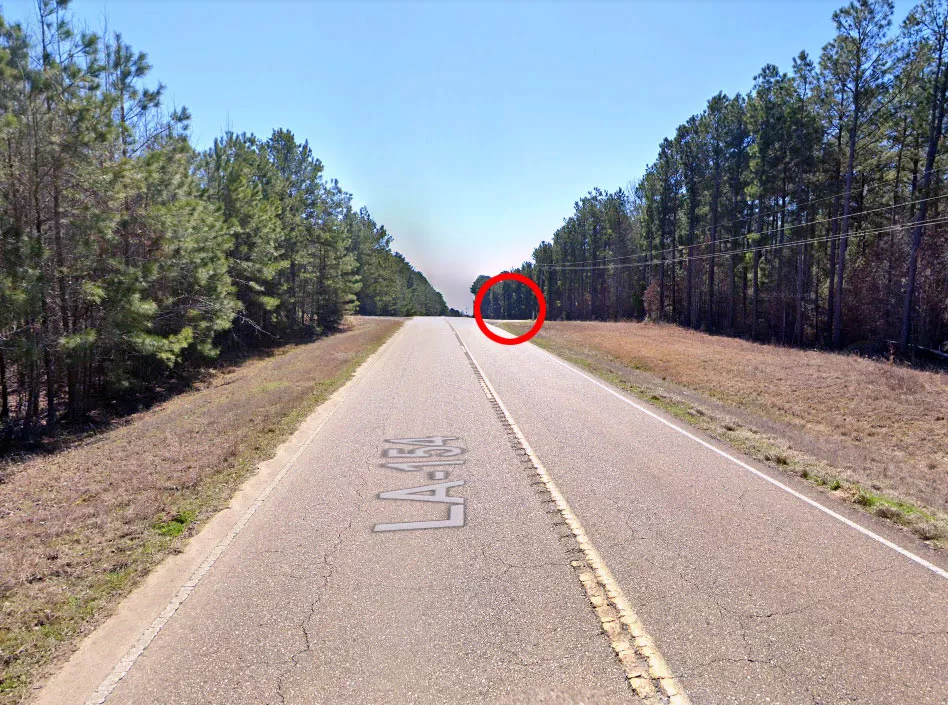 Image source: Google Maps
This Google Street View image of Louisiana State Highway 154 (Par Road 300) shows us what Bonnie and Clyde might have seen while they were unknowingly driving towards their own deaths.
We have marked the monument location with a red circle.
Historical aerial photographs and topographic maps indicate that this section of the road has always been pretty straight.
It is likely that Hamer and the other officers chose the ambush site because it offered a great vantage point over vehicles approaching from the south.
Map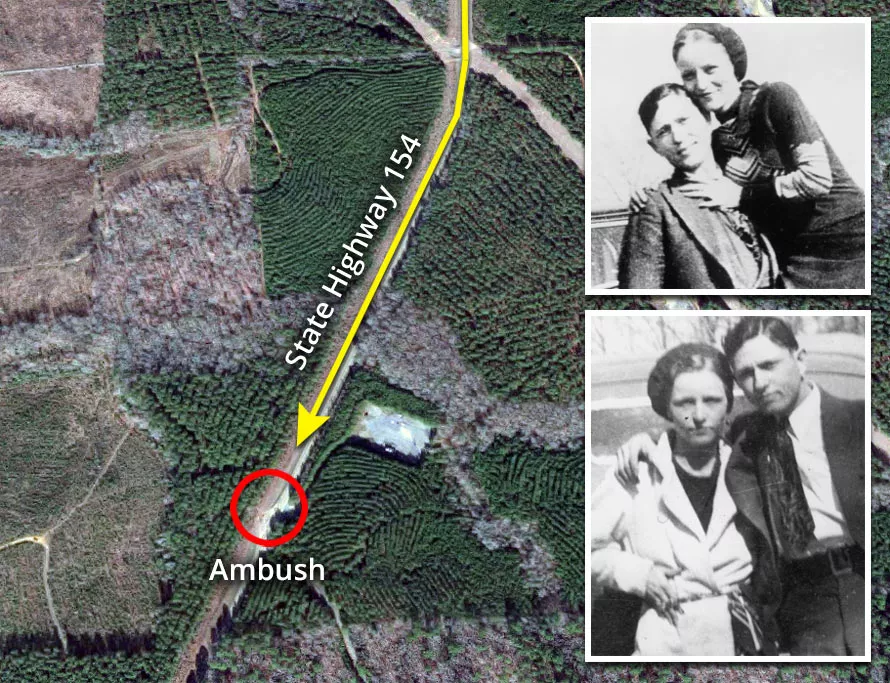 Image source: Google Maps
The infamous duo were driving southbound along Louisiana State Highway 154 (Par Road 300) when the officers opened fire.
Whiskey Pete's hotel and casino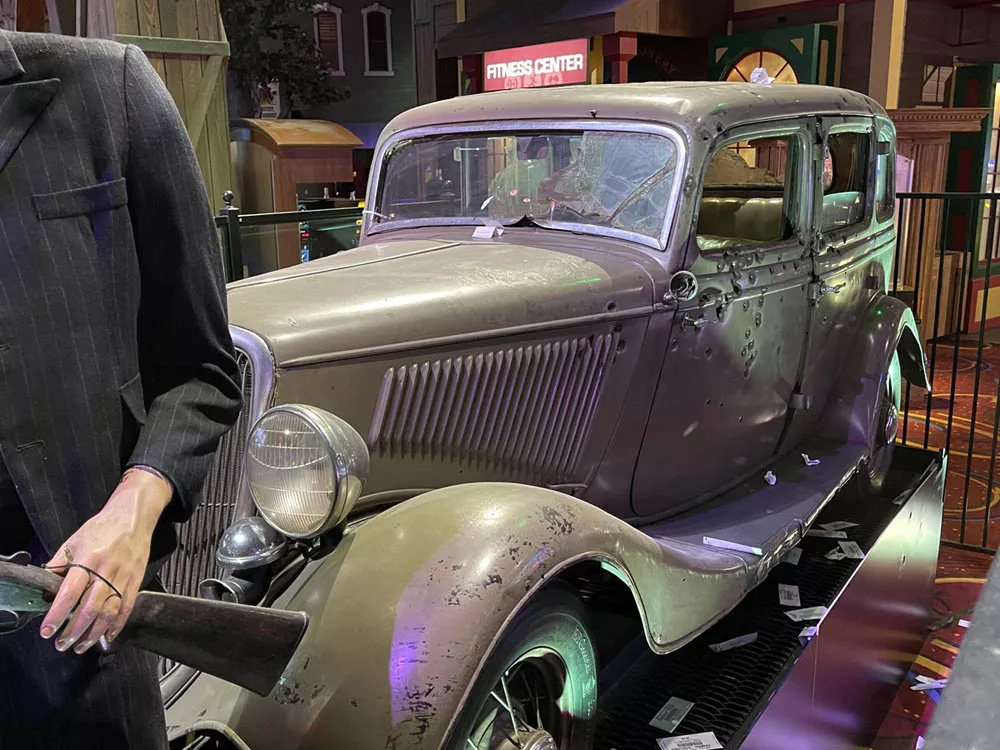 Image source: Jeremy Drexler
These days, Bonnie and Clyde's car is on display at Whiskey Pete's hotel and casino in Primm, Nevada.
Coordinates: 35.611639, -115.392173
Map Viewer
There is more than one location associated with this entry. To view all of these places on the same map, you can use the following feature:
Locations in the United States
Other locations that are in the United States. Crime Location in Sacramento, California