The bar where Ann Woodward was murdered
Crime Scene Location in Moab, Utah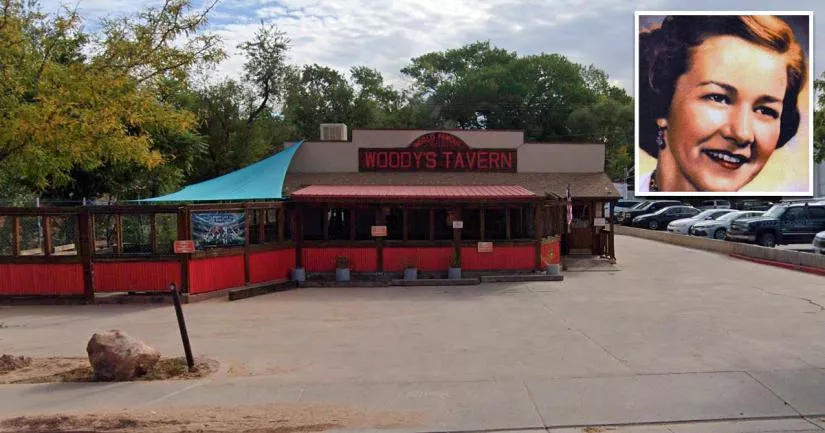 This is the location where Ann Hammer Woodward was murdered.
It is called Woody's Bar, and it is located at 221 South Main Street in Moab, Utah.
The 46-year-old mother of four owned and operated this bar with her husband, Leslie H. "Woody" Woodward.
Woodward failed to return home after closing the bar by herself during the early hours of March 2nd, 1973.
Later that morning, at approximately 6.45 a.m., her husband arrived and found her partially nude body lying on the floor between two pool tables.
She had been raped and strangled to death with her own trousers.
Someone had opened the cash register and stolen an undetermined amount of money. A pack of playing cards was also found on one of the tables.
The police believe that a customer committed the crime after closing time.
It is unknown whether the killer was allowed to stay or if they hid shortly after Woodward made the last call. It is also possible that they knocked on the door and then either coaxed or forced their way inside.
Unfortunately, it seems as though the Grand County Sheriff's Office and the Moab City Police Department lacked the training and experience to deal with a homicide back in 1973.
In one interview, former MCPD police chief Melvin Dalton said that the crime scene wasn't processed or cordoned off properly, and people were allowed to come and go as they pleased. As a result, vital evidence may have been lost.
Although various leads were followed and a number of people of interest underwent polygraph tests, the case eventually hit a brick wall.
In 2006, the police reopened the investigation in the hope that advances in DNA technology might finally lead to an arrest. They also tracked down boxes of evidence that had been scattered across the MCPD, the Grand County Sheriff's Office, and the Grand County Attorney's Office.
Sadly, this new investigation failed to identify a suspect.
In November 2022, it was reported that funds had been made available for additional DNA testing, as modern "touch DNA" methods now allow crime labs to analyze objects for skin cells.
Woodward's case is currently being investigated by the Moab City Police Department and the Utah State Bureau of Investigation. Anyone with information about the murder can contact the cold case tip hotline at 833-DPS-SAFE (833-377-7233).

Further information is available in the "Photos" section below.
Ann Woodward murder location
Below, you will find the address and the GPS coordinates for this location.
Address
221 South Main Street, Moab, Utah, UT 84532, USA
Map
To view directions on how to get there, you can use the Google Maps shortcut below:
GPS coordinates
The latitude and longitude coordinates for the bar are:
38.570769, -109.550393
Directions
The bar is roughly 120 yards (110 meters) south of the intersection between 100 South and South Main Street (US Highway 191).
Details about the general area
Moab is situated in Grand County, in eastern Utah.
Photos
Photos of the bar and other related images.
---
Woody's Tavern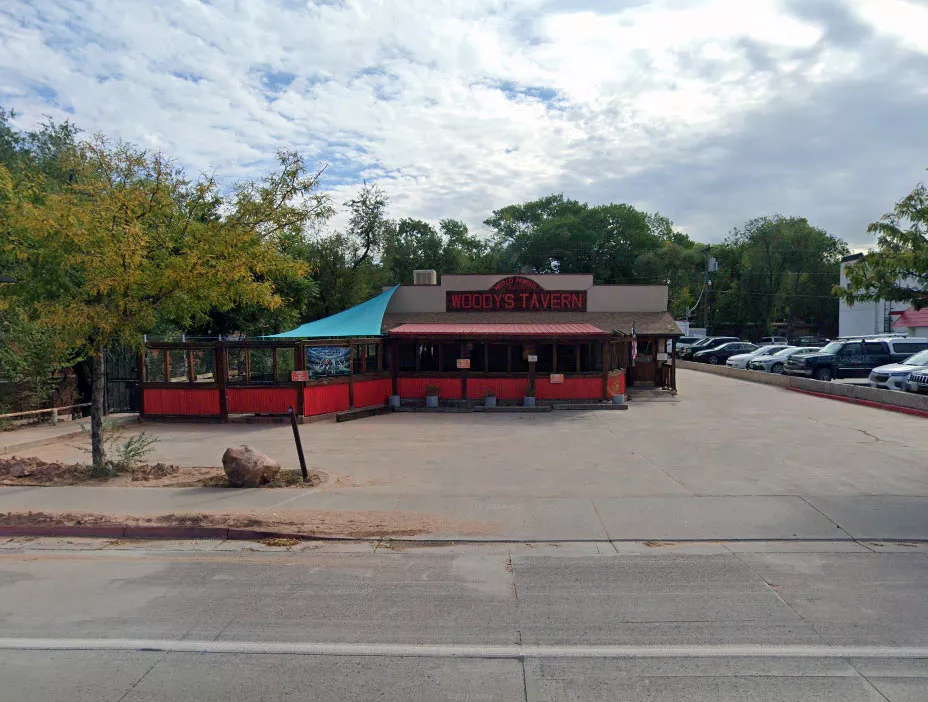 Image source: Google Maps
This Google Street View image of Woody's Tavern was captured in September 2022—nearly 50 years after Ann Woodward was brutally murdered.
Woodward owned and operated the bar with her husband, Leslie H. "Woody" Woodward. However, on the night in question, she had been working by herself.
Leslie remarried 12 years later. He passed away on Christmas Day in 2005 at the age of 84.
Murder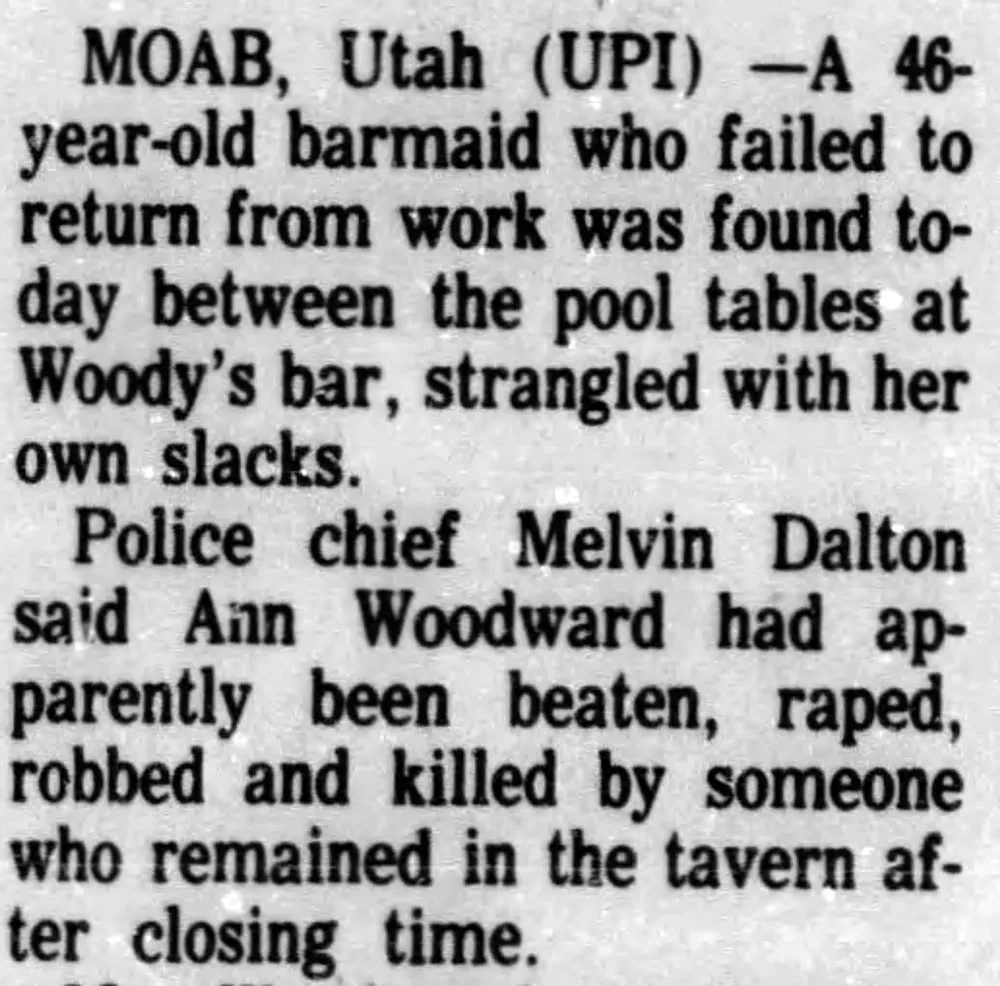 Image source: The Daily Herald
The police believe that Woodward was killed by someone who remained in the tavern after closing time.
Her husband discovered her partially clad body at around 6.45 a.m.
Pool tables
The victim's body was found between a set of pool tables.
Lead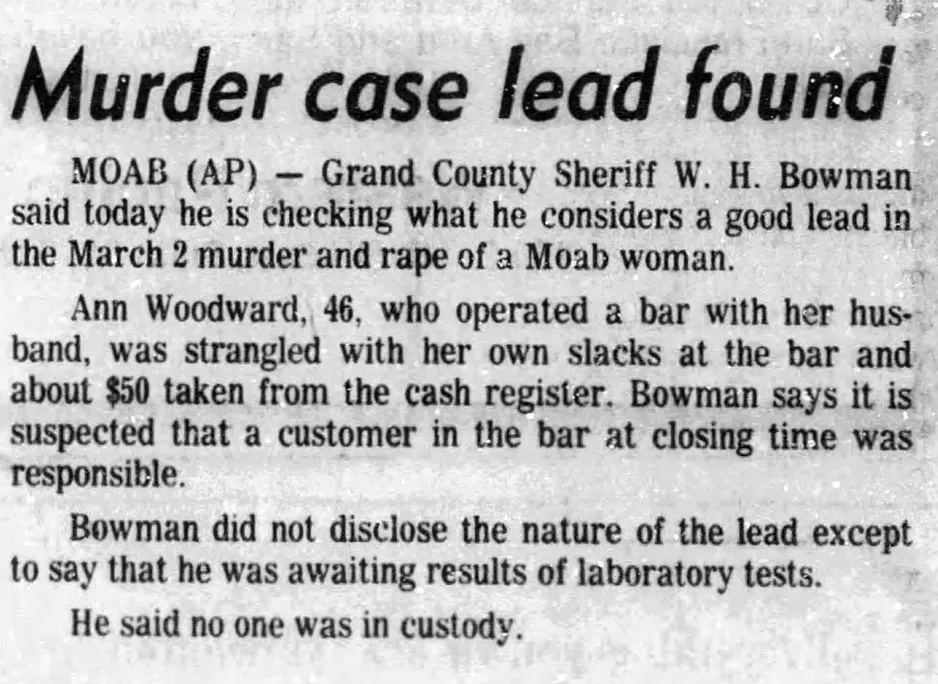 In March 1973, the Deseret News newspaper reported that Grand County Sheriff W. H. Bowman had a good lead in the case.
Unfortunately, this lead failed to result in an arrest.
Although the news article above states that roughly $50 was taken from the cash register, other news reports described the money as an "indeterminable amount".
Sexual predators will often take valuables from their victims, even though robbery isn't their primary motive.
For example, serial killer Ted Bundy reportedly stole money from some of the women that he murdered. He did this simply because he was broke, and the cash was there for the taking.
Similarly, Long Island murder victim Tina Foglia was missing a diamond ring, even though investigators believe that she was killed to cover up a sexual assault.
Closest Locations
Other locations that are relatively close to this address: Roughly 78 miles away.
Crime Location in Grand Junction, Colorado