The abduction of Denise Lynn Oliverson.
Crime Scene Location in Grand Junction, Colorado, United States.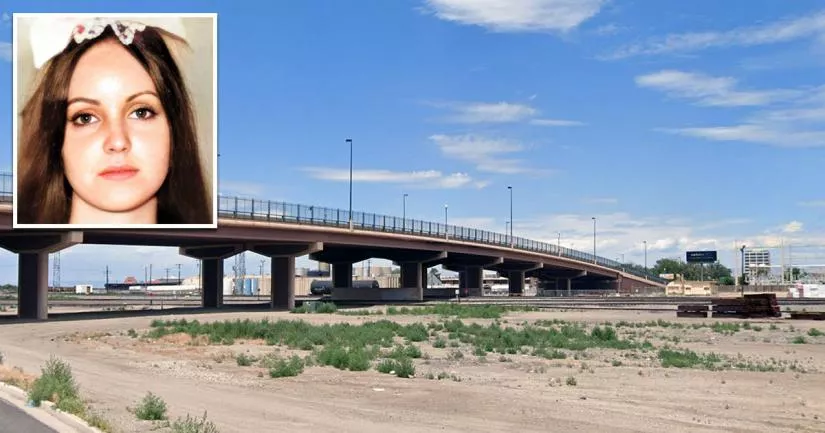 On April 6th, 1975, Denise Lynn Oliverson disappeared from the city of Grand Junction in Colorado.
The following day, her yellow bicycle and sandals were discovered underneath this overpass on South Fifth Street.
Since then, there has been no trace of the missing 24-year-old.
Ted Bundy confessed to murdering Denise Oliverson.
Shortly before his execution in 1989, serial killer Ted Bundy confessed to abducting and murdering a woman in Grand Junction.
This confession is supported by gas receipts, which show that he was in the city on the exact same day that Denise went missing.
According to Bundy, he lured Oliverson into his car and then strangled her. Afterwards, he dumped her body in the Colorado River about five miles west of Grand Junction.
Husband.
On the day that she went missing, Denise had a heated argument with her husband, Joe Oliverson. At around 3 p.m., she decided to leave their small one-bedroom home on LaVeta Street and cycle to her parents' house on the other side of the Colorado River.
When she failed to return home that evening, her husband presumed that she was spending the night with her parents. This was something that she often did whenever the couple were going through a rough patch.
The next day, Joe called her parents' house to ask when she was coming home. However, he was shocked to learn that Denise had never visited them.
At that stage, her parents realized that something was wrong and decided to report her missing.
Denise's items are discovered.
On the same day that Denise was reported missing, a railway employee stumbled across her yellow 10 speed bicycle and her sandals. The items had been discarded underneath this bridge on South 5th Street.
Although this discovery led police to suspect foul play, there were no other leads in the case. From their perspective, the young woman had simply vanished into thin air.
Where was Denise Oliverson abducted?
Below, you will find the address and the GPS coordinates for this location.
GPS coordinates.
The latitude and longitude coordinates for the site are:
39.060627, -108.564173
Map.
To view directions on how to get there, you can use the Google Maps shortcut below:
Address.
The full address for this location is:
South Fifth Street Bridge
Grand Junction
Colorado
CO 81501
United States
Details about the general area.
Grand Junction is a small city in the west of Colorado, close to the border of Utah. During the 1970s, it had a population of roughly 20,000 people.
Photos.
Photos of the site and other related images.
---
1619 LaVeta Street.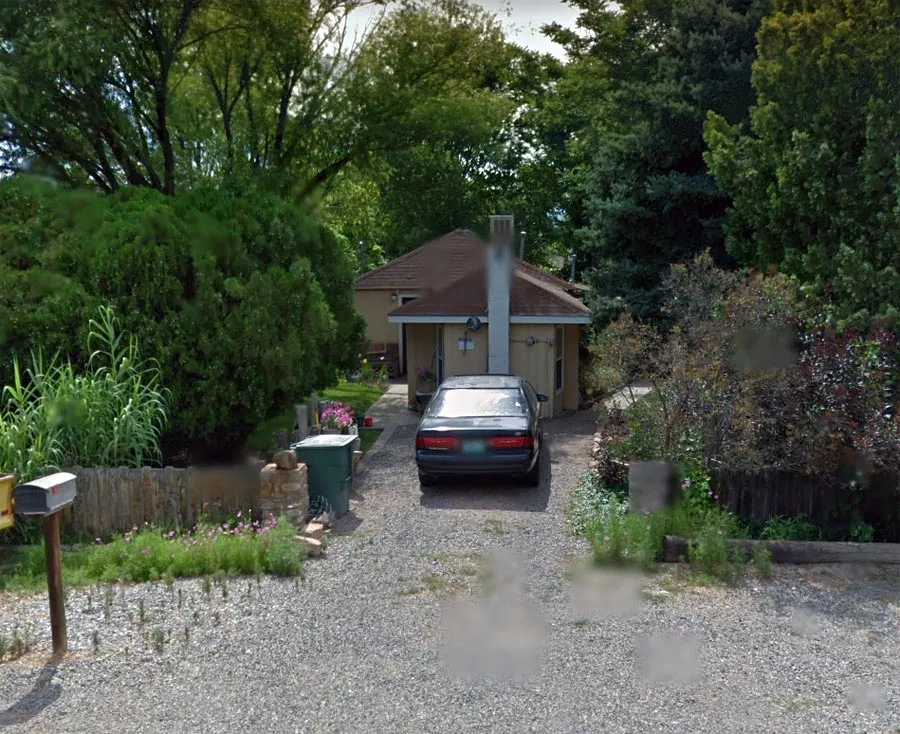 At the time when Denise went missing, she was living with her husband, Joe Oliverson, in this house on LaVeta Street.
When the couple fought, Denise would often leave the house and go cycling. In many cases, she would cycle to her parents' house and stay there for a while.
Coordinates: 39.051627, -108.563853
Bundy was in Grand Junction at the time.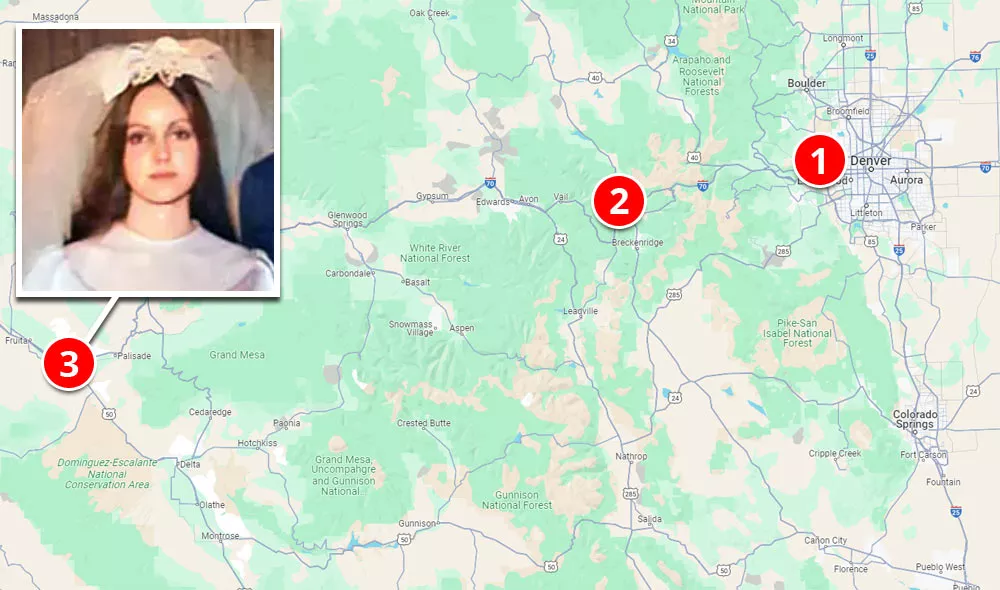 According to gas receipts, Bundy was in Grand Junction on the day that Denise Oliverson disappeared.
1. On April 4th, 1975, he purchased gas in Golden, Colorado.
2. On April 5th, he was at a gas station in Silverthorne.
3. Then, on April 6th, he visited Grand Junction. This was the exact same day that the 24-year-old went missing.
This evidence, coupled with his confession in 1989, led authorities to believe that Bundy was almost certainly behind the disappearance of Oliverson.
Bundy's frequent stops at gas stations make a lot of sense if you consider the distance involved. During his five-day-long "road trip" across the state of Colorado, he traveled at least 1,035 miles.
During his trip to Golden, it is possible that he returned to the body of Julie Cunningham, whom he murdered on March 15th.
The pathway.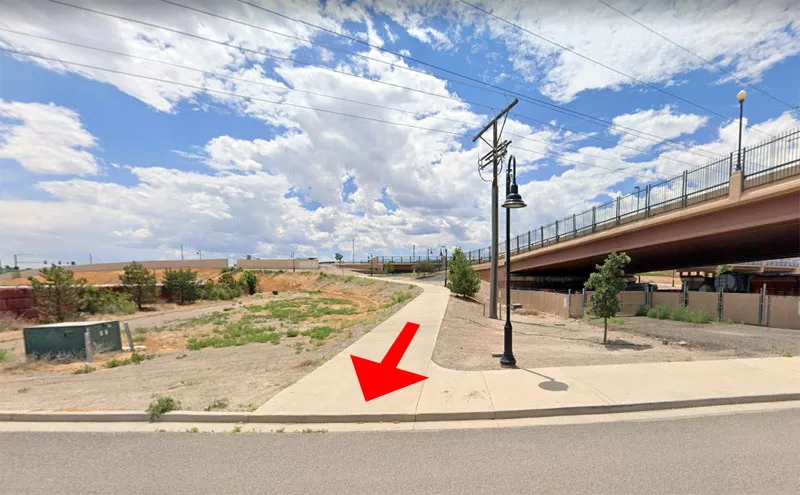 This Google Street View image shows a small pathway that slopes down on the eastern side of the bridge.
In 1975, this area would have looked slightly different. However, the current pathway does follow a similar course.
Coordinates: 39.059617, -108.564065
How did Ted Bundy abduct Denise Oliverson?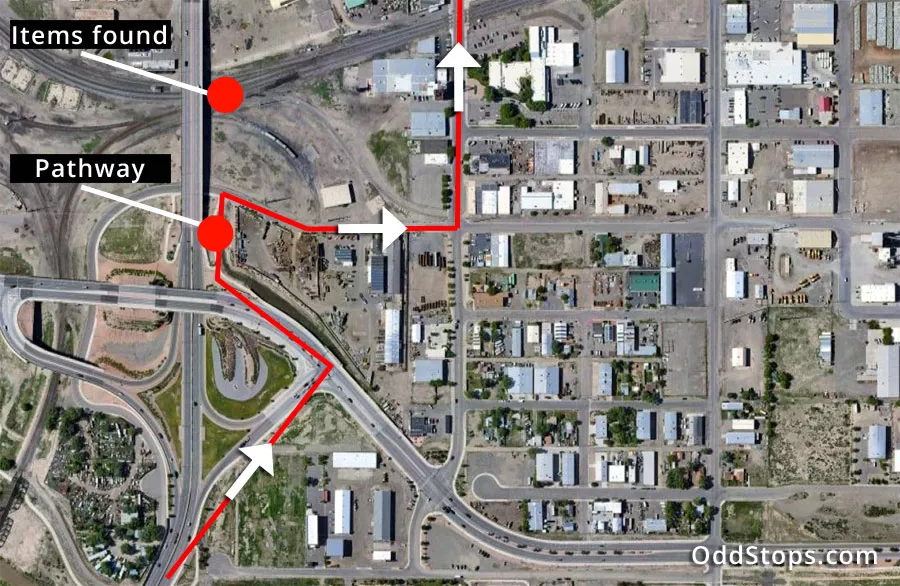 This aerial photograph shows the route that Denise Oliverson was planning on taking that day. It is likely that she avoided the bridge and took the pathway on the right.
It seems as though Bundy managed to intercept her before she could turn right and continue her journey northward.
Because she was on a bicycle, it would not have made sense for him to offer her a ride. Instead, it is likely that he flagged her down and asked for help.
It is the author's opinion that Bundy used one of two ruses here.
1. He lied to her about his car being broken down and asked her if she could help him start it.
2. Bundy approached Denise while using crutches or a fake cast and asked her to help him carry something to his vehicle.
A number of online commentators have posited the theory that she ran into mechanical issues with her bicycle and that Bundy came to her "assistance".
However, this seems unlikely. According to GJPD detective Doug Rushing, the yellow 10-speed bicycle was completely undamaged when it was discovered.
The most obvious conclusion is that Bundy's Volkswagen Bug was parked in a strategic spot underneath this overpass. According to investigators, the area underneath the bridge would have been pretty quiet at the time.
Therefore, it would have been relatively easy for him to hit her over the head with a crowbar and incapacitate her without anyone witnessing the act.
The fact that Denise's sandals were discovered at the scene suggests that she was struck over the head before she fully entered the vehicle.
Because this area was off the beaten track, it is very possible that he committed the crime at this spot and then transported her body elsewhere. According to Bundy's last-minute confession, he dumped her body in the Colorado River about five miles west of Grand Junction.
Wedding day.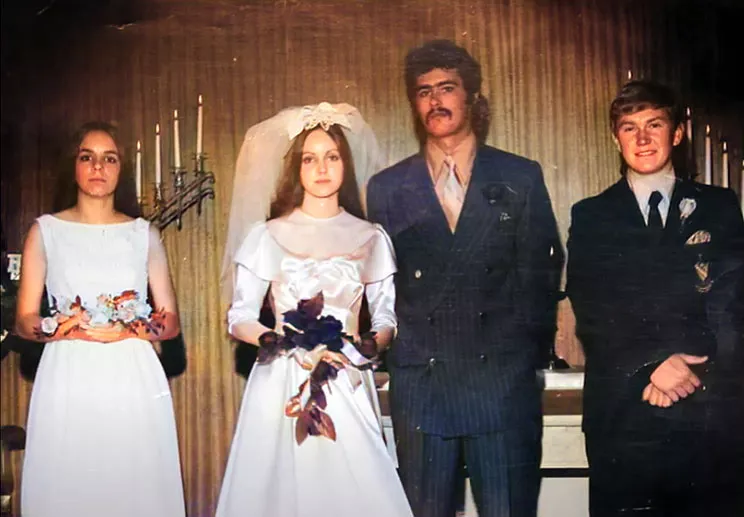 A colorized photograph of Denise and Joe Oliverson on their wedding day. According to reports, the couple were going through a rough patch in 1975 and were planning on divorcing.
Sandals.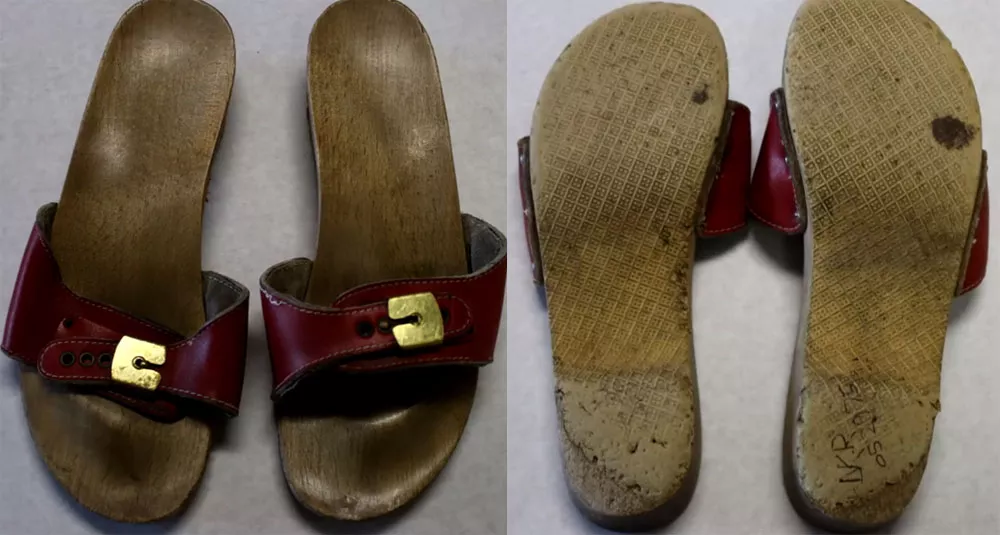 Image source: hiimted.blog
Photographs of the wine-colored sandals that were found at the scene.
According to former GJPD detective Doug Rushing and his partner Jim Fromm, other items belonging to Denise were also discovered beneath the viaduct. These items included a purse and a belt. However, they never made it into the evidence locker because another officer decided to gift them to his girlfriend.
Route.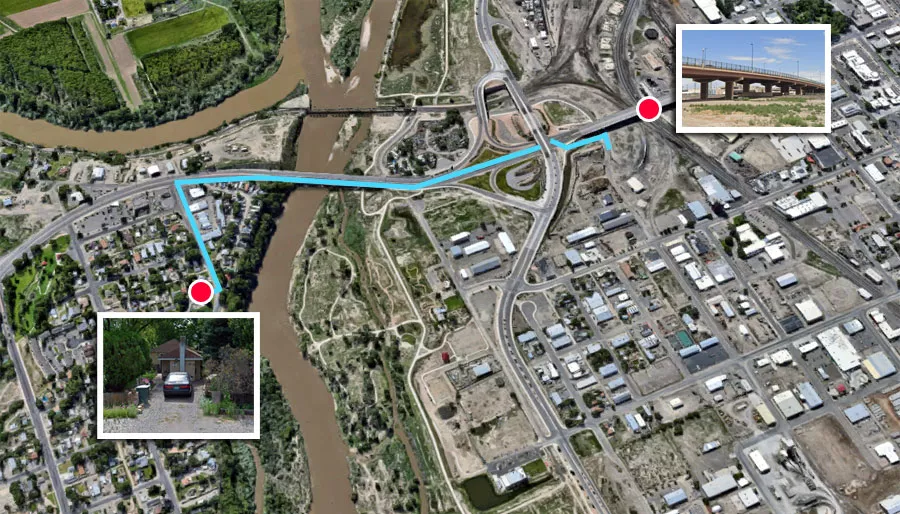 This aerial map shows the most likely route that Denise Oliverson took on April 6th, 1975. As you can see, her house was situated on the south side of the Colorado River.
Detectives believe that the young woman may have cycled down a small pathway on the eastern side of the bridge.
Closest locations.
Other locations that are relatively close to this place. Roughly 108 miles away.
Crime Location in Snowmass Village, Colorado, United States Roughly 111 miles away.
Crime Location in Aspen, Colorado, United States Roughly 118 miles away.
Place of Interest in Aspen, Colorado, United States Roughly 154 miles away.
Crime Location in Vail, Colorado, United States