The courthouse that Ted Bundy escaped from
Place of Interest in Aspen, Colorado, United States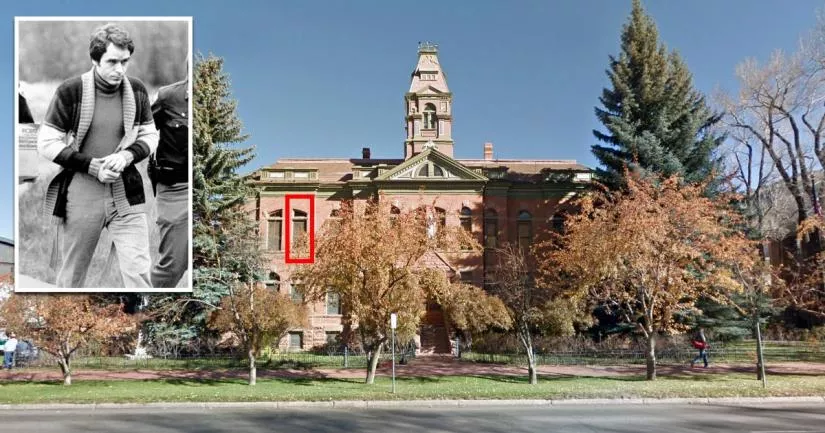 This is the courthouse that serial killer Ted Bundy escaped from.
It is situated at 506 West Main Street in the center of Aspen, Colorado.
Bundy managed to break free by jumping out of the second-story window that we have highlighted in the image above.
At the time of his escape, Bundy was serving a 1-10 year prison sentence for the abduction of Carol DaRonch in Salt Lake City.
However, in June of 1977, he was transferred from Utah to Colorado to face trial for the murder of Caryn Campbell.
On June 7th, 1977, he arrived at the Pitkin County Courthouse in Aspen for a preliminary hearing.
The judge allowed him to be unshackled because he had decided to represent himself.
During a recess, Bundy was given permission to use the law library on the second floor of the courthouse so that he could do some research for his case.
Although he was accompanied by a guard, a bookcase in the library stood between them, obscuring both Bundy and the window.
Unrestrained and hidden from plain view, Bundy decided that it was now or never. At that point, he quietly opened the window and jumped to the ground below.
After hitting the ground and injuring his ankle, Bundy removed some of his clothing and proceeded to walk southward, towards Aspen Mountain.
Fortunately, his escape was short-lived, as he missed important trails and became lost. From that point on, he aimlessly wandered around the mountains for a day or two.
This left him in a position where he needed to break into empty cabins for food and other supplies.
After mistakenly walking back towards Aspen (he headed north instead of south), Bundy decided to steal a car beside a golf course and drive back into town.
By that stage, he was sleep-deprived, hungry, and in constant pain from the ankle injury that he had sustained while jumping from the courthouse window.
Shortly afterwards, he was arrested and taken back into custody after two police officers noticed his vehicle weaving in and out of traffic.
Pitkin County Courthouse
Below, you will find the address and the GPS coordinates for this location.
GPS coordinates
The latitude and longitude coordinates for the courthouse are:
39.190579, -106.817634
Map
To view directions on how to get there, you can use the Google Maps shortcut below:
Address
The full address for this location is:
Pitkin County Courthouse
506 West Main Street
Aspen
Colorado
CO 81611
United States
Closest Locations
Other locations that are relatively close to this address: Roughly 6 miles away.
Crime Location in Aspen, Colorado, United States Roughly 9 miles away.
Crime Location in Snowmass Village, Colorado, United States Roughly 49 miles away.
Crime Location in Vail, Colorado, United States Roughly 118 miles away.
Crime Location in Grand Junction, Colorado, United States Roughly 140 miles away.
Crime Location in Aurora, Colorado, United States