The parking lot where Julie Cunningham was abducted
Crime Scene Location in Vail, Colorado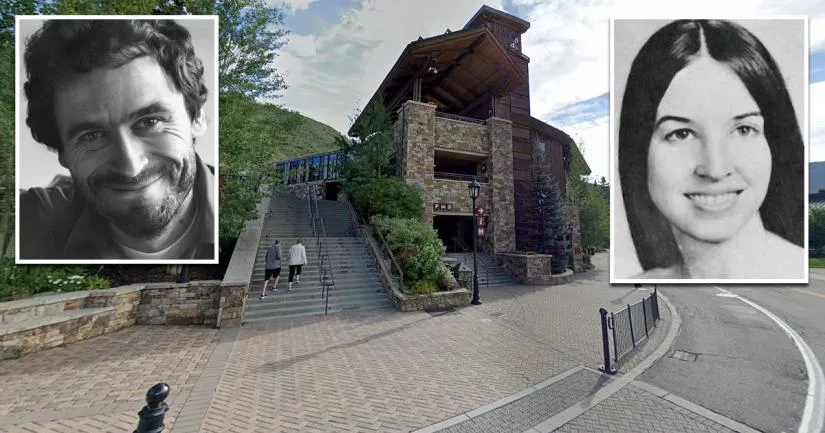 This is the location where serial killer Ted Bundy abducted Julie Cunningham.
It is situated at 395 South Frontage Road in Vail, Colorado.
At the time of the murder, it was a regular ground-level parking lot. However, these days, it is a multi-story car park.
On Saturday, March 15th, 1975, Bundy drove into this small ski resort town, eager to find his next victim.
By that point, more than two months had passed since he brutally raped and murdered Caryn Campbell in Aspen. As a result, the sexually violent urges that propelled him had awakened and were starting to bubble beneath the surface.
After arriving in Vail, he decided to park his Volkswagen Bug in the Lionshead parking lot beside the I-70. He then strategically placed his crowbar on the ground by the rear of the vehicle, out of plain sight.
Once his trap was in place, he grabbed a pair of crutches and a boot bag and headed towards the downtown shopping area.
Feigning an injury was one of Bundy's favorite tactics. In many cases, he would hang around an area with a lot of foot traffic until a suitable target arrived.
At that point, he would hobble towards the woman, pretend to drop whatever item he was carrying, and politely ask them for their assistance.
If they took the bait, he'd attempt to lead them back to his Volkswagen. However, if they made their excuses and continued walking, he'd remain polite and wait for his next opportunity.
Unfortunately, it wasn't long before he managed to snare someone in Vail, as a young brunette came walking in his direction while he was standing near the covered bridge by Gore Creek Drive.
The woman in question was Julie Cunningham, a 26-year-old ski instructor who was on her way to a local bar to meet a friend.
When Cunningham saw Bundy hobbling around on his crutches and struggling to carry his boot bag, she took pity on him and offered her assistance.
She had no idea that she had just wandered into the sights of one of America's most prolific serial killers.
Bundy graciously accepted her offer, and the pair made small talk as they headed westward through the streets of Vail, towards the Lionshead car park. During his confession in 1989, Bundy claimed that they walked for more than half a mile before they finally reached his Volkswagen.
As soon as they got to the car, he grabbed the crowbar that he had previously hidden and struck Cunningham over the head, knocking her unconscious. He then quickly lifted her into his vehicle, handcuffed her, and drove westward along the I-70 towards the small town of Rifle.
One hour into the journey, Cunningham regained consciousness and began asking Bundy questions. She also pleaded with him to loosen her handcuffs.
Considering she had just been hit over the head with a crowbar, it is likely that she was hurt, confused, and in a state of shock.
After reaching Rifle, Bundy exited the interstate and headed north along State Highway 13 towards a small town called Meeker. By this point, he was anxiously looking out for a deserted side road to use.
Moments later, he spotted a dirt road and decided to make a turn.
However, when he pulled over and exited the car to scope the area out, he noticed that Cunningham had somehow removed the handcuffs and was attempting to escape.
This led to a brief struggle between the pair, during which he struck her over the head with the crowbar and knocked her unconscious for the second time.
He then took some cords out of his vehicle and strangled her to death while she lay on the ground.
Roughly six weeks later, he returned to the crime scene to bury her body and make sure that he hadn't left any evidence behind.
Bundy finally confessed to Cunningham's murder in January 1989. Although he described the area where he buried her body, no trace of her was ever found.
To this day, she remains listed as a missing person.
Julie Cunningham abduction location
Below, you will find the address and the GPS coordinates for this location.
Address
395 S Frontage Road W, Vail, Colorado, CO 81657, USA
Map
To view directions on how to get there, you can use the Google Maps shortcut below:
GPS coordinates
The latitude and longitude coordinates for the lot are:
39.644626, -106.386127
Directions
The lot is sandwiched in between S Frontage Road West and East Lionshead Circle in the center of Vail.
Details about the general area
Vail is a small ski resort town in Colorado. It is roughly 90 miles west of Denver.
Photos
Photos of the lot and other related images.
---
The parking lot where Julie Cunningham was abducted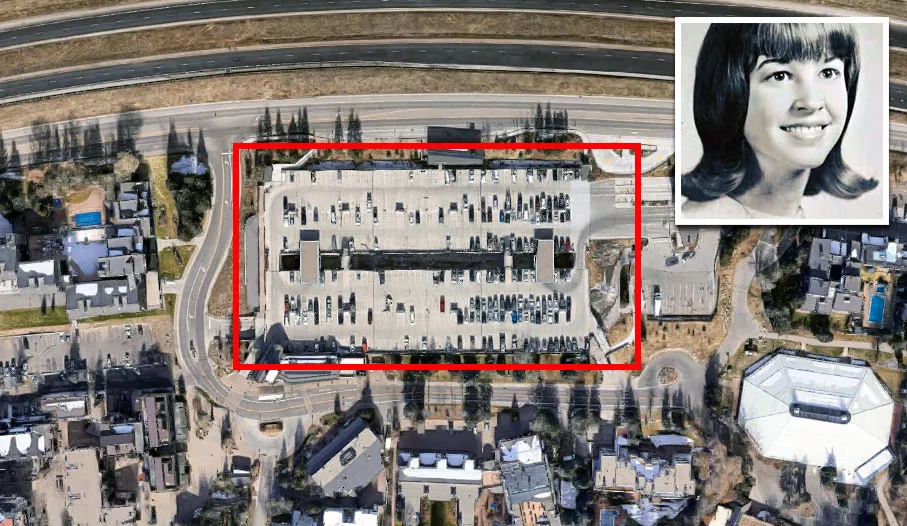 Ted Bundy lured Julie Cunningham to this parking lot on East Lionshead Circle. The 26-year-old had agreed to help him even though she was late for dinner and drinks with a friend.
Back in 1975, this was a regular parking lot. Nowadays, it is home to a ski resort office, the Lionshead Welcome Center, and a multi-story car park.
Once they arrived at the lot, he struck her over the head with a crowbar that he had hidden behind his vehicle.
Bundy was a sociopath who didn't care how friendly or kind his victims were. To him, they were merely objects that he could use for his own sexual gratification.
Apollo Park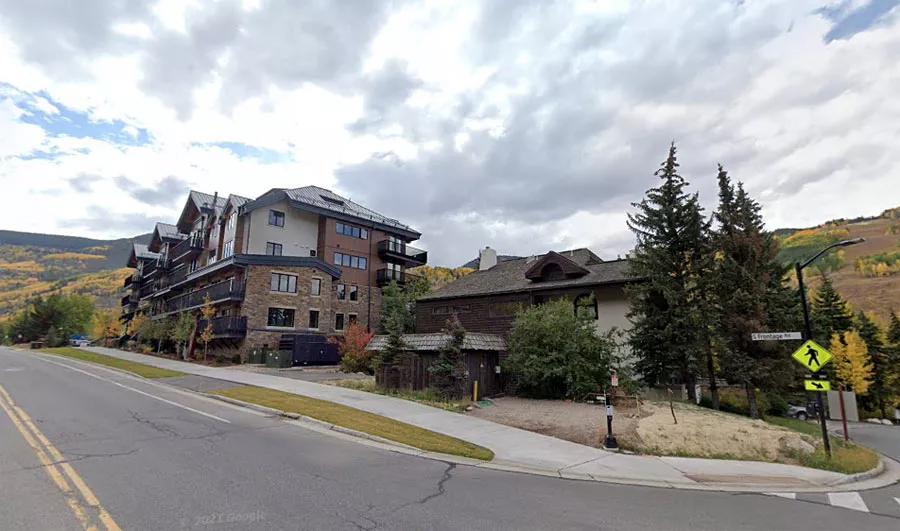 At the time of her murder, Cunningham was living at the Apollo Park apartments on the eastern side of Vail.
Coordinates: 39.641471, -106.368985
Gore Creek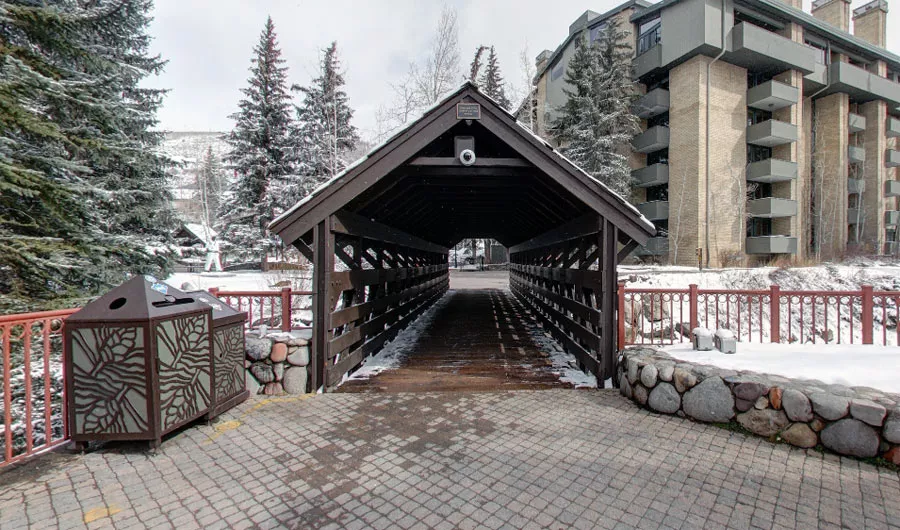 Shortly before his execution, Bundy told investigators that he met the young woman close to this bridge on the eastern side of Gore Creek.
Coordinates: 39.641429, -106.373416
Route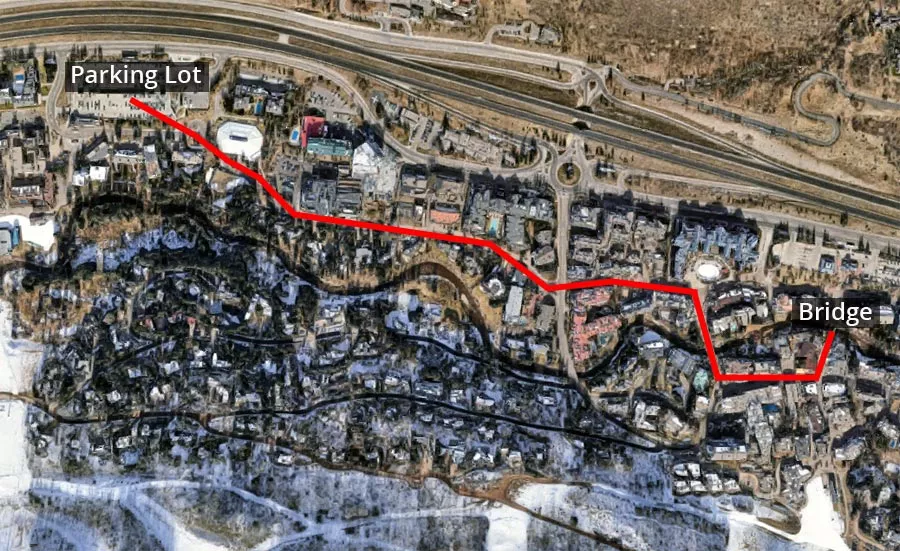 The pair walked exactly 0.8 miles through the streets of Vail. It would have taken them 15-20 minutes to walk this route. Possibly even more, considering Bundy was using crutches.
During his confession, Bundy recalled how Cunningham stopped at one point to put some letters into a post box.
Meadow Drive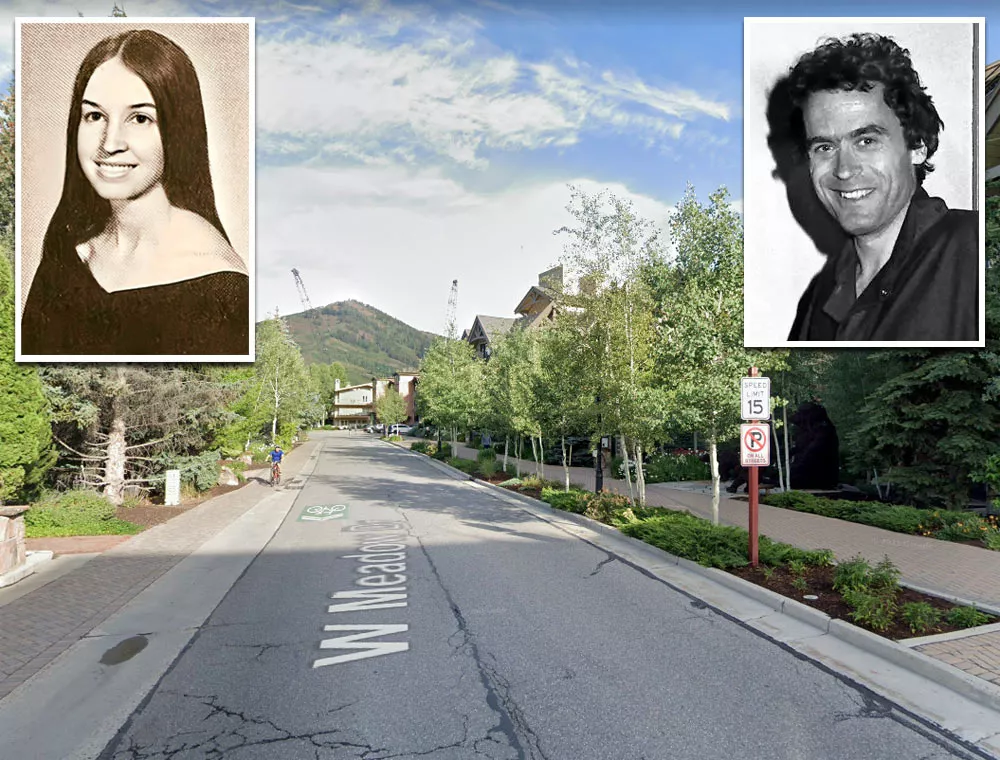 It is likely that the pair walked down this road and made small talk together while they were en route to the parking lot.
From Cunningham's perspective, she was simply helping out a skier who had injured himself. The young man hobbling along beside her had a polite disposition. More importantly, he seemed perfectly normal, like the typical boy next door.
She'd tell her friend all about it once they met at the local tavern.
In that moment, she couldn't possibly imagine that she was being lured to her death.
Cunningham's burial site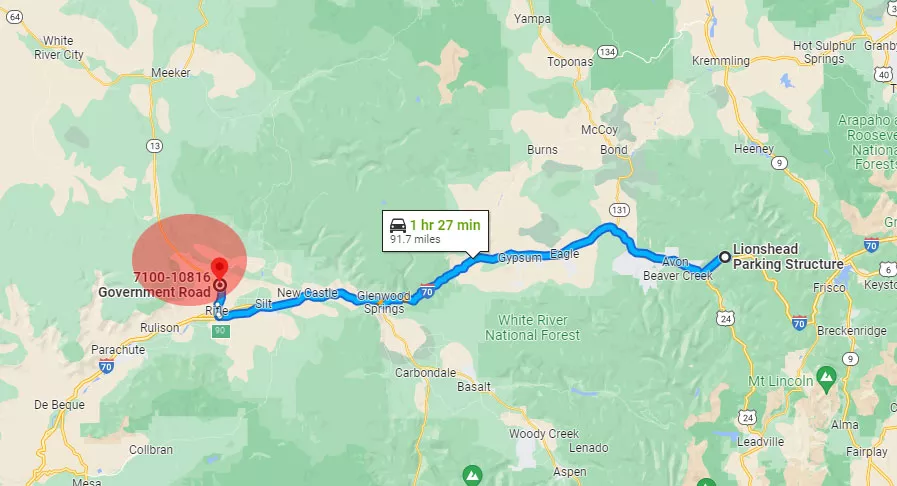 After abducting Cunningham, Bundy drove west along the I-70.
He then turned north after he reached Rifle.
Bundy said that he was driving north on State Highway 13 for a couple of minutes before he found a dirt road to pull into.
If this is true, then it means that he buried Cunningham's body somewhere inside the red circle.
Bundy claimed that he spent 45 minutes burying her remains. Once he was finished, he covered the grave with rocks and sticks and then drove away.
It is unlikely that the 26-year-old will ever be found. If her remains are still out there, then they are buried in a remote, deserted area that will probably remain untouched for centuries to come.
Given what we know about previous cases, it is also possible that local wildlife eventually discovered the body, as the area is home to predators such as bears and mountain lions.
Following the murder, Bundy reportedly took Cunningham's personal belongings back to Utah, where he dropped them off at a charity outlet in Salt Lake City.
If those belongings were given to someone, then it means that at least one person was unknowingly walking around in the clothes of one of Bundy's victims.
Map Viewer
There is more than one location associated with this entry. To view all of these places on the same map, you can use the following feature:
Closest Locations
Other locations that are relatively close to this address: Roughly 49 miles away.
Escape Location in Aspen, Colorado Roughly 51 miles away.
Crime Location in Aspen, Colorado Roughly 54 miles away.
Crime Location in Snowmass Village, Colorado Roughly 104 miles away.
Crime Location in Aurora, Colorado