Chris Watts' house
Crime Scene Location in Frederick, Colorado, United States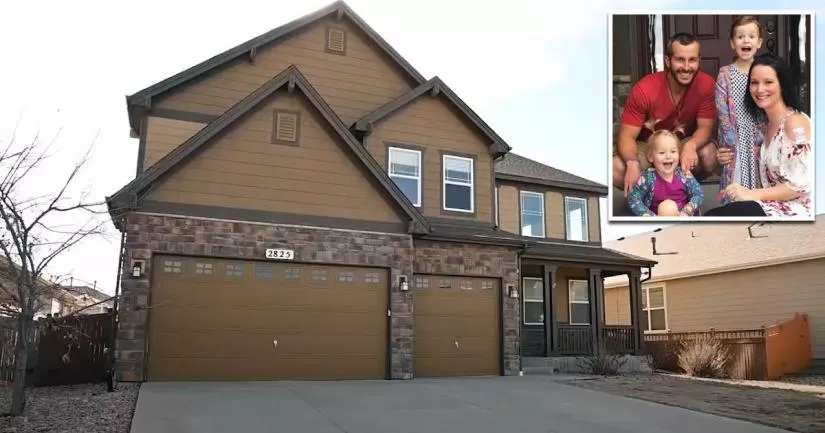 This is the house where Chris Watts lived with his pregnant wife, Shanann, and their two children, Bella (4) and Celeste (3).
It is situated at 2825 Saratoga Trail in Frederick, Colorado.
After strangling his wife to death at this house, Watts drove his two children to his worksite near Roggen and then murdered them.
Following the killings, he pretended as though Shanann had taken their daughters and left.
The case received worldwide attention, especially after Netflix released the documentary "American Murder: The Family Next Door."
Shanann disappears
On August 13th, 2018, Shanann's friend Nickole Atkinson became concerned after she failed to show up for an appointment.
Despite ringing the doorbell and sending multiple text messages, Nickole received no response.
Knowing that this was extremely out of character, she decided to contact Shanann's husband and the Frederick police department.
A subsequent welfare check by the police showed no sign of Shanann or the two girls.
Shanann's car was still parked in the garage. Furthermore, both her phone and medication were found inside the house.
On August 14th, Watts stood outside of his home and pleaded on local television for his family to return.
Chris Watts is arrested
The following day, he was arrested by the police and forced to undergo a polygraph test. After failing the test, he eventually admitted to killing Shanann.
Although Watts initially tried to blame the murders of Bella and Celeste on his wife, his story did not hold up to scrutiny.
On August 16th, 2018, the bodies of his two children were discovered in oil tanks at his worksite. Shanann's remains were also found buried nearby.
On November 6th, 2018, he pleaded guilty to multiple counts of first-degree murder.
Two weeks later, he was sentenced to five life sentences without the possibility of parole.
Where is Chris Watts' house?
Below, you will find the address and the GPS coordinates for this location.
GPS coordinates
The latitude and longitude coordinates for the house are:
40.090719, -105.000554
Map
To view directions on how to get there, you can use the Google Maps shortcut below:
Address
The full address for this location is:
2825 Saratoga Trail
Frederick
Colorado
CO 80516
United States
Directions
It is situated at the end of Steeple Rock Drive. The entrance to the neighborhood is on Aggregate Boulevard, which is west of Frederick.
Details about the general area
Frederick is a small town in the north of Colorado. It is about 30 miles north of Denver.
Private Property Warning
This is a private property. It is not a public place. Therefore, you should be respectful and not step foot on the property without permission.
Photos
Photos of the house and other related images.
---
Aerial photograph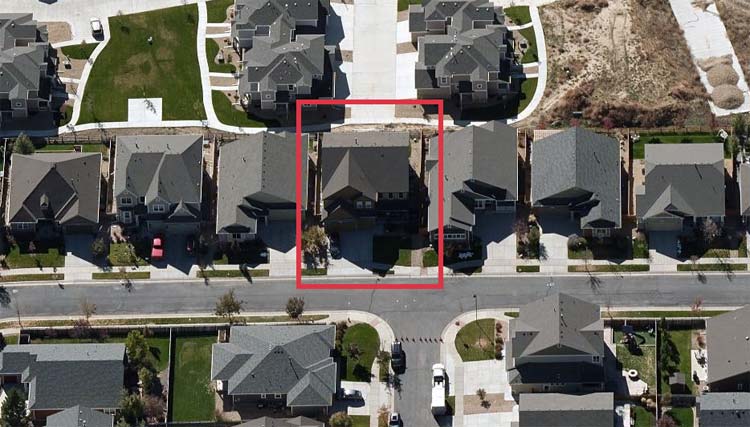 This is an aerial photograph of the house. It sits across from the intersection between Saratoga Trail and Steeple Rock Drive.
Zillow estimates that it is worth $702,600. However, that estimate is probably high, as it doesn't take the house's history into account.
Notably, there have been no bids for the property due to its history.
It is 4,177 square feet in size. It has five bedrooms and four bathrooms.
The last Google Street View images of the neighborhood were taken in 2012, which was one year before the house was built.
The location where Chris Watts buried his wife and daughters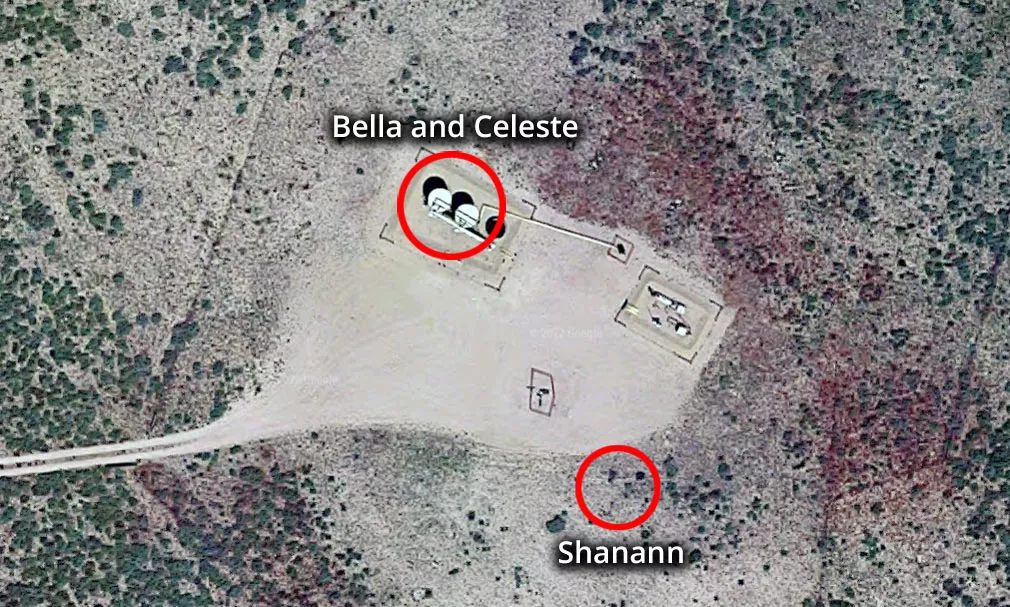 This is an aerial map of the location where Chris Watts buried his wife and daughters.
It is situated about 3 miles north of a small town called Roggen.
When Watts found out that Shanann was pregnant, he tried to force her to have a miscarriage by secretly giving her a painkiller called oxycontin. According to letters he wrote to a pen pal, he had been planning the murder for weeks.
He initially tried to smother Bella and Celeste at the house. However, they both "woke up."
After driving out to this site in Roggen, he smothered them again and then dumped their bodies into two separate crude oil tanks.
Afterwards, he buried Shanann's remains in a shallow grave on the southeastern side of the property. She was found face down and lying in a fetal position.
This property is owned by the Anadarko Oil and Gas Company. At the time, Watts worked for the company as an oil field operator.
The site is roughly 40 miles away from his house in Frederick. According to Google Maps, it would have taken him about 50 minutes to drive here.
He reportedly put garbage bags over Shanann's head so that the girls wouldn't be able to see her during the journey.
Drone footage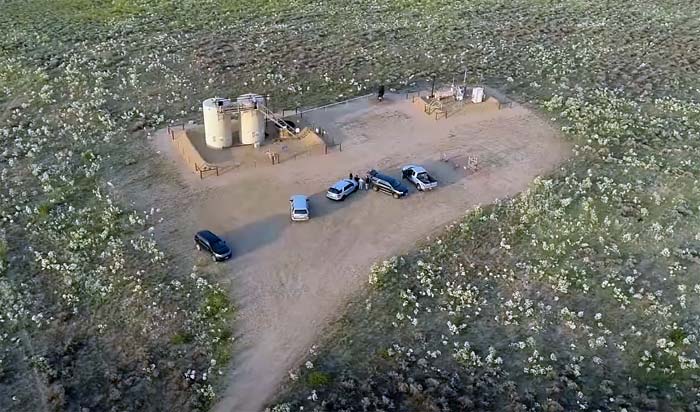 This is a drone image of the site.
The bodies of the Watts family were discovered on August 16th, 2018—three days after they were murdered.
The Watts family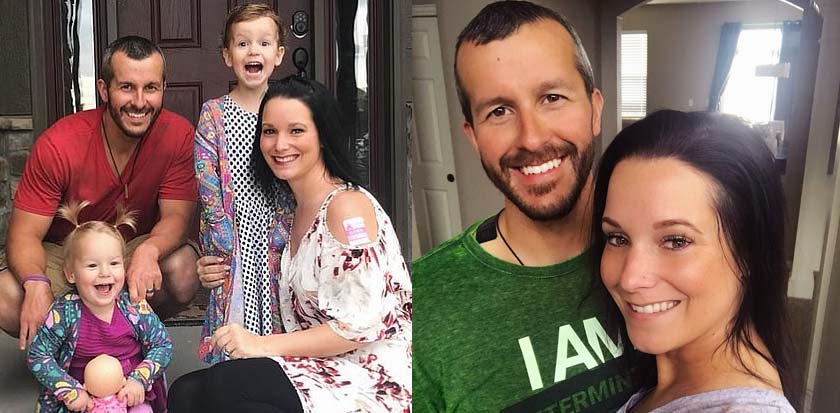 The photographs above show the Watts family during happier times.
Chris and Shanann met in 2010 after he sent her a friend request on Facebook. They were married in November of 2013.
Nickole Atkinson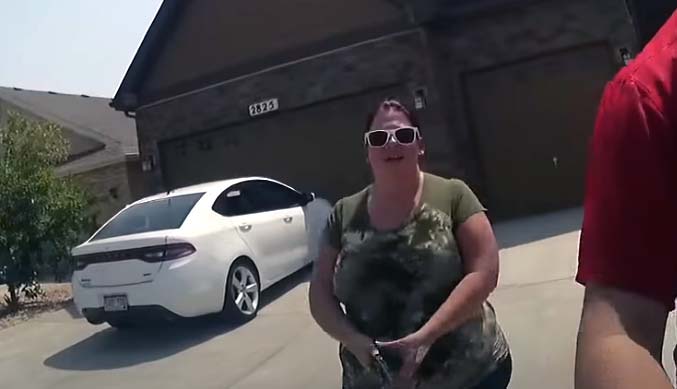 Police bodycam footage shows that Shanann Watt's friend, Nickole Atkinson, immediately realized that something was off.
During the welfare check, Shanann's phone and medication were discovered inside the house. Furthermore, her car was still parked in the garage.
This led to suspicions that the young mother had not left on her own accord.
Living room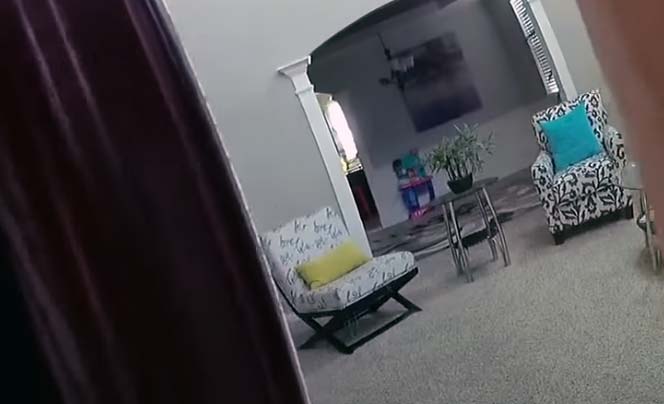 In the bodycam footage, a police officer peers in through the window by the front door.
However, the living room looked untouched, and there were no obvious signs of foul play.
Neighbor's security camera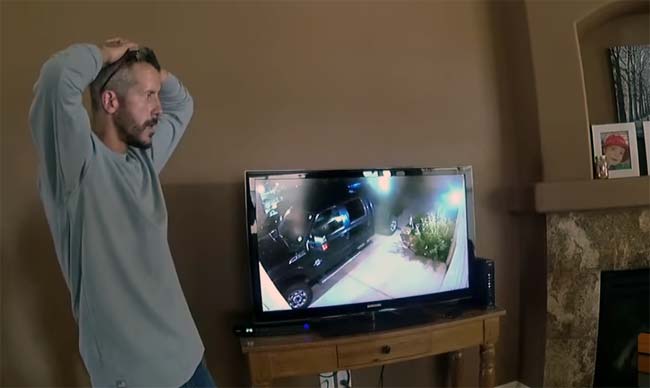 During the welfare check, the police officer visited Watts' next-door neighbor. While they were reviewing surveillance footage of the neighbor's driveway, Watts put his hands on his head and started to look worried.
It is possible that he didn't realize the security camera reached so far into his own driveway.
As they were watching the footage, the neighbor who owned the surveillance camera seemed so concerned by Watts' body language that he kept looking over at him.
As soon as the neighbor was alone with the reporting officer, he pointed out that Watts "wasn't acting right" and that he was "rocking back and forth."
Affair with Nichol Kessinger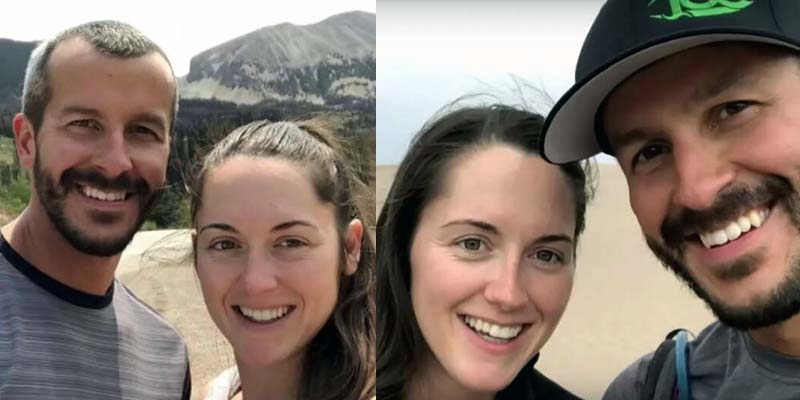 Chris Watts met a woman called Nichol Kessinger at his workplace in June of 2018. Shortly afterwards, they began an affair.
On the day of the murder, Chris texted Nichol to say that his family had "gone."
Nate Trinastich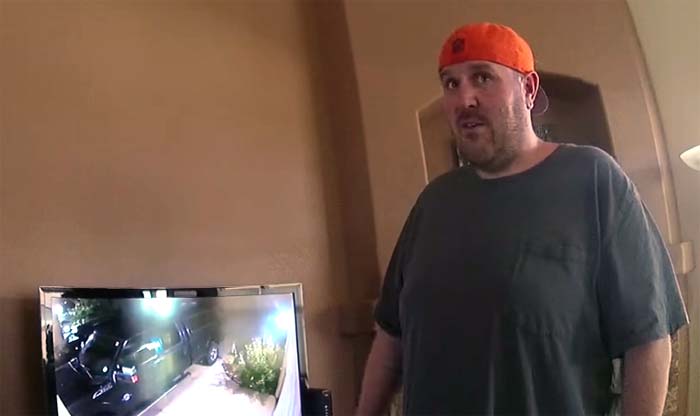 Nate Trinastich owned the security camera that Watts was captured on.
While speaking to the responding officer, he said that it was strange how Watts pulled his truck right up to the garage.
According to Trinastich, he never did this in the past. Instead, he would simply carry his toolbox out of the house and then walk back and forth if he needed to.
Facebook post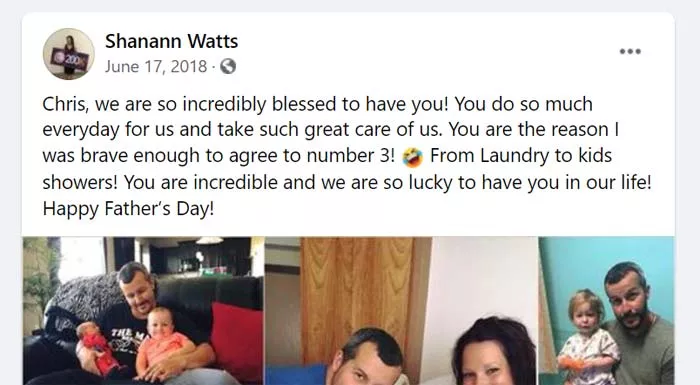 On June 17th, 2018, Shanann posted a Father's Day message about Chris.
In the post, she stated that they were "blessed" to have him. She also spoke about how they were expecting their third child.
2825 Saratoga Trail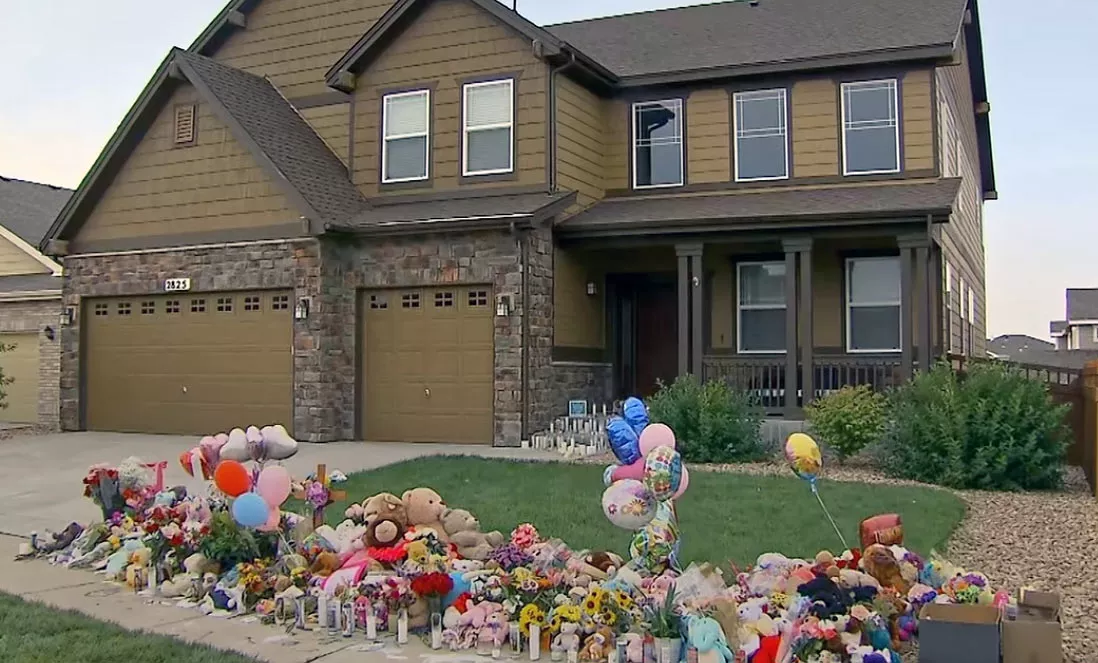 When Shanann, Bella, and Celeste's bodies were found, people began to leave flowers, teddy bears, and balloons outside of 2825 Saratoga Trail.
Closest Locations
Other locations that are relatively close to this place. Roughly 43 miles away.
Crime Location in Roggen, Colorado, United States Roughly 100 miles away.
Crime Location in Vail, Colorado, United States Roughly 144 miles away.
Place of Interest in Aspen, Colorado, United States Roughly 148 miles away.
Crime Location in Aspen, Colorado, United States Roughly 150 miles away.
Crime Location in Snowmass Village, Colorado, United States