The restaurant where Boopac Shakur was shot dead
Crime Scene Location in Pontiac, Michigan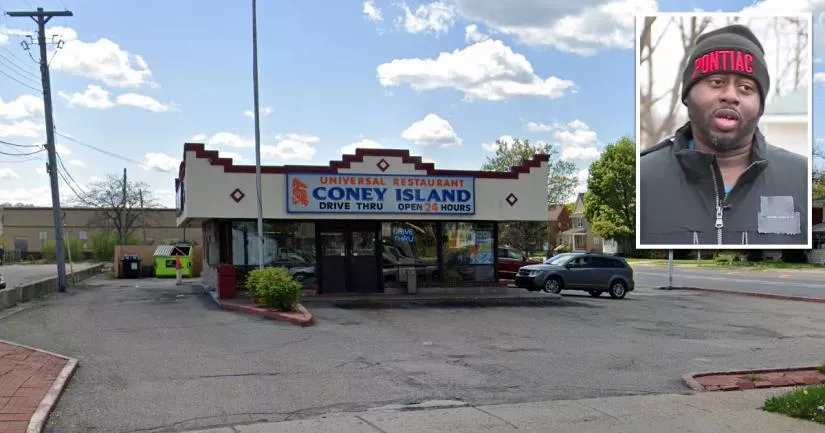 This is the restaurant where "Boopac Shakur" was shot dead.
It is called Universal Coney Island, and it is located at 850 Perry Street in Pontiac, Michigan.
Boopac, whose real name was Robert Wayne Lee, was an Internet personality who uploaded videos of himself confronting suspected child predators.
At the time of writing, the 40-year-old had a combined 56,000 followers on Instagram and Facebook. His videos had also led to at least four arrests.
Lee's strategy involved posing as a teenage girl online so that he could lure suspected pedophiles to a designated meeting point. Once the men took the bait and arrived to meet this "girl", he would show up and confront them with his camera.
Notably, these confrontations turned violent on a number of occasions, as he would sometimes puncture their tires to prevent them from driving away.
On the night of September 29th, 2023, Lee was shot dead at this restaurant on Perry Street after he became embroiled in a fight with two teenagers, aged 18 and 17.
It is believed that Lee punched the 18-year-old and accused him of being a pedophile. In response, the 17-year-old pulled out a pistol and opened fire.
Lee was shot several times and died from his injuries in the hospital.
Although the two suspects fled the scene, they were arrested the following afternoon.
Boopac Shakur death location
Below, you will find the address and the GPS coordinates for this location.
Address
850 Perry Street, Pontiac, Michigan, MI 48342, USA
Map
To view directions on how to get there, you can use the Google Maps shortcut below:
GPS coordinates
The latitude and longitude coordinates for the restaurant where Boopac Shakur was shot dead are:
42.655370, -83.277487
Directions
It sits on the corner of Perry Street and Martin Luther King Jr. Boulevard.
Details about the general area
Pontiac lies about 20 miles to the north of Detroit.
This location belongs to the following categories:
Crime Scenes
Closest Locations
Other locations that are relatively close to this address: Roughly 9 miles away.
Crime Location in Bloomfield Township, Michigan Roughly 25 miles away.
Filming Location in Highland Park, Michigan Roughly 26 miles away.
Crime Location in Detroit, Michigan