Walt Kowalski's house from Gran Torino (2008)
Filming Location in Highland Park, Michigan, United States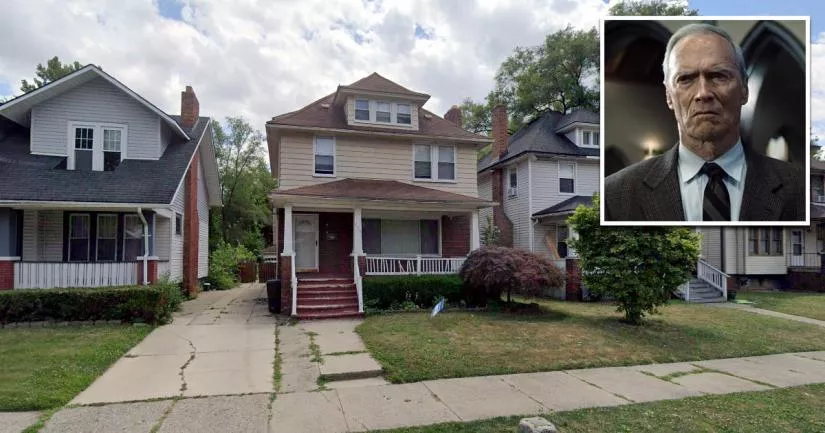 This is Walt Kowalski's house from the drama film Gran Torino (2008).
It is situated at 238 Rhode Island Street in Highland Park, Michigan.
The character was portrayed by actor Clint Eastwood, who also directed and produced the movie.
Kowalski is a bad-tempered, racist retiree whose wife has recently passed away.
At the start of the film, an immigrant Hmong family moves into the house next door. This irks him, as he has a particular dislike for Asians due to his experiences in the Korean War.
As the story progresses, we get the sense that Kowalski's racism isn't really rooted in hatred. Instead, it is a symptom of his growing unease with the changing world around him. His wife of 50 years has died, and all of his old neighbors have either passed away or moved into retirement homes. Furthermore, his sons have families of their own and want very little to do with him.
He is now old, isolated, and surrounded by foreign cultures that he doesn't understand.
His outlook begins to change after a gang of Asian youths attacks Thao, the teenage Hmong boy who lives next door. After hearing the scuffle taking place on his lawn, Kowalski walks outside and points his M1 Garand rifle at the gang, causing them to retreat.
The following day, he wakes up and learns that the local Hmong community considers him a hero. To show their respect, they have started leaving food, flowers, and other gifts outside his front door.
However, Kowalski, being the grumpy old man that he is, dislikes his new status and expresses his desire to be left alone.
Later, he feels compelled to intervene again after he sees a gang of youths harassing Thao's older sister, Sue Lor, on the sidewalk.
From that point on, he gradually begins to warm to his new neighbors. He even accepts Sue Lor's invitation to her family barbecue. During one scene, Sue Lor finds him sitting contently in the kitchen, surrounded by elderly Hmong women who are eagerly piling food onto his plate.
Following the party, Kowalski learns to get along with the local Hmong community. He also becomes a protective father figure to Thao.
This unlikely friendship sets up the rest of the film, as the Asian gangbangers that attacked Thao eventually come back for revenge.

Further information is available in the "Photos" section below.
Walt Kowalski house address
Below, you will find the address and the GPS coordinates for this location.
GPS coordinates
The latitude and longitude coordinates for the house are:
42.400108, -83.083326
Map
To view directions on how to get there, you can use the Google Maps shortcut below:
Address
The full address for this location is:
238 Rhode Island Street
Highland Park
Michigan
MI 48203
United States
Directions
The house is roughly 215 feet west of the intersection between Oakland Avenue and Rhode Island Street.
Details about the general area
Highland Park is situated in Wayne County, Michigan. It is roughly six miles north of downtown Detroit.
Private Property Warning
This is a private property. It is not a public place. Therefore, you should be respectful and not step foot on the property without permission.
Photos
Photos of the house and other related images.
---
Walt Kowalski house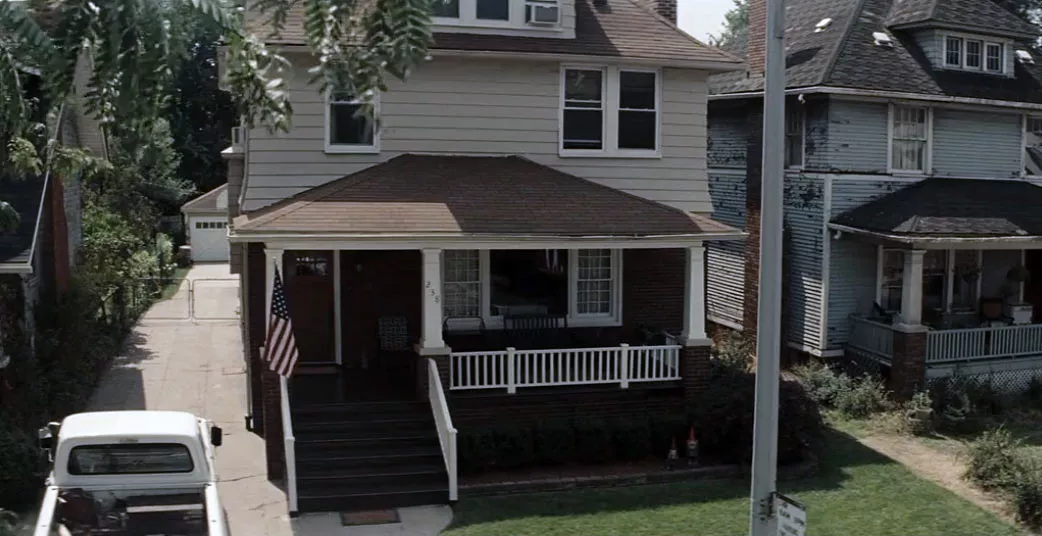 This exterior shot of Kowalski's house is shown at the start of Gran Torino (2008).
At the time, friends and family were attending a wake for his wife, Dorothy.
Gifts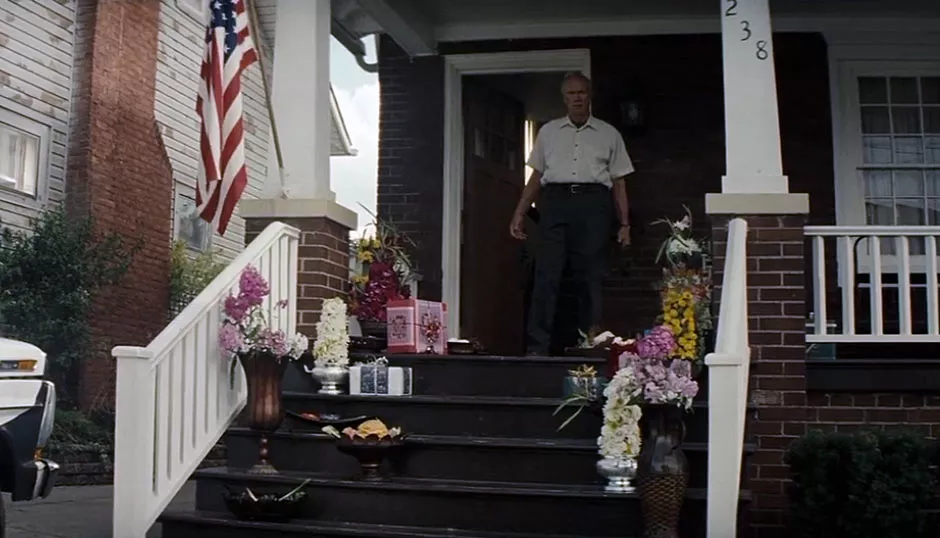 Members of the Hmong community begin to leave gifts on the front porch.
238 Rhode Island Street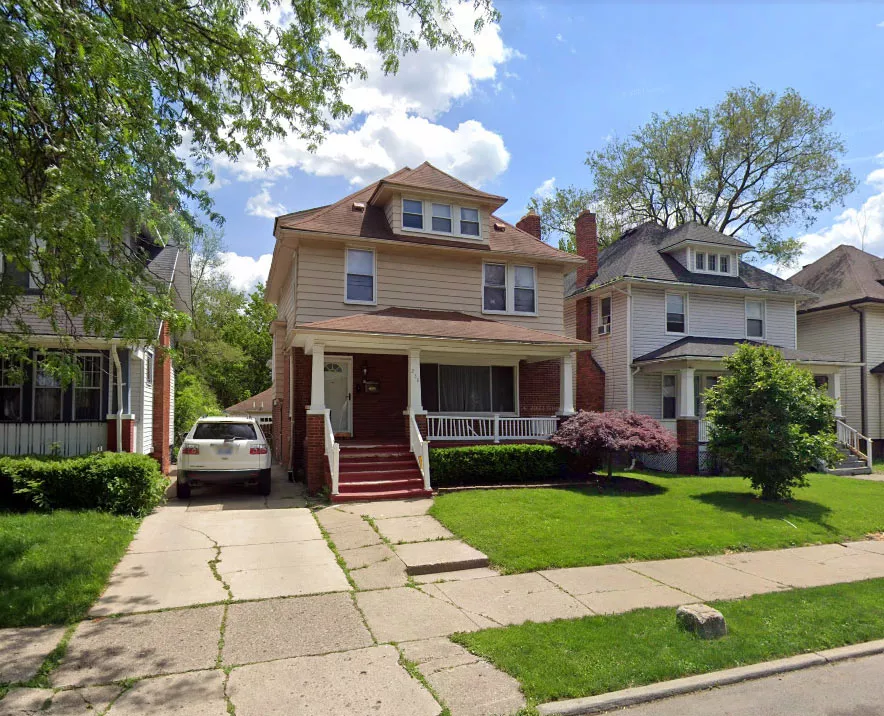 Image source: Google Maps
This Google Street View image of 238 Rhode Island Street was captured in June of 2019—ten years after the film was released.
The house was built in 1913. It has five bedrooms and is roughly 1,700 square feet in size.
Closest Locations
Other locations that are relatively close to this address: Roughly 6 miles away.
Place of Interest in Detroit, Michigan, United States Roughly 9 miles away.
Crime Location in Detroit, Michigan, United States Roughly 18 miles away.
Crime Location in Bloomfield Township, Michigan, United States Roughly 101 miles away.
Serial Killer House in Lorain, Ohio, United States Roughly 124 miles away.
Serial Killer House in Cleveland, Ohio, United States