The restaurant where Jimmy Hoffa was last seen
Crime Scene Location in Bloomfield Township, Michigan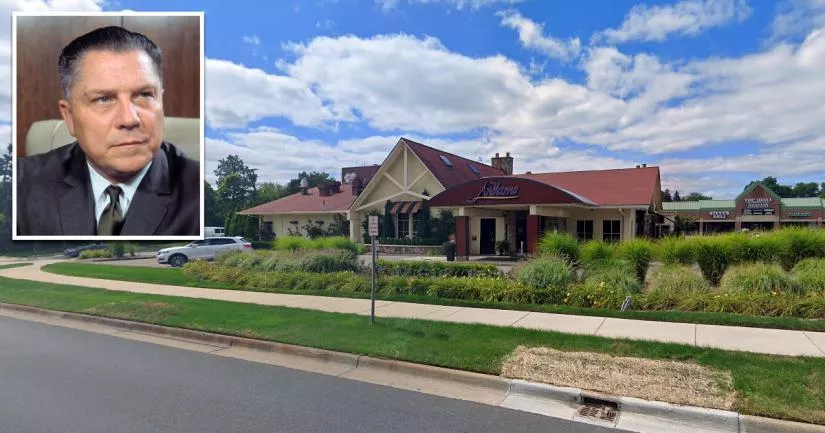 This is the restaurant where union leader Jimmy Hoffa was last seen.
It is located at 6676 Telegraph Road in Bloomfield Township, Michigan.
During the 1970s, it was known as the Red Fox restaurant. These days, the building is home to an Italian steakhouse called Andiamo.
On July 30th, 1975, Hoffa traveled to this location in the northern suburbs of Detroit to attend a "peace meeting" with local mob figures.
At the time, the former Teamsters president was hoping to regain leadership of the union.
However, it is believed that senior members of the mafia were strongly against this idea. From their perspective, Hoffa's tight management was a potential threat to their control of the Teamsters pension fund. They also believed that the current president was far easier to influence.
Anthony Provenzano, who was a capo from the Genovese family, was vehemently opposed to Hoffa's goal of regaining the presidency.
This ultimately led to tensions between the pair.
In an apparent effort to cool things down, other mob figures brokered a sit-down meeting between the two men at the Red Fox restaurant in the Detroit suburb of Bloomfield Township.
This "meeting" was scheduled to start at 2 p.m.
However, fifteen minutes after it was supposed to begin, Hoffa called his wife from a payphone and complained that the men were late. A number of witnesses stated that they saw the former Teamsters president pacing around the parking lot.
Shortly before 3 p.m., he was reportedly seen sitting in a maroon car with a group of men.
That was the last time anyone reported seeing Hoffa alive. It is presumed that the men in question lured him to a nearby location, where he was subsequently murdered.
Seven years later, he was legally declared dead.
To this day, his final resting place remains a mystery.
Jimmy Hoffa last seen location
Below, you will find the address and the GPS coordinates for this location.
Address
6676 Telegraph Road, Bloomfield Township, Michigan, MI 48301, USA
Map
To view directions on how to get there, you can use the Google Maps shortcut below:
GPS coordinates
The latitude and longitude coordinates for the restaurant are:
42.542297, -83.285444
Directions
The restaurant sits off Telegraph Road in Bloomfield Township, which is a suburb to the north of Detroit. It is 0.15 miles south of the intersection between Telegraph Road and West Maple Road.
It is relatively close to the Oakland Hills Country Club and Trader Joe's.
Photos
Photos of the restaurant and other related images.
---
Jimmy Hoffa was last seen at the Red Fox restaurant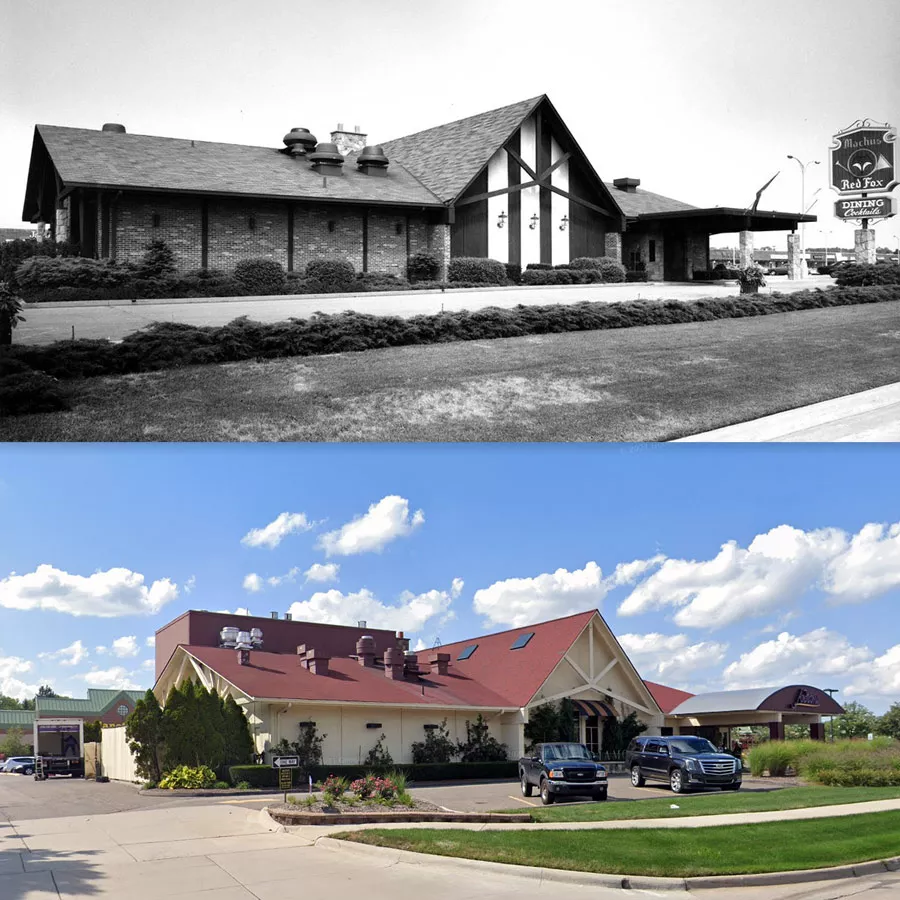 This is a "then and now" photograph of the Red Fox restaurant in Detroit, Michigan. The Google Street View image at the bottom was taken in September 2018.
This is the location where union boss Jimmy Hoffa was last seen.
He reportedly paced up and down this parking lot while he was waiting for local mob figures to arrive.
Map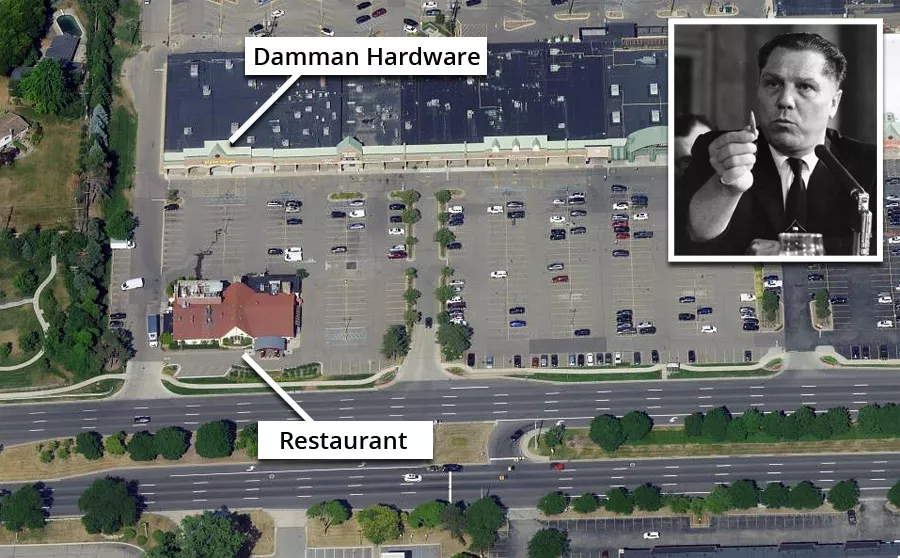 This aerial image shows the Red Fox restaurant and the former location of Damman Hardware.
Shortly after 2.15 p.m., Hoffa used a payphone outside of Damman Hardware to call his wife.
During their conversation, he told her that the other men were late and that he would be home at around 4 p.m.
Damman Hardware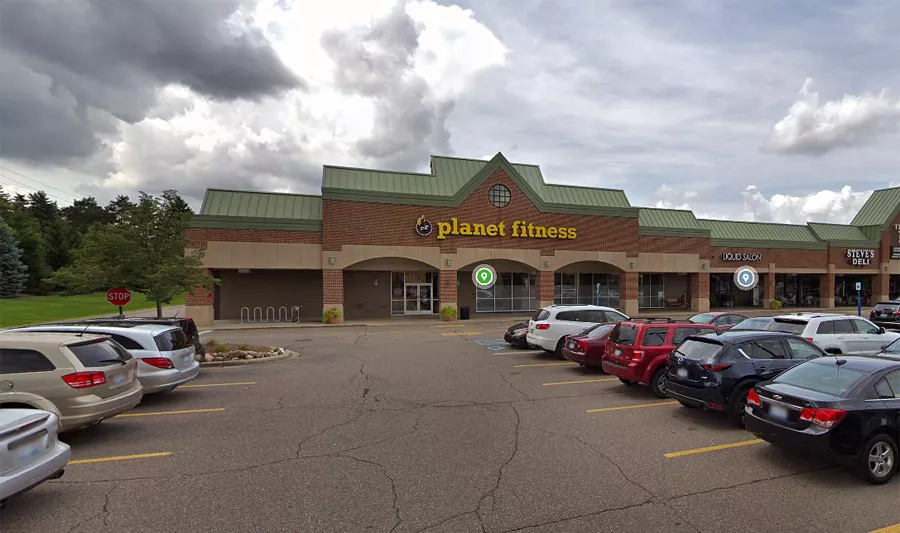 This is a Google Street View image of the building at 6650 Telegraph Road, which sits directly behind the restaurant.
In 1975, it was the address of Damman Hardware. These days, it is a Planet Fitness gym.
When the men failed to show up after fifteen minutes, the former union leader walked over to a payphone in front of this store and called his wife.
Anthony Provenzano and Anthony Giacalone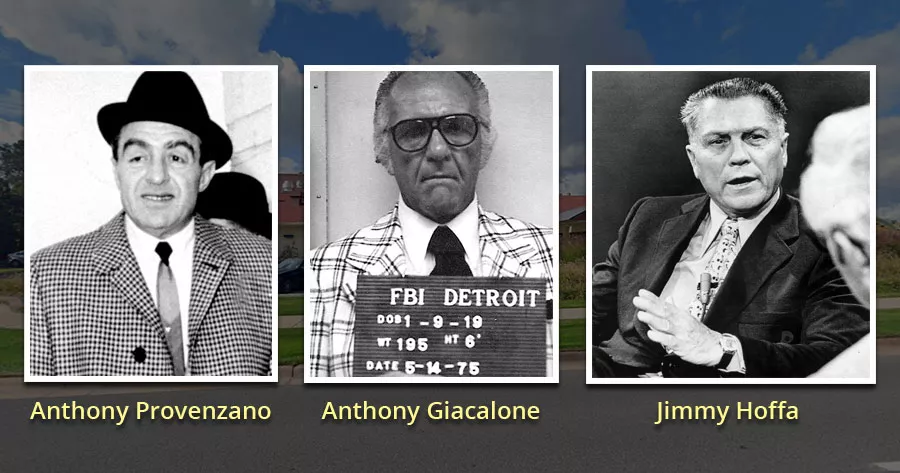 Hoffa resigned from his position as the Teamsters president while he was serving prison time for jury tampering, wire fraud, and improper use of the union's pension fund. He was released from prison in 1971.
One of the conditions of his release was that he could not manage any trade unions until 1980. However, he refused to accept this, arguing that he had never agreed to such a condition.
Anthony Provenzano was a capo in the Genovese crime family and a high-ranking official in the Teamsters union.
Provenzano was strongly against the idea of Hoffa regaining his leadership. On one occasion, he reportedly made threats against him.
As tensions simmered, a Detroit-based mobster named Anthony Giacalone stepped in as a "mediator" and set up a meeting between the pair.
Hoffa was furious when Provenzano and Giacalone failed to show up on time. During his conversation with his wife, he claimed that he had been stood up.
Roughly 45 minutes later, the former Teamsters president was last seen getting into a vehicle with a group of men.
It is likely that the men in question convinced him that the meeting was going to take place nearby. It also stands to reason that he trusted one of them enough to travel with them.
In the aftermath of Hoffa's disappearance, both Giacalone and Provenzano denied scheduling such a meeting.
During the investigation, it was discovered that they were nowhere near the restaurant that day.
The general consensus among experts is that Hoffa was brought to a nearby location, murdered, and then cremated. It is likely that Giacalone and Provenzano were in on the plot and that they purposely created alibis for themselves by being elsewhere.
So far, dozens of digs in the Detroit area have failed to find any trace of Hoffa's remains.
Andiamo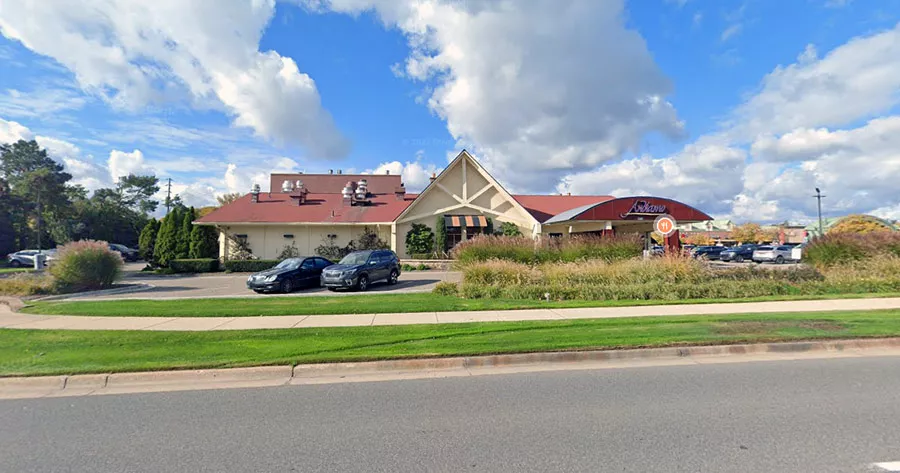 This Google Street View image of Andiamo was taken in November 2021.
The northern side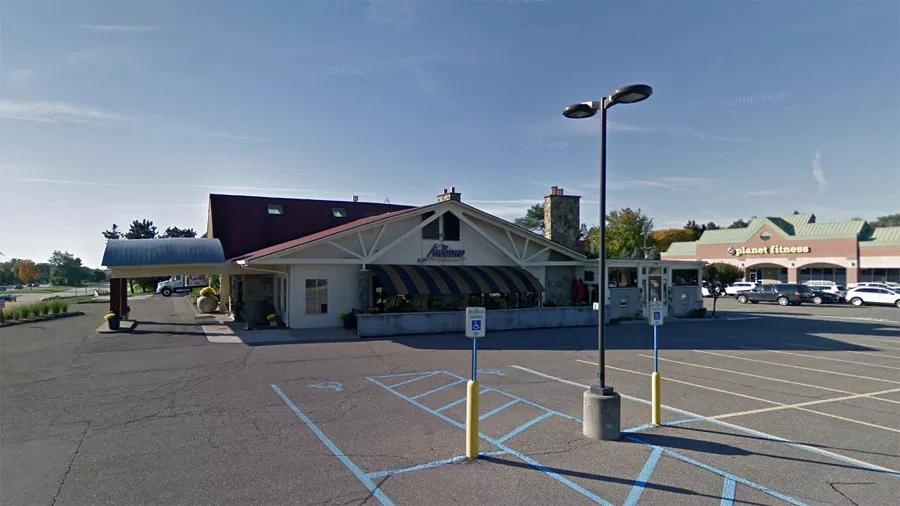 This Google Street View image of the northern side of the restaurant is from 2016. Planet Fitness is visible over on the right.
Filming location in The Irishman (2019)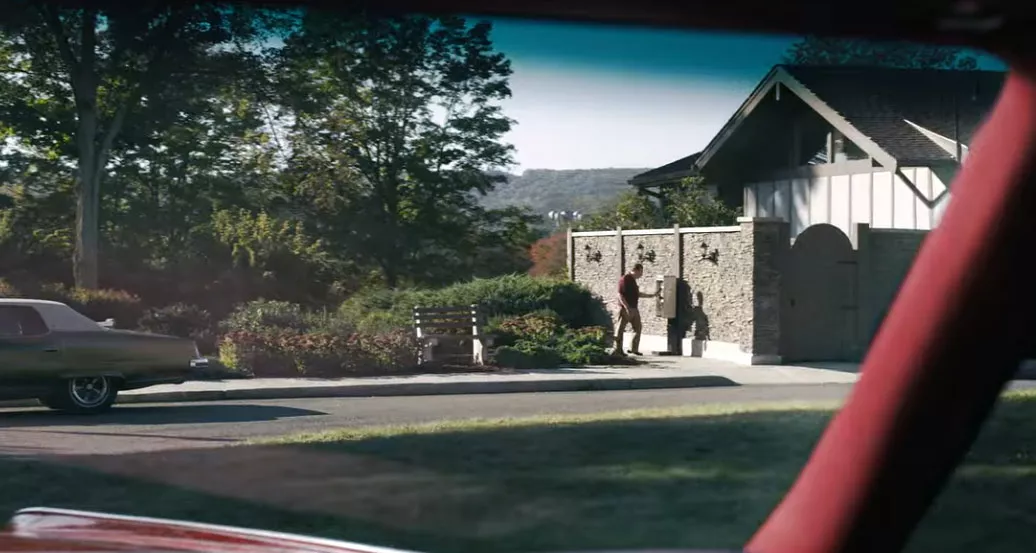 Hoffa was portrayed by Al Pacino in Martin Scorsese's crime drama film The Irishman (2019).
Notably, the real location was not used in the movie. Instead, they recreated the Red Fox restaurant near Suffern, New York.
They also placed the payphone on the side of the building instead of the back.
Closest Locations
Other locations that are relatively close to this address: Roughly 9 miles away.
Crime Location in Pontiac, Michigan Roughly 18 miles away.
Filming Location in Highland Park, Michigan Roughly 22 miles away.
Crime Location in Detroit, Michigan