The hotel where Paul Gray died
Death Location in Urbandale, Iowa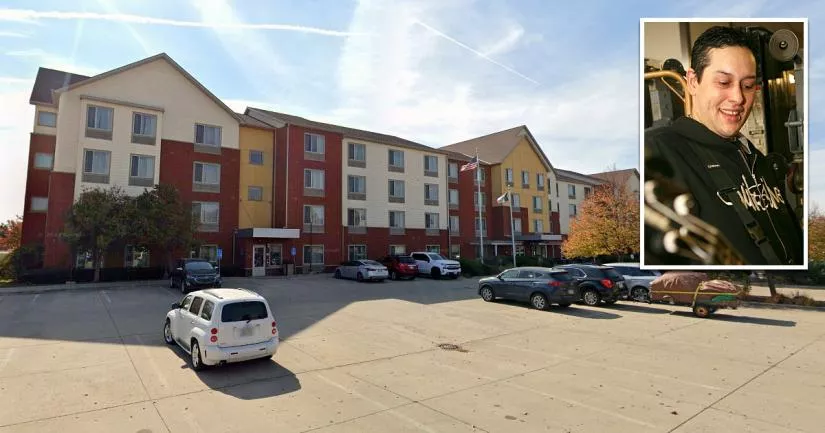 This is the hotel where Paul Gray died.
It is called the TownePlace Suites Hotel, and it is located at 8800 Northpark Drive in Urbandale, Iowa.
Gray was a bassist and backing vocalist for the heavy metal band Slipknot.
His nicknames in the group were "#2" and "The Pig".
On the morning of May 24th, 2010, Gray's mother, Nancy, called the TownePlace Suites Hotel and expressed her concerns about her son's well-being.
Nancy had every reason to be anxious, as Gray was in the throes of a serious drug addiction.
Although his family had recently attempted to stage an intervention, he refused to take any responsibility for his behavior. His pregnant wife, Brenna, said that he became "erratic" and seemed noticeably upset about the fact that she had hidden his drugs.
Following the failed intervention, Gray left his home and drove to this hotel on Northpark Drive.
This wasn't anything out of the ordinary for the bassist, as he often stayed at hotels whenever he and Brenna were going through a rough patch.
However, this time was different. Not only did he fail to return home, he also stopped answering his phone and responding to text messages.
Consequently, his worried mother contacted the hotel and asked them to perform a welfare check.
Sadly, his family's worst fears were soon realized, as the 38-year-old was found dead after hotel employees forced their way into room 431.
The employee who called 911 said that Gray was "purple" and slumped against a wall in the corner. It was immediately obvious that he had passed away.
Various pills were scattered throughout the room, and a hypodermic needle was lying on the ground beside the bed.
An autopsy determined that Gray died of an accidental overdose of morphine and fentanyl. There were also signs that the musician had developed "significant heart disease".
Gray had struggled with drug addiction for years. His most recent relapse occurred just two years prior to his death. According to his wife, he often fell off the wagon whenever he was home and not working.
Gray's longtime physician, Dr. Daniel Baldi, was later charged with involuntary manslaughter after it emerged that he continued to prescribe the bassist Xanax and other drugs despite being aware of his history of addiction.
Dr. Baldi was eventually found not guilty of the crime. However, he was eventually banned from prescribing controlled substances.

Further information is available in the "Photos" section below.
Paul Gray death location
Below, you will find the address and the GPS coordinates for this location.
Address
8800 Northpark Drive, Urbandale, Iowa, IA 50131, USA
Map
To view directions on how to get there, you can use the Google Maps shortcut below:
GPS coordinates
The latitude and longitude coordinates for the hotel are:
41.653346, -93.739743
Directions
The hotel lies to the west of the 86th Street overpass at Monarch Highway.
Details about the general area
It is situated on the northeastern outskirts of Urbandale.
Private Property Warning
This is a private property. It is not a public place. Therefore, you should be respectful and not step foot on the property without permission.
Photos
Photos of the hotel and other related images.
---
TownePlace Suites Hotel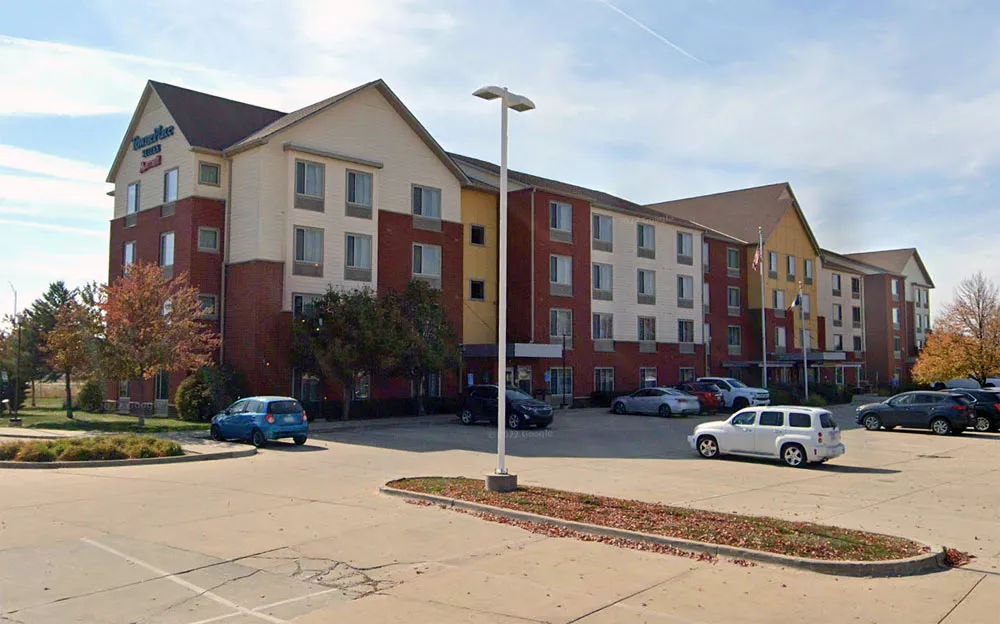 Image source: Google Maps
This Google Street View image of the TownePlace Suites Hotel in Urbandale was taken in October 2022—more than 12 years after Paul Gray died of an accidental overdose.
The bassist was found dead in room 431.
This location belongs to the following categories:
Celebrities
Closest Locations
Other locations that are relatively close to this address: Roughly 134 miles away.
Crime Location in Mason City, Iowa Roughly 147 miles away.
Crime Location in Iowa City, Iowa Roughly 147 miles away.
Crime Location in Skidmore, Missouri