Jodi Huisentruit's apartment
Crime Scene Location
550 North Kentucky Avenue, Mason City, IA 50401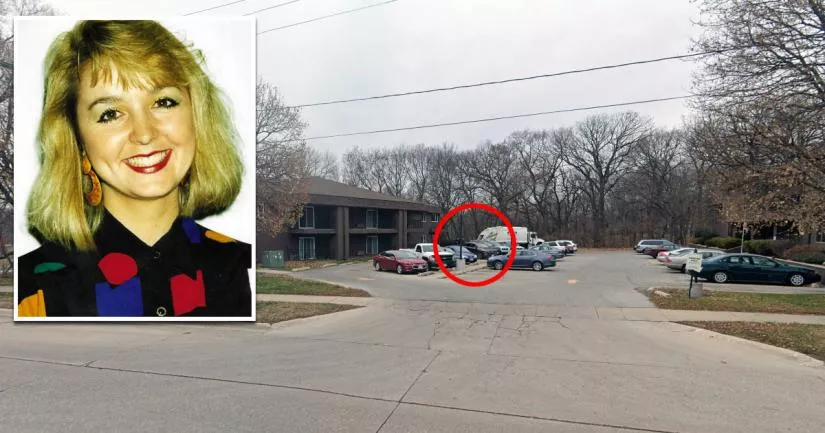 This is Jodi Huisentruit's former apartment.
It is situated at 550 North Kentucky Avenue in Mason City, Iowa.
The TV news anchor was abducted from this location on the morning of June 27th, 1995.
The evidence indicates that the attack occurred in the parking lot outside of Building C, which is on the southern side of the complex.
Huisentruit was a morning news anchor for a local television station called KIMT.
At around 4:10 a.m. on June 27th, 1995, a producer at the station noticed that Huisentruit was 40 minutes late. When the producer called the 27-year-old, she explained that she had overslept and that she was getting ready to leave her apartment.
This wasn't anything out of the ordinary for Huisentruit, as she had been late on a number of occasions.
However, three hours later, there was still no sign of the anchor. Fearing that something might be wrong, the station contacted the police and asked them to perform a welfare check.
When officers arrived at the apartment complex, they immediately saw signs that a struggle had taken place.
Huisentruit's red Mazda Miata was still in the parking lot, and her belongings were scattered nearby.
Her high-heeled shoe, car key, earrings, and hair dryer were all found on the floor. There were also drag marks on the ground near her car, which indicated that someone grabbed the news anchor and pulled her away.
The key for her Mazda was slightly bent—a sign that her attacker ambushed her from behind while she was trying to unlock her car door.
Neighbors told investigators that a woman was screaming at roughly the same time that Huisentruit would have exited her apartment. Unfortunately, these screams were largely ignored, as no one in the complex called the police or checked to see what was happening.
Early that morning, a passerby reportedly saw a mid-1980s white Ford Econoline van in the lot. Notably, the van had its headlights on at the time.
Despite multiple public appeals, the vehicle in question has never been identified.
A forensic investigation of the crime scene uncovered a strand of hair and a partial palm print from Huisentruit's Mazda. Other than that, there was very little evidence.
Although law enforcement conducted multiple searches and carried out hundreds of interviews, no trace of Huisentruit was ever found.
Six years after her disappearance, she was legally declared dead.
The case remains active to this day.

Further information is available in the "Photos" section below.
Jodi Huisentruit abduction location
Below, you will find the address and the GPS coordinates for this location.
Address
550 North Kentucky Avenue, Mason City, Iowa, IA 50401, USA
Map
To view directions on how to get there, you can use the Google Maps shortcut below:
GPS coordinates
The latitude and longitude coordinates for the apartment are:
43.156687, -93.182119
Directions
The apartment complex is situated on the northeastern side of Mason City, beside the Winnebago River. It lies to the north of a developed parkland called East Park.
Details about the general area
Mason City is a small city in the north of Iowa. It is situated in Cerro Gordo County.
Photos
Photos of the apartment and other related images.
---
Apartment complex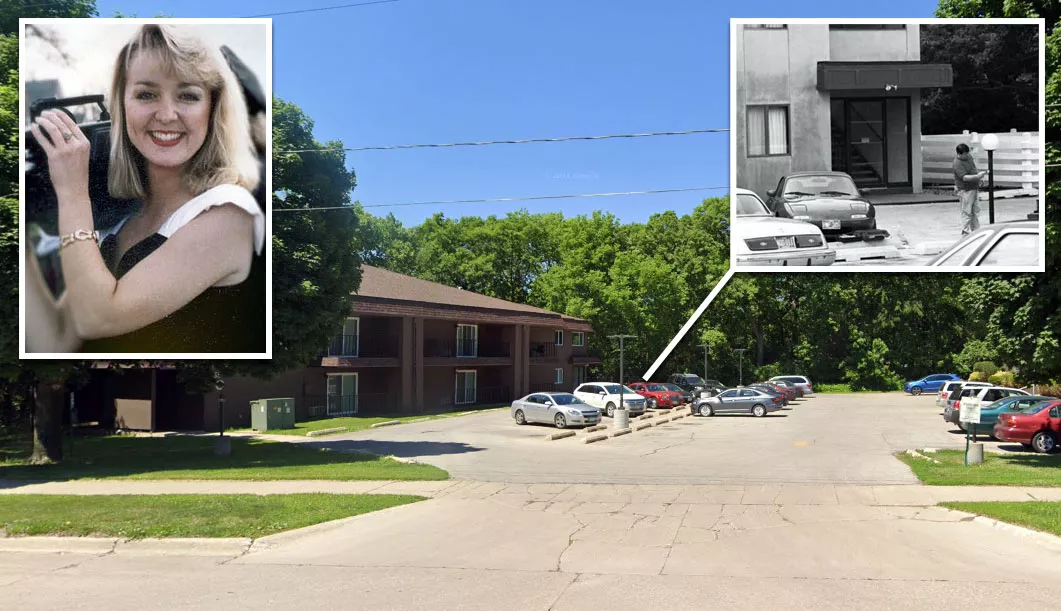 This Google Street View image of the Key Apartments complex on Kentucky Avenue was taken in June 2021.
Huisentruit's abduction occurred at the far end of the parking lot.
In the top right-hand corner, you can see a crime scene photograph of her Mazda Miata.
It is believed that the abduction took place at roughly 4.30 a.m. Although it was summer, it would have still been pretty dark out, as civil twilight didn't begin until 30 minutes later.
Abduction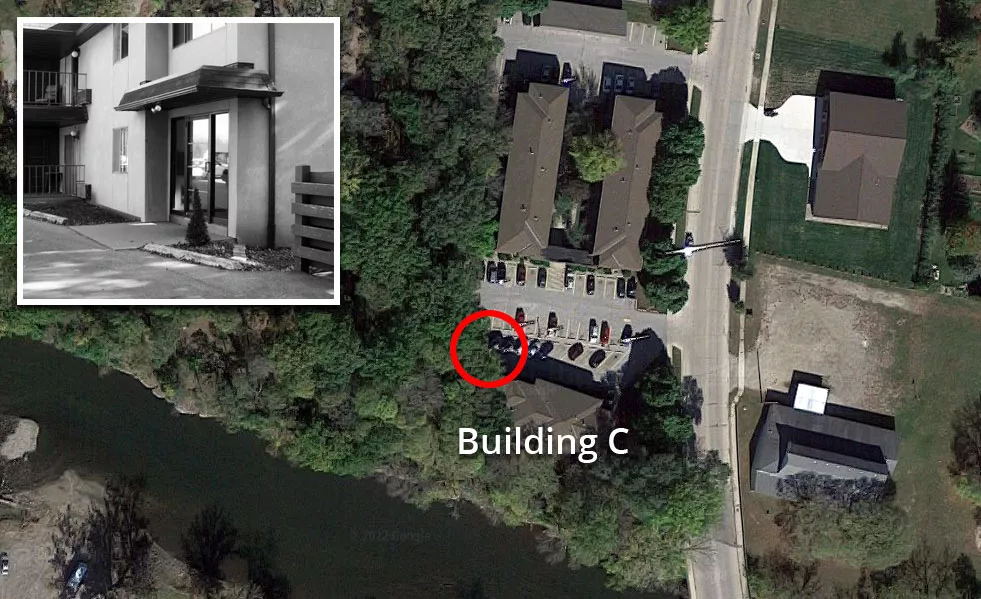 This aerial image highlights the area where Huisentruit was seemingly attacked.
In the top left-hand corner, you can see a photograph of the entrance to Building C.
Theories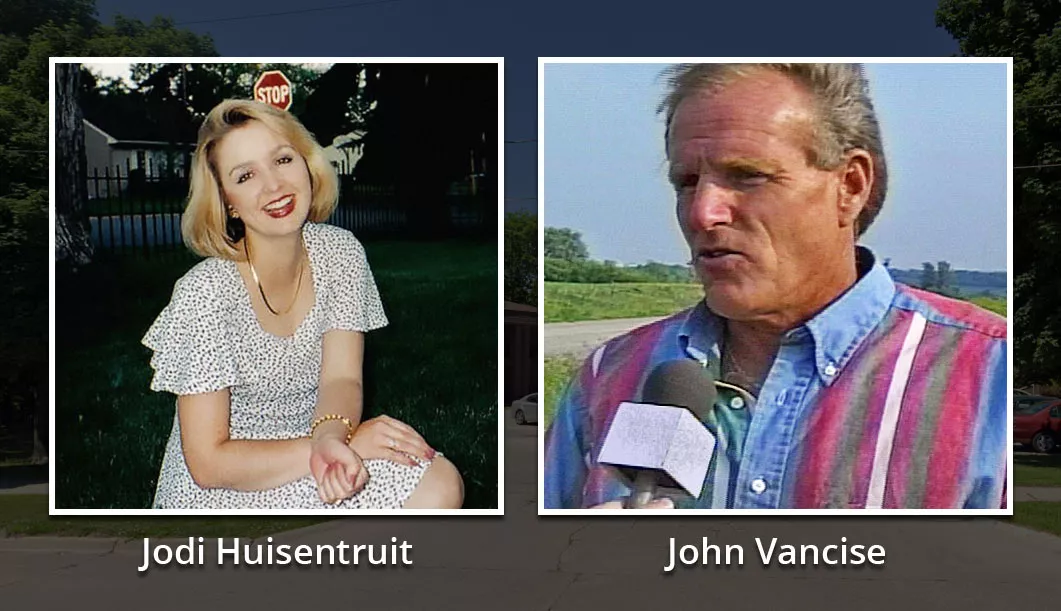 One popular theory is that Huisentruit was being stalked. In the months before her disappearance, she reportedly expressed concerns that she was being followed. However, detectives have expressed skepticism about this theory.
If someone was following her, then it stands to reason that they would have known her schedule. In other words, they would have expected her to leave before 3.30 a.m.
This means that they would have had to hang around in the parking lot for more than an hour after she was supposed to leave for work.
Another issue with this theory is that the news anchor didn't receive any letters or gifts. In stalking cases, the perpetrator will attempt to establish a relationship with their victim by sending them flowers, letters, or other items.
They usually only become intimidating or physically violent after their advances have been rejected.
All of this tends to happen over a period of time in which the stalker's behavior starts out relatively harmless and then escalates.
Because there is no evidence of a strange man attempting to insert themselves into the new anchor's life, it seems more likely that this was a crime of opportunity.
If this was the case, then it suggests that Huisentruit's killer had ties to the apartment complex. For example, he or someone else he knew lived there.
The killer may have known her or even watched her leave for work in the past. That or he was a complete stranger who simply saw his chance and took it.
Either way, it seems likely that he would have had a reason for being there at that time.
Although Huisentruit's acquaintance, John Vancise, is a person of interest in the case, there is no doubt that he has been thoroughly investigated.
Vancise reportedly had an alibi. There is also no evidence to suggest that he had any involvement in her murder.
Having said all of that, his behavior in the immediate aftermath of her disappearance has raised eyebrows.
After passing a lie detector test, he reportedly told a local news reporter that he was going to celebrate. One of Vancise's coworkers also claimed that he was acting weird on the morning of Huisentruit's disappearance and that he said she was "gone".
In 2017, the police obtained a search warrant for GPS data belonging to two of Vancise's old vehicles. Although nothing of value was found, it has led to speculation about what the authorities were hoping to find and what reasonable cause they had to convince a judge to approve such a warrant.
Closest Locations
Other locations that are relatively close to this address: Roughly 134 miles away.
Death Location in Urbandale, Iowa Roughly 170 miles away.
Crime Location in Iowa City, Iowa Roughly 192 miles away.
Crime Location in Delmar, Iowa