Johnny Gosch's house
Place of Interest in West Des Moines, Iowa, United States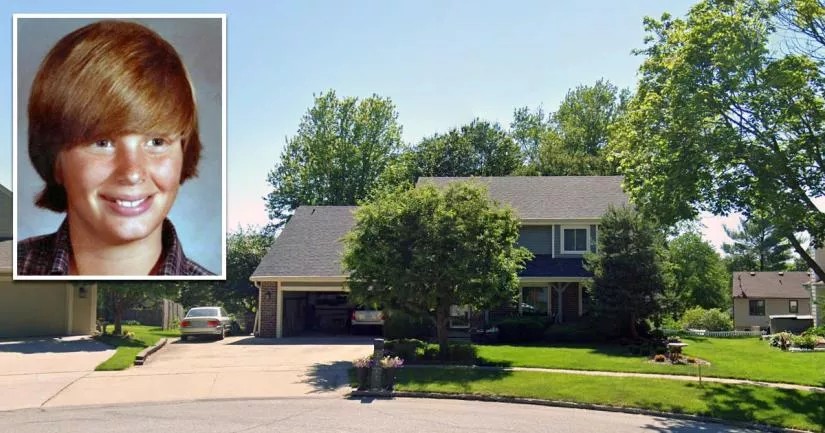 This is the house where Johnny Gosch was living when he mysteriously disappeared.
It is situated at 1004 45th Street in West Des Moines, Iowa.
On the morning of September 5th, 1982, the 12-year-old paperboy left his home on this small cul-de-sac to deliver newspapers.
After cutting through a nearby yard, he walked to the corner of Ashworth Road and 42nd Street, where he picked up the stack of newspapers that he was supposed to deliver that day.
However, a few hours later, a neighbor called his father, John Gosch, and complained that he hadn't received his morning newspaper.
Thinking it was odd, John decided to leave his house and walk around the block to find his son. As he was walking through the quiet suburban neighborhood, he came across the red pull-along wagon that Johnny used to tow his stack of newspapers.
The wagon had been seemingly abandoned on the corner of Marcourt Lane and 42nd Street, which was just one block east of the Gosch family home.
Notably, the wagon was still full—a sign that he hadn't delivered any of his newspapers that morning.
Although Gosch's father was slightly concerned about this discovery, his anxiety hadn't yet reached the point where he felt it necessary to contact the police.
Instead of raising the alarm, he reasoned that he should take the wagon and complete the route himself. That way, he could walk around the various streets and find out where his son had wandered off to.
However, as time drifted by and there was still no sign of Johnny, the knot in his stomach continued to grow. He knew that this was extremely out-of-character for his son, as he was a responsible young boy who always completed his work on time.
Consequently, he decided to alert the authorities.
Initially, the police believed that Gosch might have run away. However, this quickly changed after witnesses reported that a stocky man in a blue car had been driving around the area at the time.
According to these witnesses, the man in question approached Gosch on two occasions and asked him for directions.
Another person claimed that they had seen a silver Ford Fairmont parked near the corner where the wagon was found.
Despite these reports, the investigation into his disappearance revealed little evidence, and no trace of the 12-year-old was ever found.
Although the authorities believe that he was kidnapped, no arrests have ever been made.
Johnny Gosch is still missing to this day.

Further information is available in the "Photos" section below.
Where did Johnny Gosch live?
Below, you will find the address and the GPS coordinates for this location.
GPS coordinates
The latitude and longitude coordinates for the house are:
41.585096, -93.764530
Map
To view directions on how to get there, you can use the Google Maps shortcut below:
Address
The full address for this location is:
1004 45th Street
West Des Moines
Iowa
IA 50266
United States
Directions
Gosch's former house is at the end of a small cul-de-sac that is accessible via 42nd Street and Marcourt Lane. It lies to the south of the John MacVicar Freeway. It is just around the corner from the Valley United Methodist Church.
Details about the general area
West Des Moines is situated in the Des Moines metropolitan area in Iowa.
Private Property Warning
This is a private property. It is not a public place. Therefore, you should be respectful and not step foot on the property without permission.
Photos
Photos of the house and other related images.
---
Map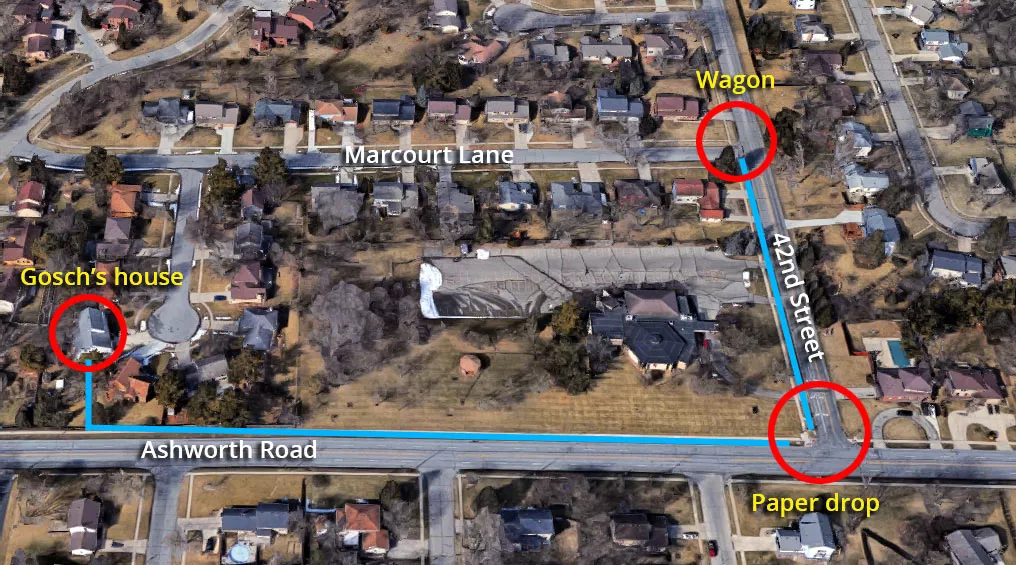 This aerial map highlights the relevant locations.
That morning, Gosch left his house, cut through a neighbor's yard, and walked to the paper drop, which was on the corner of Ashworth Road and 42nd Street.
Once there, he chatted with another paperboy called Mike.
During the investigation, it was revealed that a stocky man in a blue car had been seen driving around the area at the time. According to Mike, this man approached Gosch near the paper drop and asked him for directions to 86th Street.
After being given directions, the man reportedly drove away.
Paper drop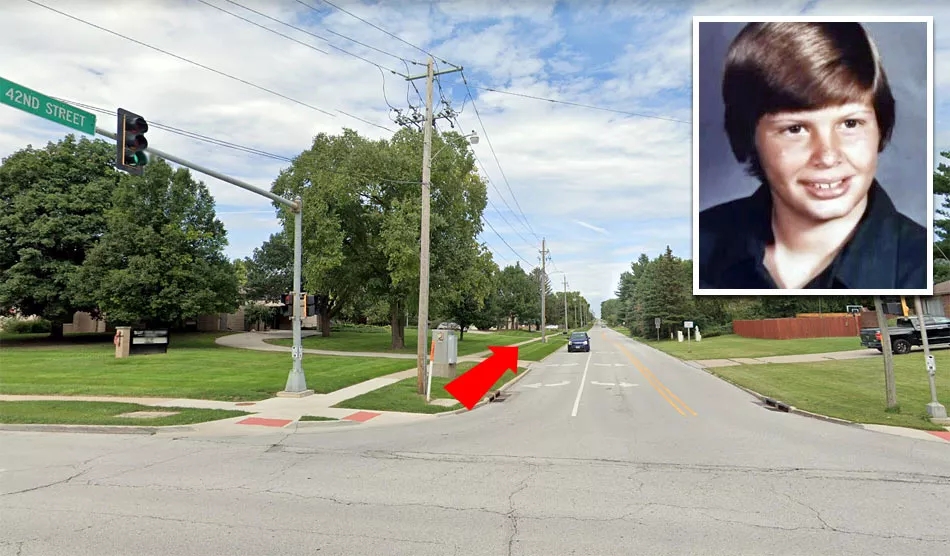 Gosch spoke with Mike after he reached the corner of Ashworth and 42nd Street.
As the young boys were chatting and loading up their wagons, the stranger in the blue car returned and started asking them for directions again.
While Gosch was talking to the man, a neighbor named John Rossi arrived at the corner to pick up bundles of newspapers for his two sons.
When Gosch spotted Rossi, he asked him to speak to the man in the blue car and give him directions to 86th Street. By that stage, the 12-year-old had already talked to him twice. Therefore, it is likely that he felt as if he was getting nowhere.
Rossi obliged and walked over to the car. Meanwhile, Gosch grabbed his wagon and started heading north along 42nd Street (in the direction of the red arrow).
While Rossi was giving the man directions, he noticed that he seemed somewhat agitated. Moments later, the man turned his interior lights on three times and then sped off.
The man reportedly drove east along Ashworth Road before turning north onto 39th Street.
According to Rossi, the man seemed high. He was unshaven, with black hair and beady eyes.
Coordinates: 41.584715, -93.761349
Route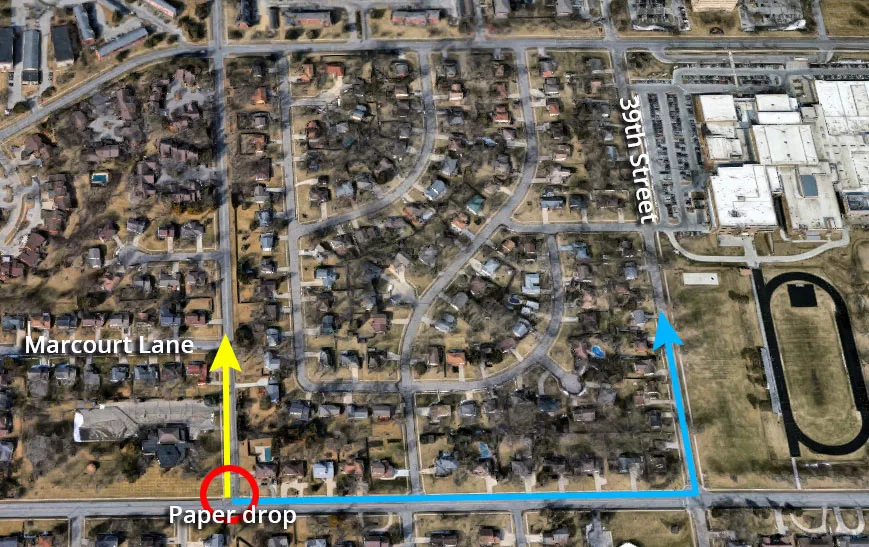 According to Rossi, the man in the car drove east along Ashworth Road before turning north onto 39th Street (the blue route).
Meanwhile, Gosch was walking along 42nd Street (the yellow route).
If this man did abduct the 12-year-old, then it is likely that he quickly circled around the block.
Marcourt Lane and 42nd Street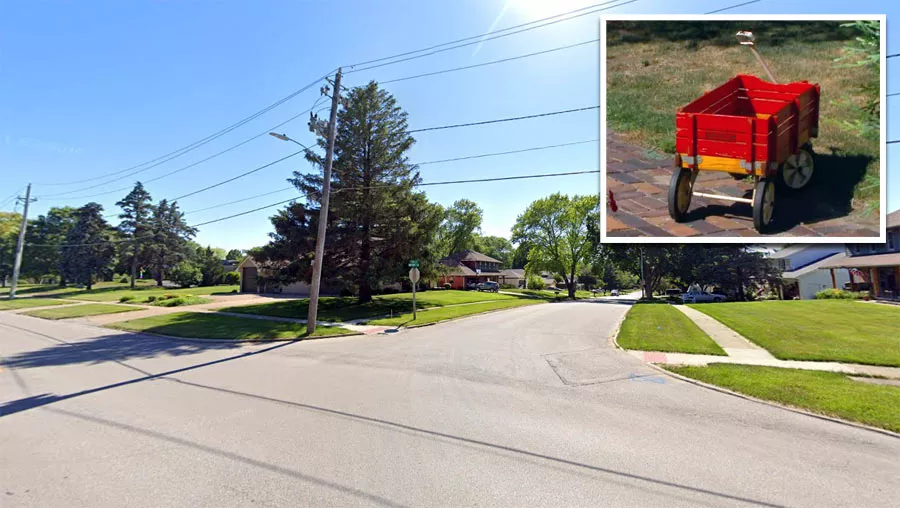 Gosch's red wagon was found abandoned on the corner of Marcourt Lane and 42nd Street.
The paperboy often left the wagon here while he was delivering papers to a nearby cul-de-sac called Francrest Circle.
Notably, there were no signs of a struggle.
Coordinates: 41.586047, -93.761365
Francrest Circle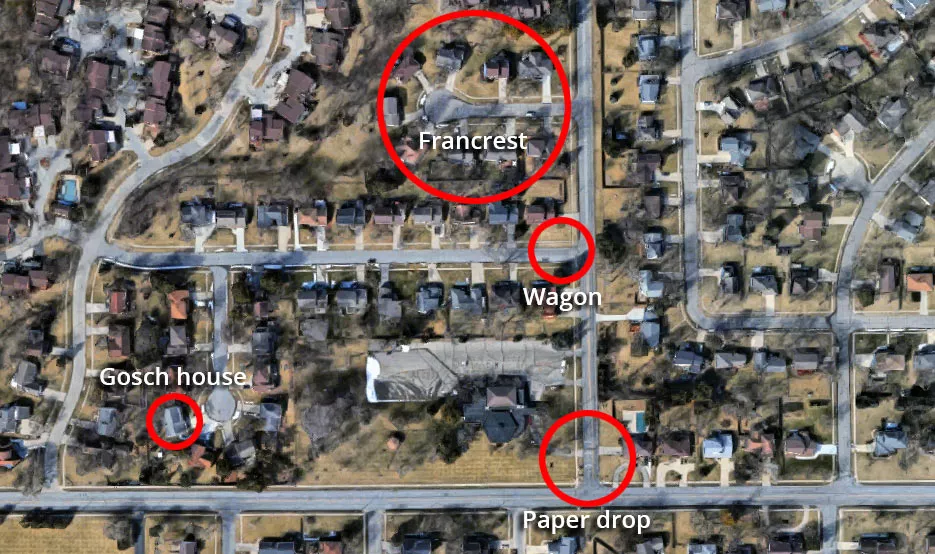 Francrest Circle was just 280 feet north of the location where the red wagon was found.
According to one witness report, a tall man approached Gosch from behind while he was walking towards the corner of Marcourt.
Another neighbor stated that they saw a silver Ford Fairmont parked on the same corner. Although they didn't see Gosch, they reportedly heard a car door slam shut shortly afterwards.
Unfortunately, witnesses can be unreliable, especially when they are recalling events that didn't seem important to them at the time. As a result, the details can get blurred and the timeline can become distorted.
In this case, we have two different cars and an unidentified man who reportedly followed Gosch up 42nd Street. To confuse matters even more, the paperboy who saw this "tall man" was unsure if it was the same person who was driving the blue car or not.
Notably, only one witness reported seeing the Ford Fairmont. Furthermore, they did not see what the driver looked like.
Sadly, the only thing that seems 100% certain in this case is that Johnny Gosch went missing shortly after he left his house on 45th Street.
Visualize
There is more than one location associated with this entry. To view all of these places on the same map, you can use the following feature:
Closest Locations
Other locations that are relatively close to this address: Roughly 141 miles away.
Crime Location in Mason City, Iowa, United States Roughly 141 miles away.
Crime Location in Skidmore, Missouri, United States Roughly 143 miles away.
Crash Site Location in Clear Lake, Iowa, United States Roughly 149 miles away.
Crime Location in Iowa City, Iowa, United States