The train tracks where Greg Plitt died
Place of Interest in Burbank, California, United States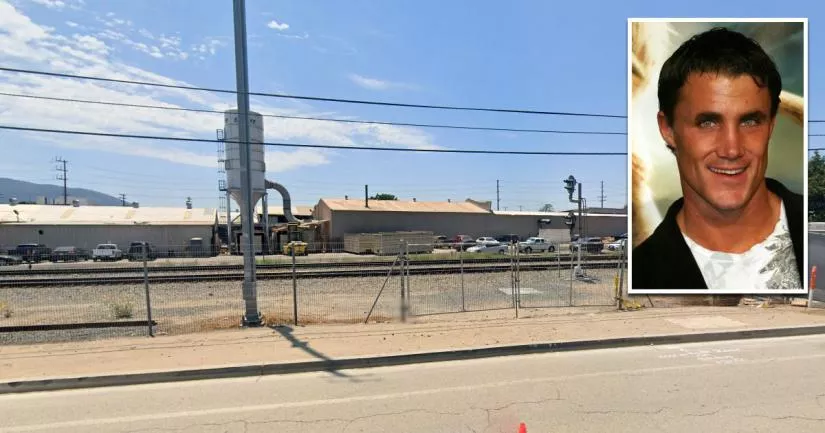 This is the location where Greg Plitt died in a train accident.
It is situated on the train tracks beside North Front Street, just north of the Magnolia Boulevard overpass in Burbank, California.
Plitt was a former US Army Ranger, fitness model, and personal trainer who appeared in commercials for Old Spice Body Wash, MTV, and Under Armour. He also starred in Bravo's reality television series "Work Out" between 2006 and 2008.
On the afternoon of Saturday, January 17th, 2015, Plitt and some crew members decided to film a sports drink commercial at these railway tracks near the Downtown Burbank Metrolink Station.
The group had failed to apply for a permit to work on the commuter line. There was also a lack of communication between the fitness model and his camera crew, as he started improvising various scenes without telling them what his exact plans were.
There are two railroad tracks in this area that run side by side, roughly 15 feet apart.
Shortly after 4 p.m., Plitt saw a southbound Metrolink train approaching in the distance. After making the fateful decision to incorporate the train into his commercial, he stepped onto one of the tracks, turned his back to it, and began running away from it.
It is believed that he intended to show himself racing against the Metrolink as it ran along the adjacent line. However, it appears as though he misjudged which track the locomotive was traveling on.
Plitt didn't look behind him while he was running, as doing so would have ruined a spectacular shot of him determinedly outpacing a train. Consequently, he kept sprinting along the line, completely unaware that he had made a fatal mistake.
Although he undoubtedly heard the engineer's warning horn and the rumbling of the locomotive getting closer, the tracks were so close together that he would have anticipated such noises.
Unfortunately, Plitt did not inform his camera crew what his intentions were. At the time, it is likely that they presumed he was filming a chase scene and that he was going to jump off the track at any moment.
By the time they realized he was in serious danger, it would have been too late to try and warn him, as the looming sound of the metro would have drowned out their frantic shouts.
At roughly 4.05 p.m., the 37-year-old bodybuilder was struck and killed by the train.
Investigators who reviewed video footage of the incident from various angles believe that it was an accident, not a suicide.
Sadly, it seems as though a split-second decision cost Plitt his life. Had he assessed the situation for a few seconds longer, he would probably still be alive today.

Further information is available in the "Photos" section below.
Gregg Plitt death location
Below, you will find the address and the GPS coordinates for this location.
GPS coordinates
The latitude and longitude coordinates for the site are:
34.181430, -118.315798
Map
To view directions on how to get there, you can use the Google Maps shortcut below:
Address
The full address for this location is:
North Front Street
Burbank
California
CA 91502
United States
Directions
The accident occurred about 165 yards (150 meters) north of where Magnolia Boulevard passes over North Front Street. Please note that this is a restricted area and that it is unsafe to walk on the train tracks.
Details about the general area
Burbank is a city that lies to the northeast of Los Angeles.
Private Property Warning
This is a private property. It is not a public place. Therefore, you should be respectful and not step foot on the property without permission.
Photos
Photos of the site and other related images.
---
Accident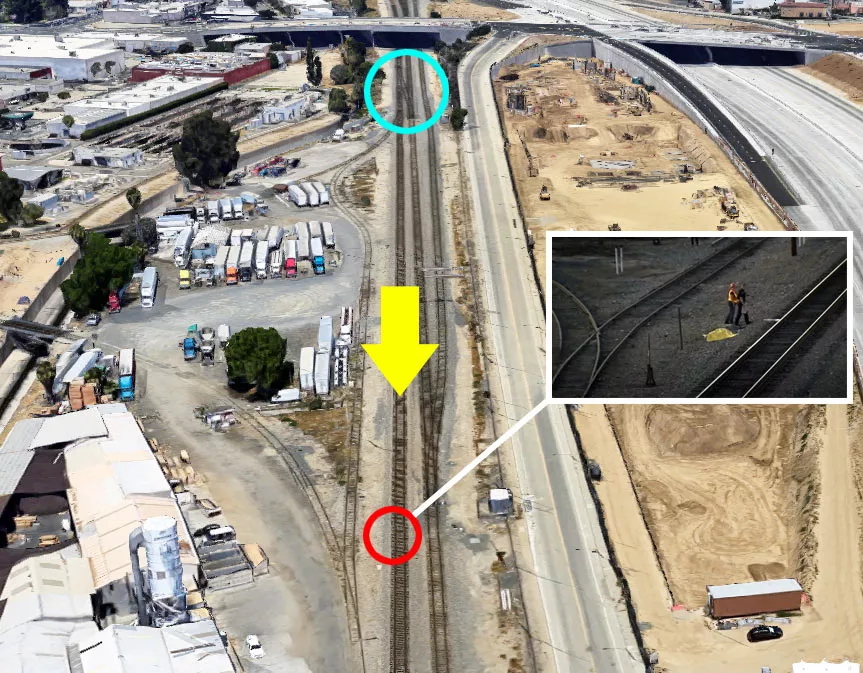 Image source: Google Maps
This is an aerial map of the site where Gregg Plitt was killed. The red circle highlights the exact spot where he was struck by the Metrolink Antelope Valley Line train.
As you can see, there are two parallel tracks in this area.
Plitt stepped onto the left track and began running southward. The most popular theory is that he believed the locomotive was traveling on the right track and that it would simply pass him by once it had caught up with him.
According to witnesses, he made the decision to race the train when it was somewhere in the blue circle or just beyond. These witnesses also said that the distance involved made it somewhat difficult to tell which track the train was using.
Had Plitt waited just a few moments longer before turning his back, it is likely that he would have realized his mistake.
Magnolia Boulevard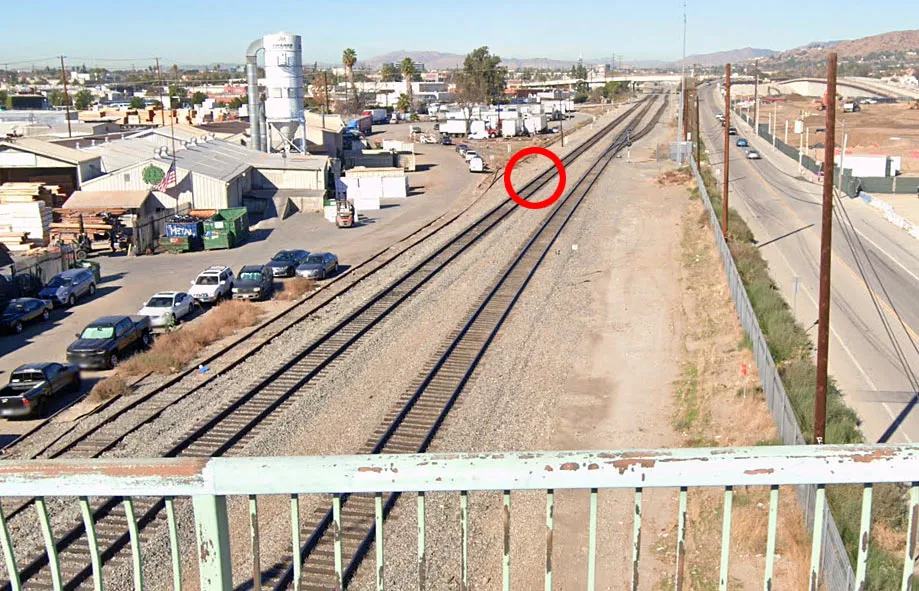 The accident site is visible from the Magnolia Boulevard overpass.
Train tracks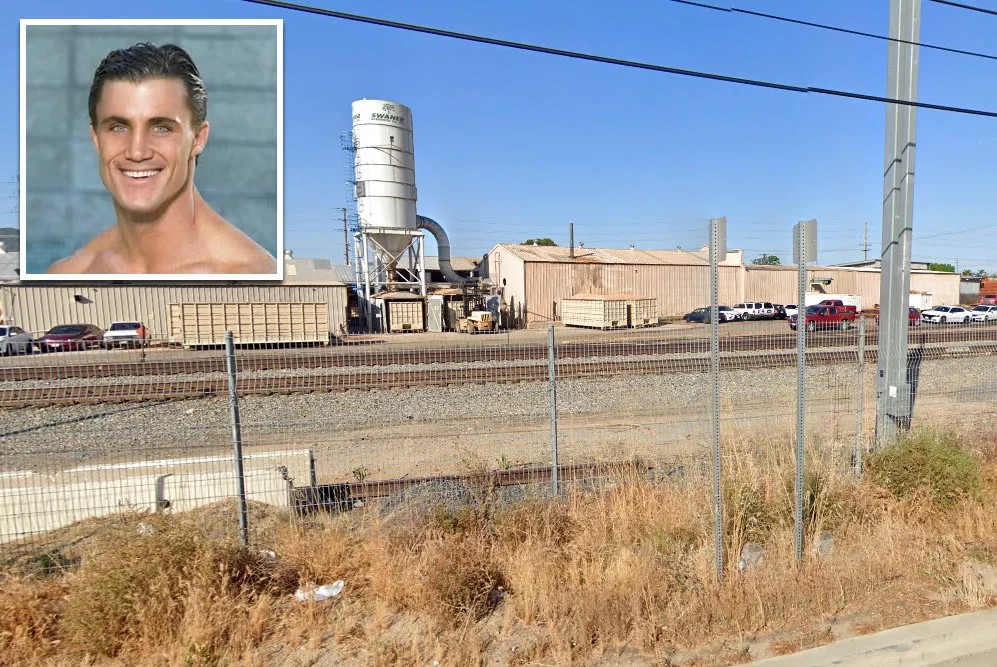 This Google Street View image was captured in May of 2019.
Death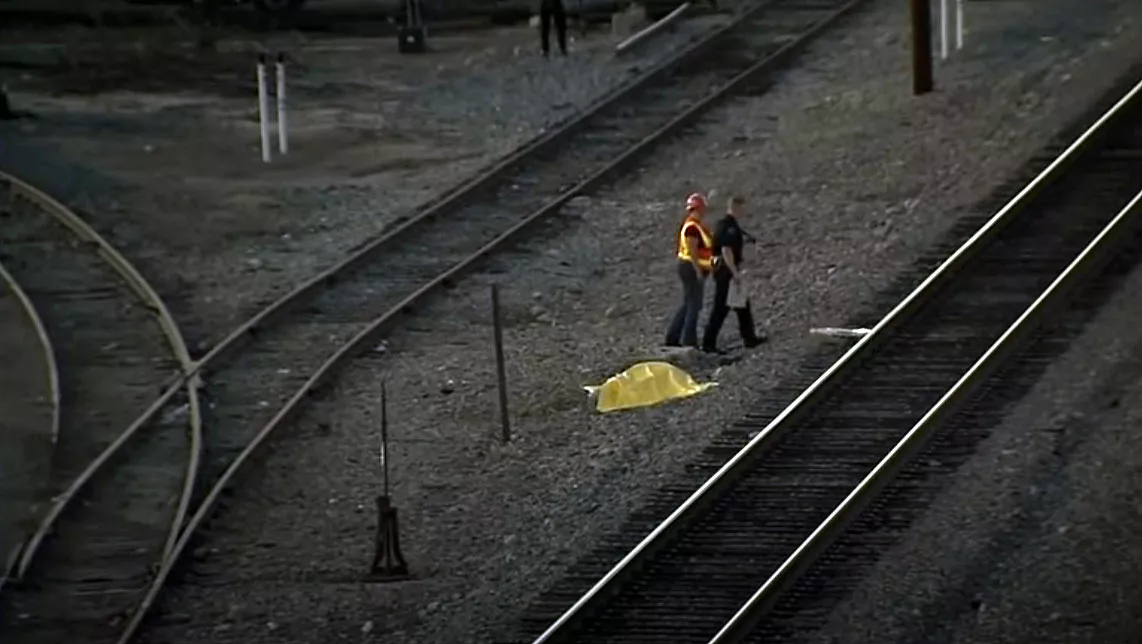 Another alternative theory is that Plitt was trying to film a chase scene and that he simply misjudged the speed at which the train was traveling.
However, the bodybuilder failed to react when the engineer sounded his warning horn. This suggests that he didn't believe he was in danger.
Making careless mistakes is part of the human condition. At some point, everyone will make a split-second decision that they immediately regret.
Sadly, in Plitt's case, it cost him his life.
This location belongs to the following categories:
Celebrities
Closest Locations
Other locations that are relatively close to this address: Less than a mile away.
Place of Interest in Burbank, California, United States Roughly 2 miles away.
Filming Location in Los Angeles, California, United States Roughly 4 miles away.
Place of Interest in Los Angeles, California, United States Roughly 4 miles away.
Place of Interest in Los Angeles, California, United States Roughly 5 miles away.
Filming Location in North Hollywood, California, United States