Napoleon Dynamite's house
Filming Location in Preston, Idaho, United States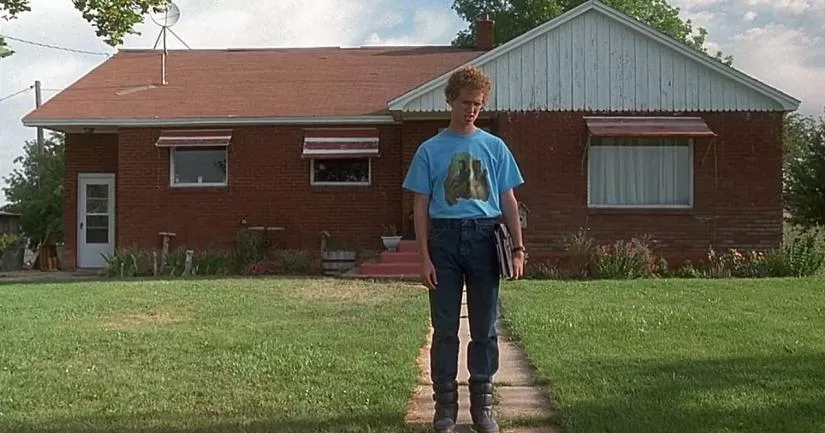 This is Napoleon's house from the comedy film Napoleon Dynamite (2004).
It is situated at 1447 East 800 North in Preston, Idaho.
Napoleon is a socially awkward high school student who lives in a small, rural town with his grandmother, Carlinda, and his nerdy older brother, Kip.
When Carlinda injures herself in a quad-bike accident at the sand dunes, she asks the boys' uncle, Rico, to look after them while she's in the hospital.
This is despite the fact that Kip is 32 years old.
Rico is a middle-aged man who is unable to let go of his boyhood dream of becoming an NFL star. He obsesses over his coach's decision to omit him from the fourth quarter of an important football game during the early 1980s.
In his mind, there is no doubt that he would have led his team to a state championship. He also believes that such a win would have paved the way for him to turn professional.
"Oh man, I wish I could go back in time. I'd take state."
Napoleon doesn't like his uncle Rico because he treats him like a child, "ruins everyone's lives", and "eats all of their steak." From his perspective, he is the older, washed-up version of the high school jocks who tease him at school.
As the film progresses, Napoleon befriends a Mexican transfer student named Pedro and a quirky classmate named Deb.
Pedro is a shy and sedate character who speaks with a quiet, monotonous voice that would put anyone to sleep. At one point, he decides to run for class president. However, it is clear that he lacks the personality to win what is essentially a popularity contest.
On election day, he delivers a boring, unconfident speech that fails to impress the crowd.
Realizing that his friend doesn't stand a chance of being elected, Napolean takes the song "Canned Heat" by Jamiroquai out of his walkman and hands it to the sound engineer. He then walks out onto the stage wearing a "Vote for Pedro" t-shirt and performs a spontaneous dance routine.
Napolean's performance is so unexpectedly good that almost everyone in the audience rises to their feet to give him a standing ovation.

Further information is available in the "Photos" section below.
Napoleon Dynamite house address
Below, you will find the address and the GPS coordinates for this location.
GPS coordinates
The latitude and longitude coordinates for the house are:
42.111143, -111.841144
Map
To view directions on how to get there, you can use the Google Maps shortcut below:
Address
The full address for this location is:
1447 East 800 North
Preston
Idaho
ID 83263
United States
Directions
Napoleon's house is about 1.2 miles east of the intersection between Idaho State Highway 36 and East 800 North. It lies to the northeast of Preston.
Details about the general area
Preston is situated in Franklin County in southern Idaho. It is close to the state line with Utah.
Private Property Warning
This is a private property. It is not a public place. Therefore, you should be respectful and not step foot on the property without permission.
Photos
Photos of the house and other related images.
---
Napoleon Dynamite's house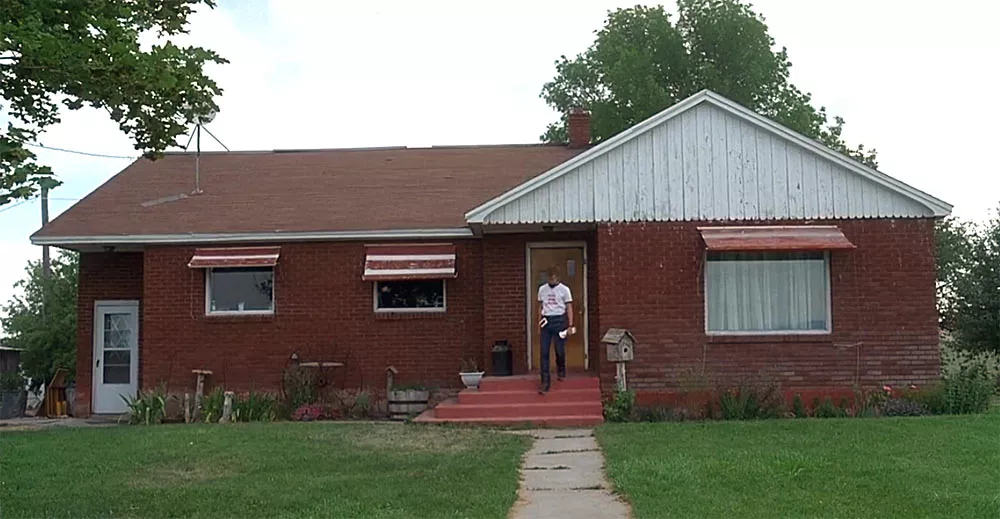 Napoleon Dynamite leaves his house wearing his iconic moon boots.
Map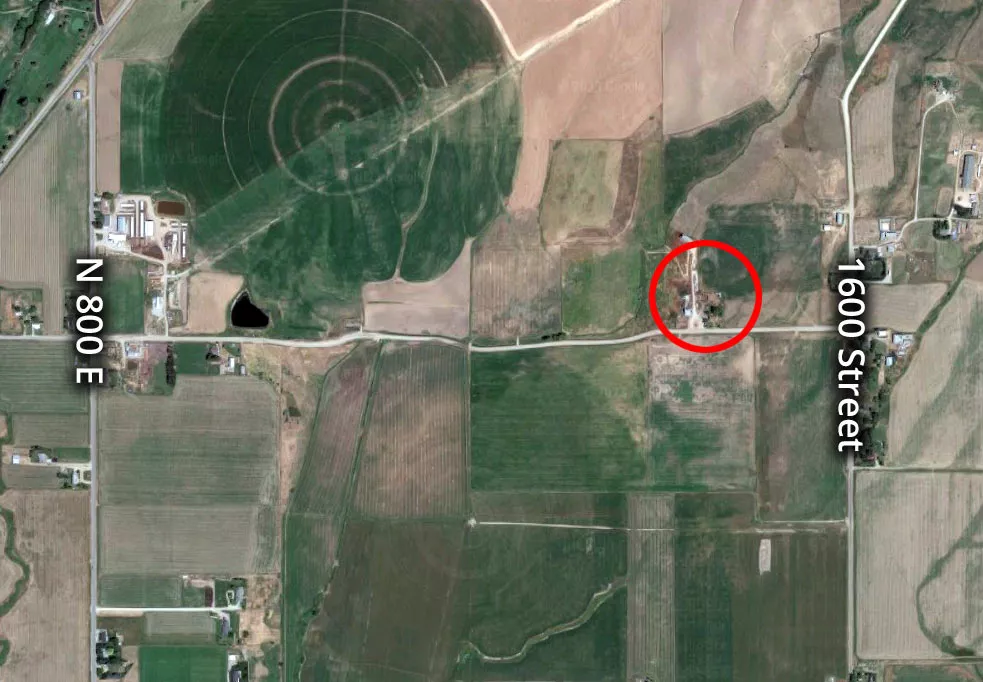 Image source: Google Maps
The Google Street View car has yet to travel past the rural property (circled in red). As you can see, it lies between North 800 East and 1600 Street.
Rico Dynamite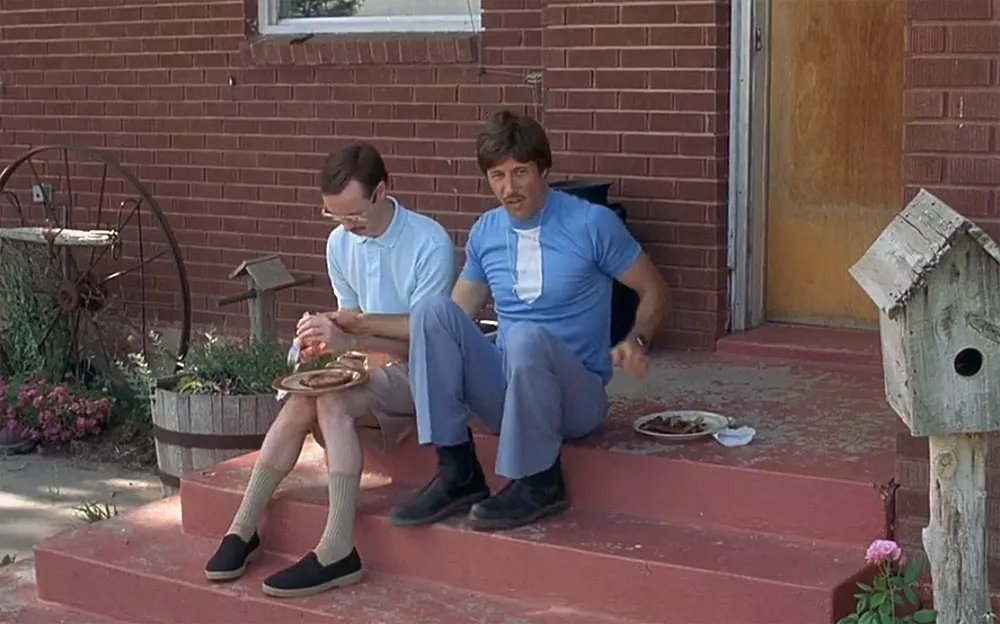 In this scene, Kip and Rico are eating steak on the front stoop. While they are eating, Rico tells Kip that he used to be able to throw a "pigskin a quarter mile."
Seconds later, Rico notices Napoleon and Pedro cycling towards the house.
Realizing that he has the perfect opportunity to demonstrate his accuracy, he grabs the steak on Kip's plate and then throws it at Napoleon, hitting him directly in the face and knocking off his glasses.
Impressed by his own throw, Rico becomes emotional and says:
"How much do you want to bet that I can throw a football over those mountains? If coach would have put me in the fourth quarter, we'd have been state champions, no doubt. No doubt in my mind. You better believe things would have been different. I would have gone pro in a heartbeat."
Before the scene ends, Rico asks Kip if he has learned anything about time travel on the Internet.
1447 East 800 North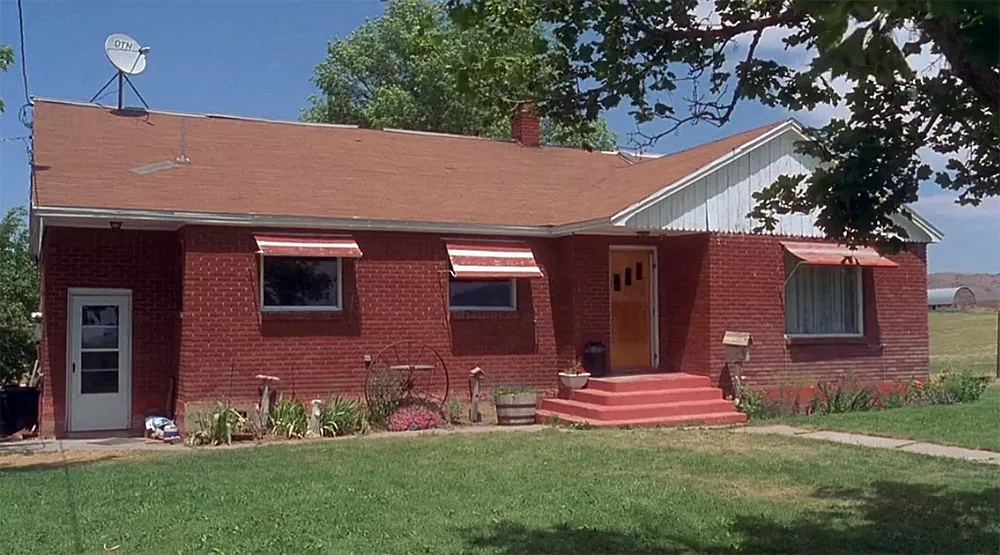 This establishing shot of the house is shown directly before the scene where Napoleon tests out the "time machine" that his uncle Rico bought on the Internet.
Unsurprisingly, the device doesn't work, despite its "magic" crystals. Instead, it just gives him a painful electric shock.
When Napoleon yells out, "It's a piece of crap; it doesn't work", Rico comes out of the bedroom and says, "I could have told you that", before grunting in pain.
Pedro's house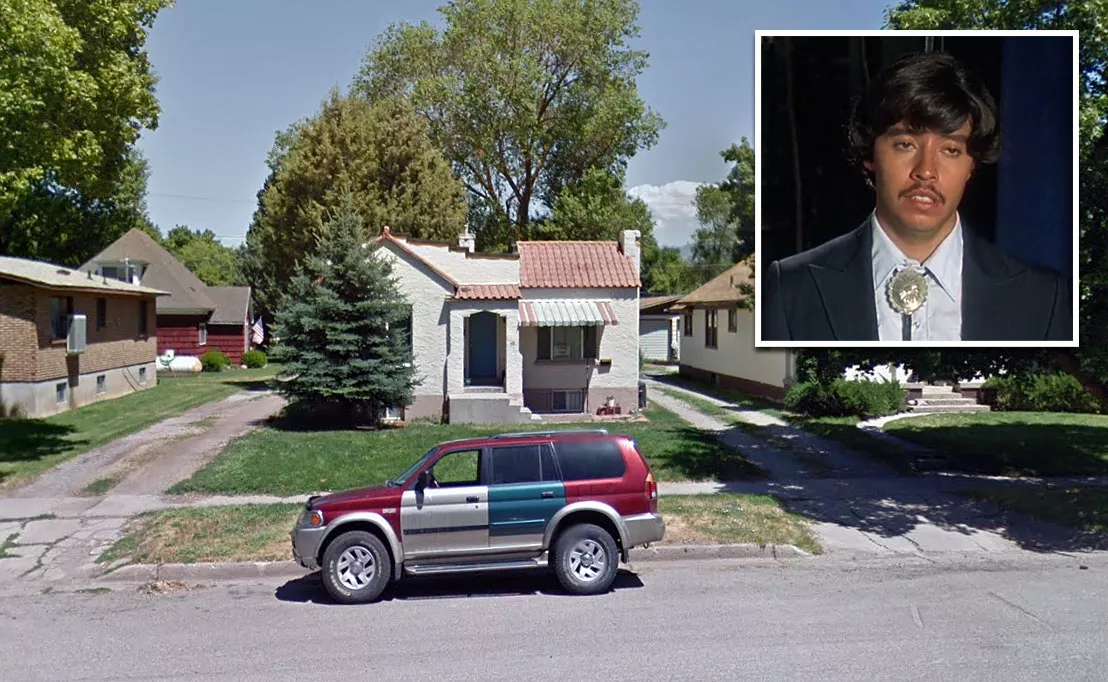 Pedro's house is also situated in Preston. The address is 59 South 2nd Street East.
Coordinates: 42.094964, -111.870872
Visualize
There is more than one location associated with this entry. To view all of these places on the same map, you can use the following feature:
Closest Locations
Other locations that are relatively close to this address: Roughly 78 miles away.
Crime Location in Pocatello, Idaho, United States Roughly 78 miles away.
Crime Location in Pocatello, Idaho, United States Roughly 83 miles away.
Crime Location in Pocatello, Idaho, United States Roughly 105 miles away.
Crime Location in Bountiful, Utah, United States Roughly 115 miles away.
Serial Killer House in Salt Lake City, Utah, United States