Marvin Gaye's house
Crime Scene Location in Los Angeles, California, United States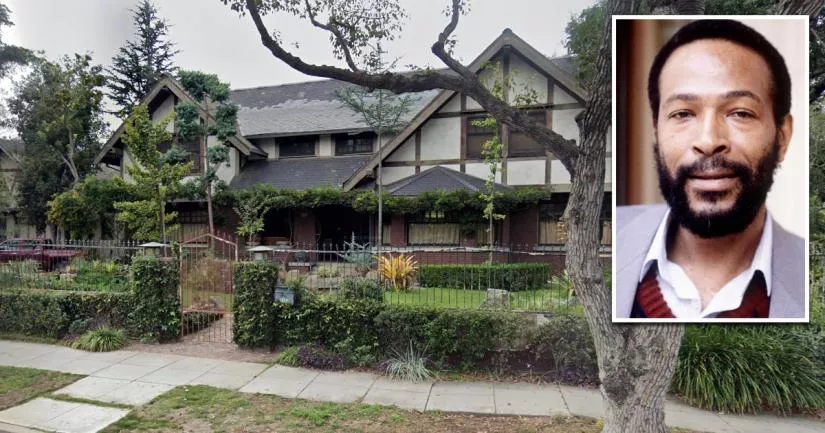 This is Marvin Gaye's former house.
It is situated at 2101 South Gramercy Place in Los Angeles, California.
Known as the "Prince of Motown", Gaye released hit singles such as "I Heard It Through the Grapevine", "Sexual Healing", and his own version of "Ain't No Mountain High Enough".
On the afternoon of April 1st, 1984, the singer was shot dead at this address following a domestic dispute with his father.
Roughly eight months earlier, Gaye had returned from touring to help take care of his mother, Alberta, who was recovering from kidney surgery.
By that stage in his life, his frequent drug use had taken its toll, as he was growing increasingly paranoid and depressed. To make matters worse, he also owed money to the IRS.
Father
Gaye's relationship with his father was strained at best, as Marvin Sr. was an overbearing parent and a strict disciplinarian who didn't approve of his music career. He was also seemingly bitter about the fact that his son had replaced him as the main breadwinner of the family.
Although he resented his son's fame, that didn't stop him from living off the money that it generated.
The pair constantly argued with each other while they were living under the same roof. On one occasion, his father called the police and forced him to leave the property. However, Gaye returned shortly afterwards following a short stay with his sister.
That Christmas, Gaye gifted his father an unregistered Smith & Wesson pistol for reasons that remain unknown. Some say that it was for protection, while others claim that the singer was suicidal and knew that his father would eventually use it during one of their arguments.
The killing of Marvin Gaye
On the afternoon of April 1st, 1984, Gaye's mother, Alberta, was talking to him in his bedroom when his father began hollering at her from downstairs. At the time, Marvin Sr. was reportedly angry that he couldn't find a misplaced insurance policy document.
When his father began yelling at his mother from below, Gaye ran to the top of the stairs and shouted that he should speak to her face if he had something to say. In response, Marvin Sr. reportedly rushed up to Gaye's bedroom and began shouting at Alberta.
The argument boiled over into a physical confrontation when Marvin Sr. ignored Gaye's demands to leave his bedroom. At that point, the singer started pushing, punching, and kicking his father until he retreated out into the hall and back to his own room.
Following the fight, Gaye returned and sat on his bed.
Angered and humiliated, Marvin Sr. eventually decided to grab the Smith & Wesson pistol that his son had given him on Christmas Day. Minutes later, he walked into Gaye's room without saying a word and immediately opened fire.
The first bullet was fatal, as it pierced Gaye's heart, liver, stomach, kidney, and right lung. When Gaye keeled over, Marvin Sr. moved closer and shot him a second time at point-blank range.
Aftermath
Gaye was rushed to the hospital after the police arrived. However, he had no chance of survival and was pronounced dead on arrival.
He was 44 years old.
Marvin Sr. never served any prison time for the killing. After pleading no contest to a charge of voluntary manslaughter, he was given a six-year suspended sentence and five years of probation.
Following the court case, he spent most of the remainder of his life in various nursing homes.
Fourteen years after the shooting, Marvin Gay Sr. died of pneumonia in a nursing home at the age of 84.

Further information is available in the "Photos" section below.
Marvin Gaye house location
Below, you will find the address and the GPS coordinates for this location.
GPS coordinates
The latitude and longitude coordinates for the house are:
34.037831, -118.313607
Map
To view directions on how to get there, you can use the Google Maps shortcut below:
Address
The full address for this location is:
2101 South Gramercy Place
Los Angeles
California
CA 90018
United States
Directions
The house sits on the northern side of the Santa Monica Freeway. It is about 250 yards (250 meters) south of the intersection between West Washington Boulevard and South Gramercy Place.
Details about the general area
It is situated in the "Mid City" neighborhood of Central Los Angeles, California.
Private Property Warning
This is a private property. It is not a public place. Therefore, you should be respectful and not step foot on the property without permission.
Photos
Photos of the house and other related images.
---
2101 South Gramercy Place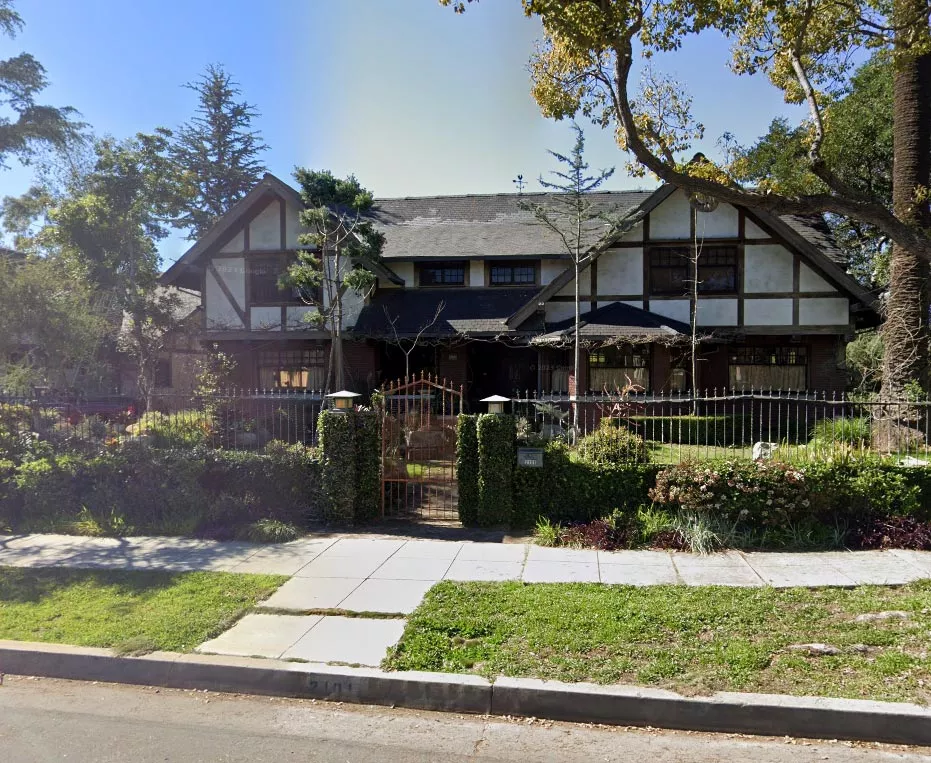 This Google Street View image of 2101 South Gramercy Place was captured in February of 2023.
At the time of Gaye's death, it was owned by his parents. He had moved back to the residence in August of 1983 to help take care of his mother.
The house was built in 1905. It has eight bedrooms and is roughly 6,550 square feet in size.
It was last sold for $410,000 in December of 1998.
Following the shooting, Marvin Gay Sr. walked outside, sat on the front porch, and awaited his arrest.
When the police arrived, they refused to enter the house until they could see the gun.
The pistol was eventually located by Gaye's sister-in-law, Irene, who found it hidden in Marvin Sr.'s pillow. After retrieving it, she tossed it onto the front lawn.
Gaye's former house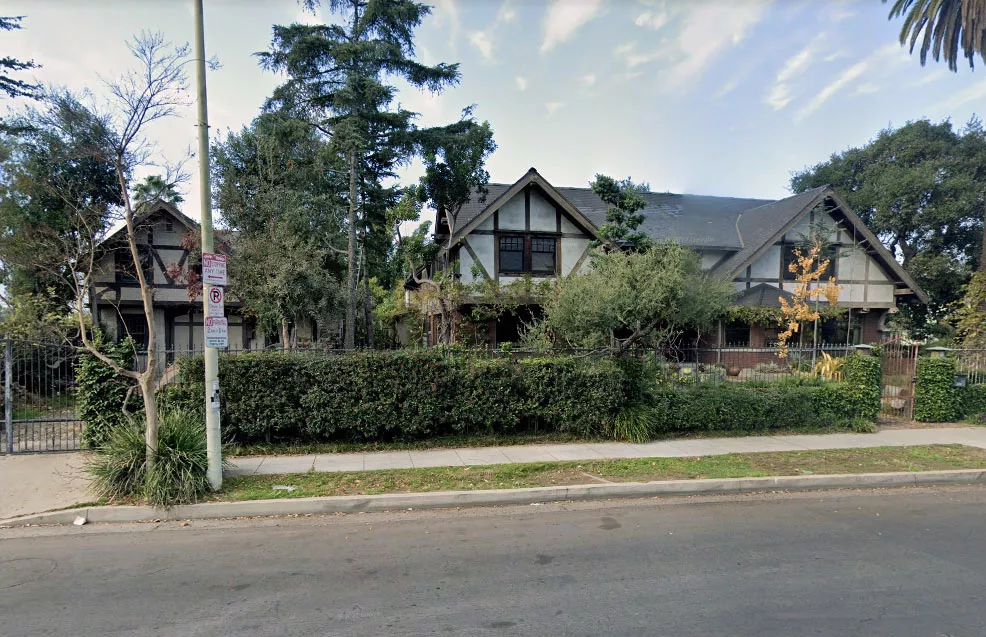 Image source: Google Maps
This is a wider view of Gaye's former house. It was taken in January of 2021.
The property contains a large guesthouse, which is visible on the left. At the time, it was the home of Gaye's brother Frankie and his sister-in-law, Irene.
When Frankie heard the shots, he initially believed that a car had backfired. However, seconds later, he heard his mother screaming outside.
Marvin Gay Sr.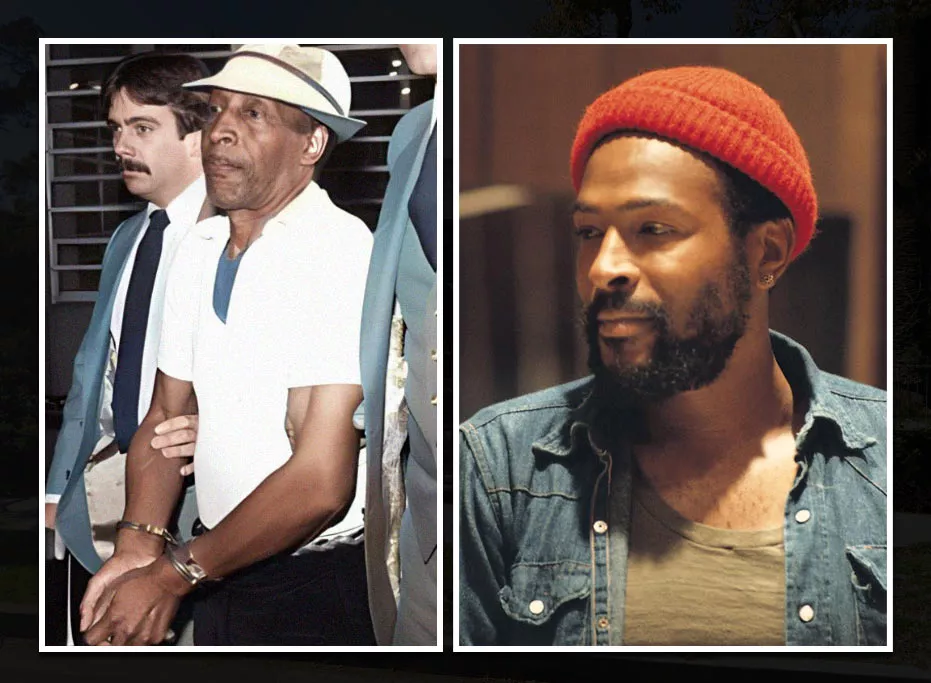 According to Alberta, Marvin Gay Sr. (pictured left) never really loved Gaye (pictured right).
During his childhood, he would often beat him over minor infractions.
Although Marvin Sr.'s strict disciplinarian ways negatively impacted their relationship, there were also more complex issues at play.
Gaye's father started drinking heavily when he was a child. Around the same time, he also became reclusive and started crossdressing.
When Gaye was 12, he felt humiliated when he saw that his father was wearing his mother's clothes.
Gaye was also teased by other kids about his father's long and curly hair, which they viewed as feminine. This, coupled with his surname, led to kids making jokes about his sexuality.
Some of the kids would write "Is" in front of his full name so that it read, "Is Marvin Gay?" This bothered him so much that he later added the letter "e" to the end of his surname.
Growing up, he interpreted his father's crossdressing and feminine hairstyle as a sign that he wasn't a "real man", and that, by extension, he wasn't a "real man" either.
Despite these emotions, he still yearned for his father's approval, which he never seemed to get.
All in all, it seems as though the father and son had a complex and tumultuous relationship that was marred by conflict.
Following the shooting, the police asked Marvin Sr. if he loved his son.
In response, he said, "Let's say I didn't dislike him."
Closest Locations
Other locations that are relatively close to this address: Roughly 2 miles away.
Place of Interest in Los Angeles, California, United States Roughly 3 miles away.
Place of Interest in Los Angeles, California, United States Roughly 3 miles away.
Crime Location in Los Angeles, California, United States Roughly 4 miles away.
Place of Interest in Los Angeles, California, United States Roughly 4 miles away.
Crime Location in Los Angeles, California, United States