The location where Chris Brown assaulted Rihanna
Assault Location in Los Angeles, California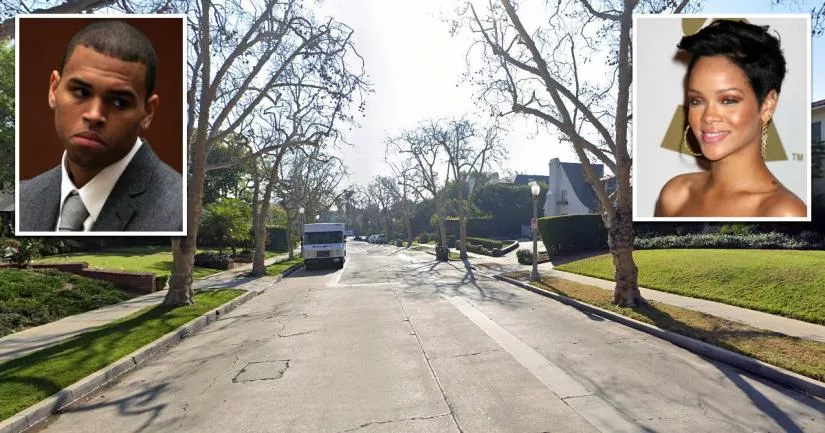 This is the location where Chris Brown assaulted Rihanna (Robyn Fenty).
It is situated outside of 333 North June Street in Los Angeles, California.
In the early hours of February 8th, 2009, the couple were driving through this neighborhood in Hancock Park when Rihanna saw a lengthy text message on Brown's phone.
The message had been sent by a woman with whom he had sexual relations in the past.
At that point, a verbal argument began.
By that stage, tensions between the two had been simmering for a while, as Rihanna had recently caught him in a lie about a previous "rendezvous."
The verbal argument became physical when Brown pulled his silver Lamborghini over and attempted to force Rihanna out. However, the singer had her seatbelt on and was able to resist him.
After failing to eject his girlfriend, Brown shoved her head against the passenger-side window, punched her in the face, and then sped off again.
Brown repeatedly struck Rihanna in the face with his free hand while they were driving through Hancock Park. He also shouted that he was going to "beat the sh*t out of her" once they got home.
Shortly afterwards, there was a brief lull in the assault, during which Rihanna picked up her phone and called her assistant. Although the call rang out and went to her assistant's voicemail, the singer pretended otherwise.
During the pretend conversation, she asked her assistant to call the police and send them to her home address.
After hearing what had been said, Brown became enraged and shouted, "You just did the stupidest thing ever! Now I'm really going to kill you!"
When he started punching her again, Rihanna tried to defend herself by locking her arms over her head and kneeling forward. Undeterred, he continued striking her over the head and on the left arm.
Moments later, when there was another pause in the attack, Rihanna attempted to send a text message to a different personal assistant. However, Brown was quick to grab the phone from her hands and toss it out the window.
As they continued on their journey back to the house, she picked up his phone and tried to make another phone call.
When he saw what she was trying to do, he put her in a headlock with his right arm, pulled her towards him, and then bit her on the ear. While all this was unfolding, the vehicle was reportedly swerving from side to side.
Moments later, he stopped at this exact spot on North June Street.
Once the car was stationary, Rihanna quickly turned off the engine and hid the car keys underneath her body.
After realizing that she had taken the keys, he punched her again and put her in a headlock, squeezing her neck so tightly that she felt like she was losing consciousness.
Desperate and struggling to breathe, she reached up and attempted to gouge his eyes. In response, Brown bit her fingers, released her from the headlock, and started punching her again.
At that point, Rihanna turned her back to the passenger-side window and used her legs to keep him at a distance. Although he continued striking her on the legs, he eventually backed off when she started screaming for help at the top of her lungs.
Believing that she may have tossed the car keys out of the window, he jumped out of the vehicle and began searching for them. However, he gave up shortly afterwards and left the scene on foot.
While the assault was taking place, a neighbor heard the screams and called 911, prompting a police response.
When the LAPD arrived at the scene, Rihanna told them that she had been the victim of a domestic violence assault. She also used one of the officers' phones to call her personal assistant, Melissa Ford.
Shortly afterwards, Brown also called Ford. Although he initially pretended as though nothing had happened, that changed when Ford told him that she had already spoken to Rihanna.
After being informed that a neighbor had heard the screams and called the police, he reportedly asked Ford if Rihanna had mentioned his name. When Ford said that she had, he immediately hung up.
Later that day, at around 7 p.m., Brown surrendered himself to the police and was subsequently charged with two felonies: assault likely to cause great bodily injury and making criminal threats.
On June 22nd, 2009, he pleaded guilty to the charges and was given five years of probation, six months of community service, and one year of domestic violence counseling.

Further information is available in the "Photos" section below.
Rihanna assault location
Below, you will find the address and the GPS coordinates for this location.
Address
North June Street, Los Angeles, California, CA 90004, USA
Map
To view directions on how to get there, you can use the Google Maps shortcut below:
GPS coordinates
The latitude and longitude coordinates for the street are:
34.077274, -118.334614
Directions
The assault occurred in the Hancock Park neighborhood of Los Angeles. Brown stopped his Lamborghini about 400 feet north of the intersection between North June Street and Beverly Boulevard.
Photos
Photos of the street and other related images.
---
Rihanna's injuries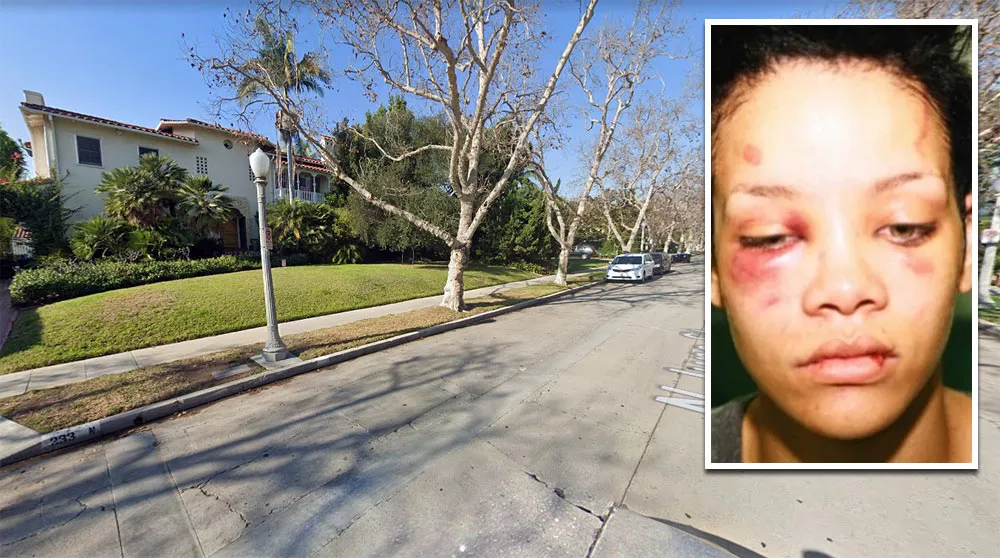 Although Brown's assault on Rihanna began elsewhere, it ended at this section of North June Street.
On the right, you can see a police photograph of Rihanna that was taken after the attack. The Barbadian singer suffered multiple injuries to her face, arms, hands, and legs. She had contusions on her face, and her lip was split. There were also bite marks on her arm and fingers.
333 North June Street

The affidavit states that Brown stopped his car outside 333 North June Street.
After failing to find his car keys, he left the scene on foot.
Clive Davis' pre-Grammy party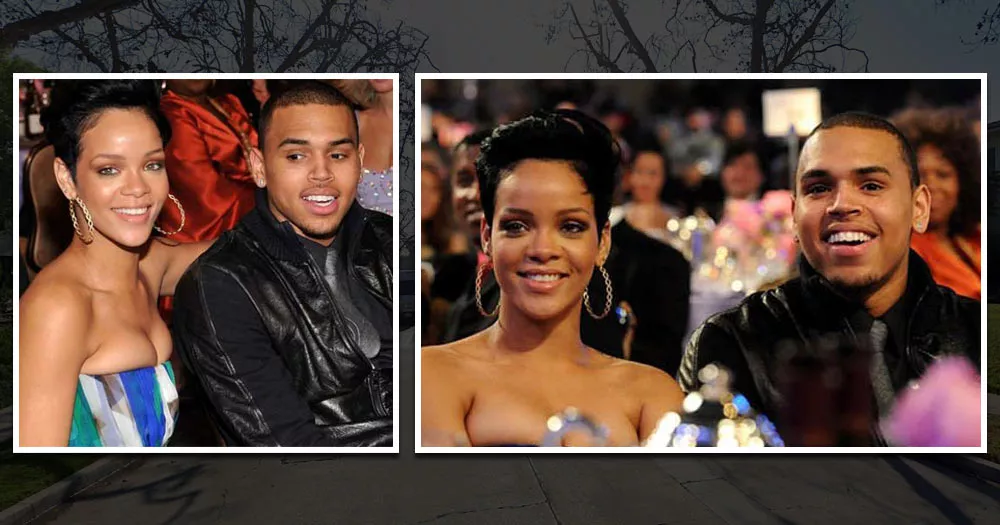 On the night of the incident, the couple attended Clive Davis' pre-Grammy gala at the Beverly Hilton hotel.
Brown said that the couple started arguing after a woman that he had previously slept with showed up at the party.
He claimed that he allowed Rihanna to look through his phone to ease her concerns.
While she was looking at his phone, she discovered an unread text message from the woman in question, in which she told Brown that she was going to be at the pre-Grammy gala.
This led to a verbal argument, which turned physical after Brown tried to force Rihanna out of his vehicle.
Closest Locations
Other locations that are relatively close to this address: Roughly one mile away.
Death Location in Los Angeles, California Roughly 2 miles away.
Crime Location in Los Angeles, California Roughly 2 miles away.
Arrest Location in Los Angeles, California