Hugh Grant's arrest location
Arrest Location in Los Angeles, California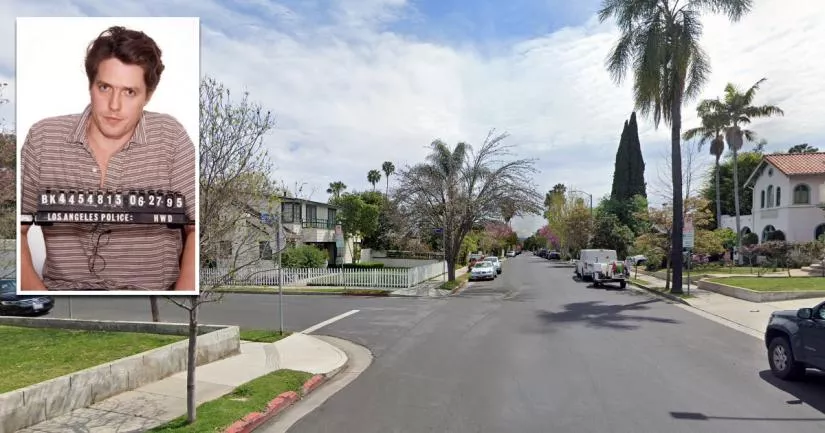 This is the location where actor Hugh Grant was arrested for lewd conduct.
It is situated on the corner of Curson Avenue and Hawthorn Avenue in Los Angeles, California.
In the early hours of June 27th, 1995, the LAPD were conducting a vice operation when they noticed a car stopping at the intersection of Sunset Boulevard and Courtney Avenue. Moments later, a known sex worker named Divine Brown approached the vehicle, spoke to the driver, and jumped into the passenger seat.
After picking up Brown, the car drove east and turned left onto Curson Avenue. It then continued north until it came to a stop at this corner by Hawthorn Avenue.
When the officers who were tailing the vehicle saw that it had parked up, they got out and slowly walked towards it.
At that point, they witnessed a lewd oral act being performed and decided to arrest the occupants.
Not long after, it emerged that Divine Brown's client was actually Hugh Grant, an English actor who was in Hollywood to promote his upcoming film Nine Months (1995).
The incident quickly became a huge celebrity scandal, as Grant was in a high-profile relationship with actress Elizabeth Hurley.
Later that week, he agreed to go ahead with a previously scheduled appearance on "The Tonight Show with Jay Leno." During his interview, he admitted that he did a "bad thing" and that he didn't have any valid excuses for his behavior.
After pleading "no contest" to charges of lewd conduct, the actor was fined and given two years of informal probation. The judge also ordered him to complete an AIDS awareness program.
Grant's relationship with Hurley initially survived the incident, as she stuck by him. However, they eventually split in May 2000.

Further information is available in the "Photos" section below.
Hugh Grant arrest location
Below, you will find the address and the GPS coordinates for this location.
Address
North Curson Avenue, Los Angeles, California, CA 90046, USA
Map
To view directions on how to get there, you can use the Google Maps shortcut below:
GPS coordinates
The latitude and longitude coordinates for the street are:
34.099887, -118.354945
Directions
The corner where Grant was arrested is roughly 215 yards north of the intersection between Sunset Boulevard and Curson Avenue.
Photos
Photos of the street and other related images.
---
Hugh Grant's arrest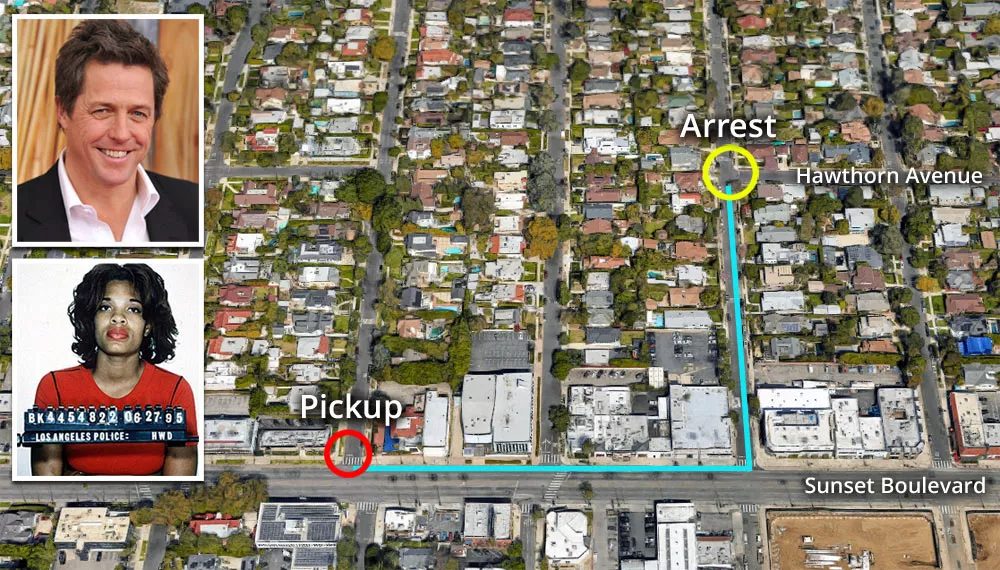 This aerial image highlights the short distance between the two locations.
Grant picked Divine Brown up on the corner of Sunset Boulevard and Courtney Avenue. He then drove 0.1 miles to a quiet residential area near Hawthorn Avenue (also referred to as Hawthorn Place).
Divine Brown's real name is Estella Marie Thompson.
In 2007, Thompson told interviewers that the event had a positive impact on her life. She reportedly made more than one million dollars from media appearances, which allowed her to escape her lifestyle, buy a home in Beverly Hills, and put her children through private school.
It seems as though the positive impact was short-lived.
British tabloid newspapers recently reported that Thompson is living in a "tough neighborhood" in Atlanta. She is also currently facing charges of cruelty to children, battery, drug possession, and smuggling cocaine into a prison facility.
Courtney Avenue and Sunset Boulevard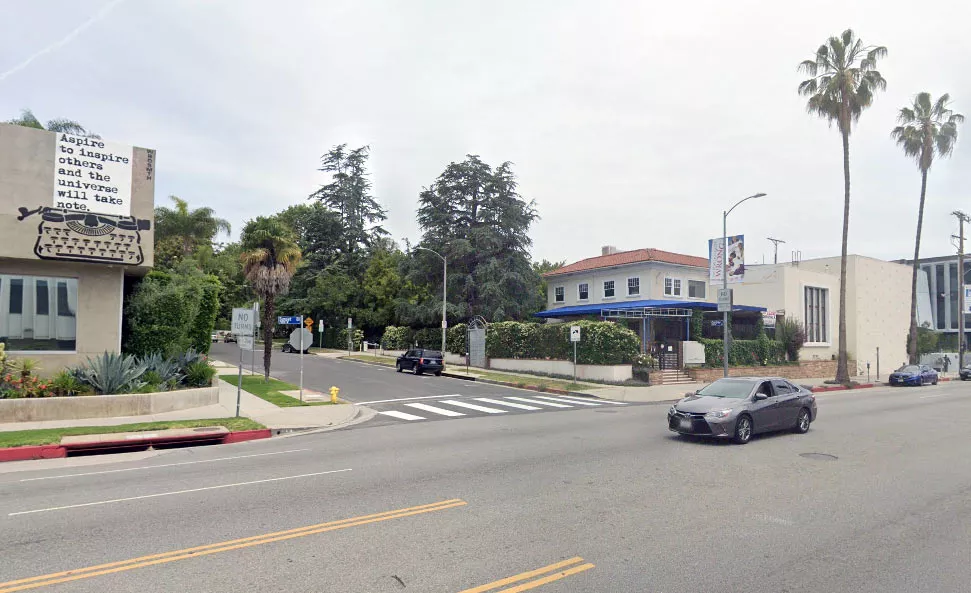 This Google Street View image of Courtney Avenue and Sunset Boulevard was taken in May 2019.
Grant reportedly came to the police's attention after he kept tapping his brakes. He then picked up Divine Brown at this corner before continuing east.
Coordinates: 34.098174, -118.357224
North Curson Avenue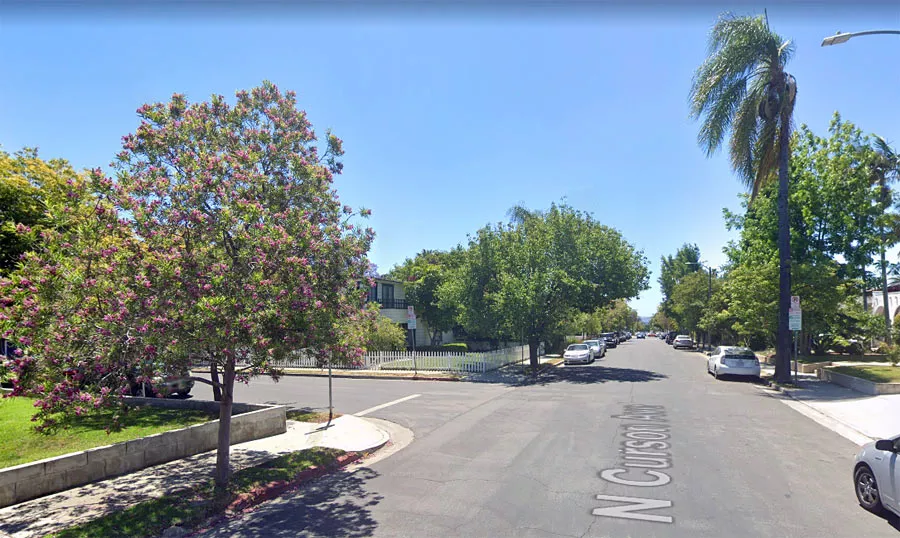 This Google Street View image of the corner between Curson Avenue and Hawthorn Place was taken in May 2022.
This is the location where the police caught Grant and Brown committing a lewd act.
Map Viewer
There is more than one location associated with this entry. To view all of these places on the same map, you can use the following feature:
This location belongs to the following categories:
Celebrities
Closest Locations
Other locations that are relatively close to this address: Roughly one mile away.
Death House in Los Angeles, California Roughly one mile away.
Crime Location in Los Angeles, California Roughly one mile away.
Death Location in West Hollywood, California