The location where Brian Wells was killed by a collar bomb
Crime Scene Location in Erie, Pennsylvania, United States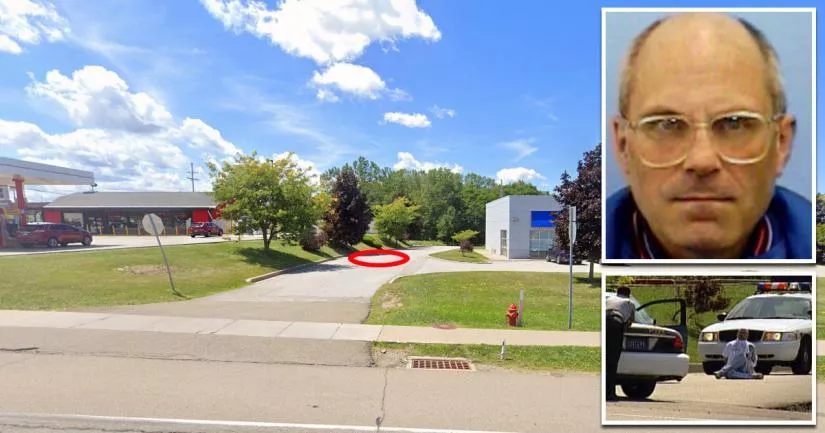 This is the location where Brian Wells was killed by a collar bomb.
It is situated at 7360 Peach Street in Erie, Pennsylvania.
The bomb exploded in the parking lot of a store called Eyeglass World.
Wells' murder was the subject of the Netflix documentary series, Evil Genius, which aired in May of 2018.
On the afternoon of August 28th, 2003, the 46-year-old pizza delivery man robbed a nearby bank called PNC Bank. When the police responded to the 911 call, they found him standing beside his car in this parking lot.
During his arrest, Wells claimed that a group of black men had placed a bomb around his neck.
After seeing the device, the officers immediately cordoned off the area and left Wells sitting in the lot with his hands handcuffed behind his back.
For the next 25 minutes, the police surrounded him and waited for the bomb squad to arrive. However, due to traffic congestion, they never made it in time.
Three minutes before they arrived, the device exploded, killing Wells almost instantly.
When investigators inspected his body, they found a nine-page handwritten note that had been addressed to "the bomb hostage." This note contained a list of addresses that Wells was supposed to visit after robbing PNC Bank.
Years later, it emerged that the bizarre incident was part of a complex conspiracy to finance a murder-for-hire. Furthermore, it is believed that Wells was a willing participant in the plot. However, he wasn't aware that he would be wearing a live bomb until the last moment.
The mastermind of the crime was a woman named Marjorie Diehl-Armstrong, who wanted to kill her elderly father and gain access to her inheritance. At the time, she was reportedly worried that he was blowing through his fortune, which was valued somewhere between $500,000 and $1.8 million.
When a drug dealer named Kenneth Barnes offered to carry out the hit for $250,000, Diehl-Armstrong reasoned that the best way to raise the money was to rob a bank.
Multiple people took part in the planning of the robbery. This included Marjorie Diehl-Armstrong, Kenneth Barnes, William "Bill" Rothstein, Floyd "Jay" Stockton, and the eventual victim, Brian Wells.
It is believed that Wells' co-conspirators killed him to tie up loose ends and prevent him from speaking out, as investigators determined that it would have been impossible for him to complete the route before the bomb exploded.

Further information is available in the "Photos" section below.
Brian Wells death location
Below, you will find the address and the GPS coordinates for this location.
GPS coordinates
The latitude and longitude coordinates for the parking lot are:
42.052745, -80.085892
Map
To view directions on how to get there, you can use the Google Maps shortcut below:
Address
The full address for this location is:
7360 Peach Street
Erie
Pennsylvania
PA 16509
United States
Directions
The location where Wells died is roughly 130 yards (120 meters) east of the intersection between Peach Street and Summit Towne Center.
Details about the general area
Erie is a city in the northwest corner of Pennsylvania. It faces Lake Erie and is close to the state line with Ohio.
Photos
Photos of the parking lot and other related images.
---
Death location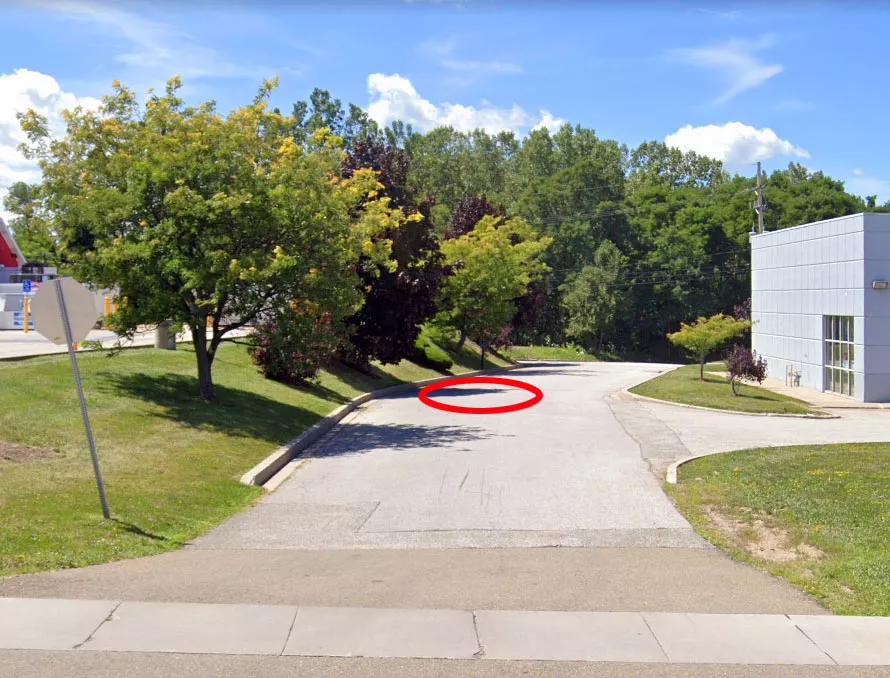 This Google Street View image of 7360 Peach Street was captured in August of 2022. The lot sits on the southern side of an optical retail store called Eyeglass World.
The red ellipse marks the exact spot where Wells was sitting.
During the standoff, he became panicked and pleaded with the police to remove the device. However, it exploded before the bomb squad could arrive.
Wells was killed almost immediately, as the blast created a fist-sized hole in his chest.
Brian Wells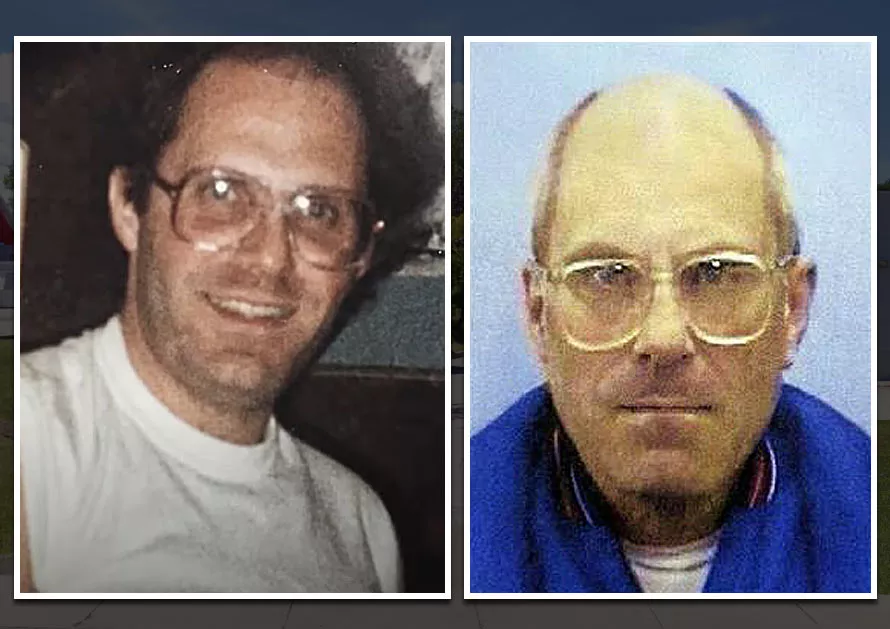 Although Wells' family claimed that he was an unwilling participant in the robbery, the evidence suggested otherwise.
Two witnesses swore under oath that he had previously talked to them about the plot. Furthermore, he was seen leaving the house of one of the conspirators on August 27th, 2003, which was one day before the robbery.
Employees and customers at PNC Bank said that he was confidently swinging his cane around and sucking on a lollipop during the robbery. This was considered strange behavior for a man who supposedly believed that his life was in danger.
To add to all of this, both Diehl-Armstrong and Barnes said that Wells was a willing participant.
According to Barnes, Wells attempted to back out when he learned that the collar bomb was real. However, he was held at gunpoint until he agreed to put it on.
After leaving PNC Bank, he was supposed to hand the money over to Rothstein in a nearby parking lot and then continue with the bogus scavenger hunt. However, Rothstein reportedly panicked and drove away from the scene when he noticed that a customer was following Wells out of the bank.
During the investigation, it was determined that the route laid out in the fake ransom note was too long for Wells to complete in time. This led the authorities to believe that Wells' co-conspirators intended to kill him, regardless of whether he was successful or not.
Notably, the robbery did not go according to plan, as the bank manager was on lunch at the time and none of the other employees had the ability to open the vault door. Consequently, he made off with far less than the required $250,000.
PNC Bank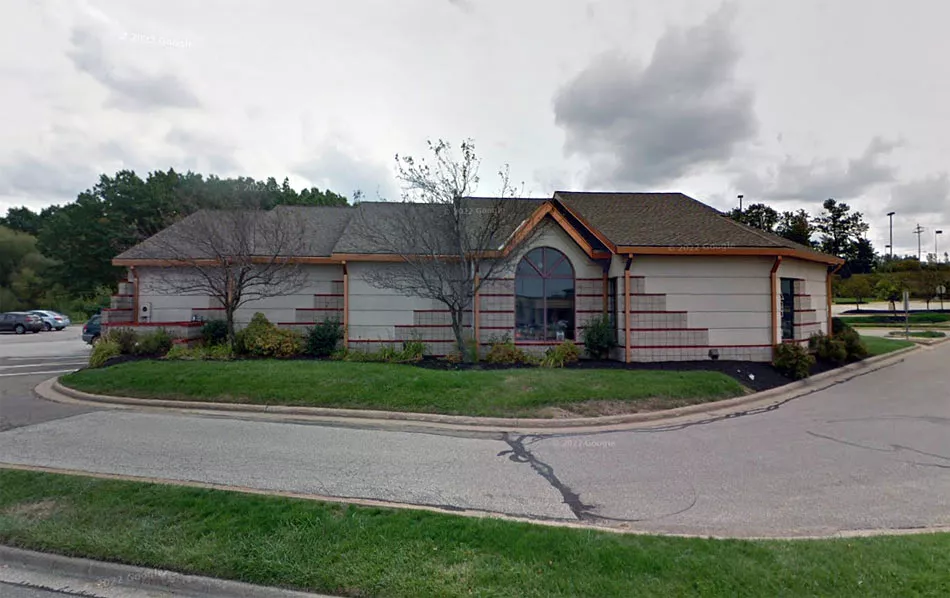 Image source: Google Maps
PNC Bank was situated in Summit Towne Center at 7200 Peach Street, Erie.
These days, the building is home to a health care provider called UPMC Urgent Care.
At 2.27 p.m. on August 28th, 2003, Wells calmly walked into this building and gave one of the bank tellers a note. The note claimed that the bomb around his neck would explode if he wasn't given $250,000 within 15 minutes.
The robbery was doomed from the start, however, as the teller didn't have access to the vault. Realizing that he was out of options, Wells took $8,702 from the cash drawers and then left.
While all of this was unfolding, William Rothstein was reportedly parked in a nearby lot, waiting to take the money.
However, he fled the scene when he noticed that a customer seemed to be following Wells out of the building.
Coordinates: 42.052399, -80.088502
Map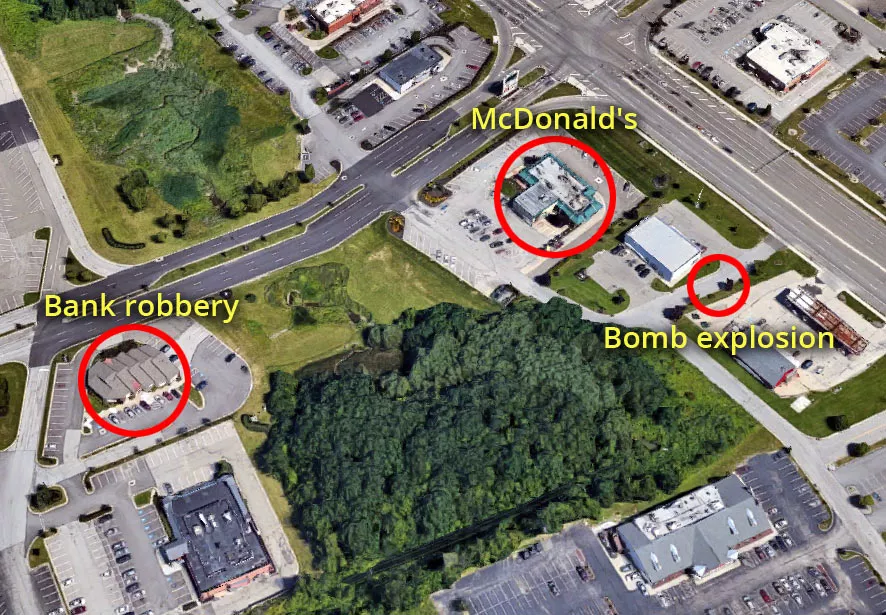 Image source: Google Maps
As you can see from this aerial map, Wells did not get very far in his "scavenger hunt".
He only managed to make it to one stop (McDonald's) before the police arrested him in the Eyeglass World parking lot.
Gas station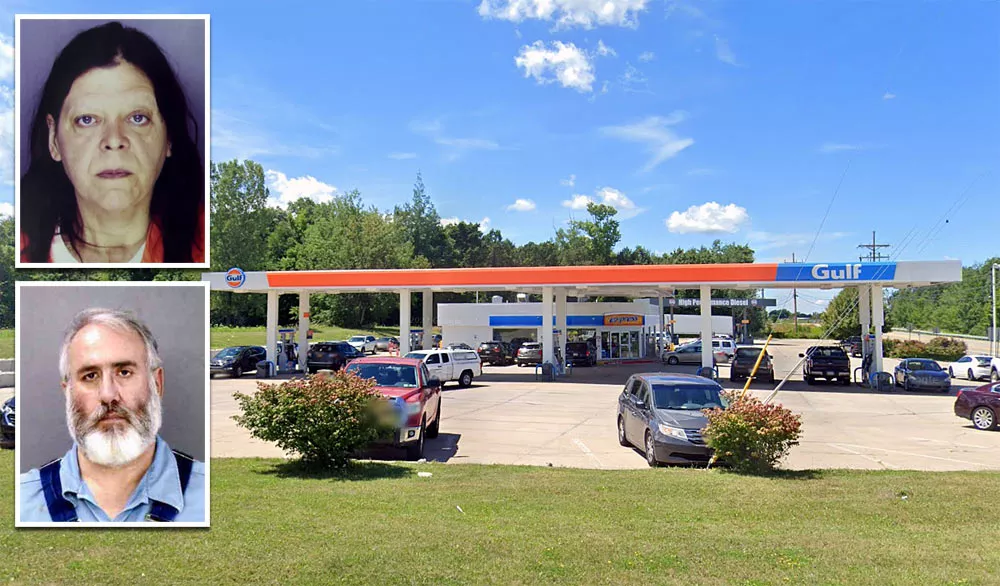 The events of that fateful day started at 1.30 p.m., when Diehl-Armstrong (top-left) and Rothstein (bottom-left) called Mama Mia's Pizzeria from a payphone at this gas station.
At the time, this was the location of a Shell station. These days, it operates under the name Gulf.
During the call, they ordered two pizzas for 8631 Peach Street, which was the address of a WSEE-TV transmitter tower.
Coordinates: 42.043698, -80.075784
Mama Mia's Pizzeria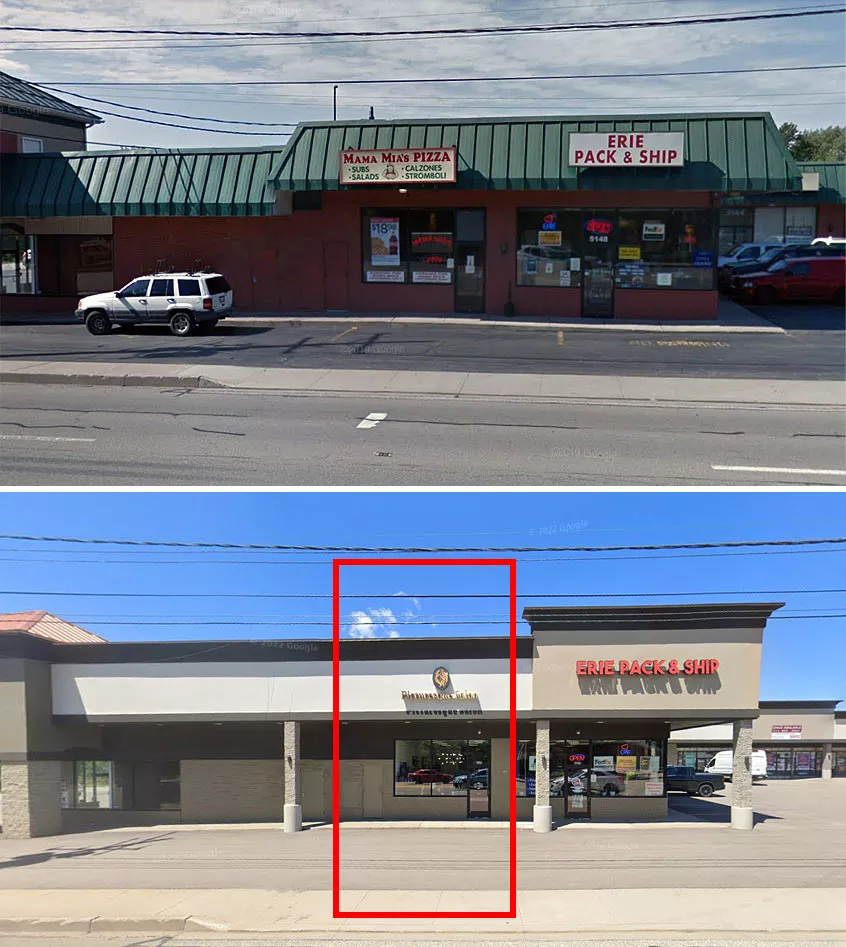 At the time of the murder, Mama Mia's Pizzeria was situated at 5154 Peach Street.
It moved to a new address in 2019 after a fire damaged the plaza. Judging by recent Google Street View images, the building has since been repaired and is now home to a salon.
Wells was working as a delivery driver for Mama Mia's Pizzeria.
When Diehl-Armstrong and Rothstein called from the gas station, he left the store with their order and drove to the transmitter tower.
Of course, all of this was preplanned to give the impression that he had been ambushed by strangers.
Coordinates: 42.078454, -80.091982
Bill Rothstein's house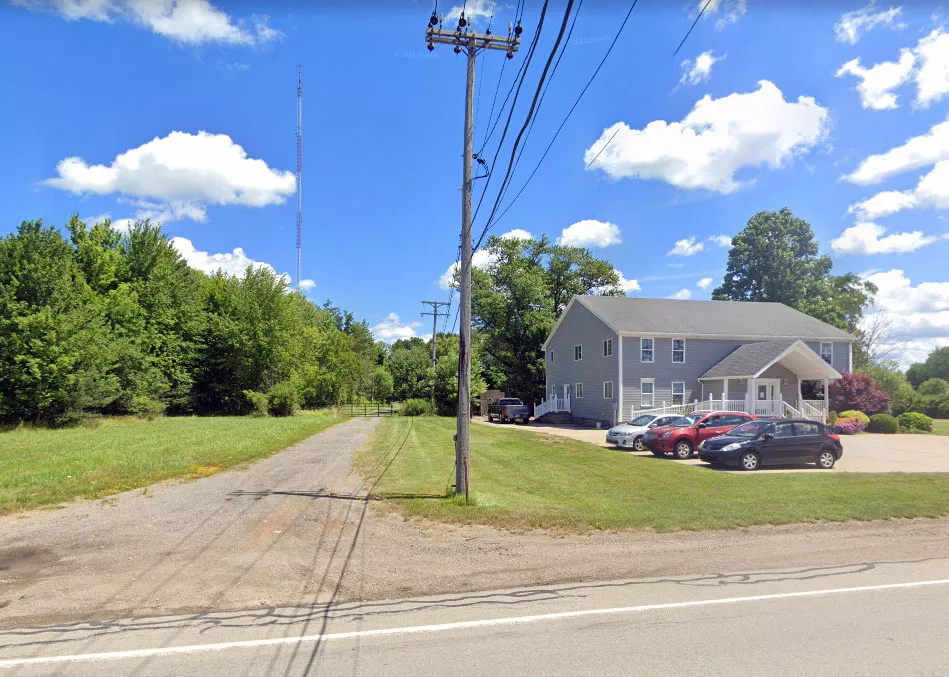 This is the entrance to the WSEE-TV transmitter tower in Erie.
Bill Rothstein's house was situated right beside the entrance. These days, the property no longer exists, as it was demolished after Rothstein died from lymphoma on July 30th, 2004. The gray house in the Google Street View image above was built in 2006.
Brian Wells was seen leaving this address just one day before the robbery took place. The FBI believes that he was taking part in a "rehearsal".
On the afternoon of August 28th, 2003, the quiet-spoken delivery man traveled to the transmitter tower under the guise of delivering two pizzas. When he got there, Rothstein, Diehl-Armstrong, Barnes, and Stockton were all waiting for him.
He tried to back out of the plot once he learned that the collar bomb wasn't fake. However, he was forced to change his mind after a member of the group brandished a gun and fired a warning shot.
It seems as though Wells was doublecrossed by his co-conspirators, as the timer on the collar bomb was too short for him to successfully complete the route in time.
Coordinates: 42.035697, -80.065619
Transmitter tower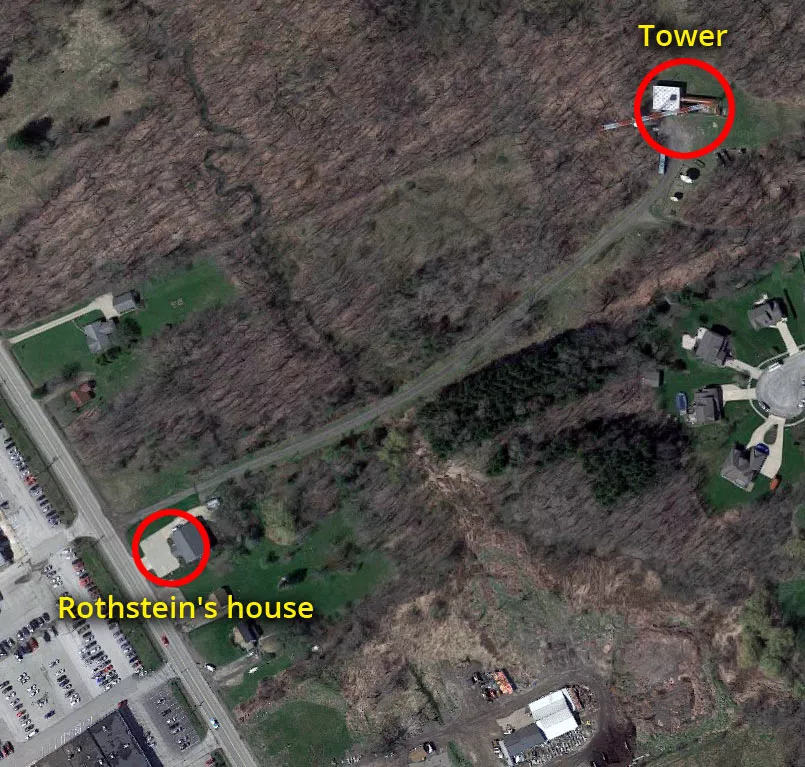 Image source: Google Maps
This aerial image illustrates the short distance between Rothstein's former house and the transmitter tower.
Coordinates: 42.037813, -80.062314
Conspirators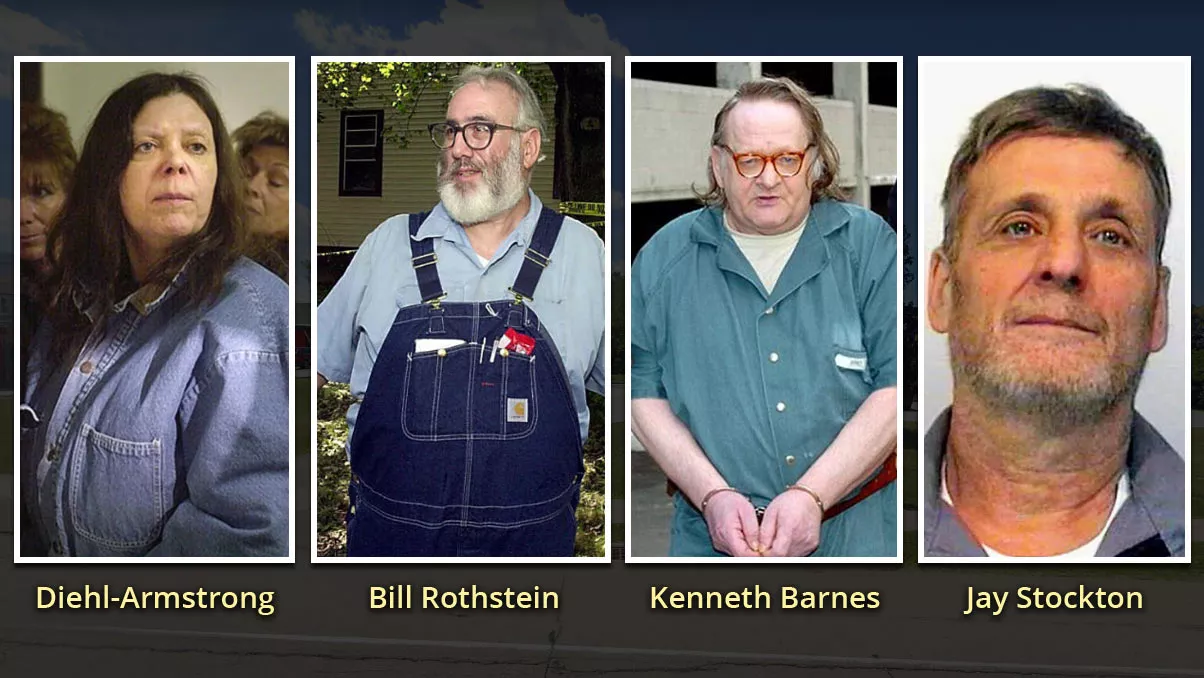 Like most conspiracies involving multiple individuals, it did not take long for it to fall apart.
Shortly after the robbery, Diehl-Armstrong shot and killed her boyfriend, James Roden, because she feared that he might contact the authorities and reveal the truth about what had happened.
Rothstein agreed to help her dispose of the body in exchange for money. However, he soon called 911 and confessed that Roden's remains were stored in a freezer in his basement.
During questioning, Rothstein told investigators that Diehl-Armstrong had murdered her boyfriend with a shotgun and that he had helped her clean up the crime scene.
Rothstein claimed that he called 911 because he didn't want to go through with her plan of putting the body through a wood chipper. There may have also been other factors at play. For example, he may have reasoned that they were eventually going to be connected to the crime and that the only way to avoid prison time was to come clean about it.
At the time, he was also very ill with non-Hodgkin's lymphoma. Therefore, we can't overlook the possibility that he didn't care anymore or that he was simply trying to make things right before he died.
When the police arrested Diehl-Armstrong, she publicly accused Rothstein of orchestrating the PNC Bank robbery and Brian Well's death.
However, there was no solid evidence to tie him to the incident.
Ten months after the 911 call, Rothstein died of lymphoma at the age of 60.
In January of 2005, Diehl-Armstrong pleaded "guilty but mentally ill" to her boyfriend's murder and was sentenced to 7–20 years in prison. Following the trial, she agreed to tell investigators everything about the robbery in exchange for a transfer to a minimum-security prison.
During a series of interviews, she played down her role in the plot and claimed that the recently deceased Rothstein had masterminded everything.
A few months later, Kenneth Barnes was arrested in connection with the crime after his brother-in-law contacted the police and turned him in. Barnes eventually pleaded guilty to the charges and agreed to testify against Diehl-Armstrong in exchange for a reduced sentence. The fourth conspirator, Jay Stockton, also agreed to take the stand.
In the end, Diehl-Armstrong was convicted and sentenced to life in prison.
Since then, everyone who was involved in the conspiracy has died.
Diehl-Armstrong died from breast cancer in April of 2017. Barnes, who suffered from diabetes, passed away in prison in June of 2019. Then, in August of 2022, Stockton died of respiratory failure.
Visualize
There is more than one location associated with this entry. To view all of these places on the same map, you can use the following feature:
This location belongs to the following categories:
Crime Scenes
Closest Locations
Other locations that are relatively close to this address: Roughly 101 miles away.
Crime Location in Lyndhurst, Ohio, United States Roughly 109 miles away.
Serial Killer House in Cleveland, Ohio, United States Roughly 127 miles away.
Serial Killer House in Akron, Ohio, United States Roughly 139 miles away.
Crime Location in Pittsburgh, Pennsylvania, United States Roughly 144 miles away.
Serial Killer House in Lorain, Ohio, United States