The location where Danny Greene was murdered
Crime Scene Location in Lyndhurst, Ohio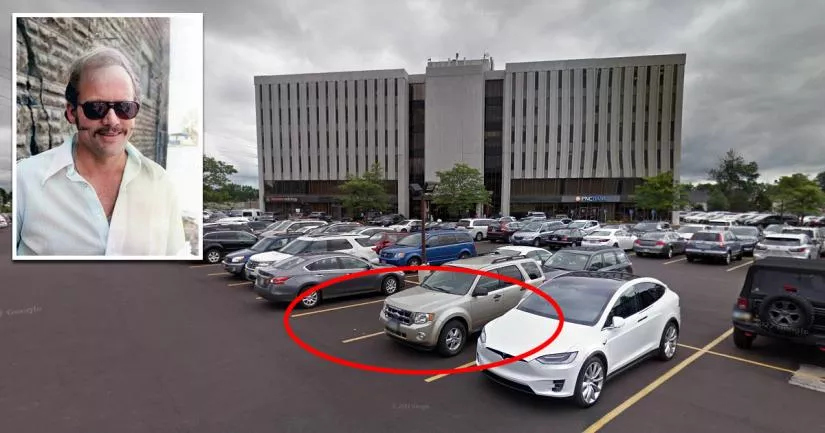 This is the location where a car bomb killed Danny Greene.
It is situated in the parking lot at 29001 Cedar Road in Lyndhurst, Ohio.
Greene was a union figure who became an associate of the Cleveland Crime Family. Although he originally started out as an enforcer for the mob, it wasn't long before he set about forging his own criminal empire.
During the 1970s, he established an Irish-American gang called "The Celtic Club", which began vying for control of the city's loan sharking, racketeering, and gambling operations. This put him at odds with the Jewish and Italian mafias, which viewed him as an emerging competitor.
The tipping point finally came in 1976, when Greene and an influential mobster named John Nardi joined forces to take on the newly appointed boss of the Cleveland Crime Family, James Licavoli.
This led to an all-out war between the two sides.
Over the course of the next few months, multiple senior mob figures were killed and injured in more than 30 separate car bomb attacks.
In May 1977, Greene's ally, Nardi, was assassinated outside of his Teamsters union office.
Following the murder, Licavoli reached out to Greene and offered him a ceasefire, which he accepted. However, Licavoli had no intention of letting bygones be bygones. Instead of peacefully coexisting alongside the Irishman, he saw the ceasefire as an opportunity to lure him into a false sense of security.
Five months later, following a lull in violence, Licavoli finally made his move.
After tapping Greene's phone, the mob learned that he had a dental appointment at this office building in Lyndhurst on the afternoon of October 6th, 1977.
While he was inside, two mafia hitmen parked a car bomb beside his vehicle and then waited for him to return. When Greene exited the building, his assassins watched him from afar as he strolled back to his Lincoln Continental, completely unaware that he was walking towards his own death.
Then, once he was close enough, one of the hitmen triggered the bomb remotely, killing him instantly.

Further information is available in the "Photos" section below.
Danny Greene death location
Below, you will find the address and the GPS coordinates for this location.
Address
29001 Cedar Road, Lyndhurst, Ohio, OH 44124, USA
Map
To view directions on how to get there, you can use the Google Maps shortcut below:
GPS coordinates
The latitude and longitude coordinates for the parking lot are:
41.501776, -81.476197
Directions
The Brainard Place office building sits on the northeastern corner of Brainard Road and Cedar Road. Greene's vehicle was parked in the lot that faces Brainard Road. It was situated in the second most westerly row, close to a lamp post.
Details about the general area
Lyndhurst is an eastern suburb of Cleveland, Ohio.
Photos
Photos of the parking lot and other related images.
---
Brainard Place office building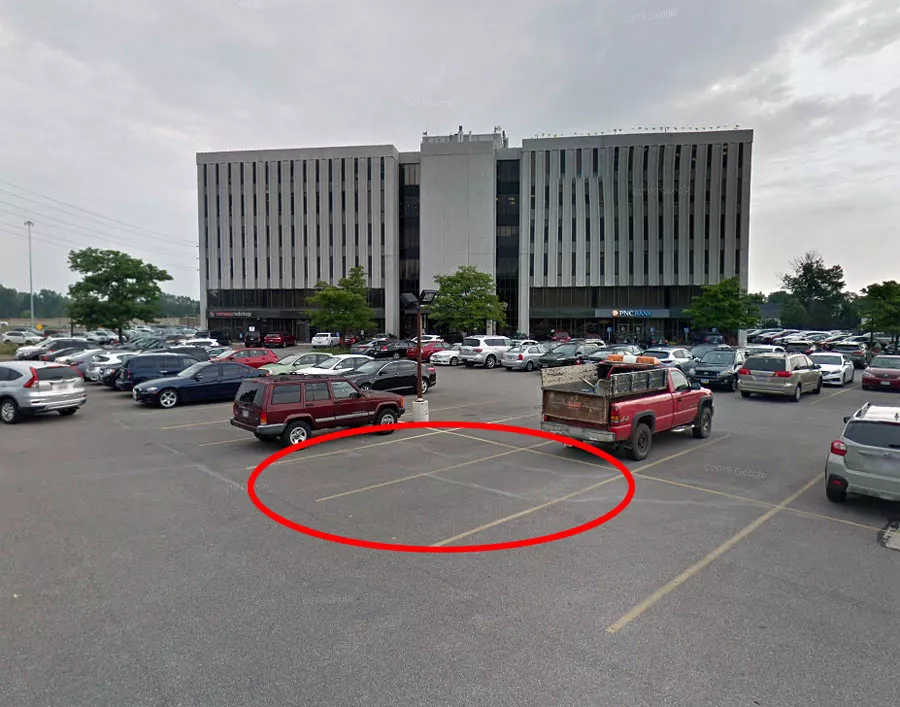 This Google Street View image of the Brainard Place office in Lyndhurst was taken in August 2018—more than 40 years after Greene was killed.
The red ellipse highlights the general area where the car bomb exploded.
Despite the passage of time, the layout of the parking lot has remained largely unchanged.
Bomb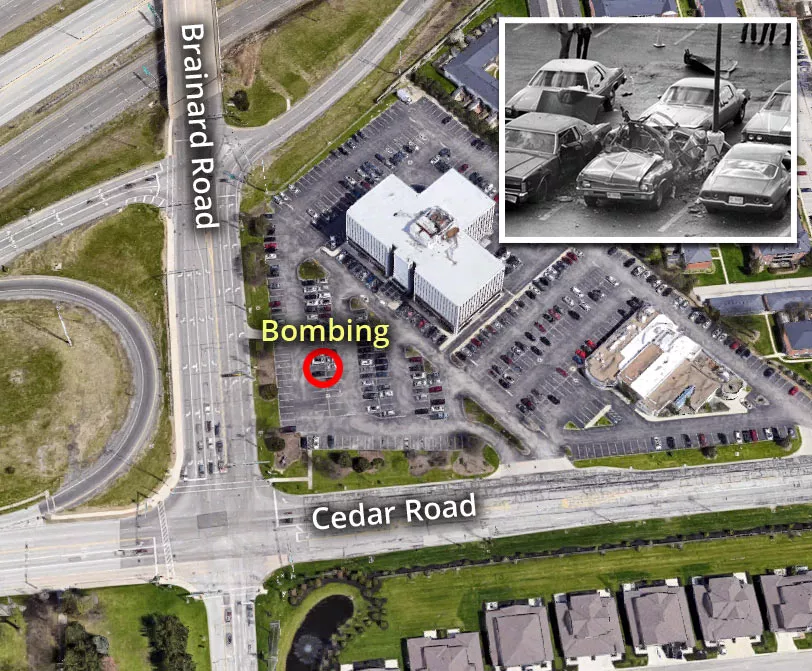 The remote control bomb exploded in the western parking lot, near Brainard Road.
The bomb was hidden inside an old Chevrolet that had been parked beside Greene's vehicle.
Notably, the device was similar to the one that killed his ally, John Nardi, in May 1977.
This was not the first time that the former union president had been targeted. Two years earlier, he narrowly survived a bombing that destroyed his house and office.
Danny Greene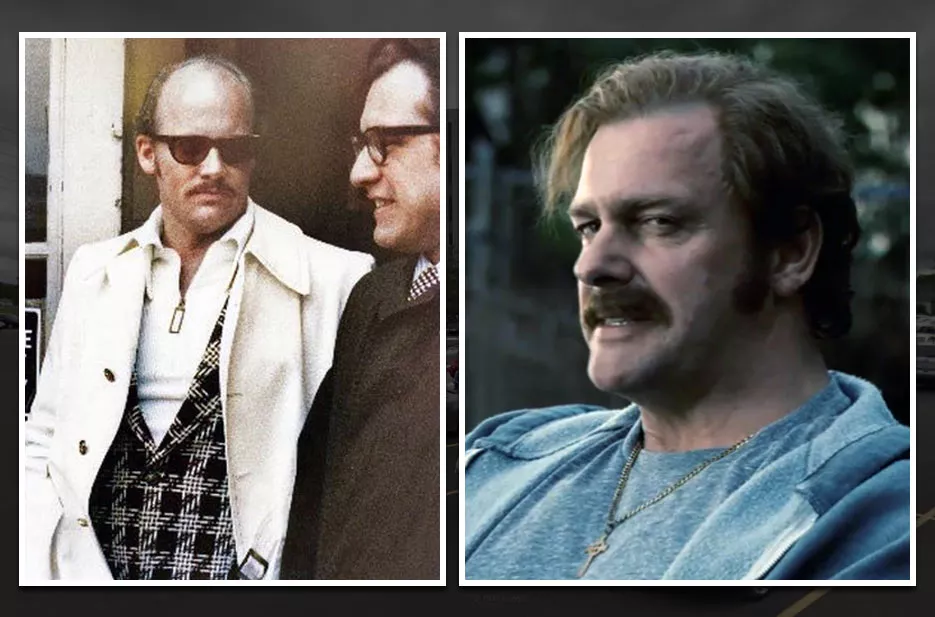 Greene rose to power after he was elected president of a labor union called the International Longshoremen's Association.
During his presidency, he embezzled funds, organized violent protests, and threatened company owners. When the ILA finally removed him from office, he began working as an enforcer for various Jewish and Italian crime figures.
Not long after, he established his own Irish-American gang called "The Celtic Club", which he used to muscle in on various criminal operations.
Pictured right is actor Ray Stevenson, who portrayed Greene in the biographical crime film Kill the Irishman (2011).
Ray Ferritto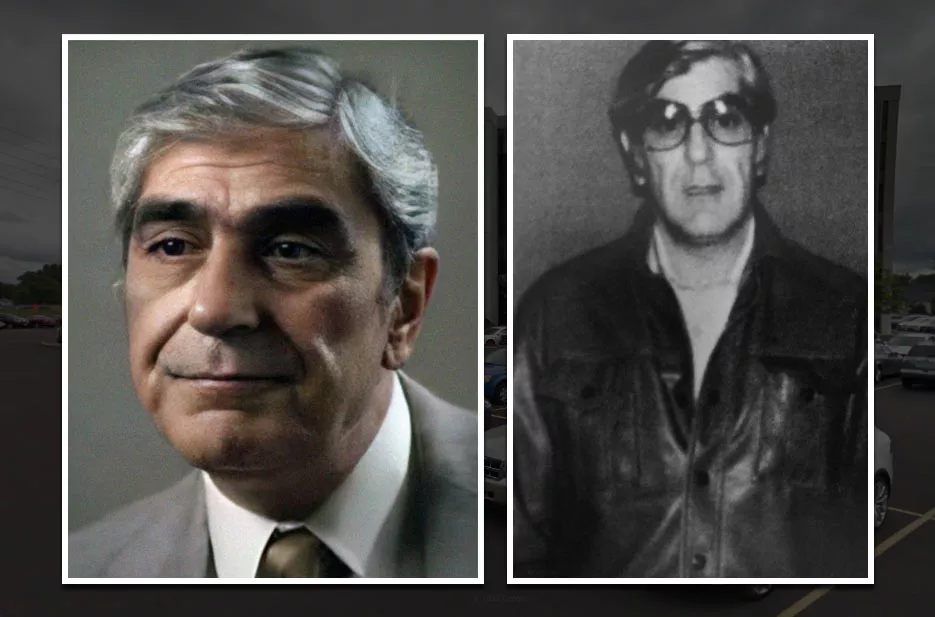 The boss of the Cleveland Crime Family, James Licavoli, hired a mafia enforcer named Ray Ferritto to assassinate Greene. Licavoli's associate, Ronald Carabbia, also took part.
However, Ferritto and Carabbia failed to be discreet, as a married couple called Greg and Debbie Spoth noticed their blue Plymouth driving suspiciously just before the explosion occurred.
The Spoths said that the hitmen slowed down beside the Brainard Place office building, stared at the parking lot, and then sped away after the device detonated.
Unfortunately for Ferritto, Debbie Spoth was a sketch artist who got a good look at his face. Using her accurate drawing of the suspect, the police were able to match it against a photograph of him that they had on file.
When the authorities raided his house in Erie, Pennsylvania, they found registration papers belonging to the Plymouth that was seen driving past the bomb site.
Upon hearing that Ferritto had been arrested for Greene's murder, Licavoli attempted to "tie up loose ends" by placing a contract on his head. However, this had the opposite effect, as Ferritto caught wind of the plot and immediately agreed to turn state witness.
Closest Locations
Other locations that are relatively close to this address: Roughly 101 miles away.
Crime Location in Erie, Pennsylvania