The location where Britney Spears' "lap photo" was taken
Place of Interest in Malibu, California, United States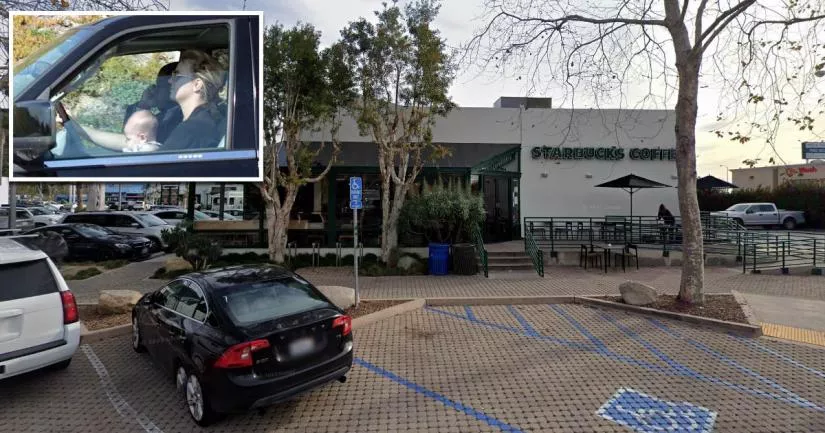 This is the Starbucks where Britney Spears' ill-famed "lap photo" was taken.
It is situated at 3900 Cross Creek Road in Malibu, California.
In February of 2006, the singer sparked controversy after she was photographed driving with her son, Sean Preston, sitting on her lap.
At the time, her son was just four months old, which meant that he should have been strapped into a car seat in the back.
The incident occurred after the pop star stopped at this Starbucks on Cross Creek Road on February 6th, 2006.
Spears was a regular visitor to the coffee shop, as it was a short distance from her house. This fact was not lost on members of the paparazzi, who regularly hung around the parking lot in case she showed up.
On the day in question, she was reportedly "swarmed" by the paparazzi, whom she described as being "physically aggressive."
Fearing that they were putting her son in danger, she allegedly jumped into her vehicle, drove out of the parking lot, and proceeded down Pacific Coast Highway with her son in her lap.
The photograph received worldwide media attention. It also led to the Los Angeles County Sheriff's Department visiting her home at the request of child welfare services.
Later, the singer admitted that she had exercised poor judgment. However, she remained adamant that she had been forced to take evasive action due to the aggressive behavior of the paparazzi.
Representatives from the celebrity gossip company that published the photograph denied Spears' claims, stating that it was taken in a "very peaceful context."
In their statement, they said the pop star's bodyguard had walked into Starbucks while she remained seated in the SUV with the infant on her lap.
Sadly, this incident proved to be the start of Spears' very public downfall.
In the two years that followed, she divorced Kevin Federline, shaved her hair off, ran a red light with her children in the vehicle, lost custody of her kids, and was placed under a conservatorship led by her father.
Notably, Spears wasn't the only celebrity who frequented this particular area of Malibu. According to celebrity gossip websites, the nearby Malibu Country Mart has been visited by the likes of Adam Sandler, Jessica Alba, Paris Hilton, Vince Vaughn, and Christian Bale.
Where is the Starbucks?
Below, you will find the address and the GPS coordinates for this location.
GPS coordinates
The latitude and longitude coordinates for the store are:
34.035213, -118.685126
Map
To view directions on how to get there, you can use the Google Maps shortcut below:
Address
The full address for this location is:
3900 Cross Creek Road
Malibu
California
CA 90265
United States
Directions
Cross Creek Road sits off the East Pacific Coast Highway in Malibu. The Starbucks coffee shop is near the entrance.
This location belongs to the following categories:
Celebrities
Closest Locations
Other locations that are relatively close to this address: Roughly 14 miles away.
Place of Interest in Santa Monica, California, United States Roughly 16 miles away.
Place of Interest in Los Angeles, California, United States Roughly 16 miles away.
Place of Interest in Tarzana, California, United States Roughly 16 miles away.
Crime Location in Encino, California, United States Roughly 17 miles away.
Crash Site Location in Los Angeles, California, United States