The Jury Room: Ed Kemper's favorite bar
Place of Interest in Santa Cruz, California, United States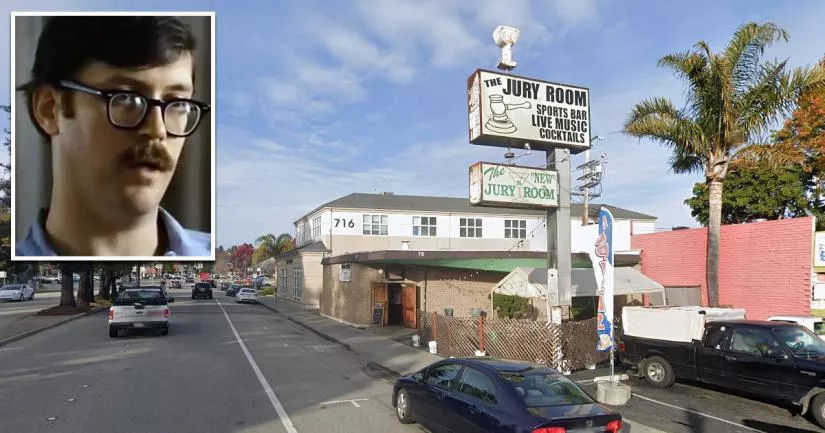 This is the bar where serial killer Ed Kemper liked to hang out.
It is called the Jury Room, and it is situated at 712 Ocean Street in Santa Cruz, California.
During the 1970s, it was a popular spot for police officers, prosecutors, and other law enforcement personnel.
Kemper, who lived in the nearby town of Aptos, spent a considerable amount of his free time here.
He wanted to become a state trooper after he was released from Atascadero State Hospital for killing his grandparents in 1964. However, he was rejected because he was 6 feet 9 inches tall.
Despite this rejection, he continued to visit "the Jury Room" and drink beer with off-duty policemen, many of whom viewed him as a friendly nuisance.
Following Kemper's arrest, fellow patrons were shocked to learn that the man they called "Big Ed" was actually "the Coed Killer"—a serial killer who had brutally murdered six young college students over the course of nine months.
Later, it was revealed that Kemper had actively discussed the case with a number of police officers and that he had been using the bar to stay up to date on the investigation.
Ten years after his arrest, he spoke about the bar during an interview:
"I'd buy them a beer. They'd buy me a beer. [These were] casual relationships. I was poking around a little bit, trying to find some things out. I knew that they wouldn't be privy to hot information, but there were some things that were bothering me, like was there any speculation on how they were dying? I was a friendly nuisance. I got in the way, and it was deliberate. Again, friendly nuisances are dismissed."

Further information is available in the "Photos" section below.
The Jury Room location
Below, you will find the address and the GPS coordinates for this location.
GPS coordinates
The latitude and longitude coordinates for the bar are:
36.978503, -122.020671
Map
To view directions on how to get there, you can use the Google Maps shortcut below:
Address
The full address for this location is:
The Jury Room
712 Ocean Street
Santa Cruz
California
CA 95060
United States
Directions
The bar is just 400 feet south of the intersection between Water Street and Ocean Street. It sits on the eastern side of the Santa Cruz courthouse.
Details about the general area
Santa Cruz is a city that lies to the south of San Jose and San Francisco.
Private Property Warning
This is a private property. It is not a public place. Therefore, you should be respectful and not step foot on the property without permission.
Please do not go inside unless you are planning on buying something.
Photos
Photos of the bar and other related images.
---
712 Ocean Street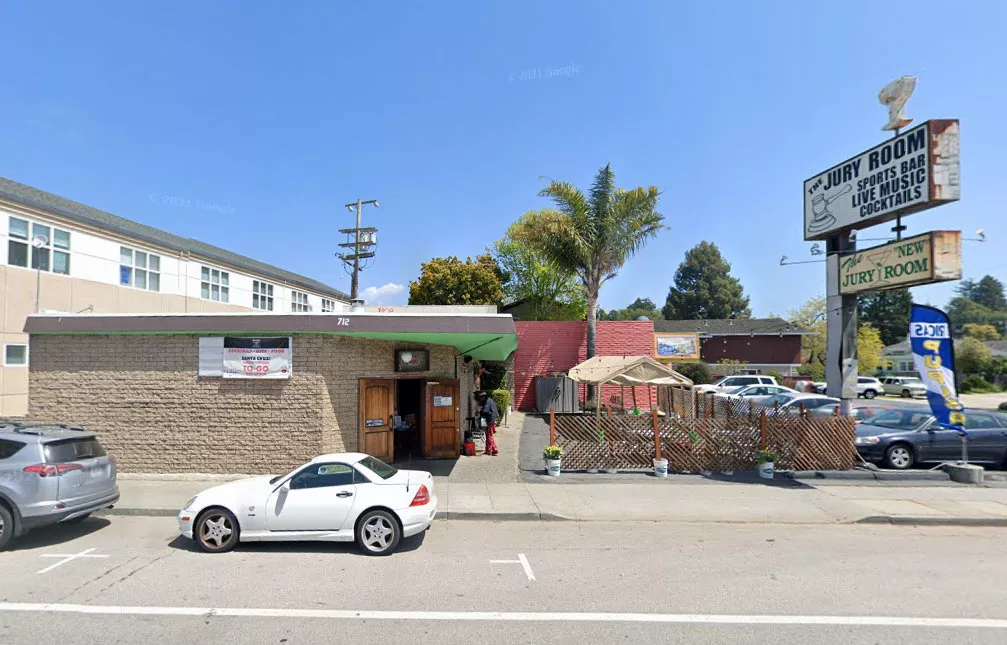 This Google Street View image was captured in April of 2021.
The bar is situated at 712 Ocean Street, which is just across the street from the Santa Cruz Courthouse.
Notably, the Jury Room doesn't attempt to sweep its ties with Kemper under the rug. Nor does it go out of its way to advertise them.
On one of the walls, there is a nondescript sign that quietly acknowledges the time he spent there.
Bar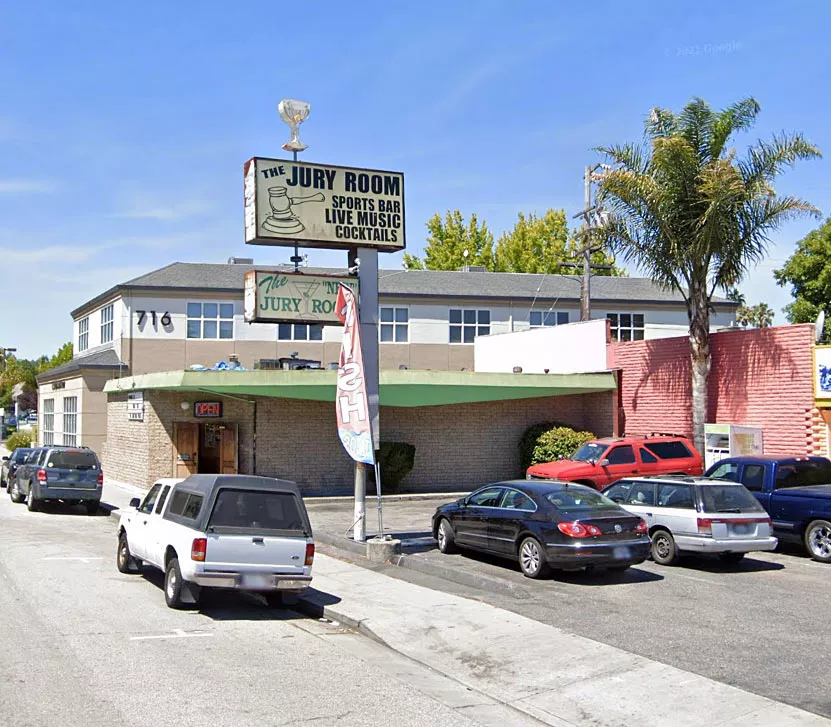 The Google Street View image above was taken in July of 2017.
Inside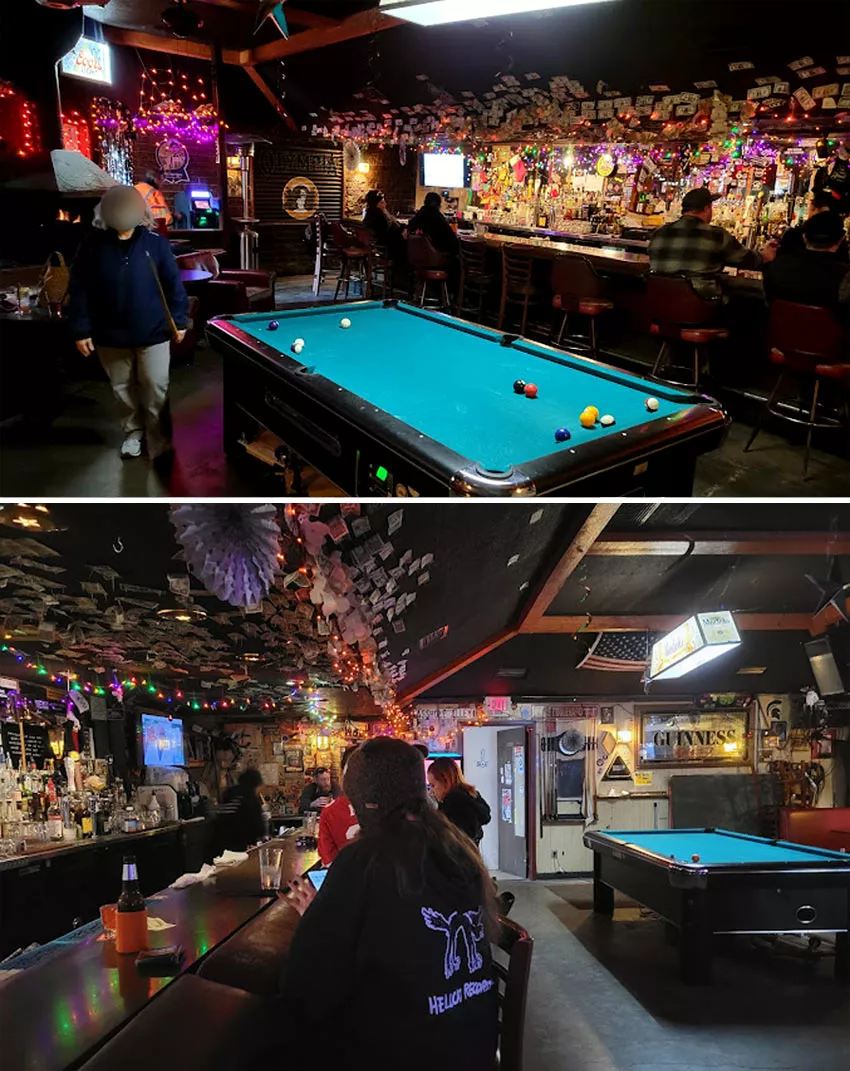 Image source: Judy A.
These photographs show the inside of the bar.
Closest Locations
Other locations that are relatively close to this address: Roughly 7 miles away.
Serial Killer House in Aptos, California, United States Roughly 76 miles away.
Crime Location in San Francisco, California, United States Roughly 86 miles away.
Place of Interest in Tiburon, California, United States Roughly 92 miles away.
Crime Location in Modesto, California, United States Roughly 96 miles away.
Crime Location in Benicia, California, United States