Ed Kemper's house
Serial Killer House in Aptos, California, United States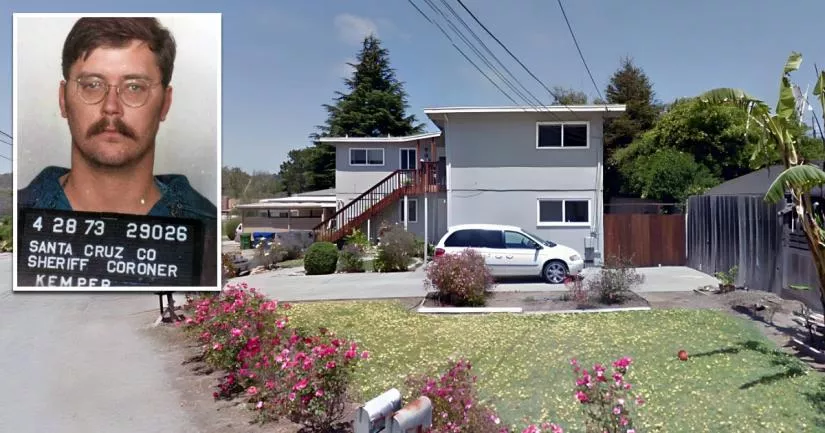 This is Ed Kemper's former house.
It is situated at 609A Harriet Avenue in Aptos, California.
According to news reports, the correct address is actually 609A Ord Street. However, Google Maps seemingly misidentifies the property.
Kemper was a serial killer who murdered eight women between 1972 and 1973. He was nicknamed the "Co-ed Killer" because he targeted young college students.
Kemper murdered his grandparents in 1964
Although his serial killings began in 1972, he committed his first murders in 1964, when he was just 15 years old.
On August 27th, 1964, Kemper shot and killed his grandmother with a hunting rifle after the pair had a heated argument. When his grandfather returned home from the grocery store, he decided to shoot him as well.
According to Kemper, he shot his grandfather because he wanted to spare him from finding out that his wife was dead. He was also reportedly afraid of what his grandfather might do if he walked into the kitchen and found her body.
After killing his grandparents, the large 6'9" teenager called 911 and calmly waited on the porch for the police to arrive.
Following his arrest, a court psychiatrist incorrectly diagnosed him with paranoid schizophrenia. As a result, he was sent to Atascadero State Hospital for the Criminally Insane.
Mental health specialists at Atascadero quickly realized that Kemper was highly intelligent, as tests showed that he had an IQ of 145.
They also disagreed with the court psychiatrist's diagnosis that he had schizophrenia. In their opinion, the 15-year-old exhibited no signs of paranoid delusions, bizarre thoughts, or hallucinations. Instead, he was extremely logical, introspective, and astute.
Release
In December of 1969, a parole board released Kemper into the care of his mother, who was divorced and living at this house in Aptos, California. Following his release, he began attending a local community college. He also started hanging out at a Santa Cruz cop bar called the Jury Room.
Although "Big Ed" had hopes of becoming a police officer, he was ultimately rejected due to his large size.
The Co-ed Killer
Kemper's serial killings began on May 7th, 1972, when he picked up two college hitchhikers called Anita Mary Luchessa and Mary Ann Pesce in Berkeley. After agreeing to take them to Stanford University, he drove for an hour before eventually pulling into a secluded, wooded area.
At that point, he handcuffed his victims and stabbed them to death. He then brought their corpses back to this duplex on Harriet Avenue, where he proceeded to engage in necrophilia.
In the nine months that followed, Kemper killed four more coeds.
In the case of 18-year-old student Cindy Schall, he buried her severed head in the garden of this house, facing upward towards his mother's bedroom window.
Kemper did this because he despised his mother, whom he claimed was a "sick angry woman" who refused to give him affection as a child. He later postulated that he had started killing young women because he didn't have the courage to face the true source of his rage.
Kemper murdered his mother
However, all of that changed on the night of April 20th, 1973, when his mother made a sneering, dismissive remark towards him.
After waiting for her to fall asleep, he crept into her bedroom and murdered her with a claw hammer. He then decapitated her body and spent an hour screaming and throwing darts at her severed head.
Later, he invited his mother's friend over to the house and strangled her to death as well.
Following the double homicide, Kemper drove off, expecting to become the target of a major manhunt. However, he became somewhat puzzled when the local radio stations failed to mention anything about the crime.
By that point, he had reasoned that the original motivation he had for killing people was now gone. Consequently, he decided to pull over, call the police from a payphone, and confess to his crimes.
The first person who picked up the phone refused to believe his story. However, when Kemper called back several hours later, he spoke to an officer that he personally knew.
This time, his confession was taken seriously, and the police arrived to take him into custody.
Arrest and imprisonment
Following his arrest, Kemper admitted to killing his mother and her friend. He also readily confessed to murdering six female college students.
During his trial, court-appointed psychiatrists testified that he was sane and that he had been fully aware of what he was doing throughout the course of his crimes.
In November of 1973, he was found guilty of eight counts of first-degree murder. Although he asked for the death penalty, the court was unable to grant his request, as the Supreme Court of California had recently ruled that the state's capital punishment laws were unconstitutional.
As a result, Edmund Kemper was given eight concurrent prison sentences of seven years to life.
The 74-year-old is currently incarcerated at the California Medical Facility in Vacaville, California, due to a stroke that he suffered in 2015.
Over the past four decades, he has been repeatedly denied parole. His next parole hearing is in July of 2024.

Further information is available in the "Photos" section below.
Ed Kemper house address
Below, you will find the address and the GPS coordinates for this location.
GPS coordinates
The latitude and longitude coordinates for the house are:
36.980169, -121.919468
Map
To view directions on how to get there, you can use the Google Maps shortcut below:
Address
The full address for this location is:
609a Harriet Avenue
Aptos
California
CA 95003
United States
Directions
Kemper lived on a small loop street called Ord Street. The easiest way to get there is to drive along McGregor Drive until you find the turn-off for Margaret Avenue. At that point, you will need to continue along Margaret Avenue until you see the street sign for Ord Street.
Details about the general area
Aptos is a small town in Santa Cruz County, California. It is about 20 miles south of San Jose.
Private Property Warning
This is a private property. It is not a public place. Therefore, you should be respectful and not step foot on the property without permission.
Photos
Photos of the house and other related images.
---
Ed Kemper's former house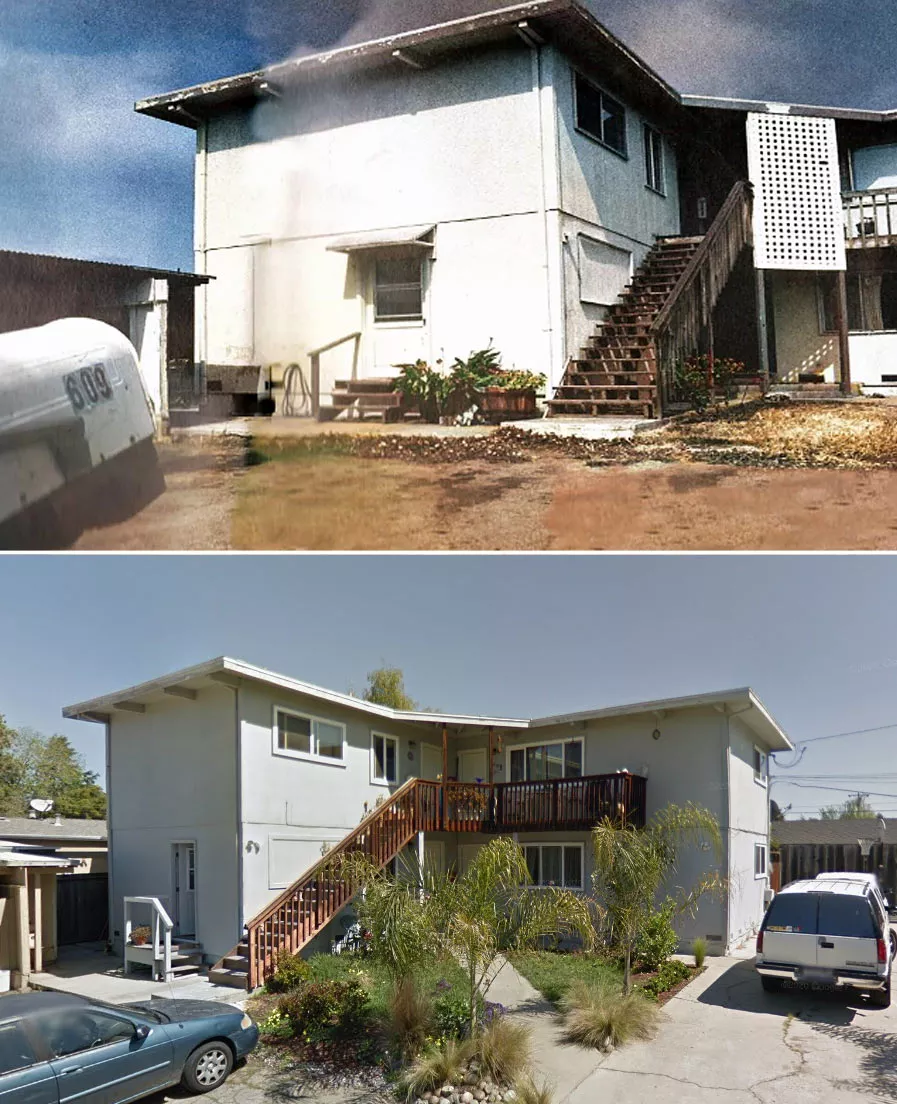 This is a "then and now" image of the house at 609A Harriet Avenue. The Google Street View image at the bottom was captured in March of 2015.
Ed Kemper lived at this duplex with his mother, Clarnell.
Notably, there seems to be some confusion about the address. Although Kemper's address was 609A Ord Street, Google Maps lists the duplex as 609A Harriet Avenue.
Furthermore, when you search for 609A Ord Street on Google Maps, it actually shows a property that sits behind Kemper's former house.
This confusion has led to people misidentifying the wrong location.
Clarnell Kemper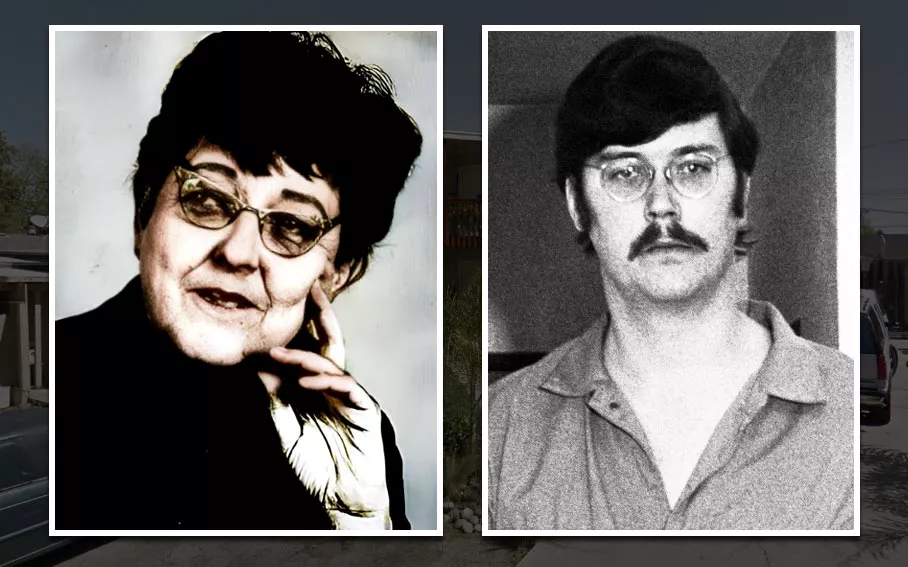 Kemper's relationship with his mother, Clarnell Strandberg (nee Kemper), was extremely toxic.
Various reports state that she was an abusive, domineering alcoholic who regularly belittled her son and made him feel inadequate.
When he was a child, she purposely refused to show him any love or affection in case it "turned him gay." Clarnell also made him sleep in a locked basement, as she feared that he might harm his sisters.
Growing up, he exhibited many of the attributes that we now associate with serial killers. He engaged in voyeurism, killed small animals, and developed deviant sexual fantasies.
These fantasies often involved him dismembering his sexual partner and "possessing" them.
On the night of April 20th, 1973, he walked into his mother's bedroom while she was reading a book. When she saw him walk in, she reportedly sneered, "I suppose that you want to sit up all night and talk now."
After hearing this comment, he quickly said goodnight and left.
However, a few hours later, he returned with a claw hammer and beat her to death while she was sleeping.
Victims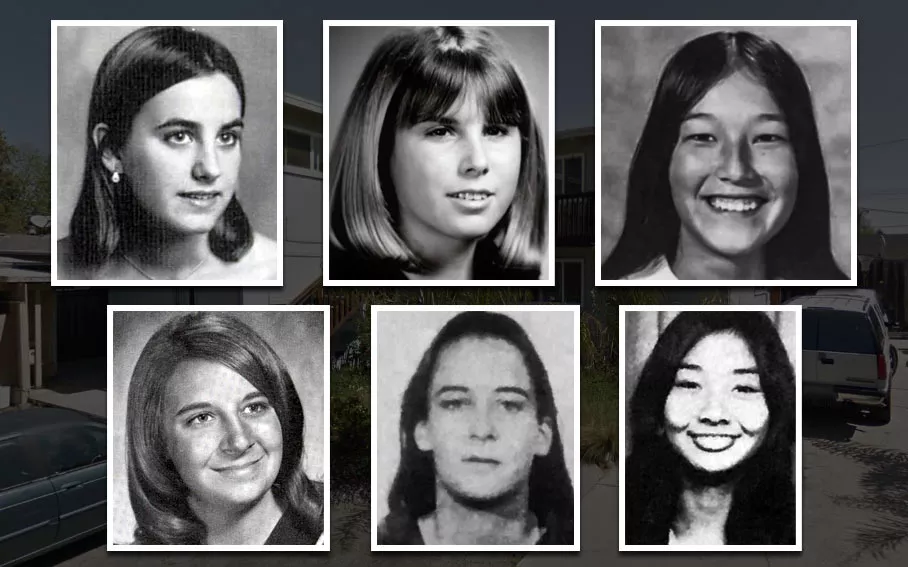 Ed Kemper murdered six coeds between May of 1972 and February of 1973.
The victims were Mary Ann Pesce (18), Anita Luchessa (18), Aiko Koo (15), Cindy Schall (18), Rosalind Thorpe (23), and Alice Helen "Allison" Liu (20).
His preferred M.O. was to pick up female hitchhikers and drive them to secluded wooded areas, where he would kill them with a knife, gun, or via manual strangulation.
After murdering them, he brought their remains back to his mother's house on Ord Street and engaged in necrophilia.
Once he was finished, he would dismember his victims' bodies, put the remains into plastic bags, and then dump them in remote locations.
Aerial image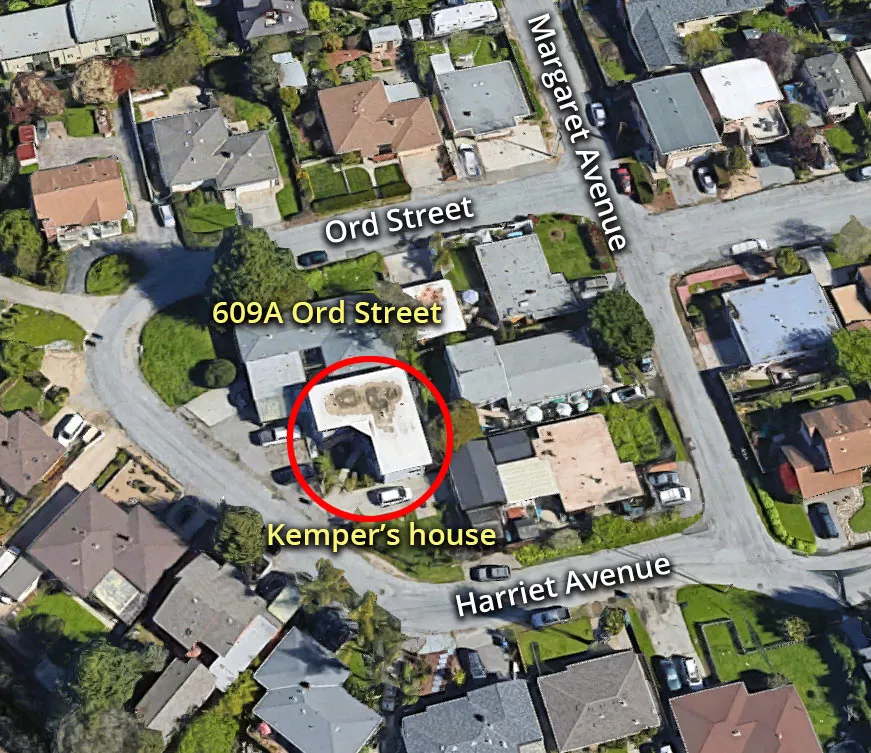 This aerial map shows the location of Kemper's former duplex. As you can see, Ord Street and Harriet Avenue are both part of the same loop street.
Google Maps seemingly misidentifies 609A Ord Street as the house behind the duplex.
609A Ord Street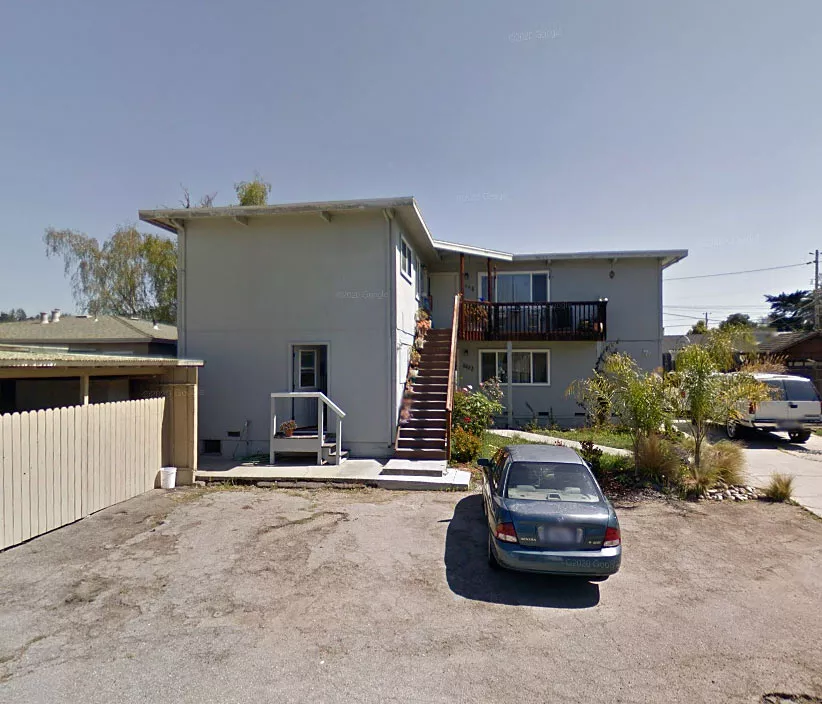 This Google Street View image shows the western side of the property.
Kemper and his mother lived on the ground floor.
Crime scene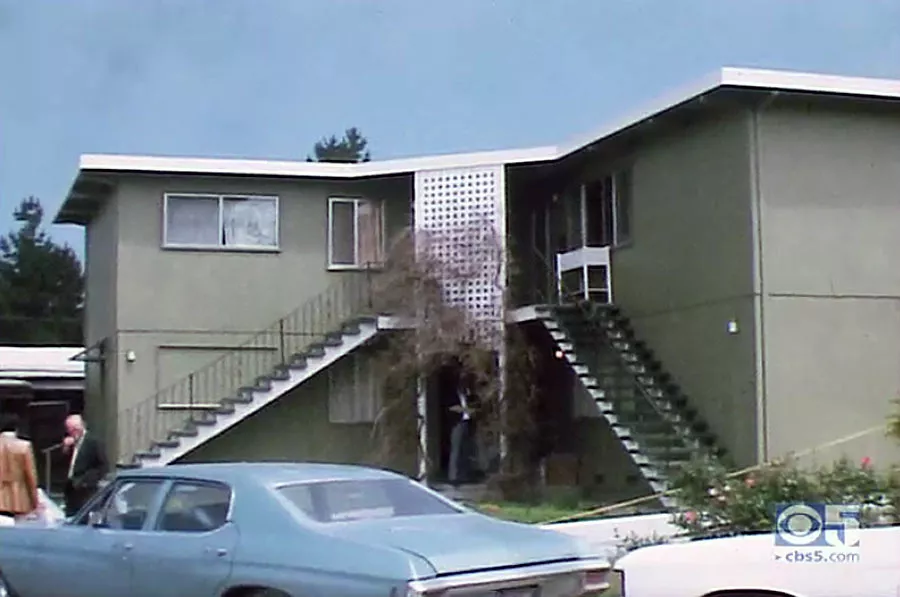 Image source: CBS
The image above is from archived news footage of police officers investigating the property.
Closest Locations
Other locations that are relatively close to this address: Roughly 7 miles away.
Place of Interest in Santa Cruz, California, United States Roughly 79 miles away.
Crime Location in San Francisco, California, United States Roughly 86 miles away.
Crime Location in Modesto, California, United States Roughly 89 miles away.
Place of Interest in Tiburon, California, United States Roughly 97 miles away.
Crime Location in Benicia, California, United States