Robin Williams' house
Place of Interest in Tiburon, California, United States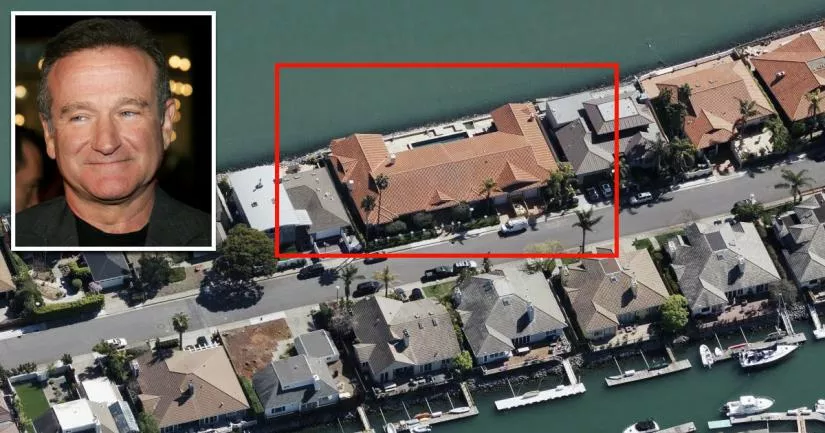 This is the house where Robin Williams committed suicide.
It is situated at 95 Saint Thomas Way in Tiburon, California.
The picturesque, waterfront community lies to the north of San Francisco, in a small enclave called Paradise Cay.
On August 11th, 2014, Hollywood actor Robin Williams took his own life in one of the bedrooms on this 6,500 sq ft property.
According to the coroner's report, the 63-year-old locked his bedroom door, grabbed a belt, and then hanged himself from a closet doorframe.
He was last seen the night before by his wife, Susan, who went to bed at roughly 10.30 p.m.
At the time, Williams was reportedly suffering from insomnia due to Parkinson's disease. As a result, he chose to sleep in one of the empty bedrooms.
The room in question belonged to his teenage stepson, who had been staying at his father's house.
On the morning of August 11th, Susan woke up and saw that her husband's door was still closed. Presuming that he had simply overslept, she decided to leave and run some errands.
Not long after, Williams' assistant, Rebecca Erwin Spencer, and her husband, Dan, arrived at the house.
The couple had been close friends of the actor for years and were regulars at his home. According to neighbors, they were constantly coming and going.
Shortly after her arrival, Rebecca started to grow increasingly concerned about the fact that Williams was still in his room. Thinking that it was out of character for him, she decided to knock on his door. She also slipped a note under it, asking him if he was OK.
However, she received no response.
At that point, Rebecca and Dan decided that it was time to force their way in. Moments later, they used a paperclip to unlock the push-button lock and enter the bedroom.
After opening the door, they were met with the horrific sight of Williams hanging from a closet frame.
Although the couple called 911, it was of no use, as the actor was long dead.
When the paramedics arrived at the house, they decided not to make any attempts to resuscitate him. By that stage, rigor mortis had already set in—a sign that he had been dead for at least 2–4 hours.
In the months leading up to his death, Williams suffered from anxiety, paranoia, insomnia, and depression. He also experienced other physical ailments, such as constipation, tremors, and stomach cramps.
Sadly, it seems as though both his mental and physical health continued to decline until he finally decided to take his own life.

Further information is available in the "Photos" section below.
Robin Williams' house address
Below, you will find the address and the GPS coordinates for this location.
GPS coordinates
The latitude and longitude coordinates for the house are:
37.910545, -122.473718
Map
To view directions on how to get there, you can use the Google Maps shortcut below:
Address
The full address for this location is:
95 St Thomas Way
Tiburon
California
CA 94920
United States
Directions
The house is situated in a cul-de-sac called Saint Thomas Way, which is on a peninsula in the north of Tiburon—overlooking San Francisco Bay. The two-lot property will be visible on your left. It is the fourth house from the end.
Details about the general area
Tiburon is a small town in Marin County, California. It lies about six miles to the north of San Francisco.
Private Property Warning
This is a private property. It is not a public place. Therefore, you should be respectful and not step foot on the property without permission.
Photos
Photos of the house and other related images.
---
95 Saint Thomas Way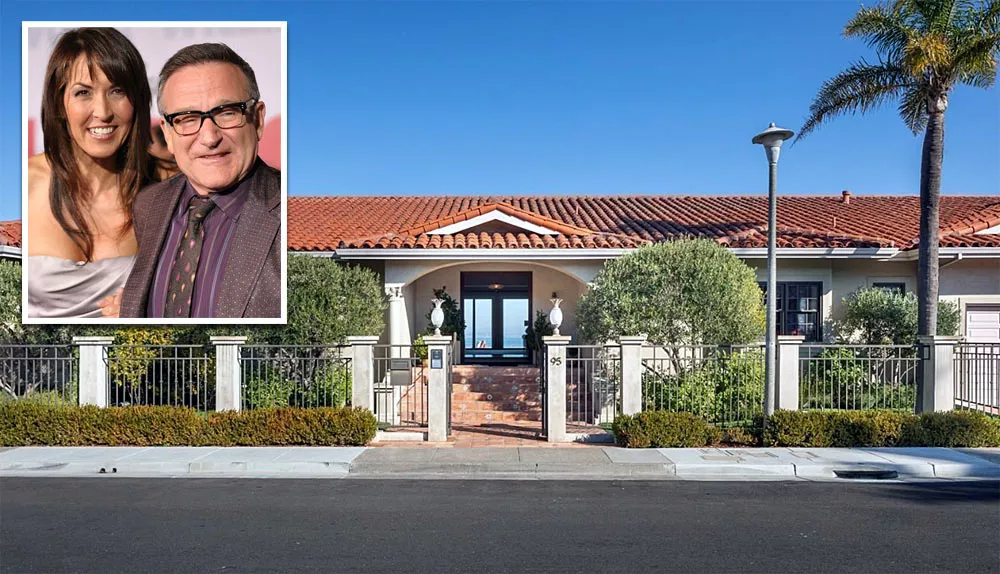 This is a realtor's photograph of 95 Saint Thomas Way.
Robin Williams purchased the house for $4.05 million in December of 2008.
If you look at the property on Google Street View, you'll notice that it has been blurred out at the owner's request.
The house, which was built in 1987, has six bedrooms. It sits at the end of a cul-de-sac in Paradise Cay, overlooking San Francisco Bay.
On the left, we've added a photograph of Robin and his wife, Susan. The couple were married on October 22nd, 2011—nearly three years before he committed suicide.
Four months after Williams died, Susan started a legal dispute with his children.
At the time of his death, the actor owned two properties—this house in Tiburon and a second home in Napa.
In Robin's will, he gave Susan this house, while his three children were given ownership of the Napa residence. The will also stated that most of his jewelry, personal items, awards, and photos should go to his children.
However, Susan felt that Williams' estate wasn't paying her enough to maintain their large house in Tiburon. She also took issue with some of the items that his children had been taking.
The legal dispute was eventually settled out of court in 2015, when Susan was allowed to keep a select number of personal items.
In November of 2019, Susan listed the house for sale for $7.25 million. One year later, after three price drops, she eventually sold it for $5.35 million.
Her decision to sell may have been influenced by the property tax, which is more than $50,000 per year.
Bedroom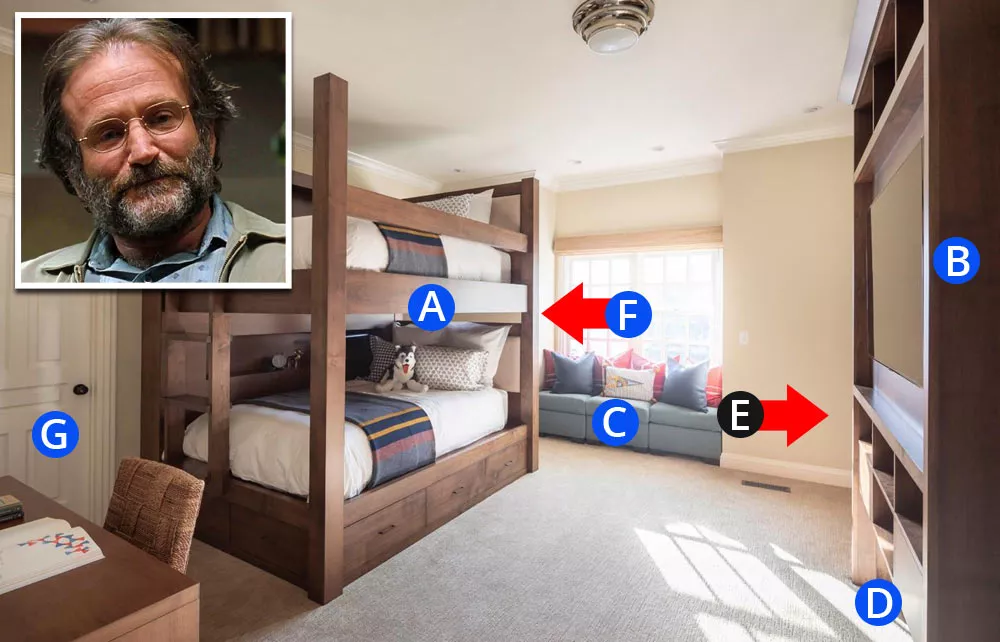 Judging by the coroner's report, this is the bedroom where Robin Williams committed suicide.
According to the report, the room was at the end of a long hallway.
Inside, there was a large wood-framed bunk bed (A), a wood-shelved media cabinet (B), and three padded ottomans underneath the window (C).
There were also three padded stools underneath the media cabinet (D). However, these are not present in the photograph.
The bedroom had one ensuite bathroom (F) and two closets. The closets were on the southeastern side (G) and the northwestern side (E).
In the coroner's report, it is noted that Williams' body was found hanging on the exterior side of the northwestern closet (E). Notably, the closet in question is not visible in this photograph.
The actor did not leave a suicide note. His iPhone, which had to be recharged and switched on, showed no signs that he had contacted anyone.
There were zero signs that he had been engaging in erotic asphyxiation.
Robin had been sleeping in this bedroom due to his insomnia and general restlessness, which caused him to move around a lot in bed and talk in his sleep.
Judging by the report, he was sleeping on the bottom bunk.
San Francisco Bay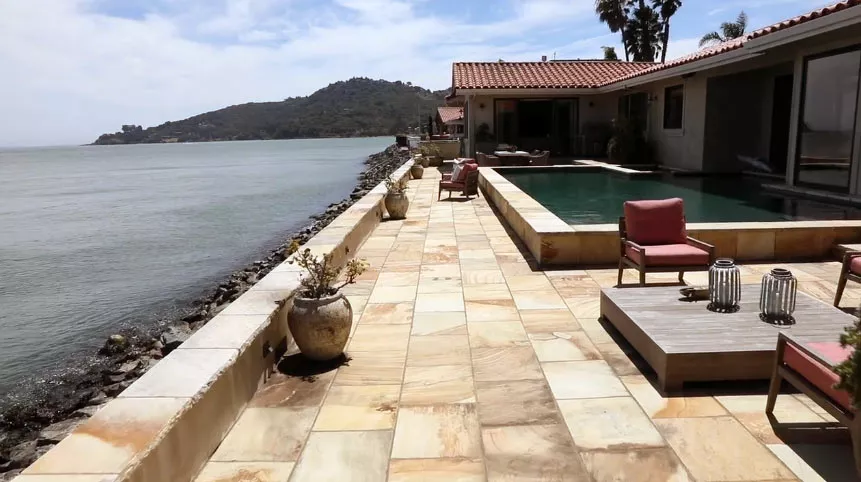 The waterfront, Mediterranean-style home offers stunning views of San Francisco Bay.
This image is facing southward, towards the Tiburon Uplands.
Paradise Cay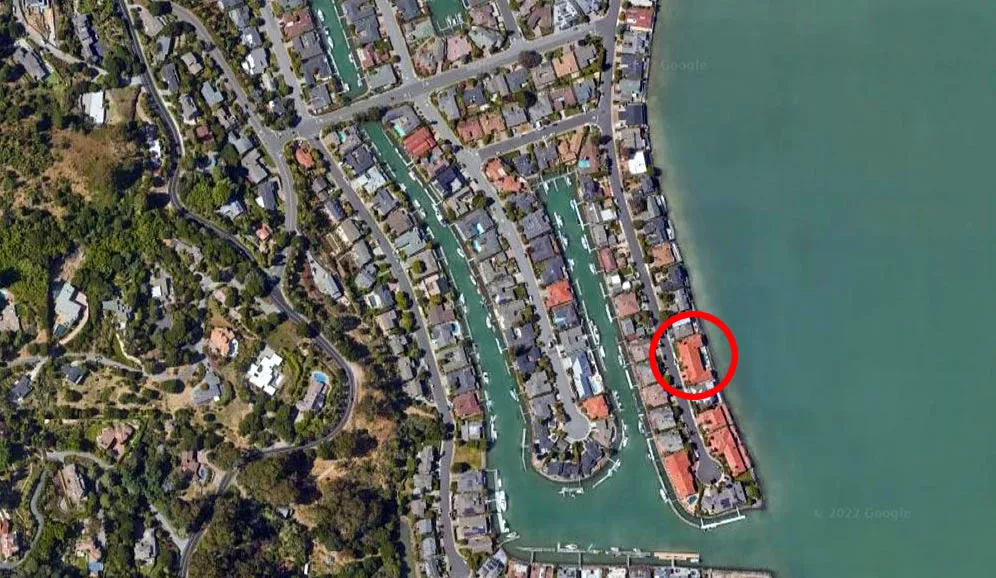 Image source: Google Maps
This is an aerial image of Paradise Cay.
As you can see, the property (circled in red) is situated on a peninsula.
This location belongs to the following categories:
Celebrities
Closest Locations
Other locations that are relatively close to this address: Roughly 11 miles away.
Crime Location in San Francisco, California, United States Roughly 23 miles away.
Place of Interest in Vallejo, California, United States Roughly 23 miles away.
Place of Interest in Vallejo, California, United States Roughly 23 miles away.
Place of Interest in Vallejo, California, United States Roughly 27 miles away.
Crime Location in Vallejo, California, United States