Laci Peterson's house
Crime Scene Location in Modesto, California, United States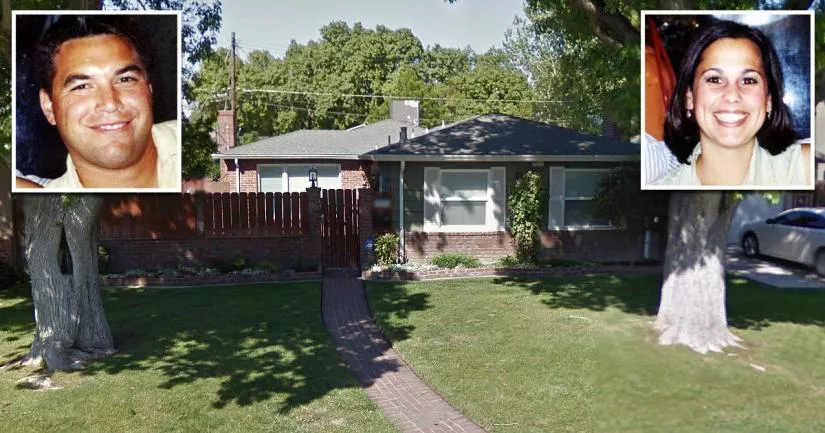 This is Laci Peterson's former house.
It is situated at 523 Covena Avenue in Modesto, California.
The 27-year-old substitute teacher lived at this house with her husband, Scott Peterson, up until her sudden disappearance on December 24th, 2002.
Before Laci went missing, it seemed as though the couple were in a great place. They had purchased this house near East La Loma Park, Scott had launched a new fertilizer company, and Laci was pregnant with their firstborn child.
Unfortunately, things weren't as rosy as they seemed, as the Petersons were under a severe amount of financial pressure. By the time 2002 rolled around, most of Scott's wages were going towards paying off the couple's mortgage, credit card debt, and insurance premiums. Furthermore, his company was racking up huge losses and struggling to stay afloat.
Sadly, money wasn't even the worst of their issues, as Scott was a pathological liar and a serial adulterer.
In November of 2002, he started an affair with a massage therapist named Amber Frey, whom he had been introduced to by a friend.
Notably, his wife, Laci, was seven months pregnant at the time.
Disappearance
On Christmas Eve in 2002, Scott called Laci's mother, Sharon Rocha, and asked her if she had seen her daughter. During the call, he claimed that he had returned home from a fishing trip and found the house empty.
When the police were called to 523 Covena Avenue, they found Laci's wallet, keys, and purse inside the house. They also learned that the couple's dog had been roaming around the neighborhood since earlier that morning.
According to Scott, his wife had been watching a cooking show before he left to go fishing. He also claimed that she was planning on walking the dog at a local park.
However, there was something off about Scott Peterson. He was far too calm and collected for someone who had just lost the love of their life.
The detectives who were working his wife's case quickly noticed that he didn't seem interested in learning about the details of the investigation. Furthermore, he had been somewhat hesitant to talk to Laci's mother in person. When Rocha approached him during an initial search of a nearby park, he pretended not to hear her calling his name. He also reportedly leaned away from her when she hugged him at the house.
Not long after, Scott's mistress saw the news coverage about Laci Peterson's disappearance. At the time, she was shocked to find out that Scott was "happily" married, as he had claimed that he was a widower.
Fearing that something abhorrent was afoot, she decided to contact the police and tell them about the situation.
Scott's affair, his financial issues, and his lack of interest in the investigation quickly made him the prime suspect in his wife's disappearance.
Their suspicions were strengthened even further when the fertilizer salesman changed his story. Initially, he told the police that he had been playing golf. However, he later told investigators that he had spent the day fishing.
Discovery of Laci Peterson's remains
For the next few months, the police kept him under surveillance and wiretapped his phones. However, Scott was aware of their presence and even waved at the undercover units on a number of occasions.
Unfortunately, the authorities had no evidence of foul play, as searches of parks and a nearby creek had failed to turn up anything of note.
To many, it seemed as though he was about to get away with murder.
However, all of that changed on April 13th, 2003, when two dogwalkers happened across the remains of an unborn child in a marsh area near Point Isabel Regional Shoreline in Richmond—a multi-use park that sits on the eastern shore of the San Francisco Bay.
One day later, Laci Peterson's dismembered remains were discovered washed up on the shoreline, roughly one mile from the site where her baby's body had been found.
Notably, this area was just north of the Berkeley Marina, which Scott had visited on the day of his wife's disappearance.
Scott Peterson's arrest
After positively identifying the remains, the police decided that the time had finally come to arrest Scott on suspicion of murder.
On April 18th, 2003, officers detained him at a local golf course. At the time, his car was packed with camping gear, cash, cellphones, and other items that someone would need to go on the run. He had also dyed his hair blonde.
In June of 2004, Scott went on trial for the murder of his wife and unborn son. Five months later, he was found guilty of the crimes and sentenced to death.
However, his death sentence was later commuted to life in prison without the possibility of parole after a court determined that the original judge had unfairly excluded jurors due to their opposition to capital punishment.
Scott Peterson is currently incarcerated at Mule Creek State Prison in Ione, California.
His requests for a new trial have all been denied.

Further information is available in the "Photos" section below.
Laci Peterson house address
Below, you will find the address and the GPS coordinates for this location.
GPS coordinates
The latitude and longitude coordinates for the house are:
37.646081, -120.972320
Map
To view directions on how to get there, you can use the Google Maps shortcut below:
Address
The full address for this location is:
523 Covena Avenue
Modesto
California
CA 95354
United States
Directions
The house is 0.5 miles north of the intersection of Yosemite Boulevard and Covena Avenue. It is within walking distance of East La Loma Park and Thousand Oaks Park.
Details about the general area
Modesto is a city in Stanislaus County, California. It lies to the south of Stockton.
Private Property Warning
This is a private property. It is not a public place. Therefore, you should be respectful and not step foot on the property without permission.
Photos
Photos of the house and other related images.
---
Laci and Scott Peterson's house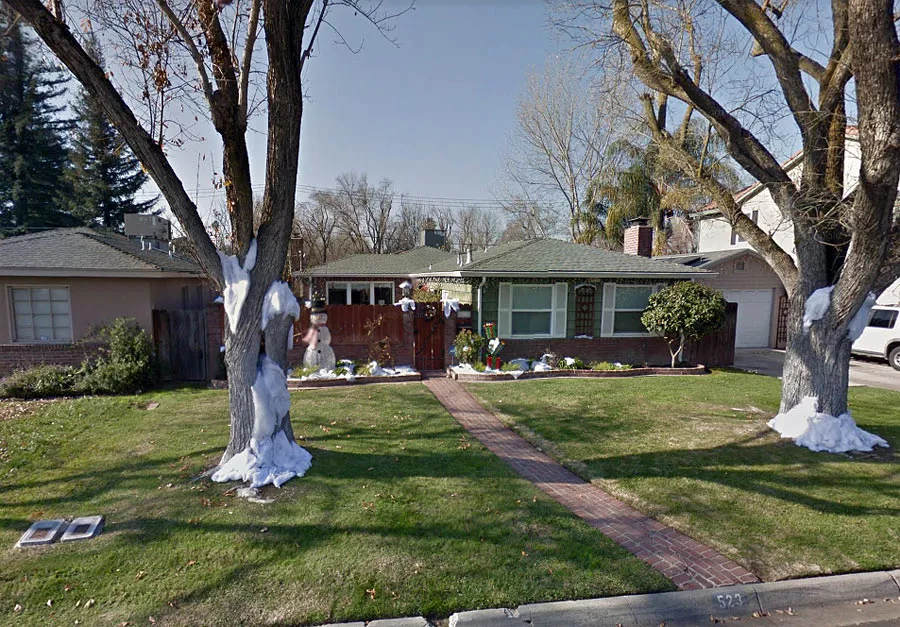 This Google Street View image of 523 Covena Avenue was taken in December of 2016.
Laci and Scott Peterson purchased the three-bedroom property on October 4th, 2000, for $177,000.
It was last sold in April of 2022 for $510,000.
The house was built in 1949. It is roughly 1,770 square feet in size.
523 Covena Avenue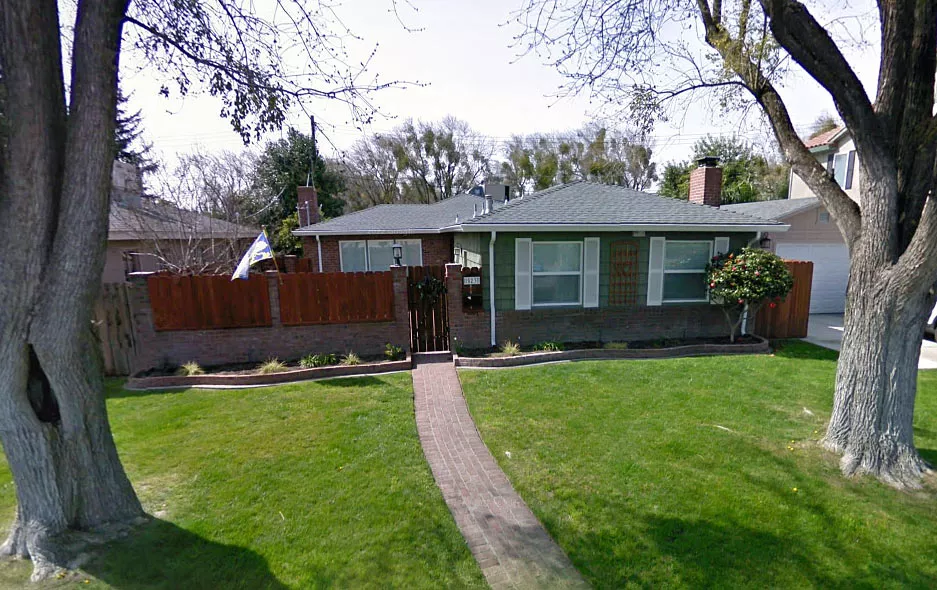 The image above was captured in March of 2009.
Marriage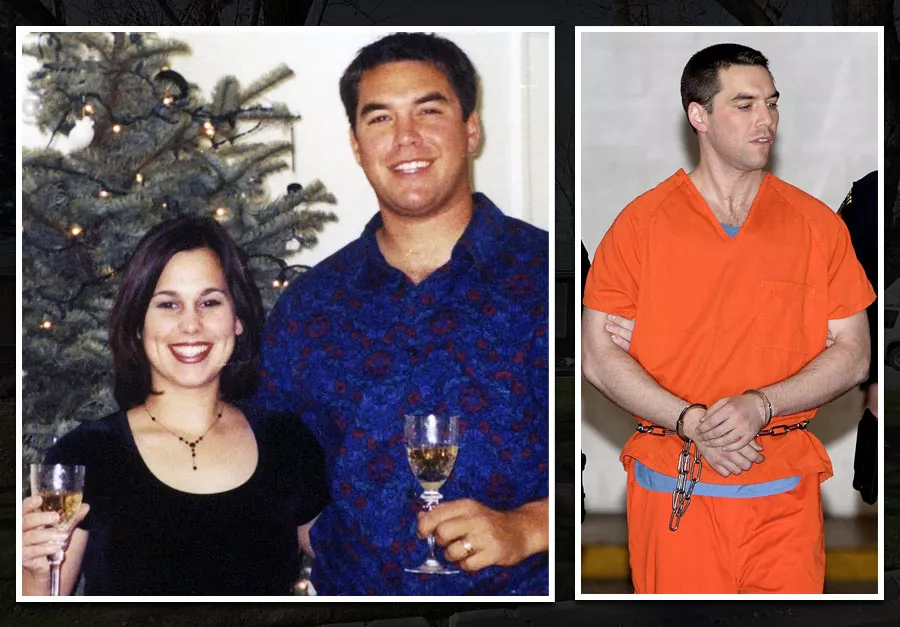 Scott Peterson and Laci Rocha met through a mutual friend in 1994.
At the time, Scott was working alongside one of Laci's neighbors at the Pacific Café in Morro Bay.
They started dating during the summer of 1994, after Laci decided to give him her phone number.
Their first date was a deep-sea fishing trip.
Scott and Laci were married on August 9th, 1997. The following year, the couple opened a burger restaurant called The Shack, which was situated on Foothill Boulevard in San Luis Obispo. However, they eventually sold the business to a man named Fabrizio Paolozzi after they decided to buy a house on Covena Avenue and relocate to Modesto.
Not long after, the Petersons ran into financial difficulties. According to an auditor who testified at Scott's trial, they had amassed more than $23,000 in credit card debt by the time Laci disappeared.
In today's money, that is roughly $40,000.
They were also struggling to pay the mortgage on their new home, as Scott's new fertilizer business was running at a loss.
Amber Frey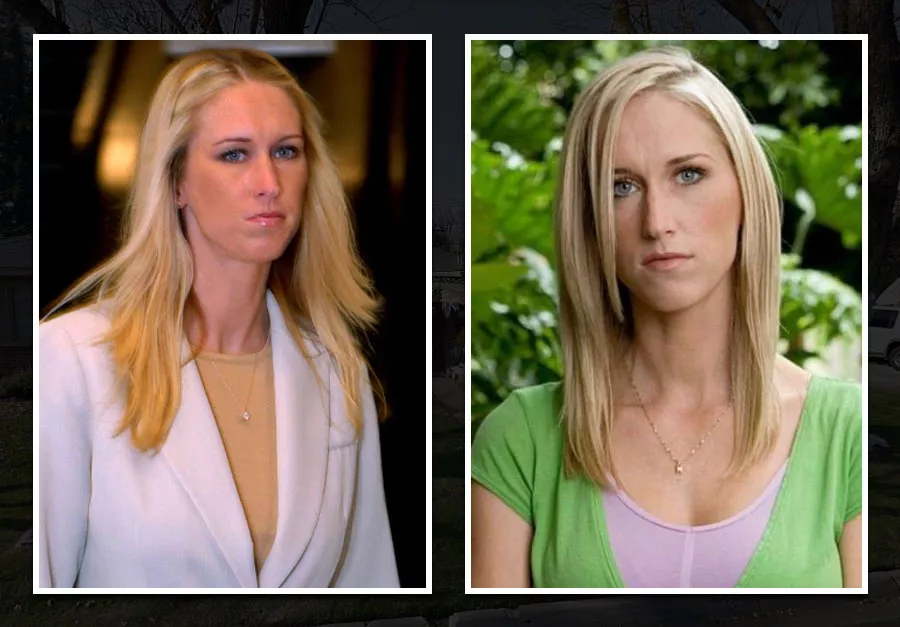 Scott Peterson began an affair with Amber Frey in November of 2002—just one month before he murdered his wife and unborn son.
Although he told Frey that he was a widower who had "lost" his wife, she realized that he had been lying after she saw the news coverage about Laci's disappearance.
After contacting the police and informing them about the situation, she agreed to record her phone conversations with Scott. She also later testified against him at his murder trial.
Bodies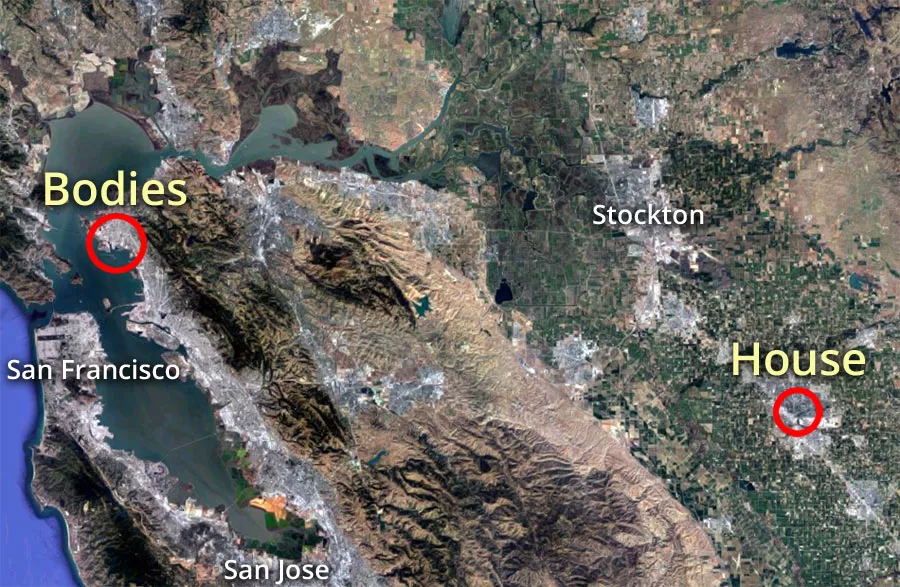 The bodies of Laci Peterson and her unborn child were discovered on the shoreline in Richmond, California—more than 90 miles west of Modesto.
Scott initially told the police that he had spent the day golfing on December 24th, 2002. However, he later claimed that he had been fishing.
Scott's decision to change his story was most likely a preemptive measure. At the time, he was probably worried that investigators would uncover evidence that he had been at the Berkeley Marina.
Instead of waiting for them to catch him in a lie, he decided to "get out ahead of it" and tell them about his true whereabouts.
This location belongs to the following categories:
Crime Scenes
Closest Locations
Other locations that are relatively close to this address: Roughly 86 miles away.
Serial Killer House in Aptos, California, United States Roughly 88 miles away.
Crime Location in Sacramento, California, United States Roughly 88 miles away.
Crime Location in Sacramento, California, United States Roughly 88 miles away.
Serial Killer House in Sacramento, California, United States Roughly 88 miles away.
Crime Location in Benicia, California, United States