The location where Darryl Baum was shot dead
Crime Scene Location in Brooklyn, New York, United States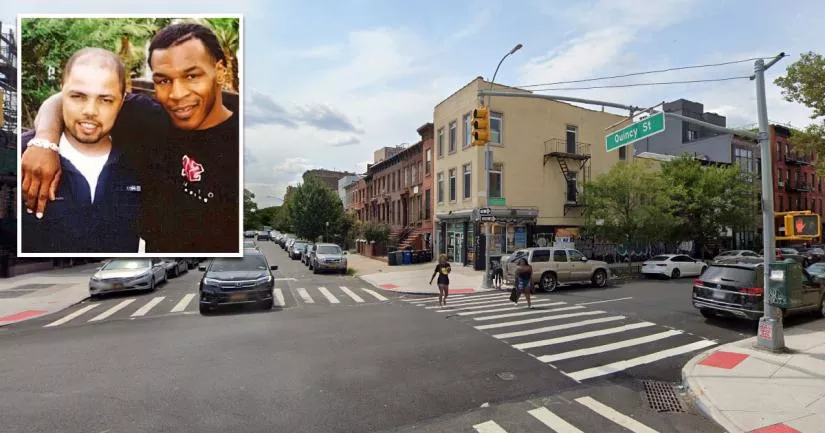 This is the location where Darryl Baum (aka Hommo) was shot dead.
It is situated on the corner of Quincy Street and Marcy Avenue in the Bedford-Stuyvesant neighborhood of Brooklyn, New York.
Friendship with Mike Tyson
Baum was a close friend of heavyweight boxing champion Mike Tyson.
Although Hommo (short for homicide) worked as a bodyguard for Tyson and was a frequent member of his entourage, he was also a gang associate who was heavily involved in the drug trade.
According to a number of sources, he wanted to make his own way in life instead of "leeching" off Tyson's wealth.
Shooting of 50 Cent
Baum is believed to be responsible for the attempted murder of rap star 50 Cent.
During his teenage years, he gained a reputation for being a stick-up kid who knocked people out with one punch and then robbed them.
In 2000, a local drug lord called Kenneth "Supreme" McGriff put a hit on 50 Cent's head after he mentioned his criminal dealings in one of his songs.
Baum was the gunman who allegedly agreed to carry out the killing. However, the rapper managed to survive the attack despite being shot nine times.
Three weeks later, on June 10th, 2000, Baum was killed after a hitman walked up to him on this corner and fired a single shot into his head.
Despite the coincidental timing, the two incidents were unrelated.
Baum's death was related to a separate gang feud
At the time of his murder, Hommo was a member of the Peanuts Gang, which was being run by a man named Ivory "Peanut" Davis.
The gang consisted of "Peanut" Davis, Hommo, and James Hamilton.
In 1999, a man named Myron Hardy was shot dead in Lafayette Gardens in Brooklyn.
Hardy was reportedly a co-founder of a rival gang called the "Cash Money Brothers" (CMB). He was also the brother of Damion Hardy, who was the leader of the organization.
Damion believed that Peanut and his associates had orchestrated his brother's murder. Consequently, he decided to have them all killed.
This included Darryl Baum.
In the early hours of June 10th, 2000, the 34-year-old was shot dead by a notorious CMB enforcer named Aaron Granton.
Granton, whose nickname was "E-Bay," is also believed to have killed Peanut and Hamilton two months later.

Further information is available in the "Photos" section below.
Darryl Baum crime scene location
Below, you will find the address and the GPS coordinates for this location.
GPS coordinates
The latitude and longitude coordinates for the street are:
40.687332, -73.947621
Map
To view directions on how to get there, you can use the Google Maps shortcut below:
Address
The full address for this location is:
Quincy Street
Brooklyn
New York
NY 11216
United States
Directions
The corner where Hommo was shot is roughly 250 yards south of Herbert Von King Park in Brooklyn.
Photos
Photos of the street and other related images.
---
Darryl Baum and Ivory "Peanut" Davis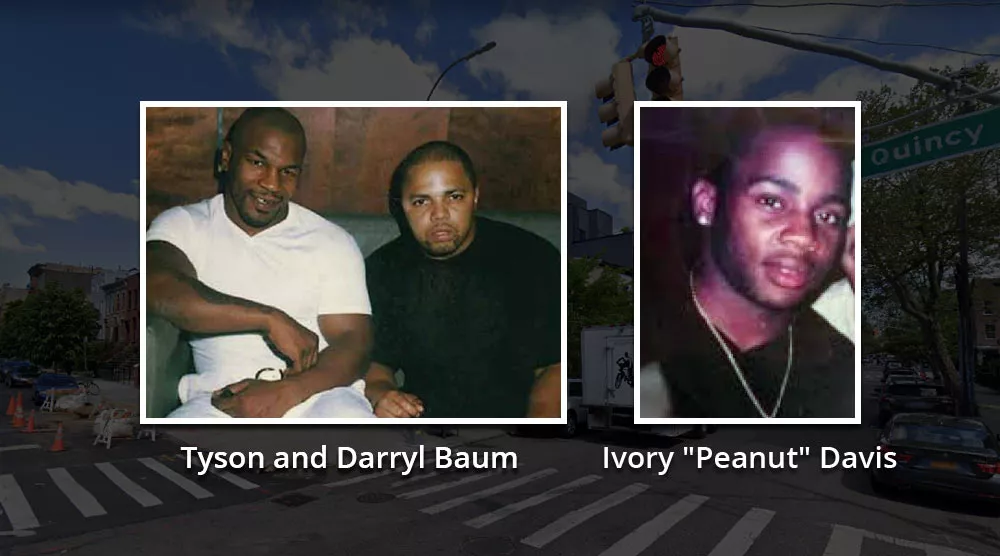 Baum was good friends with heavyweight boxer Mike Tyson. The pair met while they were both doing time in a juvenile center.
On December 31st, 1999, Baum was released from prison after serving a lengthy prison sentence for robbery.
Having been in prison himself, Tyson knew that his friend would find it extremely difficult to transition back into society.
In an attempt to lure Hommo away from the streets, he reportedly gave him a car, cash, a Rolex, and a job as his bodyguard.
However, Hommo wanted to be independent and make his own money. Consequently, he drifted back to his old life of crime.
Shortly after his release, he began to work with Ivory "Peanut" Davis and his crew. He also started associating with figures such as Kenneth "Supreme" McGriff.
Hommo had a fearsome reputation for being a tough guy. As a teenager, he was nicknamed "homocide" due to his ability to knock guys out with one punch.
However, more than a decade had passed since he was sent to prison. During that period, "the streets" had changed dramatically. Following his release, he found himself in a different world—one that was filled with fearless young gangsters who didn't care about things such as "honor" or "reputation".
Despite the changed landscape, he immediately started throwing his weight around and pressuring young gang members to sell on his behalf.
According to a number of online reports, he began extorting money from a CMB member named Taz. He was also allegedly involved in the murder of Taz's father.
When Damion "World" Hardy started plotting revenge for his brother's death, he was most likely aware that Baum had played no part in it. At the time of the murder, the 34-year-old was still behind bars.
However, that didn't really matter, as both men were on opposite sides of the same bloody feud. Furthermore, Baum had proven to be a significant problem for the Cash Money Brothers.
Consequently, Hardy decided that he had to be taken out of the equation.
At around 2 a.m. on June 10th, 2000, Baum was reportedly lured to the corner of Quincy Street and Marcy Avenue by a woman. Then, as he sat in his car waiting, a CMB enforcer named E-Bay suddenly appeared at the driver-side window and shot him in the head.
Damion Hardy and Myron Hardy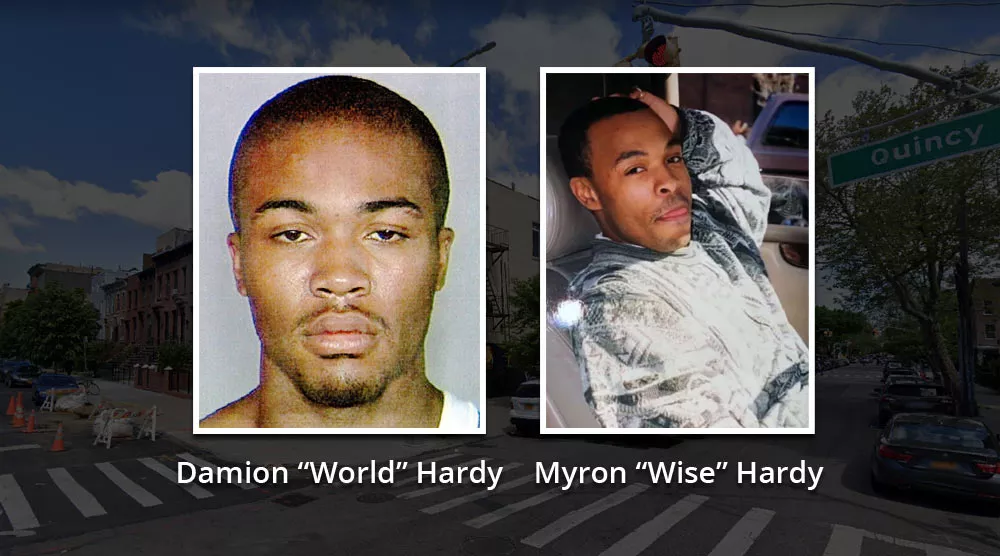 Damion "World" Hardy and Myron "Wise" Hardy were cofounders of a drug gang called the Cash Money Brothers.
Interestingly, Damion was once engaged to rap star Lil Kim.
In 1999, Myron was gunned down while Damion was serving time behind bars. It is believed that the gunman was Peanut's nephew, Rumel Davis.
In response, Damion ordered his enforcer, Aaron Granton (E-Bay), to exact revenge by taking out Peanut and his crew.
Darryl Baum was the first target to fall. He was shot and killed on this corner in the early hours of June 10th, 2000.
Two months later, on August 1st, 2000, E-Bay murdered James "JR" Hamilton while he was dining at a seafood restaurant that he owned.
Then, just eight days after gunning down Hamilton, E-Bay located Peanut outside a nightclub in Manhattan and shot him twice in the back.
Before the summer of 2000 was over, Baum, Hamilton, and Peanut were all dead.
In 2002, Baum's older brother, Tyrone "T-Rock" Baum, was released from prison. However, he made the fatal mistake of announcing his plans to get revenge.
When CMB members learned of T-Rock's intentions, they ambushed him and shot him three times in the head.
In April of 2015, Damion "World" Hardy was found guilty of ordering six murders and sentenced to life in prison without the possibility of parole.
His enforcer, Aaron Granton (E-Bay), was also given six terms of life imprisonment.
Hommo shot me, three weeks later he got shot down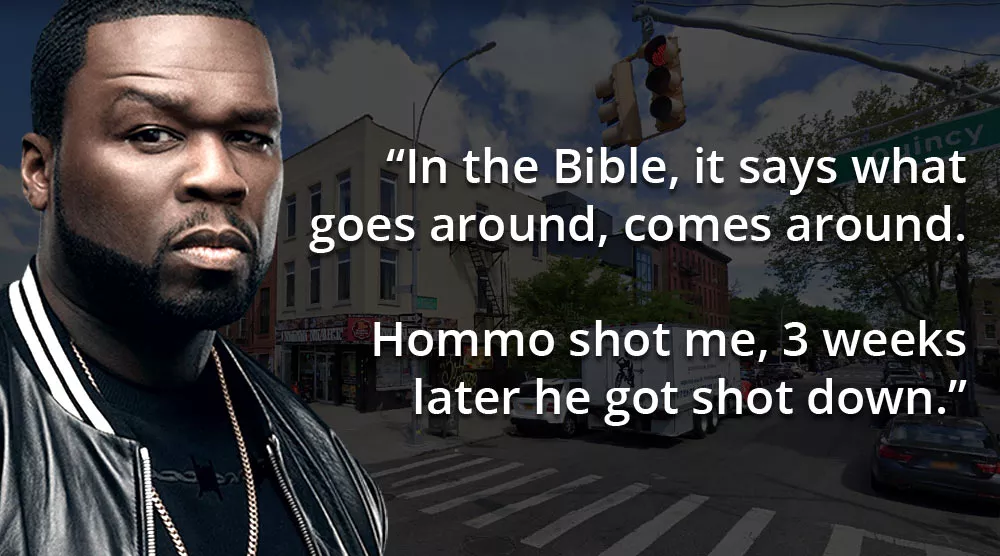 50 Cent referenced Baum in his 2003 song "Many Men".
Although content creators on social media like to imply that Baum's death was revenge for the failed attempt on 50 Cent's life, this was not the case.
In reality, the 34-year-old was killed because he was a major player in a feud between the Peanuts gang and the Cash Money Brothers.
Like many, he simply picked the wrong side at the wrong time.
This location belongs to the following categories:
Crime Scenes
Closest Locations
Other locations that are relatively close to this address: Roughly 2 miles away.
Crime Location in Brooklyn, New York, United States Roughly 2 miles away.
Crime Location in Brooklyn, New York, United States Roughly 3 miles away.
Place of Interest in Brooklyn, New York, United States Roughly 3 miles away.
Crime Location in Manhattan, New York, United States Roughly 4 miles away.
Place of Interest in Manhattan, New York, United States