The location where Carmine Galante was shot dead.
Crime Scene Location in Brooklyn, New York, United States.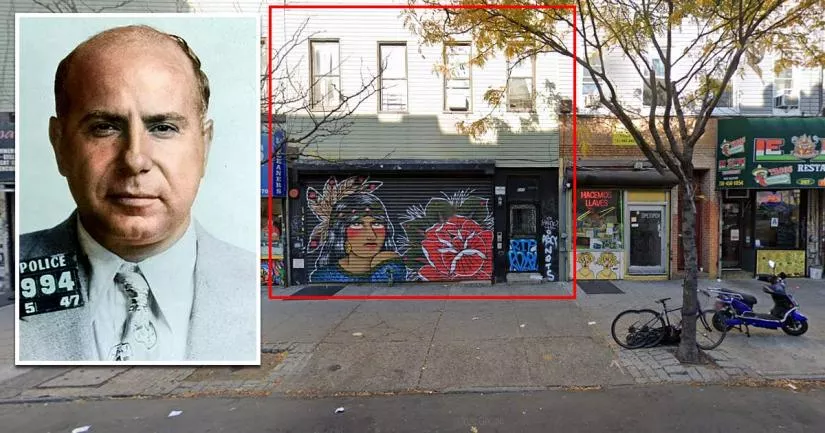 This is the location where Carmine Galante and two other mobsters were shot dead in 1979.
Although Galante was the defacto boss of the Bonanno mafia family, this was not his official role. A few years earlier, he had seized control of the organization without the Commision's blessing.
Galante was nicknamed "The Cigar" because he was rarely seen without one. During the 1970s, he was one of the most respected and feared individuals in the mob world.
In 1974, the former underboss was released on parole after spending more than a decade in prison for drug trafficking.
Because of his ruthlessness, he quickly became one of New York's most dominant crime figures.
When Bonanno boss Philip Rastelli was sent to prison on racketeering charges in August of 1976, "The Cigar" effectively took control of the family.
By that stage, he was so powerful that the Commission shied away from opposing him.
One month later, "the boss of all bosses", Carlo Gambino, died of a heart attack. This left a vacuum that Gilante and his loyalists were eager to fill.
In the aftermath of Gambino's death, "The Cigar" set about uniting the "Five Families" under his control.
During this period, he started to take over the heroin trade in New York by eliminating several of his rivals in the Gambino family.
Fearing Gilante's lust for power and his plans for domination, the Commission eventually decided that it was time for him to go.
On July 12th, 1979, "The Cigar" and two of his associates were eating lunch at this location on Knickerbocker Avenue when three hitmen wearing ski masks entered the restaurant and shot them dead.
At the time, the building was home to an Italian-American restaurant called "Joe and Mary's".
When the gunmen arrived, Gilante and his associates were sitting in an outdoor dining area on the back patio.
Although Gilante had two bodyguards with him, they were seemingly in on the hit. During the shooting, the two men stood by and were left completely unharmed.
Where was Carmine Galante shot?
Below, you will find the address and the GPS coordinates for this location.
GPS Coordinates.
The GPS coordinates for the restaurant are as follows.
Latitude: 40.703527
Longitude: -73.926402
Map.
Open 40.703527, -73.926402 in Google Maps to view directions on how to get there.
Address.
The full address for this location is:
205 Knickerbocker Avenue
Brooklyn
New York
NY 11237
United States
Directions.
The restaurant was situated in the northwest corner of Bushwick, Brooklyn - a couple of yards west of Maria Hernandez Park. It is a short walk away from the L Line on the New York City Subway service.
Photos.
Photos of the restaurant and other related images.
---
Joe and Mary's Italian-American Restaurant.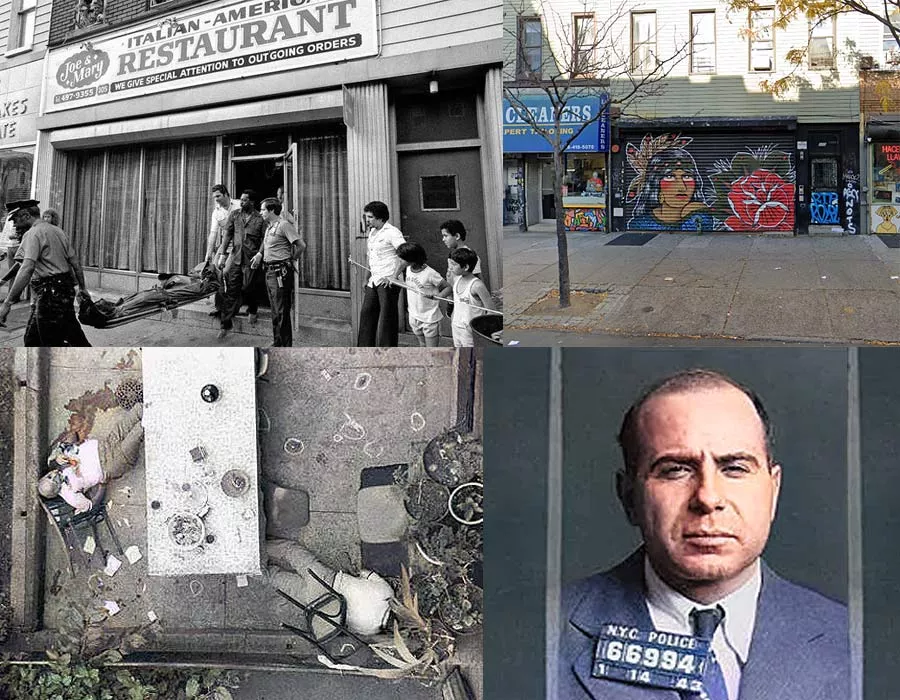 Back in 1979, this building on Knickerbocker Avenue was home to Joe and Mary's Italian-American Restaurant. However, judging by Google Street View images, the premises has been shuttered for more than 15 years.
In the bottom left-hand corner, you can see a photograph of the crime scene. When the police arrived, a cigar was still hanging from Carmine Galante's mouth.
Closest locations.
Other locations that are relatively close to this place. Roughly 4 miles away.
Filming Location in Manhattan, New York, United States Roughly 4 miles away.
Crime Location in Manhattan, New York, United States Roughly 5 miles away.
Place of Interest in Manhattan, New York, United States Roughly 5 miles away.
Crime Location in Manhattan, New York, United States Roughly 5 miles away.
Crime Location in Queens, New York, United States